Desktop terrariums are so last year – these days, we're wearing our terrariums.
If you want to get in on the fashion statement but don't know where to begin, this is the post for you.
Luckily, there are plenty of pretty pieces for sale when you know where to look, and if you want to make your own, it's easier than you might think.
Let me show you.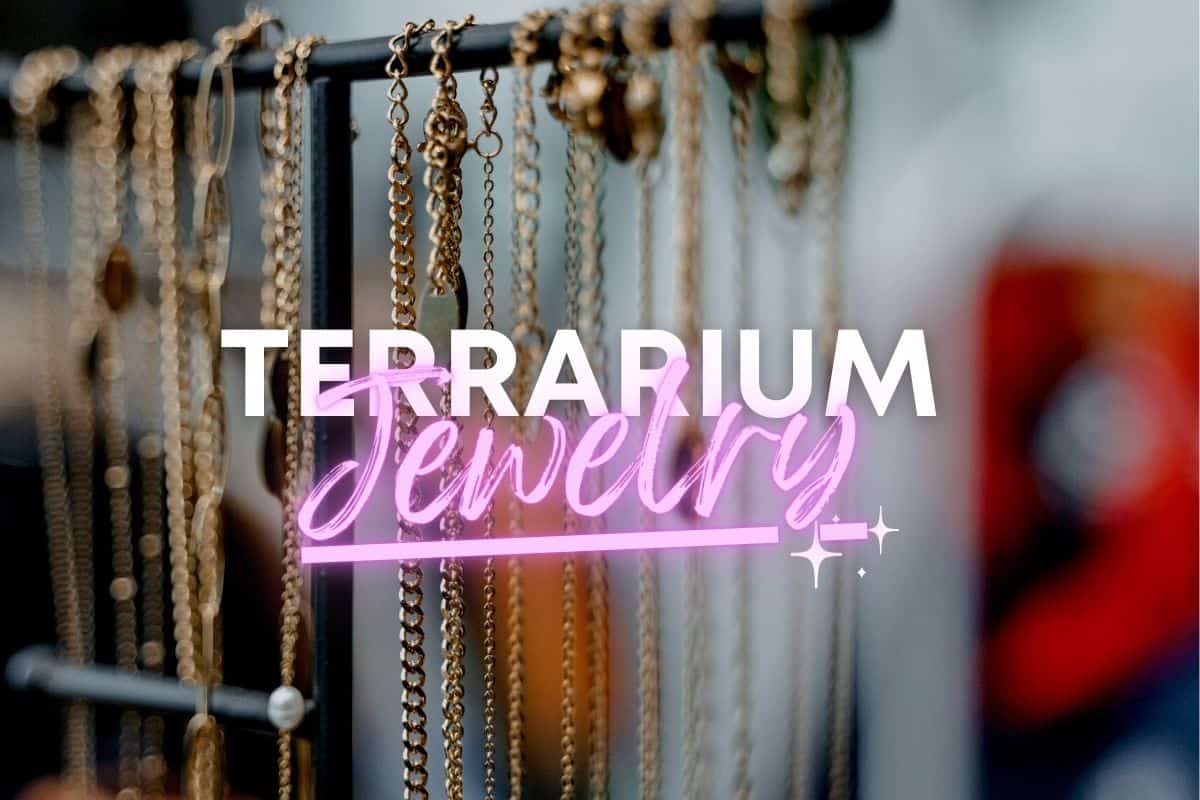 This page may contain affiliate links that allow us to make a small commission (at no further cost to yourself). 💚 Thank you for helping to support the tribe!
Types of Terrarium Jewellery
There are four ways of approaching terrarium jewelry.
1 | Real, living mini terrariums. These pieces are beautiful, but it's very tricky to say how long they'll last.
2 | Preserved mini terrariums. These will look fairly alive, and the preserved moss will jiggle within the glass like it's real.
3 | Solid "frozen in time" resin terrariums using resin and moss/plants. This is great if you don't want the contents to jiggle or don't want a glass bottle (wearing glass can come with some issues if you're half as clumsy as me).
4 | There are some lovely terrarium-inspired designs made with of all sorts of materials. I've seen crochet and clay in the past to name a few.
Terrarium Necklaces and Earrings for Sale
Living Moss Terrarium Necklace & Earrings
If you want to wear living mini mossariums, the best place to look is E K Terrariums on Etsy.
They have quite the selection, with lots of different bottle shapes to explore.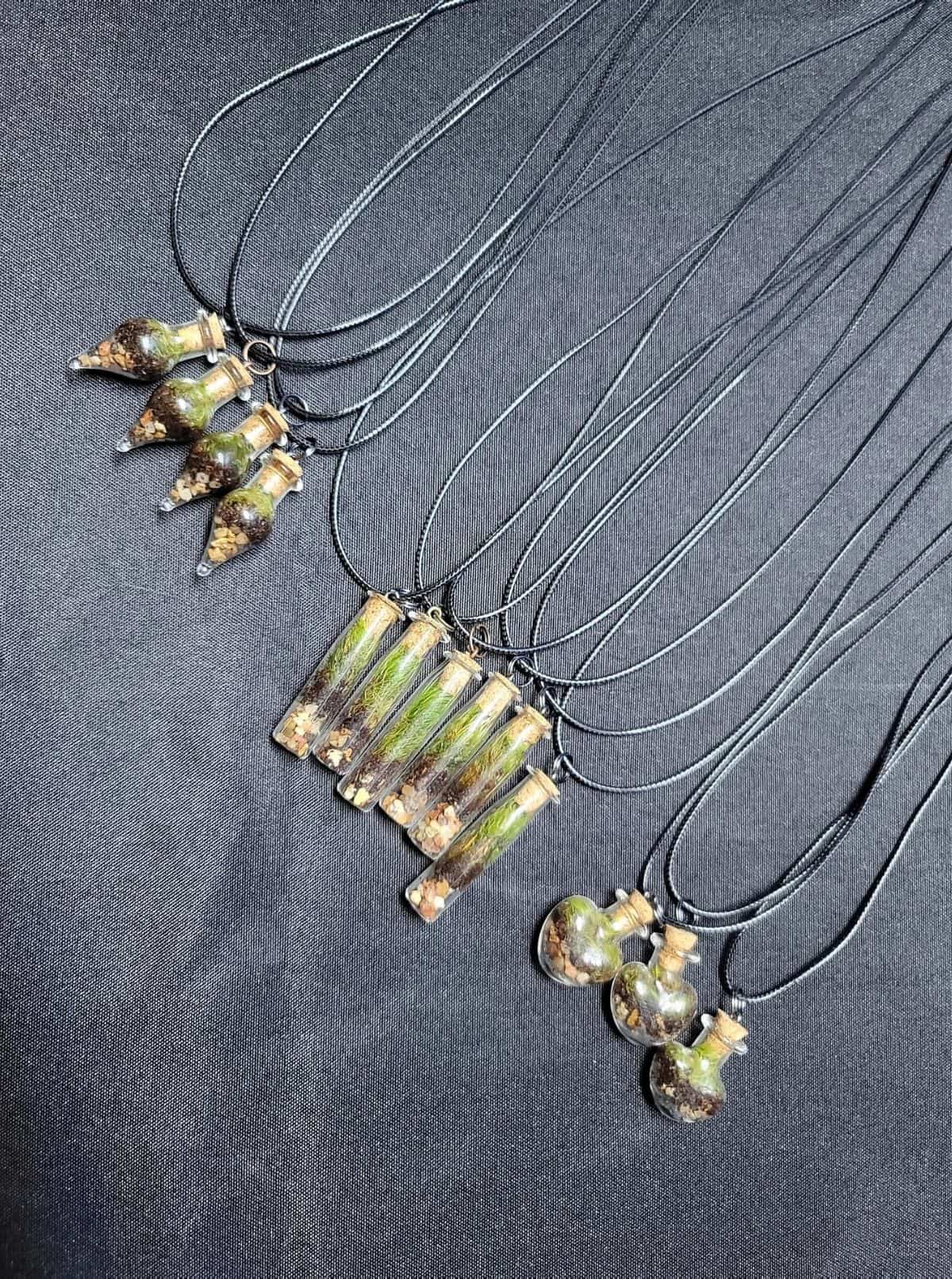 It comes on a slick black cable necklace, so you can wear it with anything!
And of course, you can get earrings to go with it too. You can grab those with silver or gold-colored hook earrings. The metal used is hypoallergenic, nickel-free, and brass-free.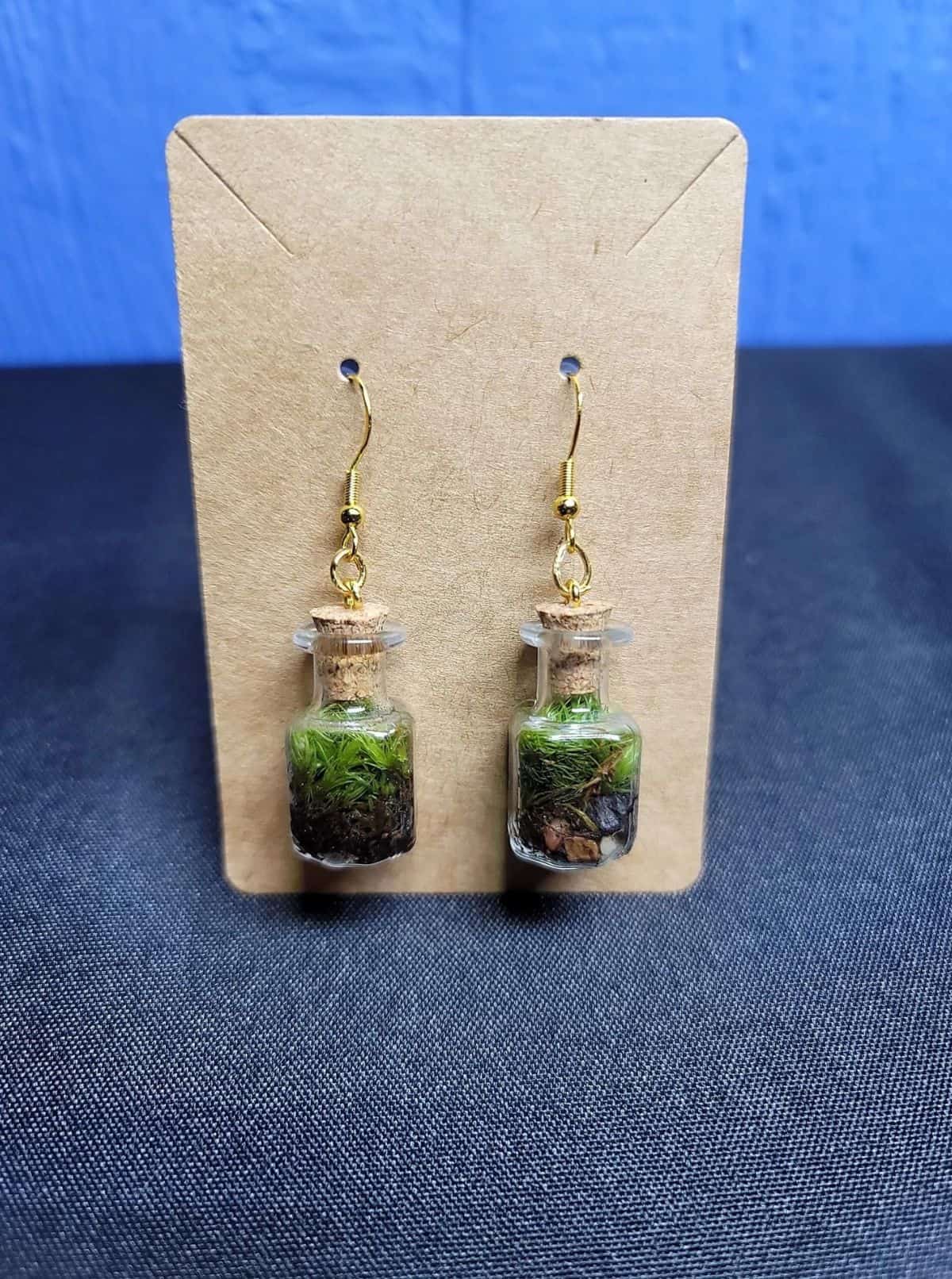 And you don't need to worry about keeping these babies alive! All terrarium jewelry by this seller will come with care instructions so you can keep your items healthy and happy for as long as possible.
Preserved Moss Terrarium Necklace & Earrings
For preserved moss terrarium jewelry, Ome Shop on Etsy is the best.
They use Reindeer Moss, which is technically a lichen, not a moss, but it's great for preserving and looks very moss-like.
Not only will it stay looking fresh for a long time, but it can be dyed too, so you have three vibrant shades to choose from.
Dark green, bright green, and my favorite, mint green.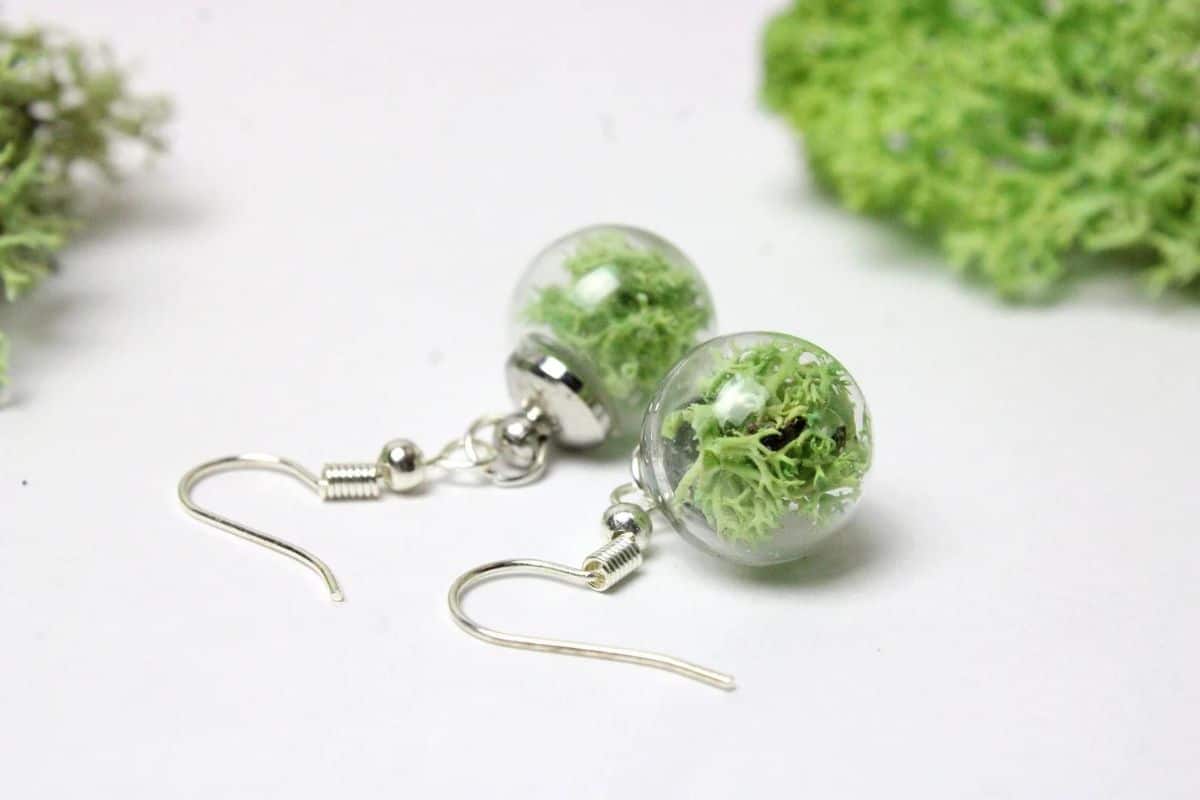 The earring hooks are silver-plated stainless steel too!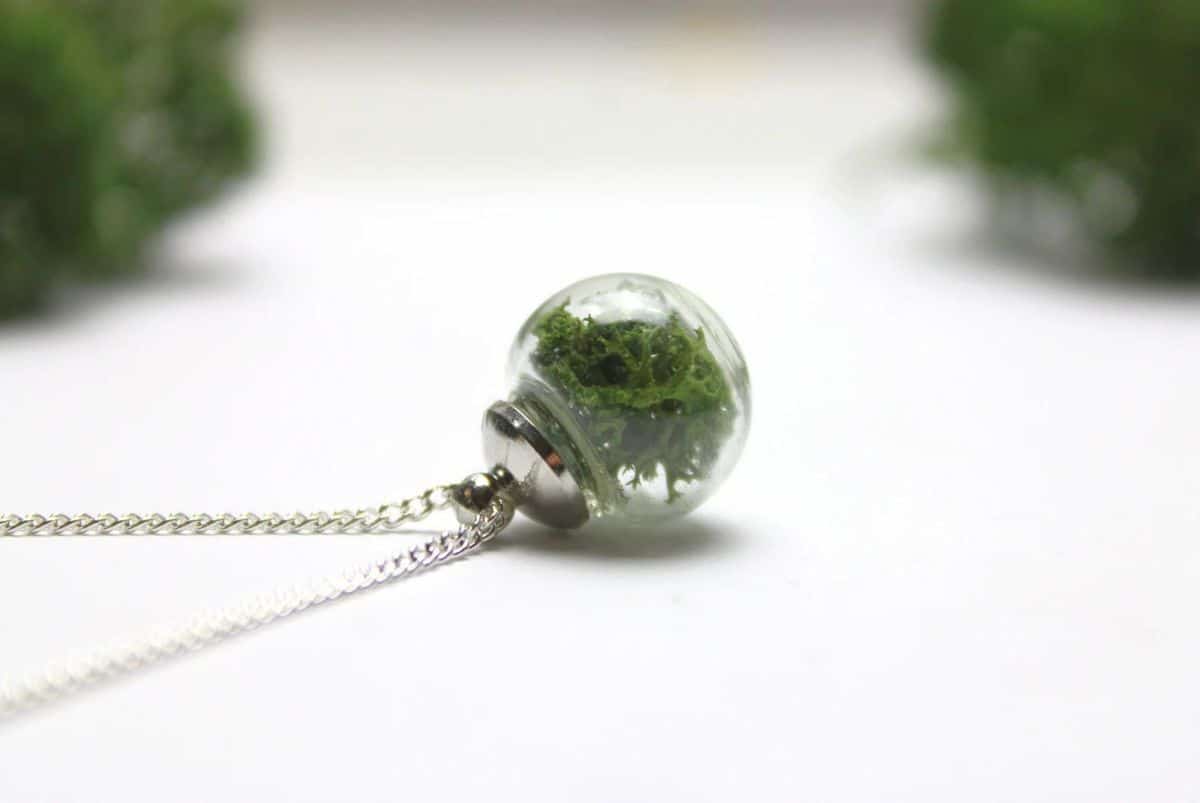 Like the earrings, the necklace is made with a proper, sterling silver chain. You can choose the length you'd like – 16, 18, 20 or 22 inches.
Resin Terrarium Necklace & Earrings
Next up, we have some stunning resin terrariums.
These pieces are by far the most durable (no glass = no risk of shattering), and they also tend to be the most affordable.
I really like Resinating W Nature on Etsy for these – side note, how cool is that business name?!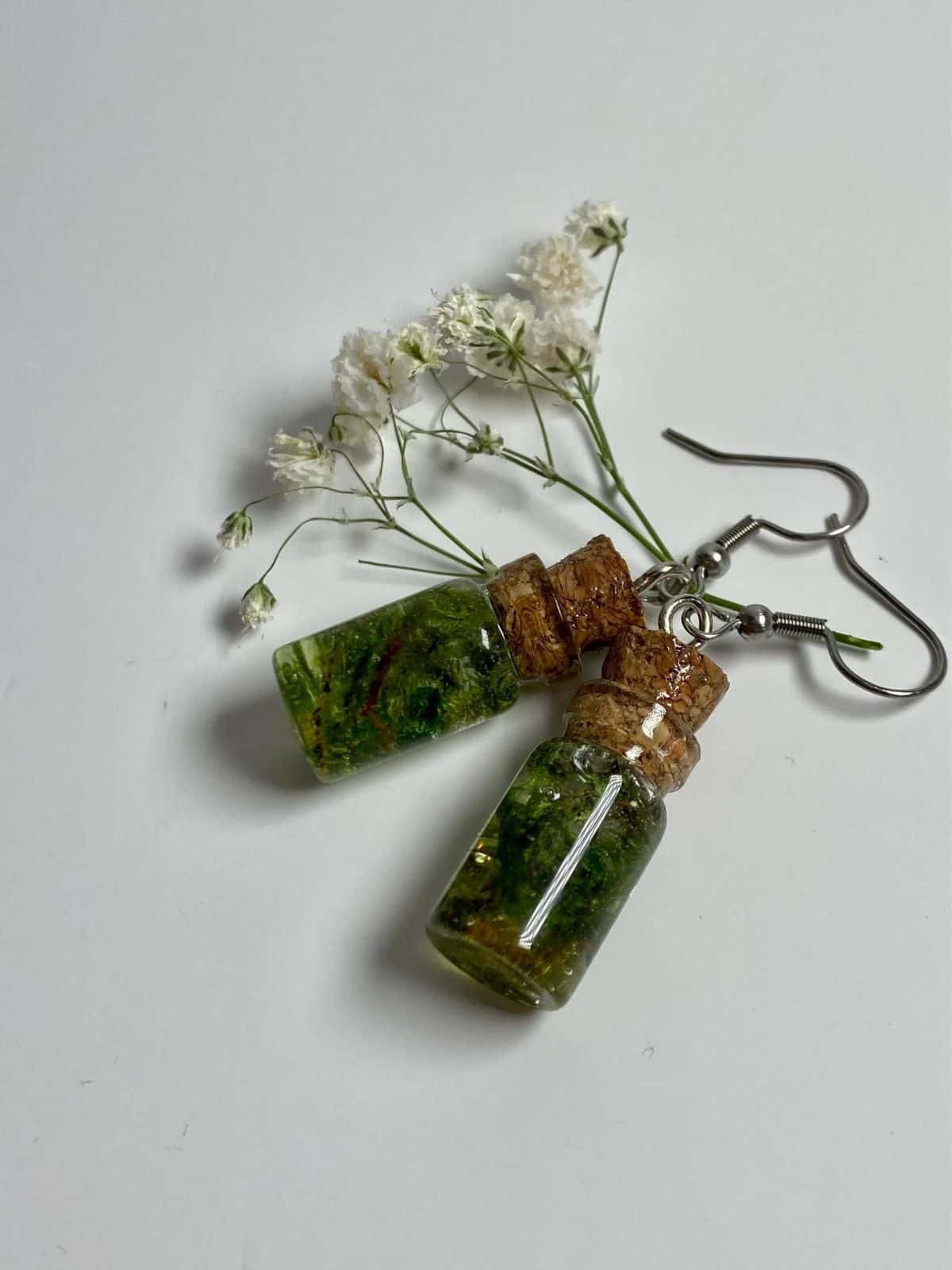 This method makes getting your real moss fix easy. By encapsulating it in resin it will stay perfect for years to come with zero care.
And the necklace is just as gorgeous as the earrings.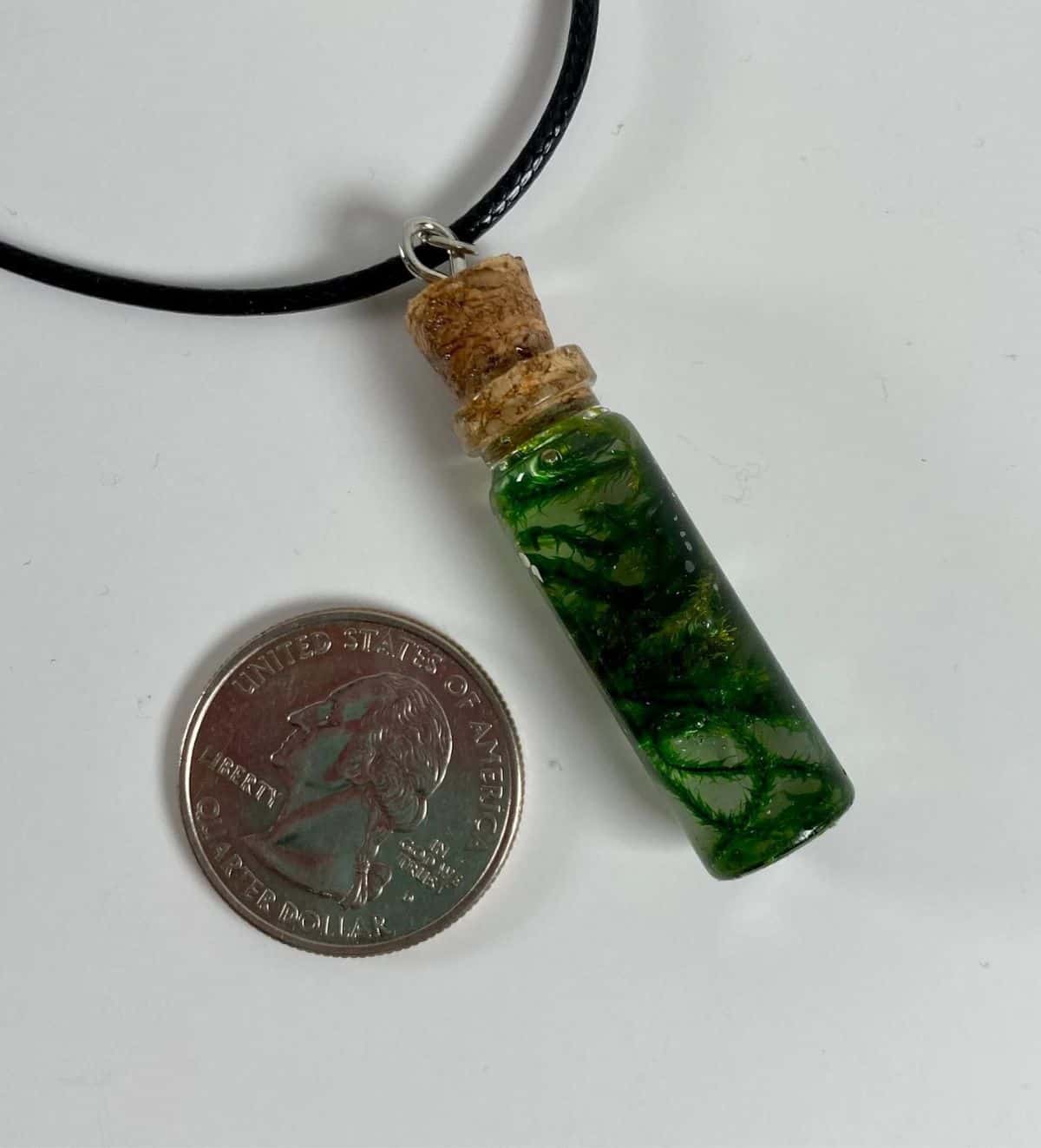 Other Notable Terrarium Earrings
Want rustic and boho vibes?
Look no further than these stunning preserved flower terrarium earrings, hand-made to order by Elementa Eclectica on Etsy.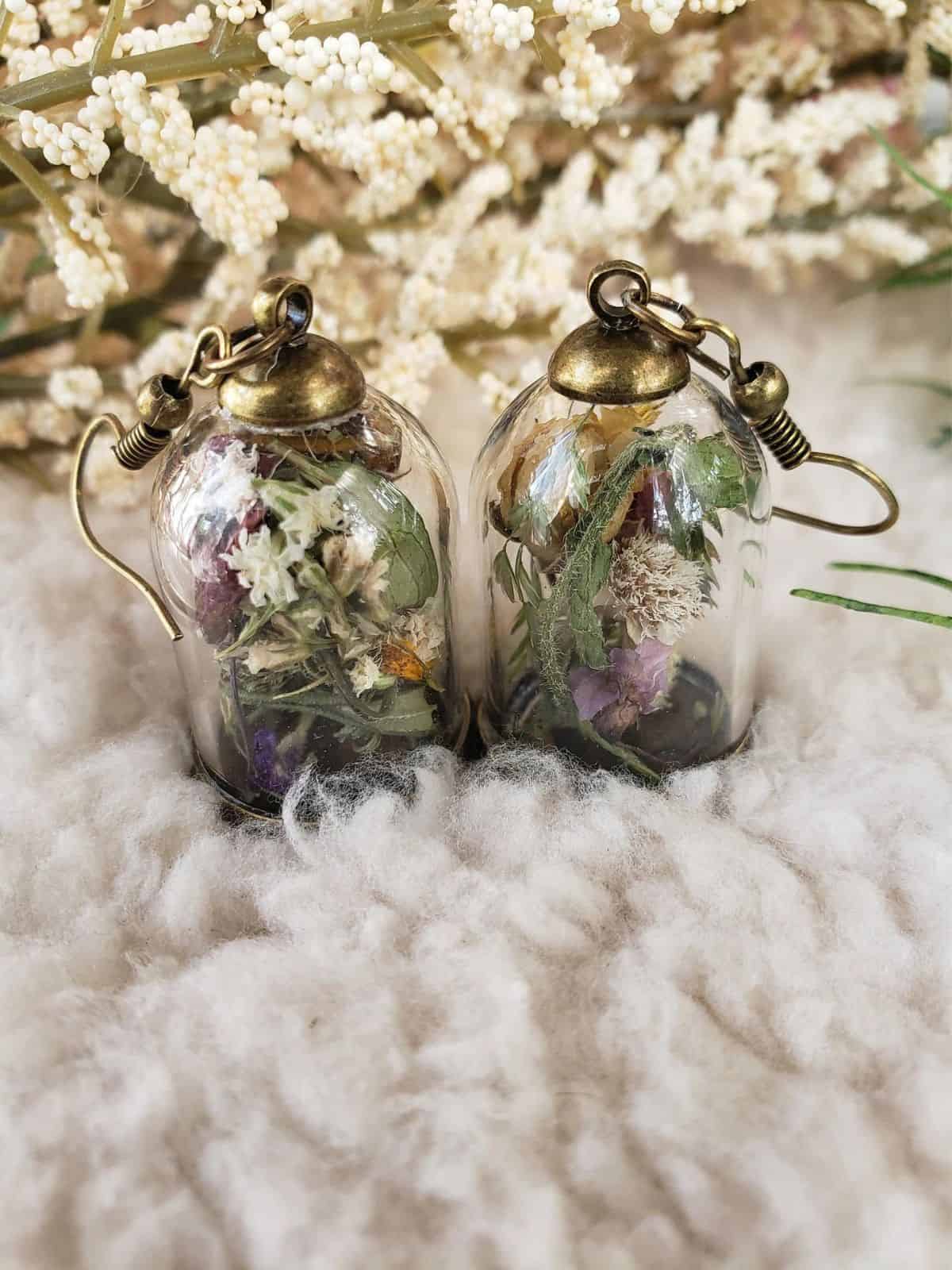 And, if you're willing to stretch your definition of "terrarium", there are lots of other lovely pieces to check out.
I particularly like these two geometric fern pieces by VBRTN and Remedy Design Shop (both on Etsy).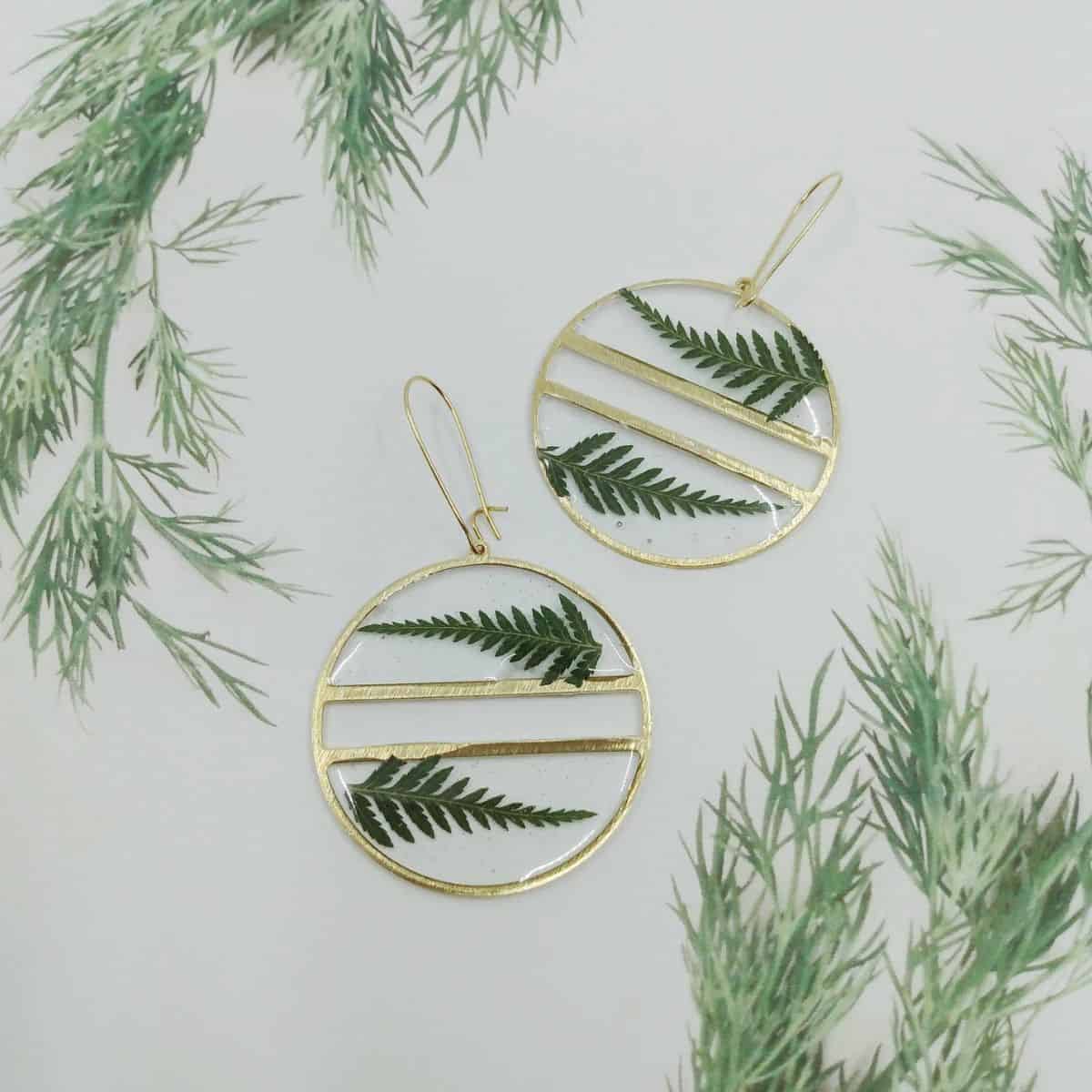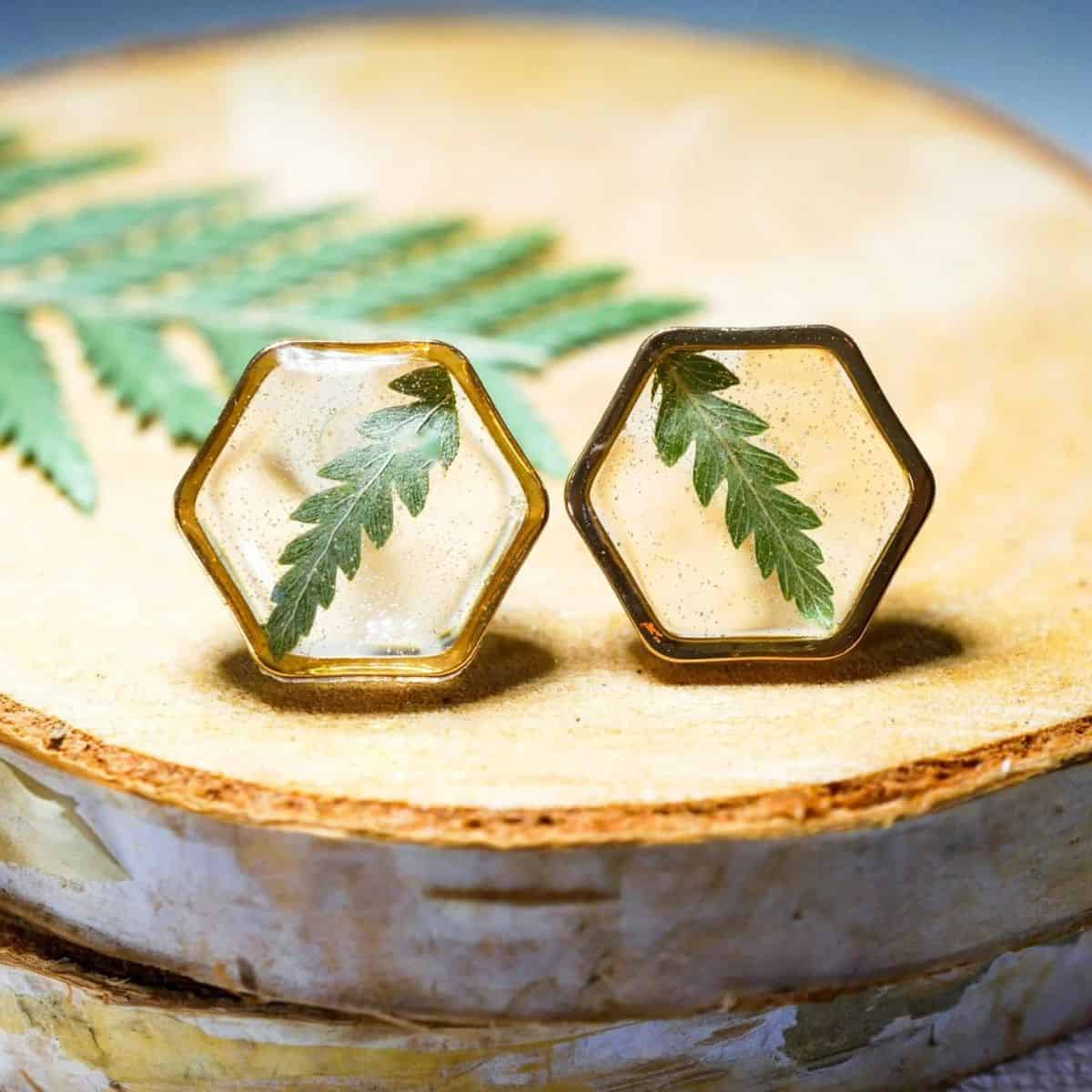 Or, if you have two piercings in each ear, why not choose both to match?
Terrarium Necklace DIY
Honestly, making terrarium jewelry is pretty straightforward if you're crafty, the main issue you'll run into is that it can be really hard to buy just what you need for this project without buying lots of extra stuff.
Ultimately, I wouldn't recommend doing it unless you already have a jewelry-making kit or would like to take up the hobby.
But if you want to go for it, here's what you'll need:
A jewelry kit – with hooks, clasps, earrings, pliers, depending on what you're making, etc.
Mini glass bottles.
Small amounts of living moss (like Mood Moss) or preserved moss (like Reindeer Moss) and/or preserved plants. If you're going for living moss you don't need any soil, no roots = no planting.
What You Wearin', Hottie?
That's all for today. I'm curious if you bought/made living terrarium jewelry, how long did it live? Let me know in the comments! X