Terrarium tables are undeniably cool.
Not only is it a beautiful way to tell your guests – and the world – that you're a plant person, but it's also a creative invitation to bring yet more plants into the home when you're short on space.
But there are lots of different ways to approach it, and with a plant project of this size, it can be hard to know where to start.
In this post, I'll lay all the cards on the (terrarium) table, take you through each of the different methods, and show you how to make your living furniture dreams come true.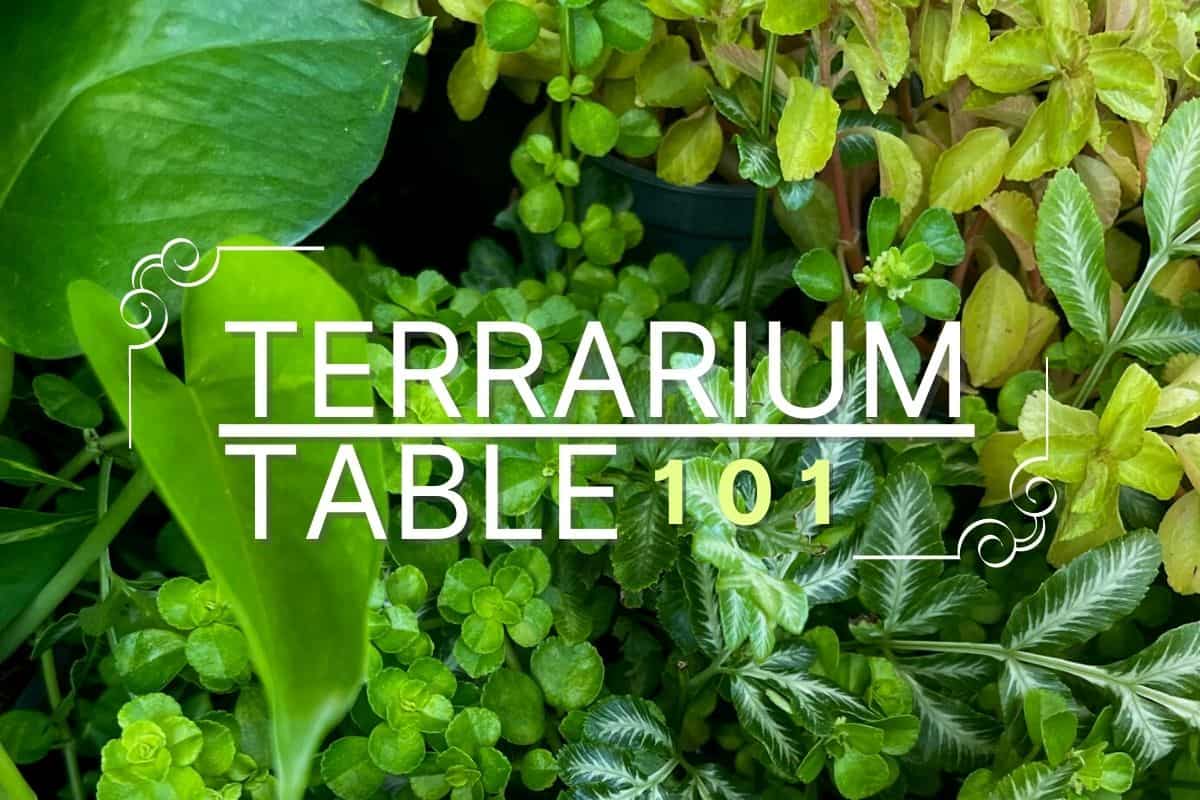 This page may contain affiliate links that allow us to make a small commission (at no further cost to yourself). 💚 Thank you for helping to support the tribe!
Terrarium Table DIY
Choosing a Table to Convert
Naturally, the first place to start is with the table itself.
It will underpin the whole set-up, and it's completely up to you what direction you want to go in. Each option will require a different amount of technical know-how.
Let's take a closer look.
Option 1 – Display case table. If you can find one, opting for a display case coffee table (effectively ready to build a terrarium in) is a great easy option.
Option 2 – "Cut out" table. Some lovely coffee table designs have an inbuilt sunken area or "cut out." Turning one of these into a terrarium is a lovely way to make use of the table's existing assets. Unfortunately, there aren't many tables like this, but the LIATORP coffee table from Ikea is a reliable choice if you're struggling.
Option 3 – Glass table with shelf/space beneath. This is the most common type of terrarium table I see, and these tables are much easier to find. It will involve creating an open terrarium planter beneath the glass top.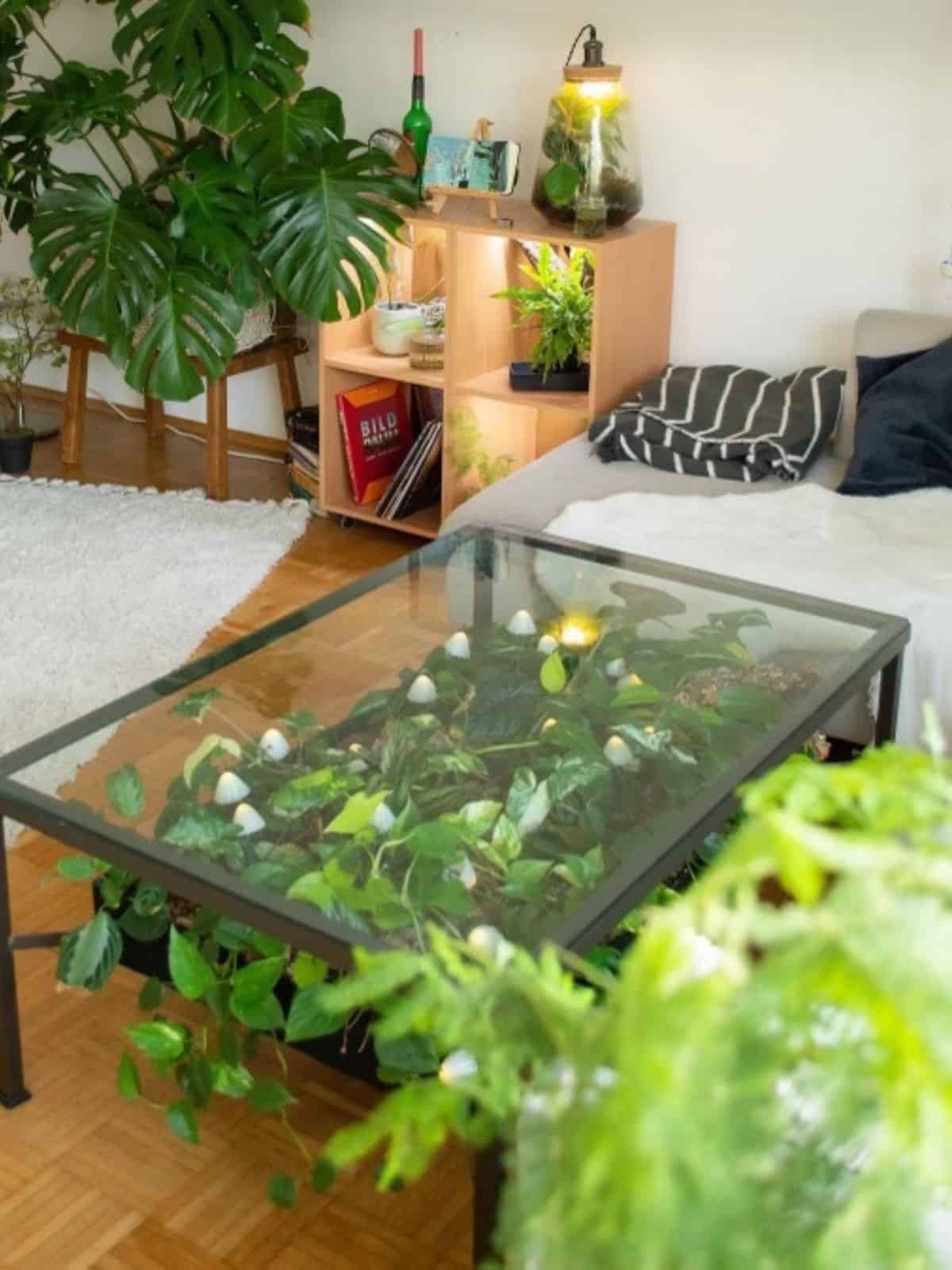 Option 4 – Whatever table you can make work. If you're a seasoned DIY-er (or a figure-it-out-er), you need not limit your project to the above options. I've seen some incredible creations made from all sorts of tables.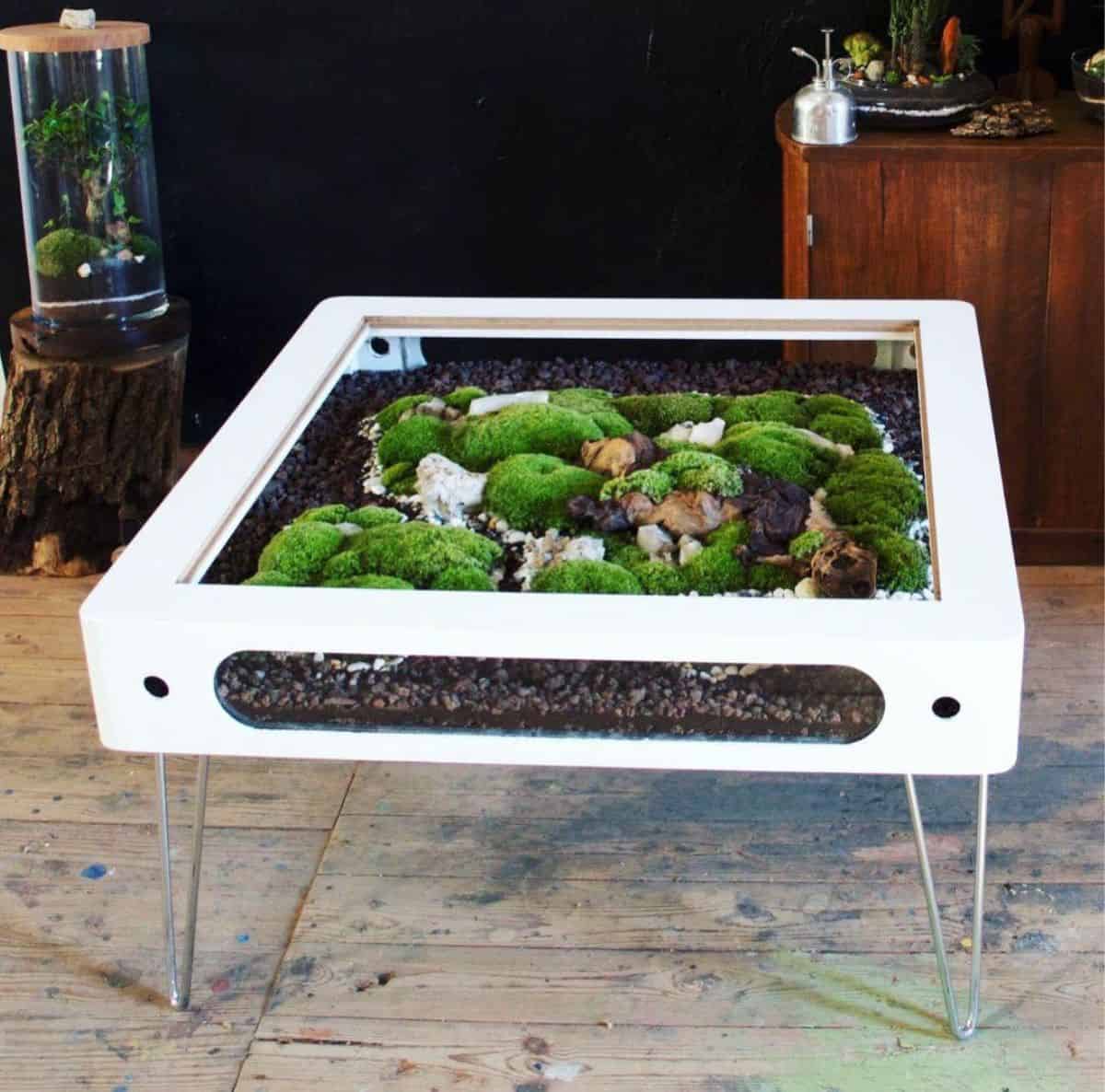 Turning the Table into a Terrarium (& Making it Waterproof)
Unsurprisingly, converting your table into a terrarium starts with waterproofing.
There are four ways of doing this, and helpfully, they align nicely with the options above.
1 – Caulk is the perfect choice if you already have a relatively waterproof enclosed space (like a display case table) but need to take it that little further to make the edges fully waterproof.
2 – Liquid rubber & geotextile fabric is great for waterproofing a non-waterproof area – such as in a cut-out table build. Tanner Serpa uses this method for his terrarium desk in his youtube video, (in fact, he creates the entire table, but the technique can be applied just the same). Of course, you'll also need a glass piece cut to size for this kind of build.
3 – Tarp, tape & cardboard can be used to create an open planter if you're going for the glass table option. It may sound like a challenge, but Karen from whoputalltheseplantshere makes it look easy in her youtube video.
4 – Acrylic sheets & a glue gun can be very useful for a combination of different builds. If you have an open space in your table you'd like to close with a transparent material; acrylic can be a great, inexpensive medium to use.
One more thing to note – it's important you make your design accessible so you're able to get to your terrarium for watering and maintenance.
And on the flip side, you'll need to make sure it's secure when it's functioning as a table.
This will mean making sure the glass is easily removed but easily secured into place once in position. Of course, this will look different for different projects, but it's helpful to work out this issue before you get started.
The Plants
Now you have an idea of the mechanics of the project; you can turn your attention to the exciting bit: what's going inside.
If you're going for a table with an enclosed space, you'll be able to build a traditional closed terrarium within.
Tropical plants and mosses are going to be perfect for this.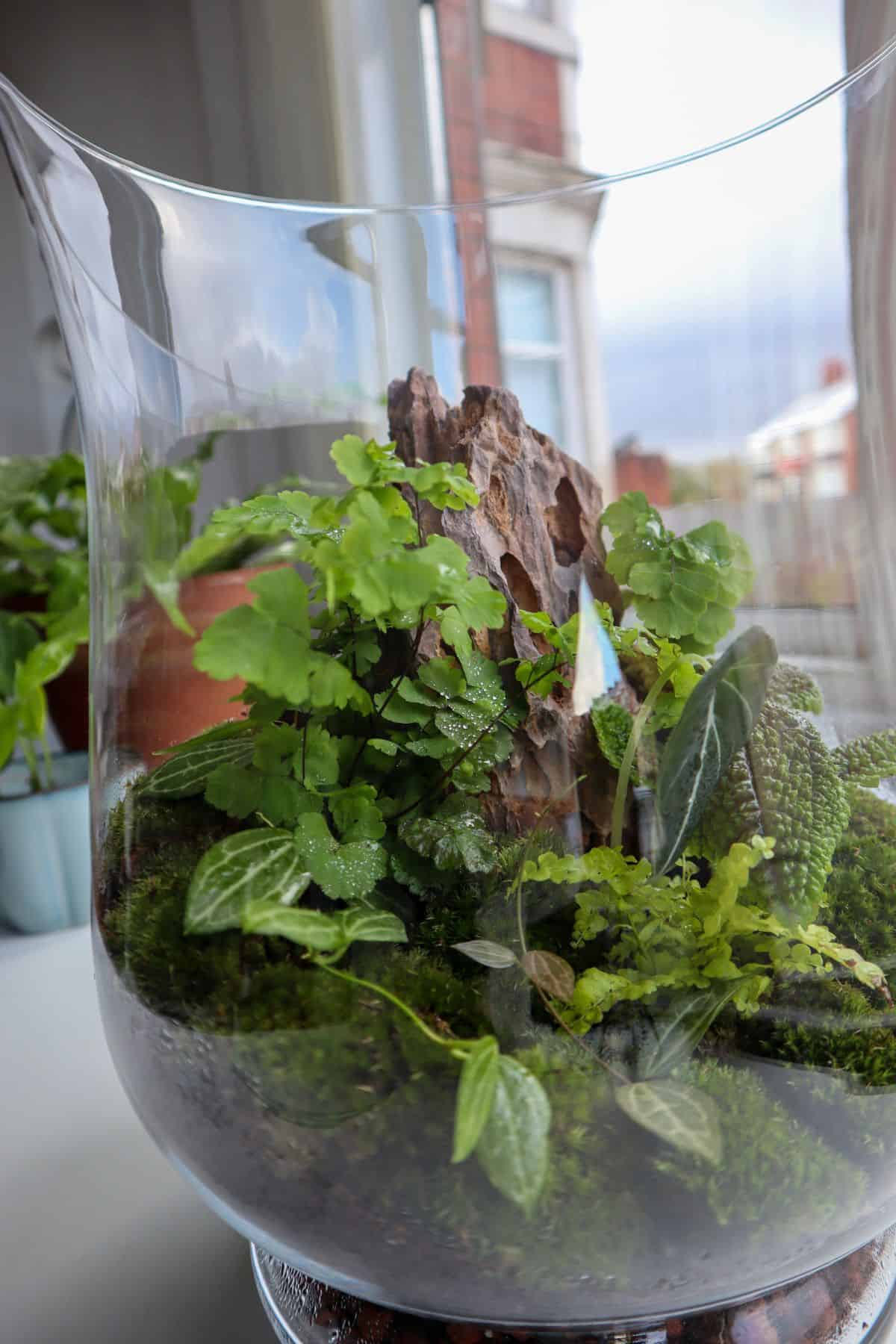 👉 Check out our biiig guide to closed terrarium plants.
If you're going for the glass table option with a planter beneath, your "terrarium" table won't be sealed, so the most appropriate terrarium model is going to be an open terrarium build.
That said, unlike many open terrariums where you might like to have an arid setup (with cacti and succulents), I recommend choosing hardy tropical houseplants. That's because the glass top will somewhat prevent humidity from escaping, so any arid plants in the center of the piece could struggle.
Instead, Aroids like Pothos, Monstera, Philodendron, and Syngonium – that all enjoy the humidity of a terrarium but can survive outside – are all great choices.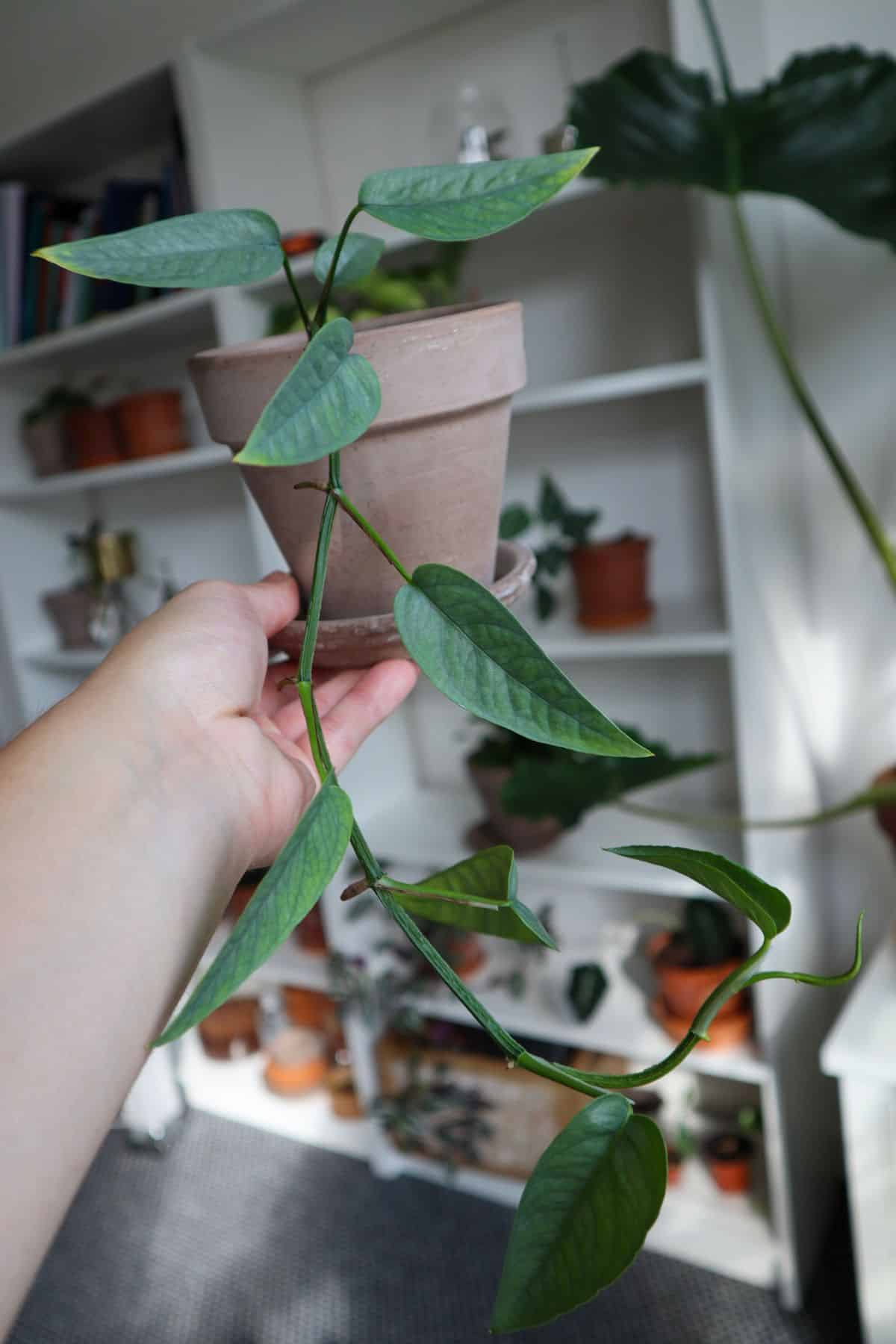 If you're creating a terrarium table that is accessible to animals/children, make sure to double-check plant toxicity before you start.
The Terrarium Build
Building such a significant piece means it's worth going absolutely all out. Here are some recommendations I have:
It doesn't matter if it's an open or closed terrarium build, adding some hardscape pieces will always elevate a project. You can use rocks, wood, or even crystals.
👉 Check out our terrarium hardscape guide for more.
Choose contrasting plants.
To make your build more visually dynamic, choose plants that contrast each other.
Using lots of green aroids in an open build? Add in some lime or blueish tones.
Have lots of big leaves in a closed build? Add in some mosses and dainty accent plants for texture.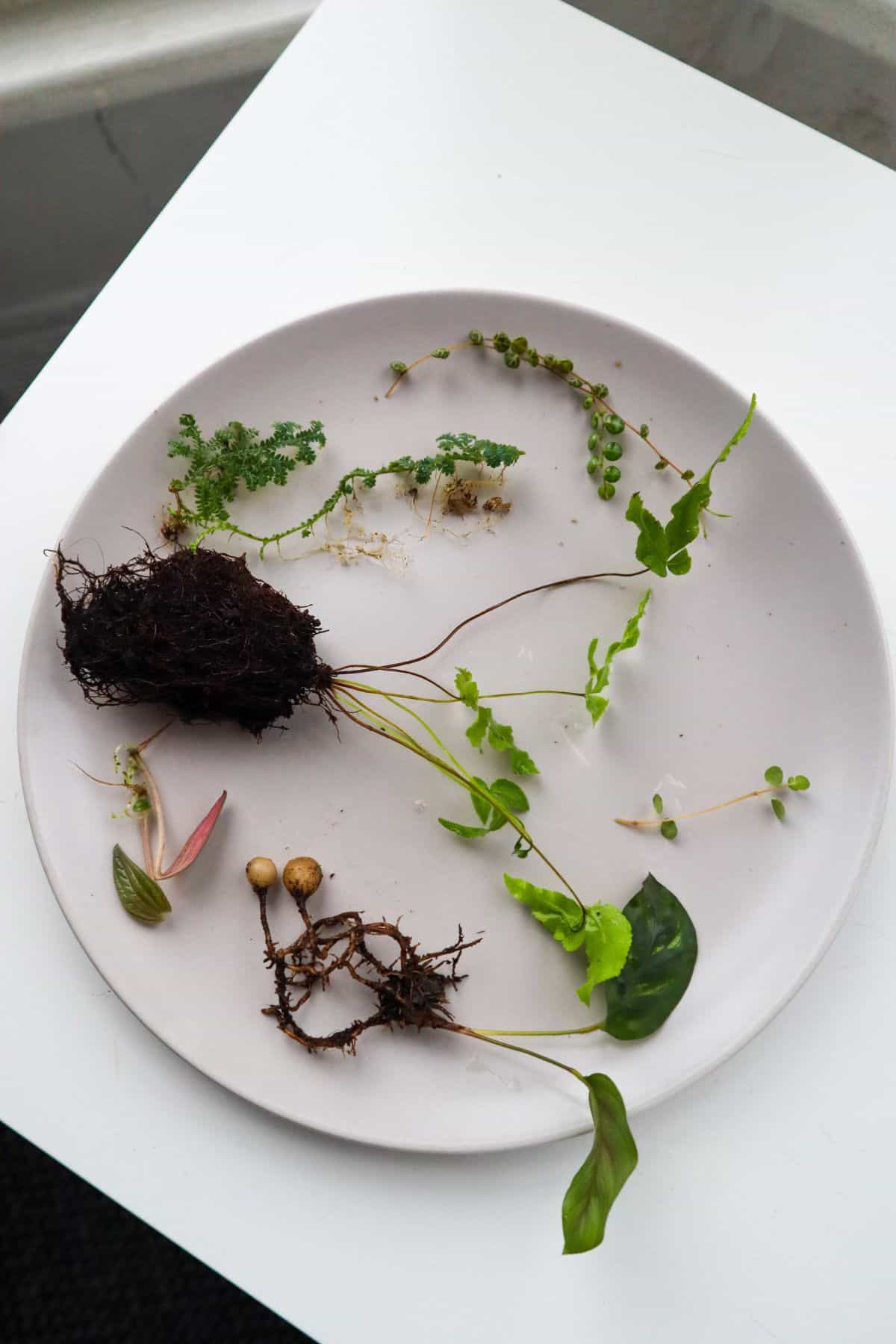 Keeping a terrarium table happy on the lighting front can be very tricky.
You need to make sure your terrarium table receives plenty of bright, indirect light, but no direct sunlight. Naturally, the light that any particular area of the home gets will change throughout the year, so grow lights are a great addition to keep things as consistent as possible.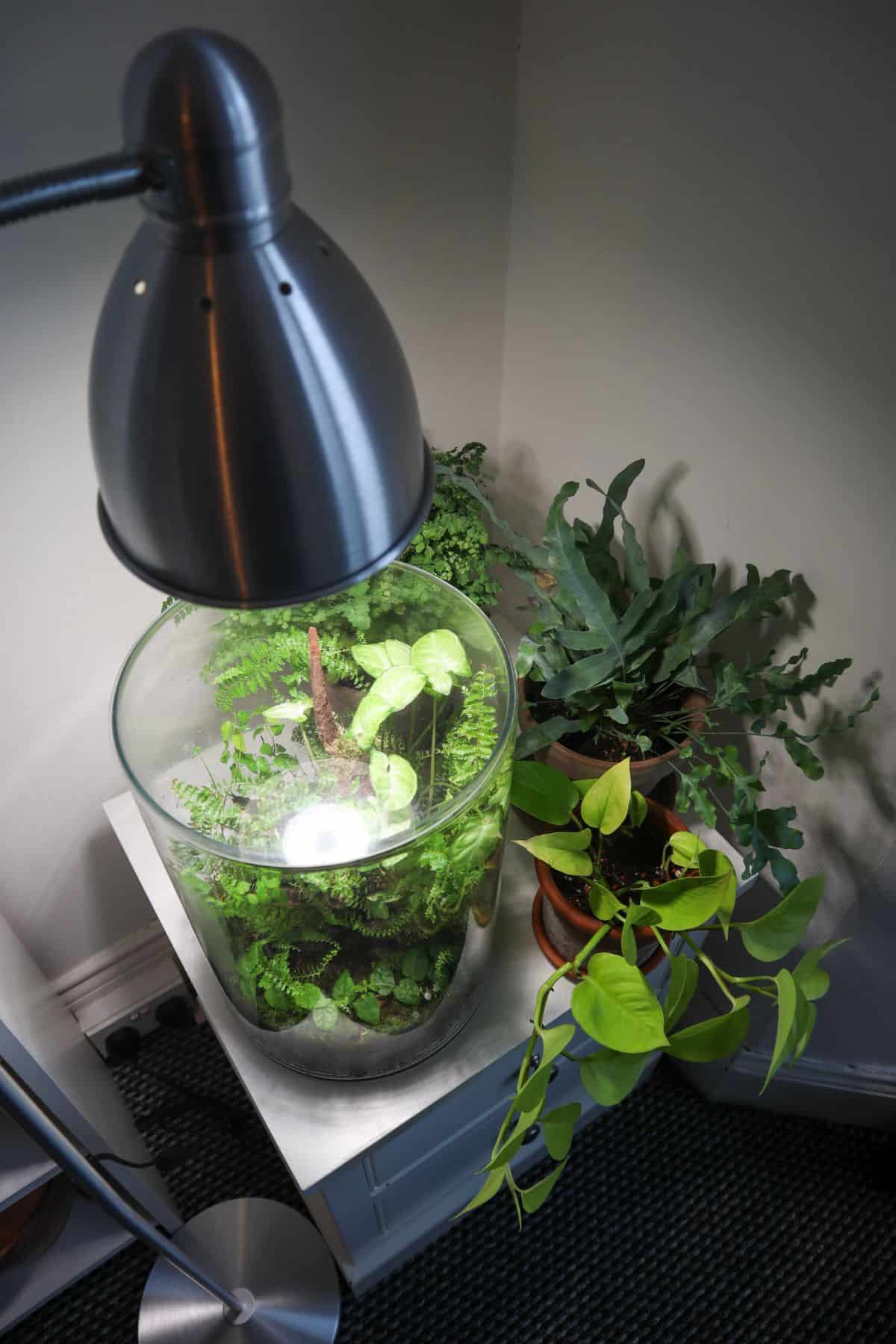 Plan out your design before you build.
There's nothing worse than being halfway through a build and realizing you have incompatible plants or not enough drainage material or soil…
Make sure you do your research before you dive in. (Our how to make a terrarium article is a great place to start).
That's All For Today
I hope you LOVE your new terrarium table; if you want to show it off, share it in the Terrarium Tribe Facebook group or tag us on Instagram. Ready for your next terrarium furniture project? Check out my terrarium lamp article next!