Half the fun of terrariums is exploring new and exciting themes.
Whether it's a new natural biome to be shrunk down to size or a new TV show to be captured in terrarium format – the possibilities are endless. By combining living plants with unique and interesting elements, we can create something truly extraordinary.
If you need terrarium theme inspiration, you're in the right place.
Today I have ten awesome ideas to get the creative juices flowing for your next project, from festive accessories to environmental inspirations to film and TV.
So without further ado, let's cue the theme tune…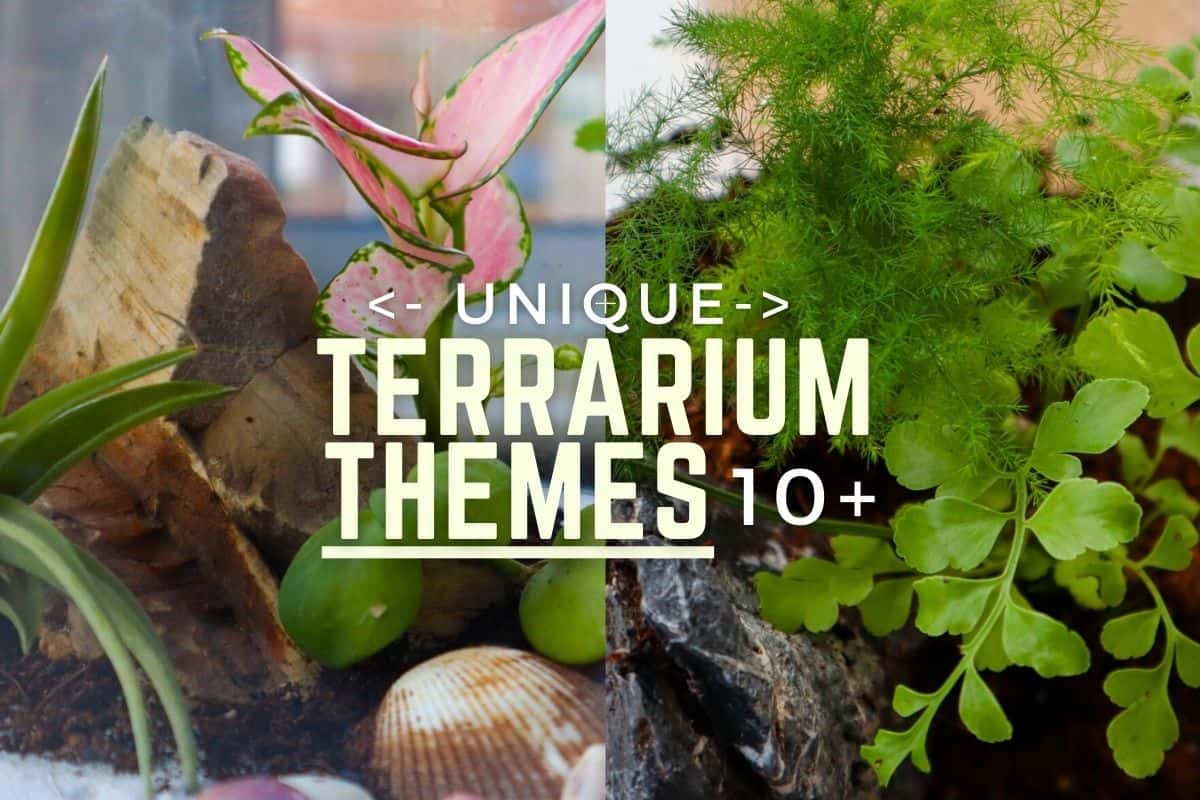 This page may contain affiliate links that allow us to make a small commission (at no further cost to yourself). 💚 Thank you for helping to support the tribe!
10 Top Terrarium Themes
Tropical/Rainforest Terrarium
I think we can all agree that it would be a sin to not put rainforest terrariums at the top of the list.
It's a theme that works with any and every project, be it a large vivarium installation or a tiny terrarium.
And you can go as curated or untamed with the design as you like – it's up to you and your interpretation of rainforest.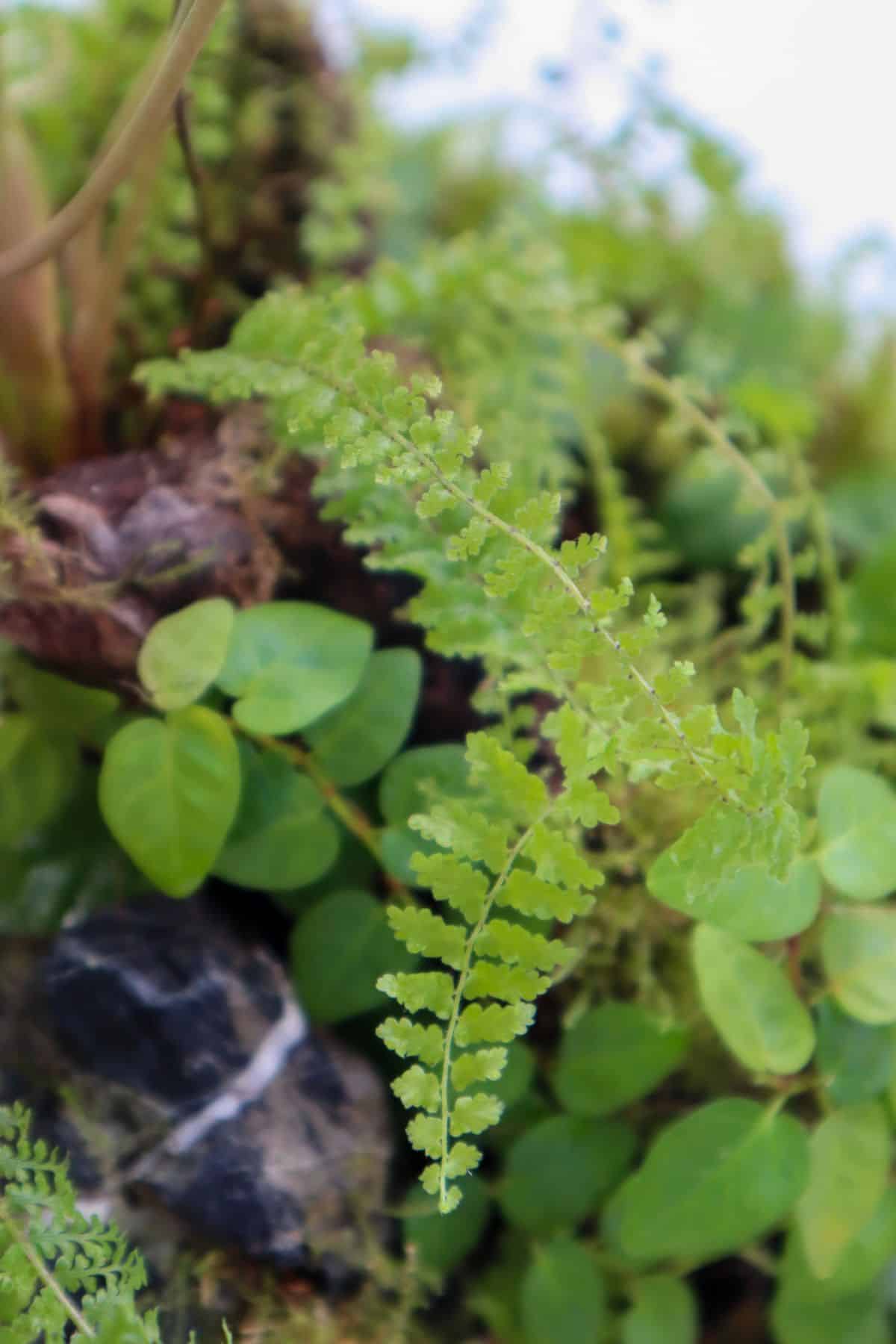 Utilizing epiphytic moss and plants is a great way to take it to the next level.
👉 Check out Building Rainforests: The Essential Guide to Tropical Terrariums for more.
Fairy Garden
There's nothing cuter than a fairy garden.
It's a perfect opportunity to create a little magical scene, and there are no rules.
A tiny tea party would be adorable, as would a tiny vegetable garden (complete with a wheelbarrow, naturally).
You'll need some fairy garden accessories – there are plenty available to buy, but I enjoyed making my own with oven-hardening modeling clay.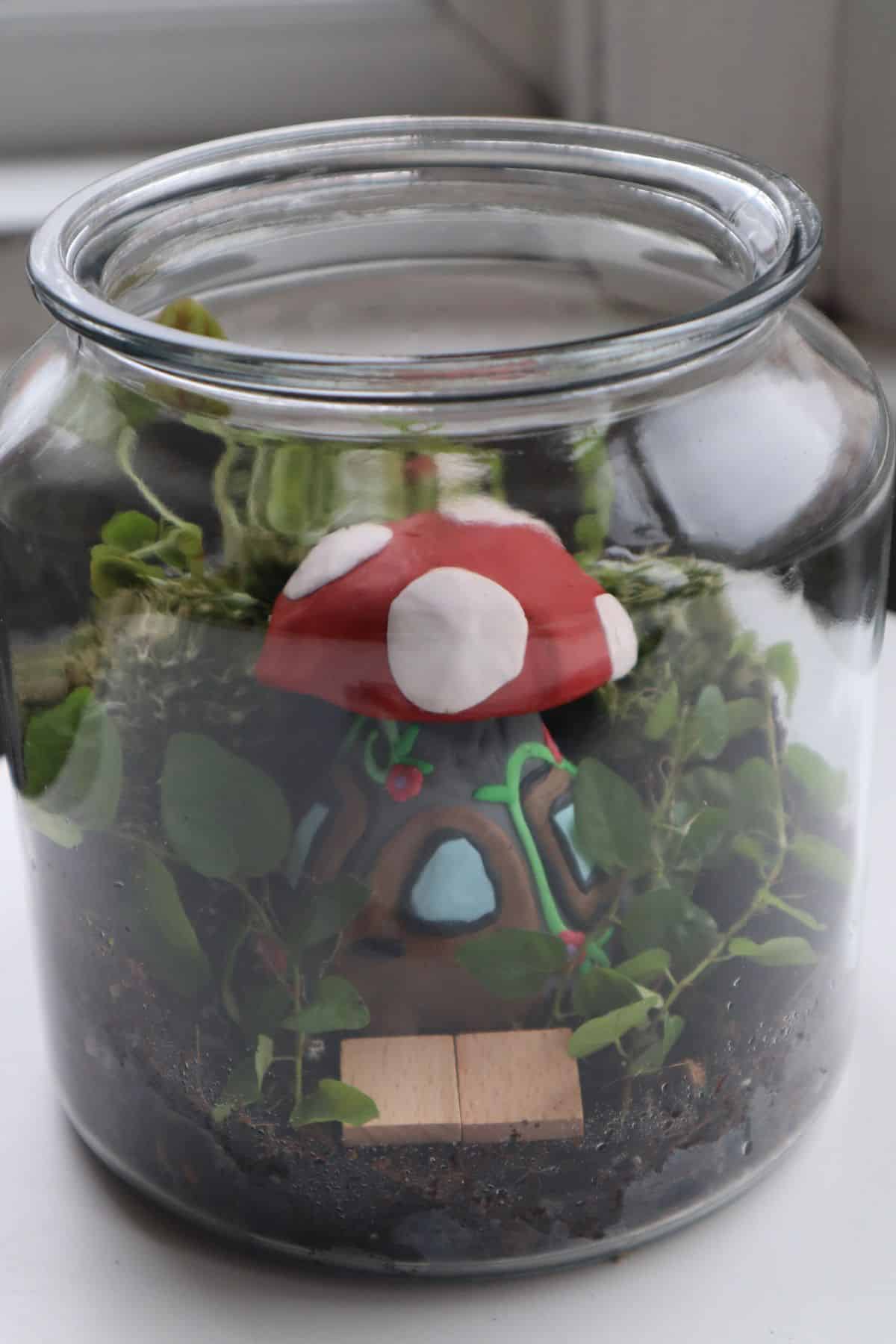 👉 Head to our Fairy Garden article for more ideas and a DIY step-by-step.
Desert Terrarium
If you prefer a dry heat, a desert terrarium is the theme for you.
First things first, this kind of build requires an open terrarium setup, which will need a different approach.
You'll need a wide glass dish as opposed to a closed container.
Swap out your tropical plants and ferns for arid cacti and succulents.
Choose a gritty, sandy substrate instead of a fluffy one.
Aside from the structural changes, the design is very much the same. Choose contrasting plants with contrasting colors and add a piece of hardscape for scale.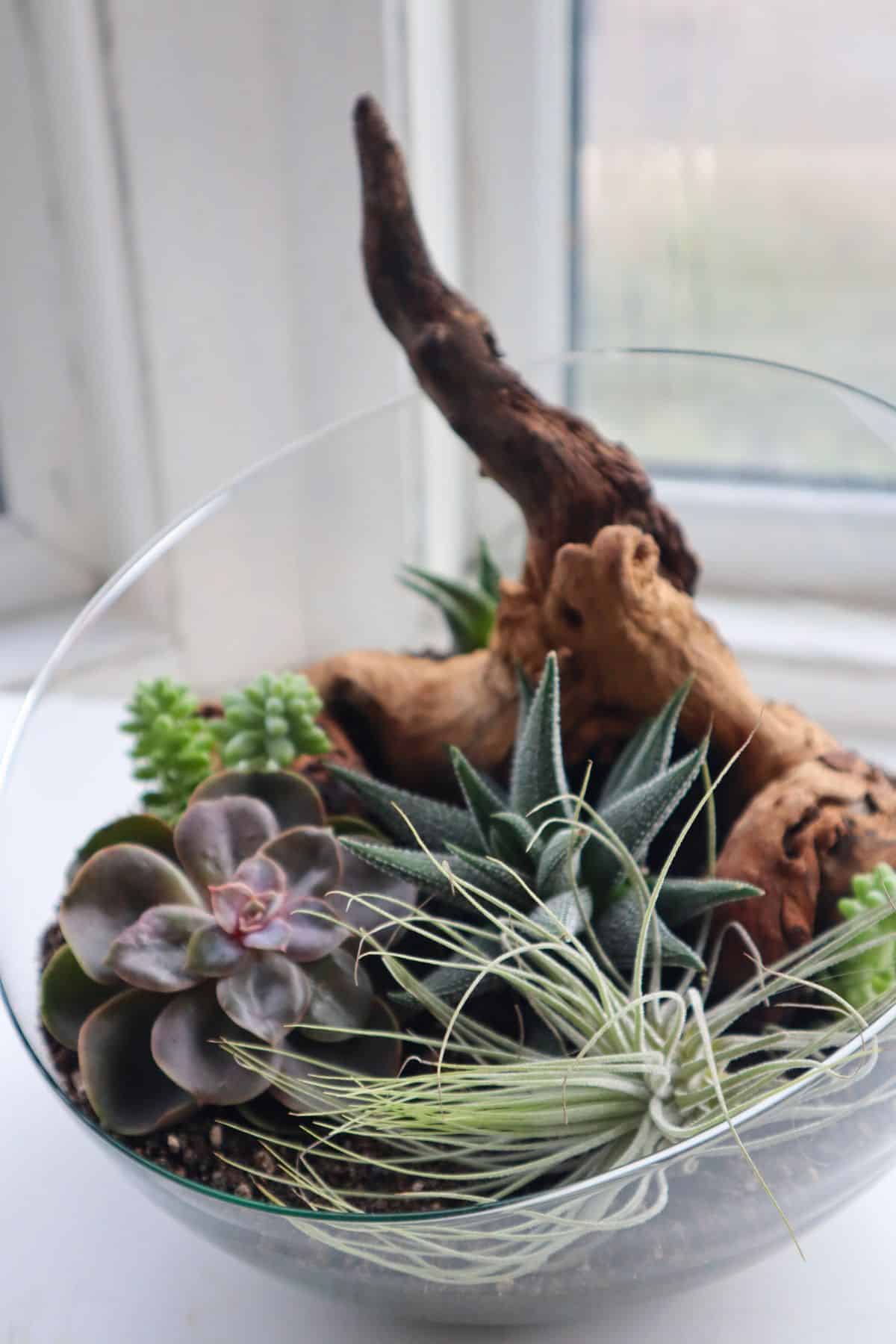 👉 Check out our Desert Terrarium guide for the prickly hot details.
Zen Garden/Japanese Terrarium
If you want a terrarium theme that's both visually impressive and timeless, a Japanese zen garden is the one for you.
It's a theme that works with both closed and open terrarium builds, and there are many ways to bring it to life.
Why not try zen garden accessories like:
Mini pathway with slate tiles.
Pebble stack.
Raked sand.
Statues, miniature temples, bridges.
Bonsai.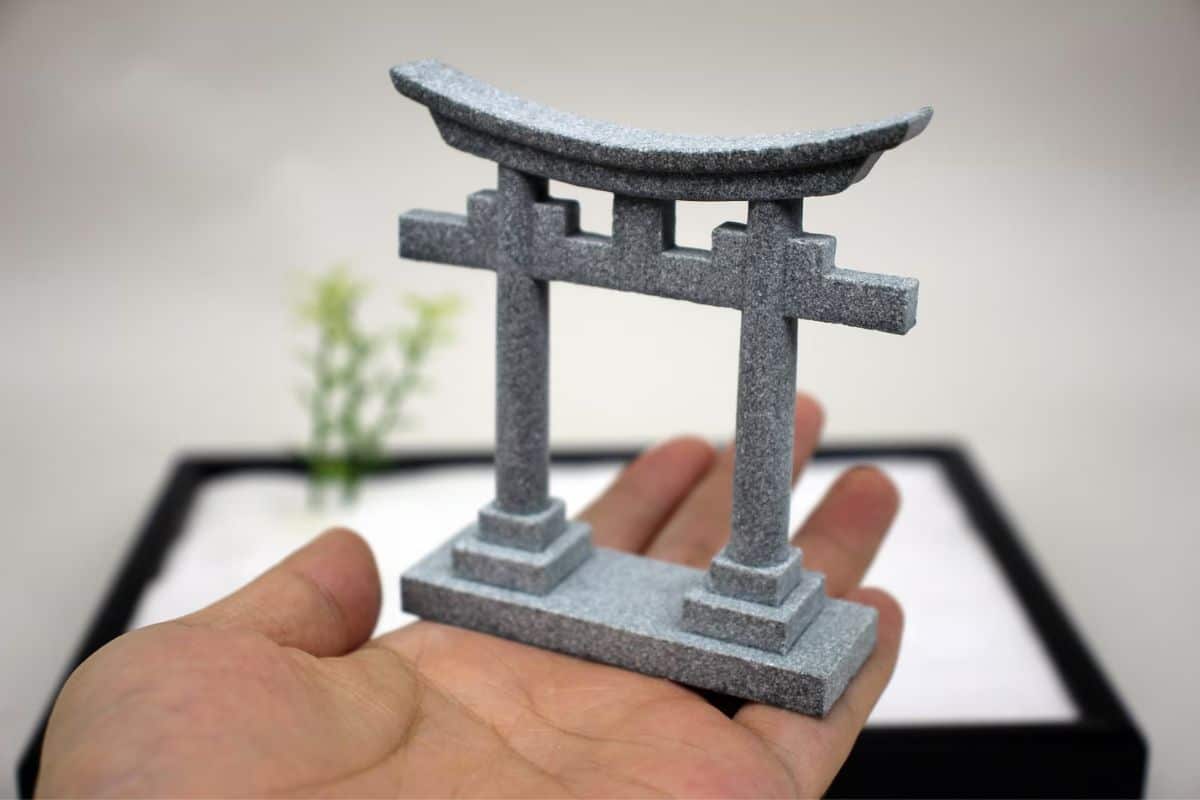 👉 We delve further into the zen garden aesthetic and more in our Japanese Terrarium post.
Woodland Terrarium
Life your whimsical forest fantasy with a woodland terrarium.
It's all about textured plants and shades of green with this theme.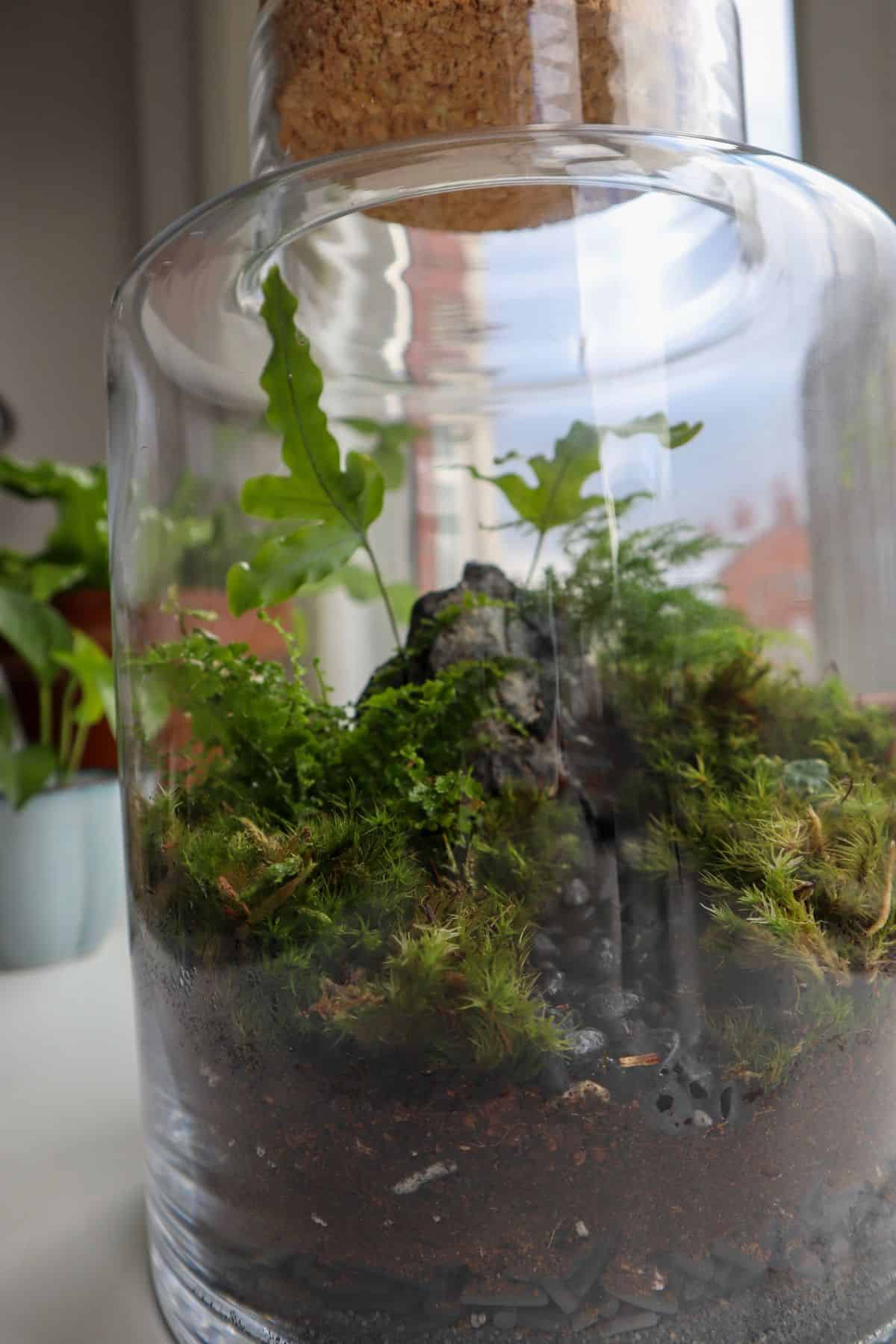 Woodland environments aren't known for pinks and purples, so a green color palette works best.
👉 See our Woodland Terrarium guide for further info.
Movie/TV Terrarium
From Harry Potter to SpongeBob Squarepants, there's a whole world of nostalgic shows and films begging to be terrarium-ized.
Making or purchasing appropriate terrarium miniatures is key here (Etsy is a great place to look), but I find that the setup and plant choices are equally important too.
Of course, you could just pop any character miniatures into a terrarium, but to truly make the most of this theme, it's best to fully consider the landscape and work with scale.
Going with a Lord of the Rings Shire theme? Try building tiny Hobbit doors into the substrate and covering the top with moss.
Going with a Shrek theme? Plant taller plants around the swamp to give the illusion of tall trees.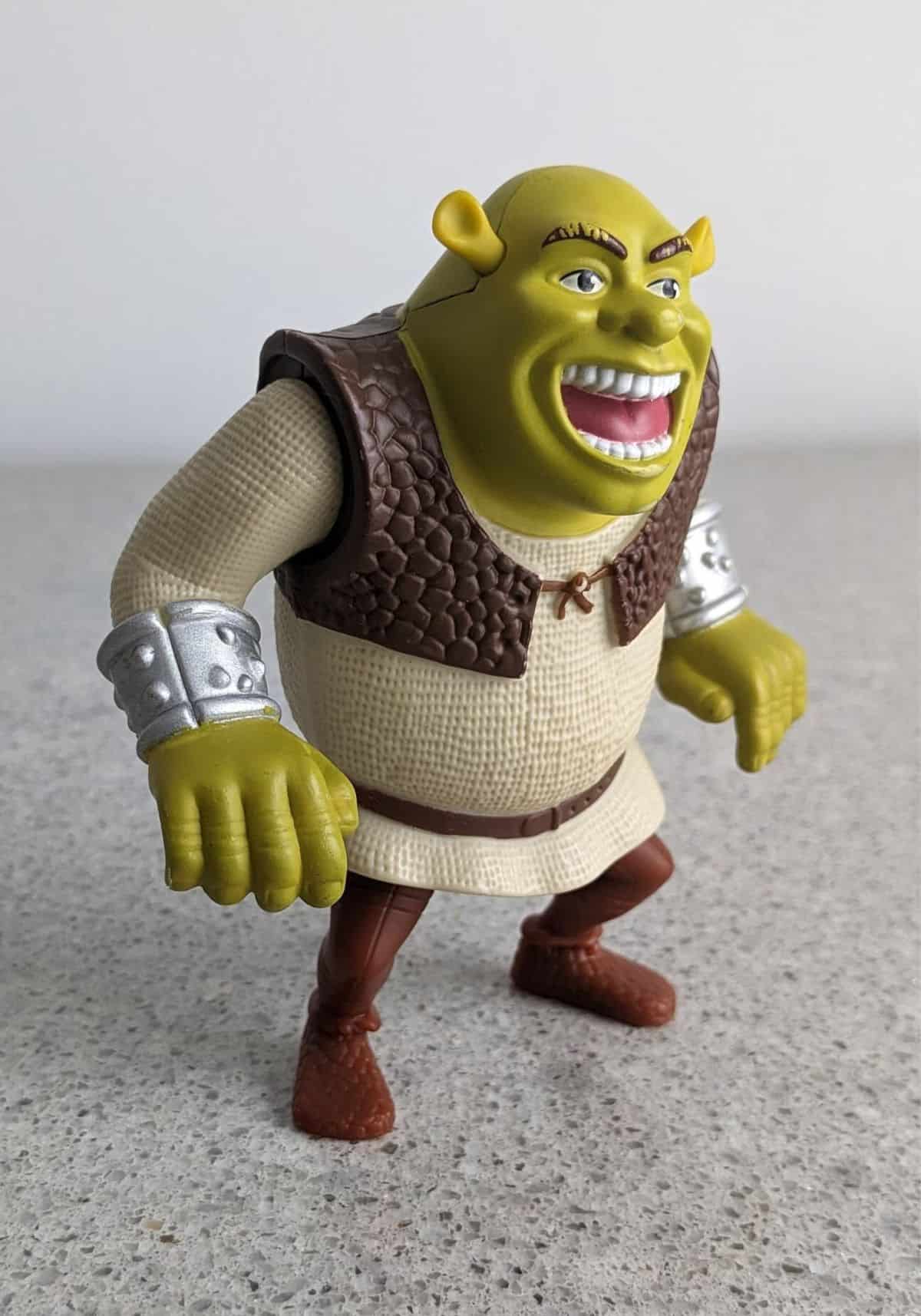 👉 Our Instagram is the best place to look if you need more inspiration. Or, for a specific look into our childhood favorite, head to our Pokemon Terrarium post.
Seasonal Terrarium
If you're the kind of person that likes to go all out with their holiday decorations, you need to add a seasonal terrarium to the mix.
I've yet to find an occasion where it wouldn't work, from Easter to Independence Day (surely red, white, and blue could only be improved with a little green?).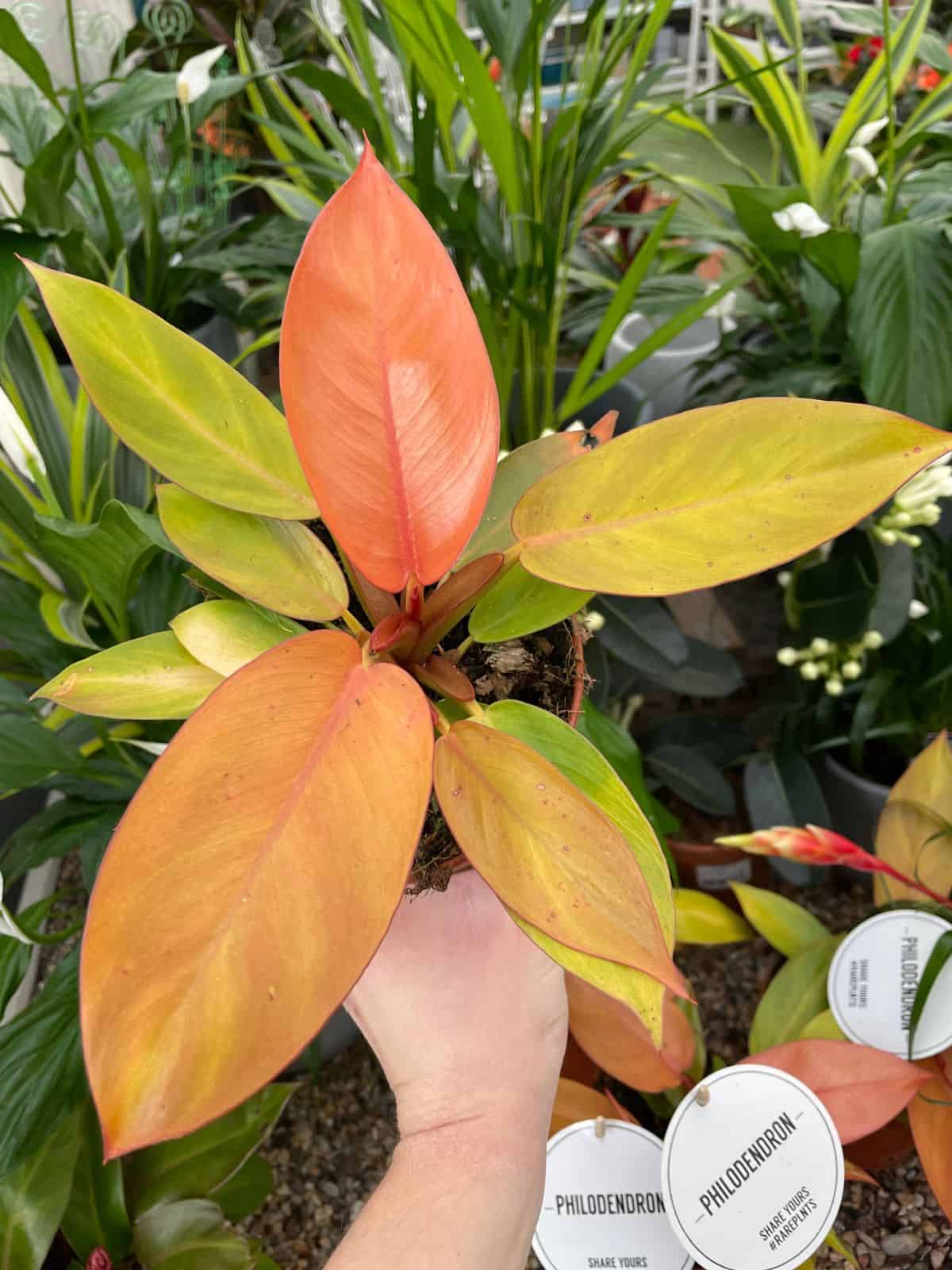 👉 See our Christmas Terrarium and Halloween Terrarium posts for more decorative guidance.
Carnivorous Bog Terrarium
Terrarium first-timers may want to give this one a miss, but if you like a challenge, a carnivorous bog terrarium is a great project.
Notoriously tricky but oh so worth it when pulled off properly.
Unfortunately, Venus Flytraps aren't the best choice, but there are plenty of interesting plants better suited.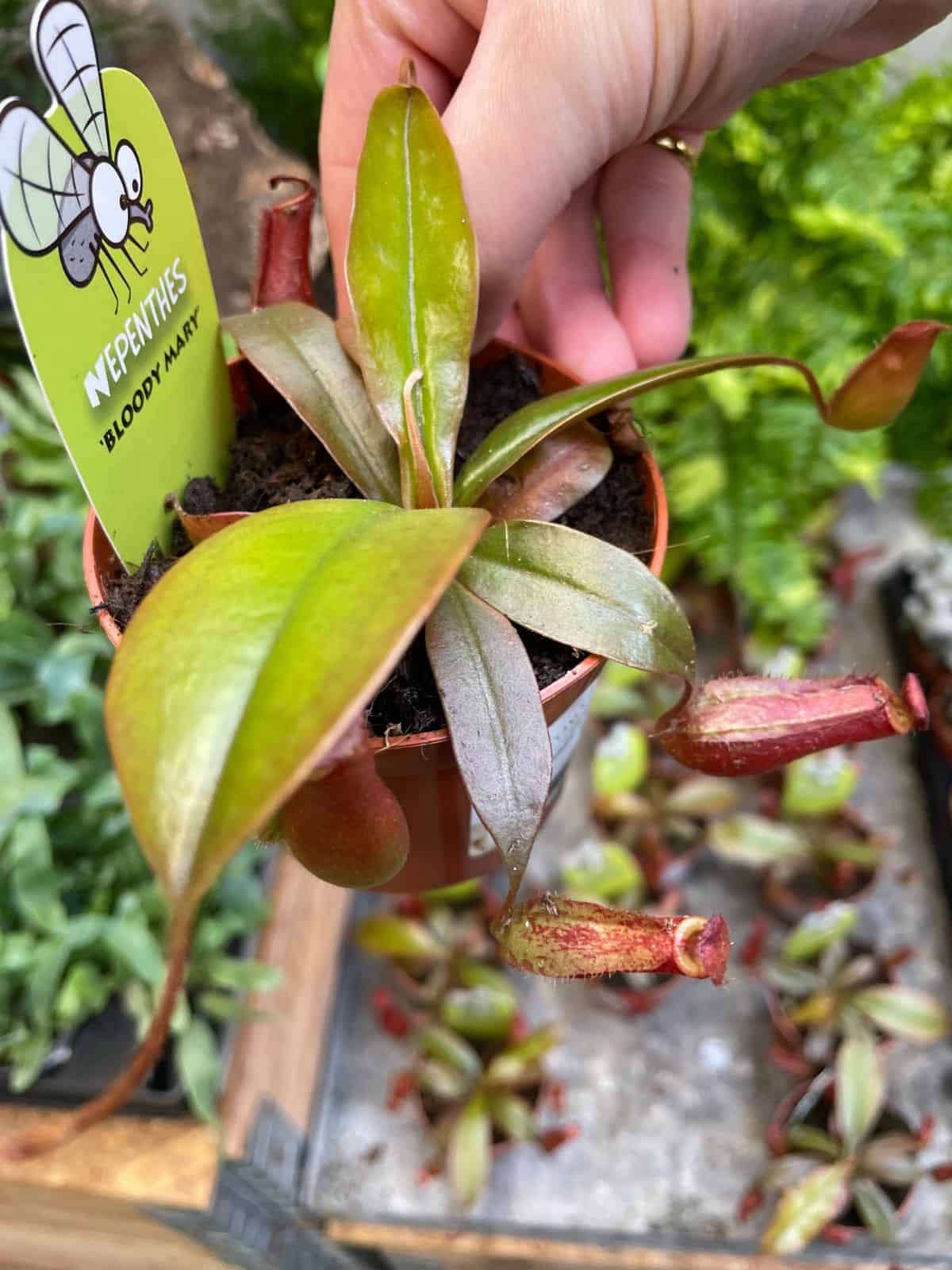 👉 To get bogged down in the details, see our Carnivorous Plant Terrarium guide.
Dinosaur Terrarium
While dinosaurs could technically be included in our film & TV category (hello, Jurassic Park), as far as I'm concerned, they deserve a category of their own.
It's such a fun and easy way to spice up a terrarium, and it works with all build types, either open or closed, large or small.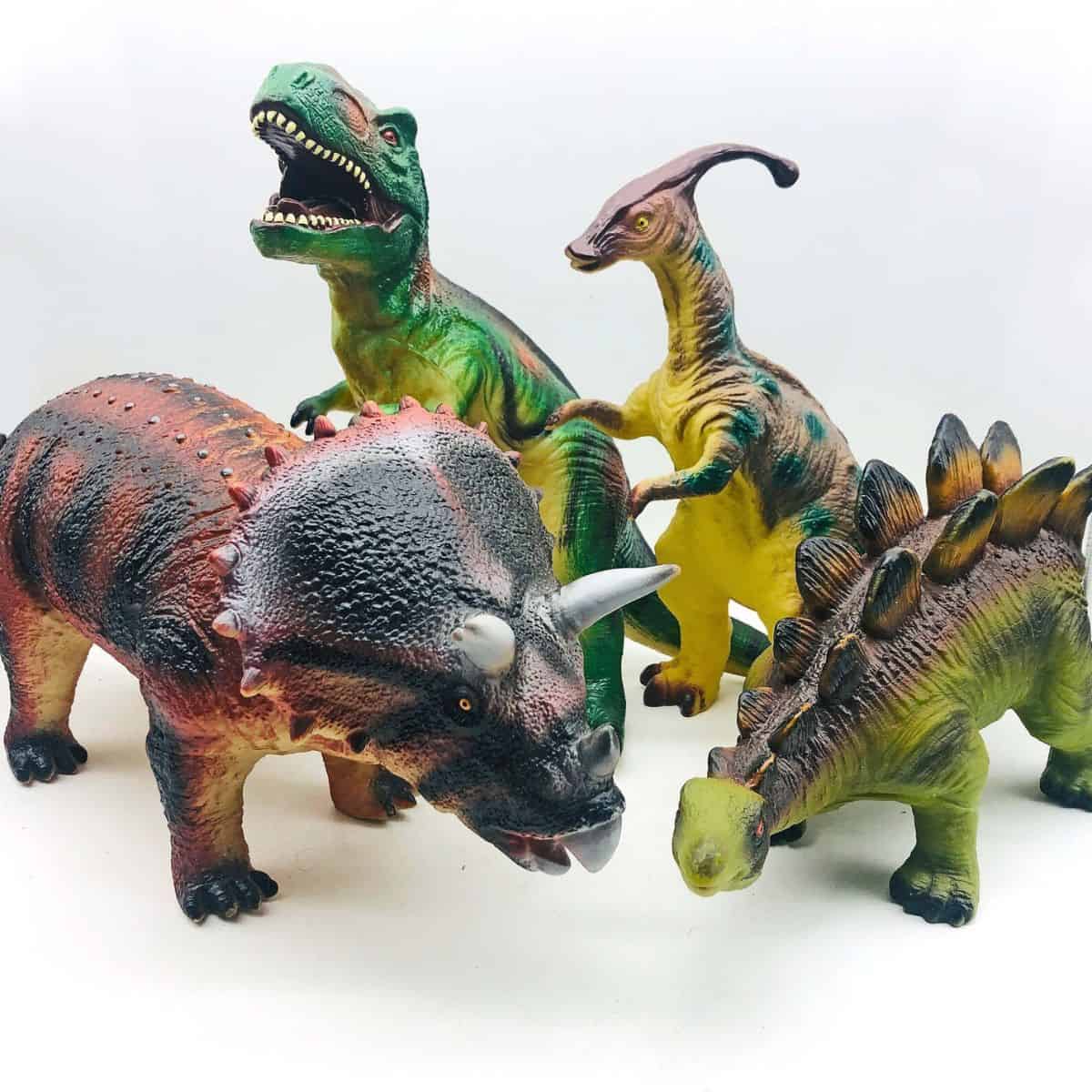 If you don't have much space on the ground of your terrarium, why not suspend a Pterodactyl figure to the lid with a piece of clear string?
Beach Terrarium
Bring a bit of the seaside into your home with the Pinterest classic: a beach terrarium.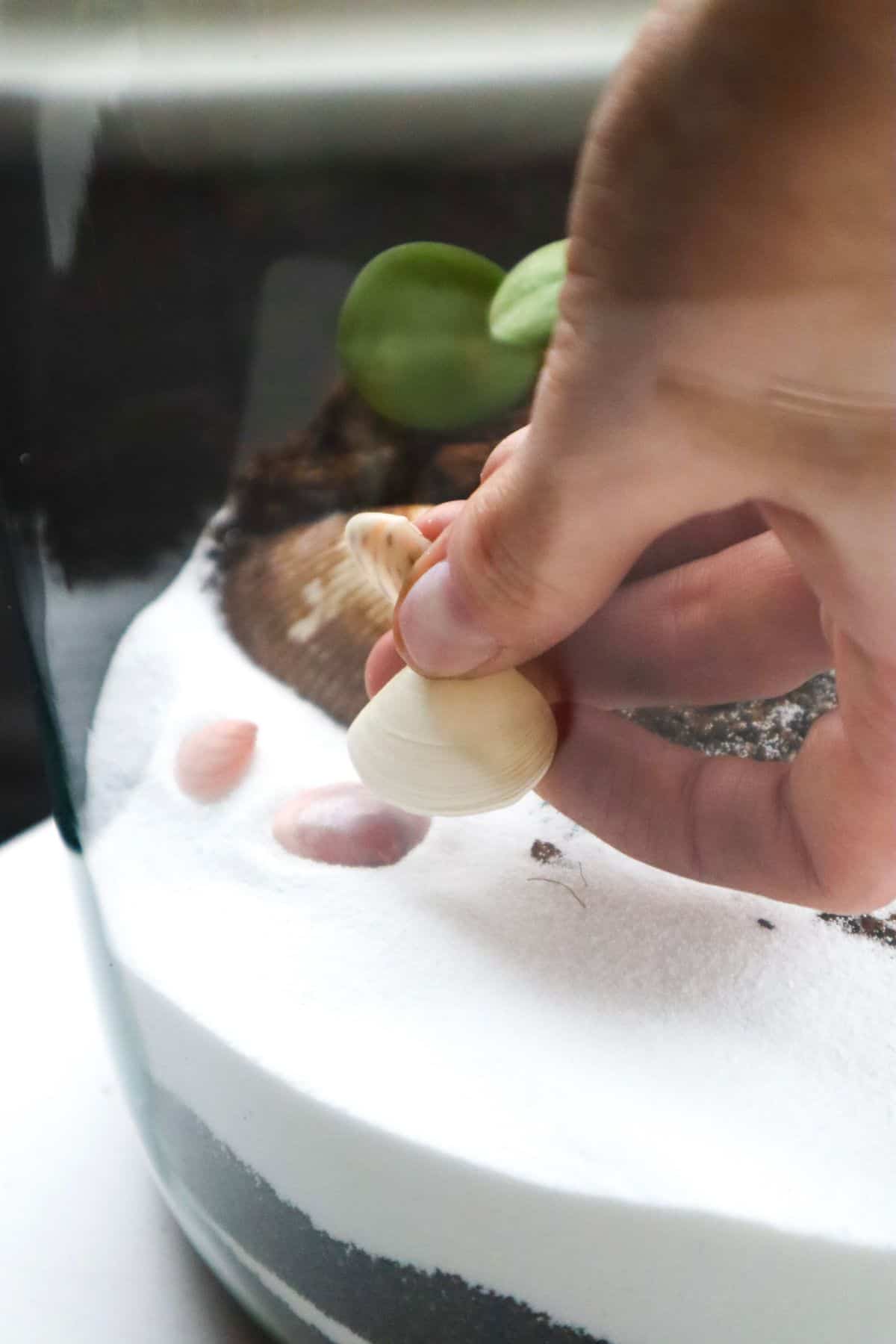 For plants, think grassy sand-dune vibes, and for hardscape, think warm-toned rocks or driftwood.
There are tonnes of directions you could take this in if you wanted to level up too – sand art and resin water, to name a couple.
👉 For the full beach-y breakdown, see our Beach Terrarium article.
What's your Favorite Terrarium Theme?
Let me know in the comments which theme you go for, and don't forget to share your creation in our Facebook group to cash in on some compliments!