Join the Plant Collective
Terrarium Tribe is a place for plant lovers, nature enthusiasts, artists, would-be botanists and frankly anyone who is interested in the wonderful world of plants and terrariums. Hopefully that's you!
We believe that terrariums are the perfect way for people to reconnect with nature, even if you're living in an urban jungle; short on space, natural light or (in our case) both. If you're looking for a way to express your creativity and love for plants in the same broad stroke – you've found it.
Our approach with plants mirrors our mission in life. To cultivate and connect, to nurture and grow.
As you may have already found out, planting and caring for terrariums can come with challenges (don't worry, losing a plant doesn't make you a bad person!). 
Honestly, it's as much an art as a science, and sometimes we all need a little guidance. Here, we provide a space for people to learn, and to share their knowledge, green-fingered successes and experiences. Which makes having you here as part of the tribe such a big asset in helping everyone develop their relationship with plants.
Join us today, we'd love to have you.
*Oh, and if you're a savvy writer and a terrarium expert (or enthusiast) and you'd like to work with me to create content for the website, drop me an email for a chat!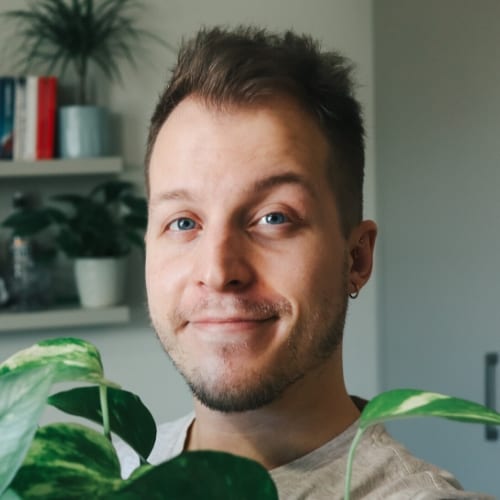 Have We Met Yet? I'm Dan Jones
As you've probably noticed, I love to build and care for terrariums. I like to raise all sorts of interesting plants, explore my creative side, and produce some kickass decorative items for my flat with my plant co-parent Rae Davidson.
I took up terrarium making after years of living in the city, with very little green in (or around) my living space.
For me, terrariums are still the best way for me to exercise my green thumb and bring some life in to my home. I'm no botanist, but I've learned a few things over the course of my personal terrarium failures and successes.
If you're reading this then I imagine you share my passion for plants and their environments.  Hopefully my experiences and advice help to inspire and guide you! Or at least make you feel better when it goes wrong, because it's kinda part of the process. See you around!