Twas the month before Christmas, and all through the house, last-minute panic set in, and the decorator had their doubts.
The festivities were too few, and the home was too bare; something was missing; you could feel it in the air. They opened up their phone and scrolled through Pinterest, that's when they saw it, the thing that piqued their interest.
A fabulous Christmas terrarium sparkled on the screen; the decorator knew what to do – this Christmas needed some green.
I really can't keep this up; this exhausting poem must stop; let me give you Christmas terrarium ideas to make your decorations pop.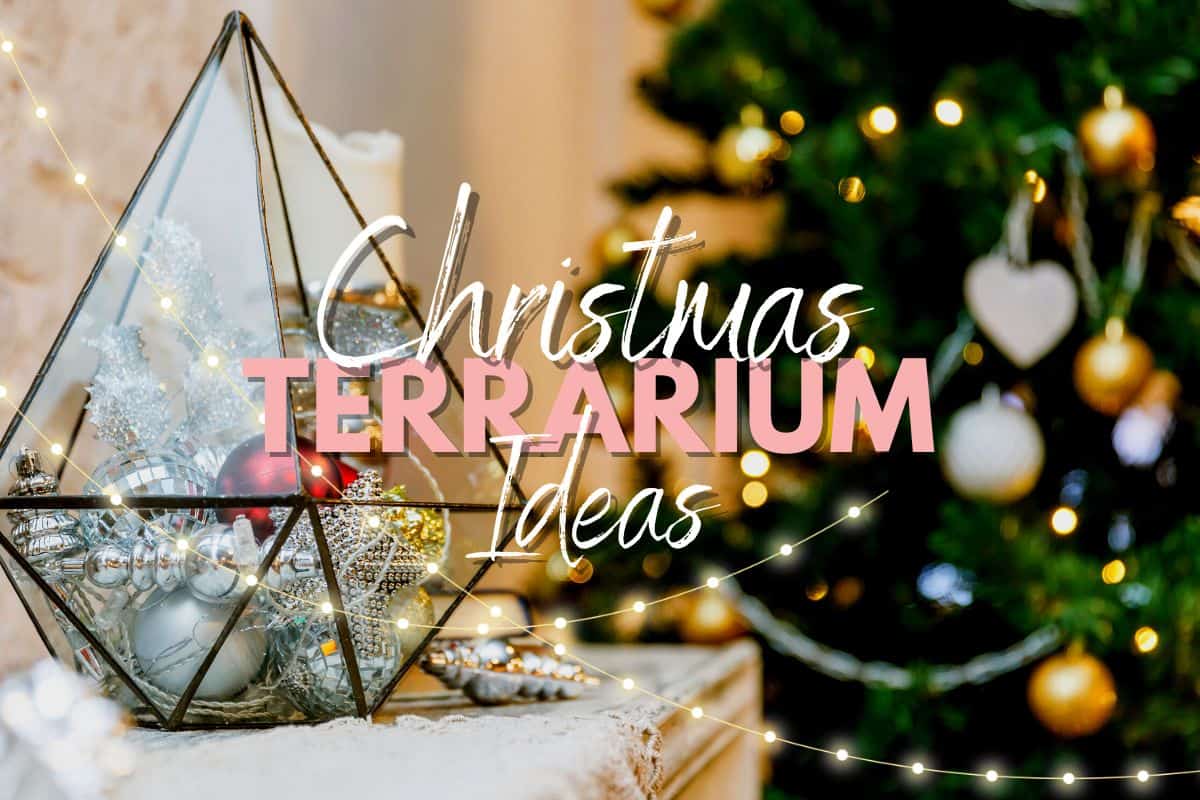 This page may contain affiliate links that allow us to make a small commission (at no further cost to yourself). 💚 Thank you for helping to support the tribe!
Christmas Terrarium Ideas
I can only apologize for that intro…
If you're still with me, let's start by clarifying what we mean by Christmas terrarium.
Despite being a website that focuses on traditional, planted terrariums, I figured that, well, if anything provides an exception to the rule, it's Christmas.
So, this article will cover a mixture of terrarium-inspired decorative ideas and concepts that work with living terrariums too.
You're bound to find something that works for you.
In no particular order, I'll be covering the following:
Festive container options.
Plants (some living, some not).
Accessories and decorations.
So without further ado, hot glue guns at the ready…
Get set, go!
1. Resin Details
There's no material more ideal for creating a faux snow effect than resin.
It bridges the gap between the terrarium and diorama hobbies and is often used to create watery scenes in terrarium pieces.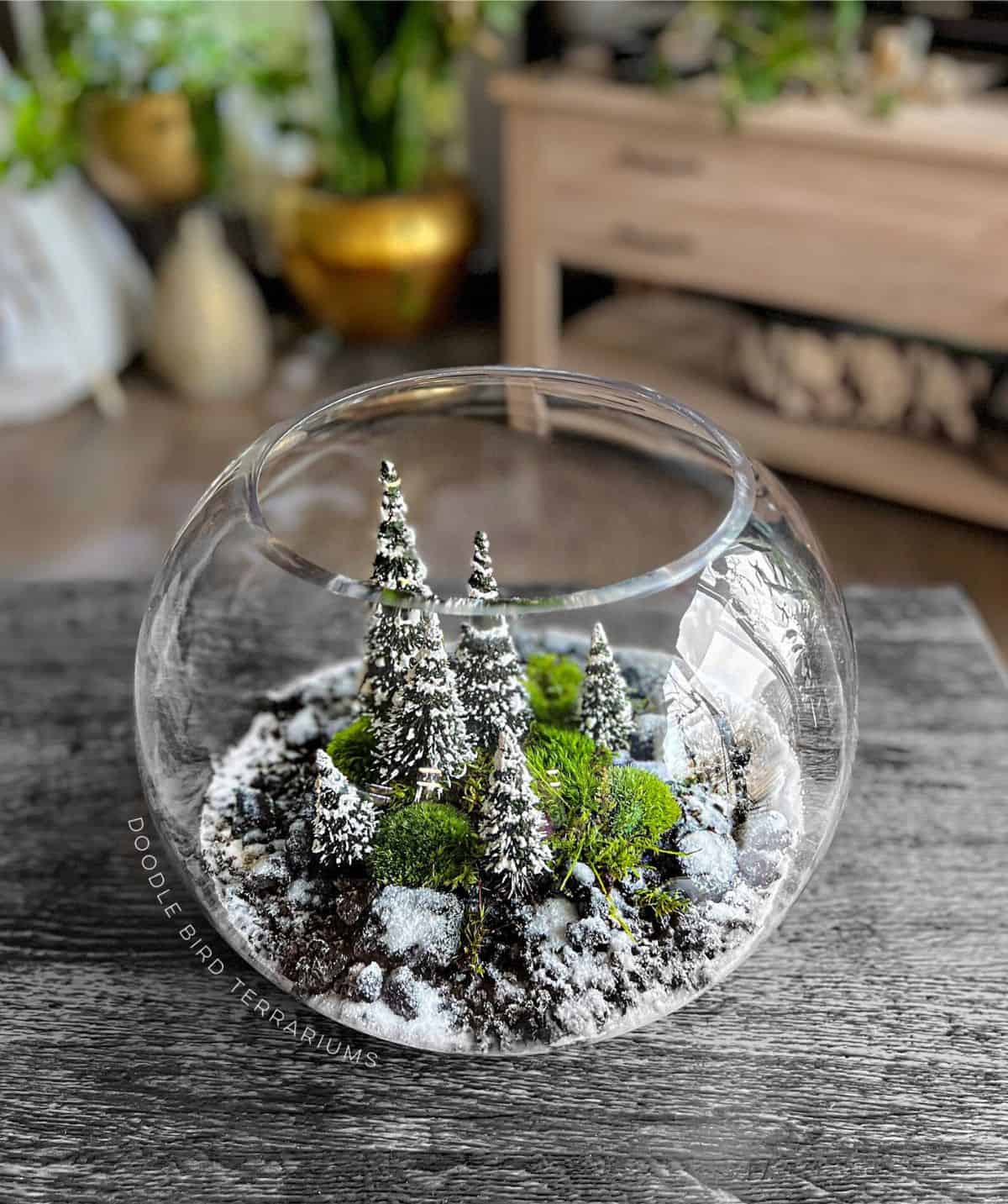 You can literally add fake snow to the resin to give a textured snowflake look, or drop white dye in to make a smoother surface.
Or, if you're feeling extra extra, add some holographic glitter or snowflake sequins.
How about experimenting with an ice rink scene? Or adding in some cute little snowmen?
For more help with this, check out my post on creating fake water.
2. Think Outside the Container
Who said all of the interesting stuff needs to be inside your container?
You could take a ribbon to your terrarium and wrap it up like a present or string fairy lights around it.
One of my favorite ideas is creating a design to stick to the glass. Just grab a vinyl sticker sheet in your favorite color and trace out a design.
Maybe a woodland scene or a few skiers heading down a snowy mountain.
Then, use a scalpel or scissors to cut it out and stick it on. Ta-da!
3. Use Preserved Plants
As a self-confessed terrarium lover, I find faux plants gross. Ew.
Plastic sucks and the challenge of making and maintaining a real, traditional terrarium is where it's at.
But – and it's a big butt – Christmas decorations are seasonal. They live in the attic for most of the year; a living terrarium wouldn't survive without light and maintenance.
So how do we satisfy both our love of organic plants and longevity? Preserved plants.
Preserved moss, flowers, and leaves will stay fabulous for Christmases to come.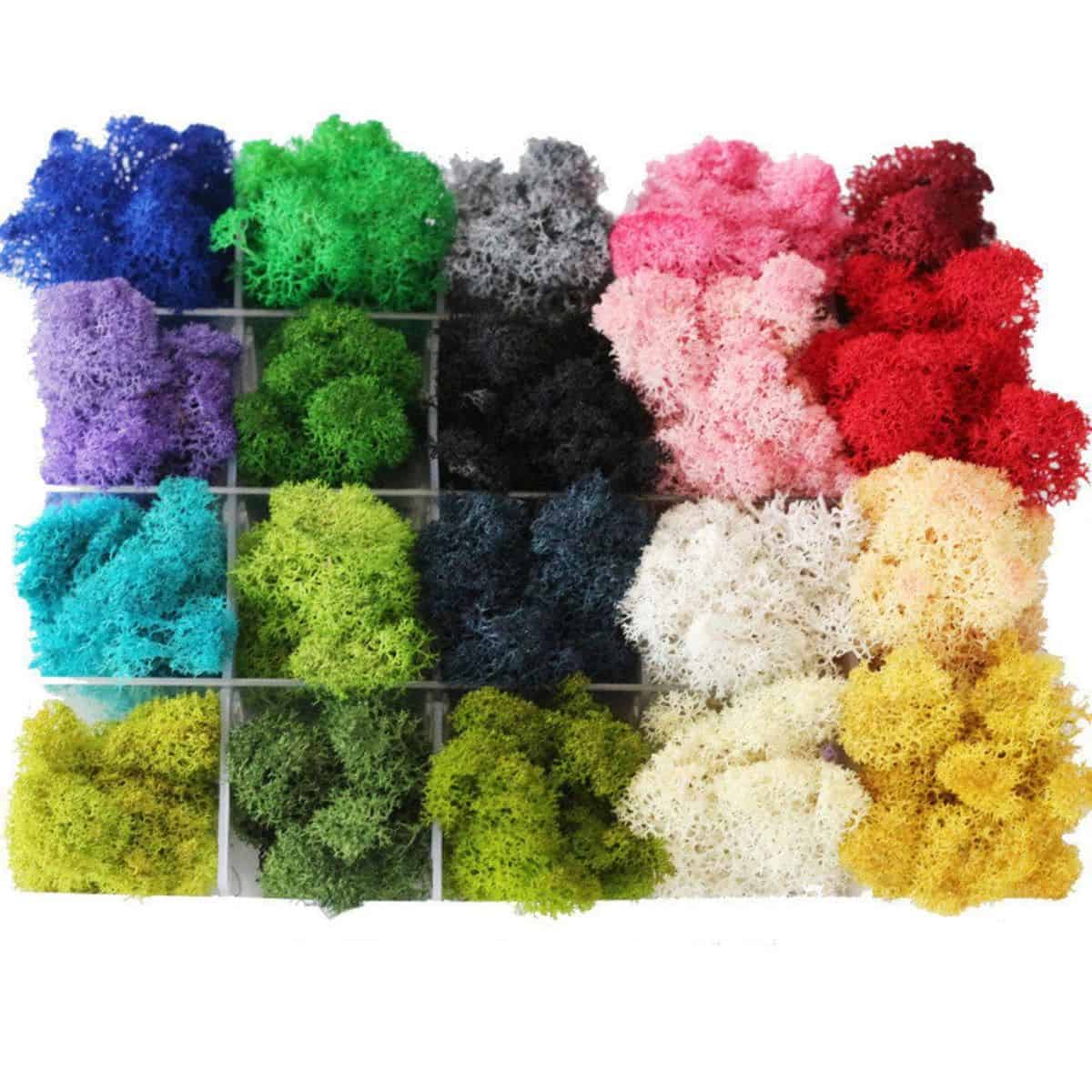 Dyed Reindeer Moss is just the start! Check out the preserved plant options on Etsy.
4. Polymer Clay Minis
If you love doing things yourself or don't have the budget for miniatures, you can make them from scratch.
Polymer clay – also known as oven-hardening clay – is exactly that.
It's a malleable clay that you can use to create whatever festive accessories you want, which will harden once baked in the oven at a low temperature.
It comes in tonnes of colors and effects (even metallic and glittery).
How cute would a tiny Christmas table be? Complete with a turkey, Christmas crackers, and annoying family members.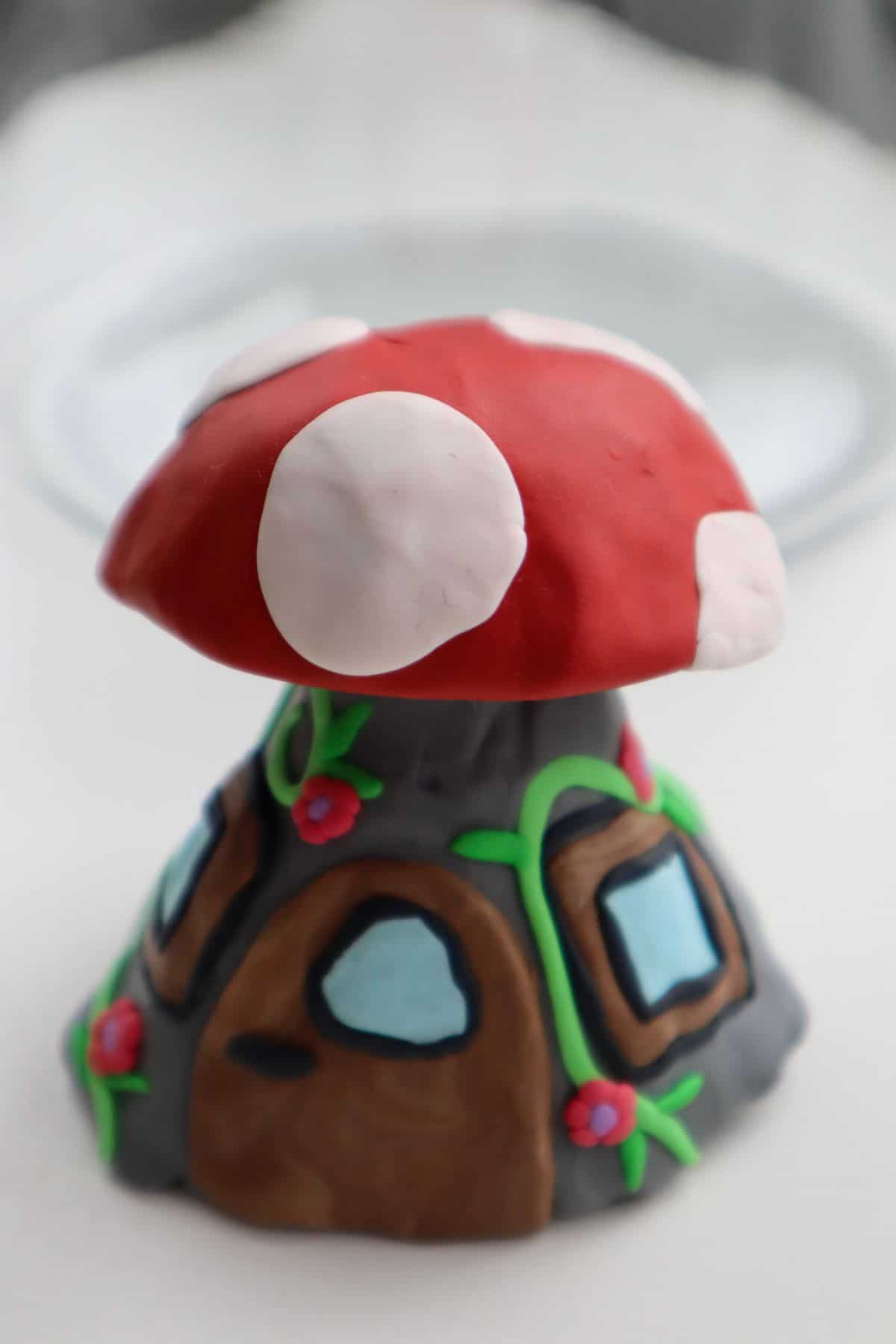 Check out my fairy garden terrarium post for more help with this.
5. Shaped Glass Container
Interesting glassware is the ultimate way to elevate themed terrariums.
I found a literal glass pumpkin when I was researching for my Halloween terrarium article, and as you'd imagine, the Christmas consumerist madness did NOT disappoint.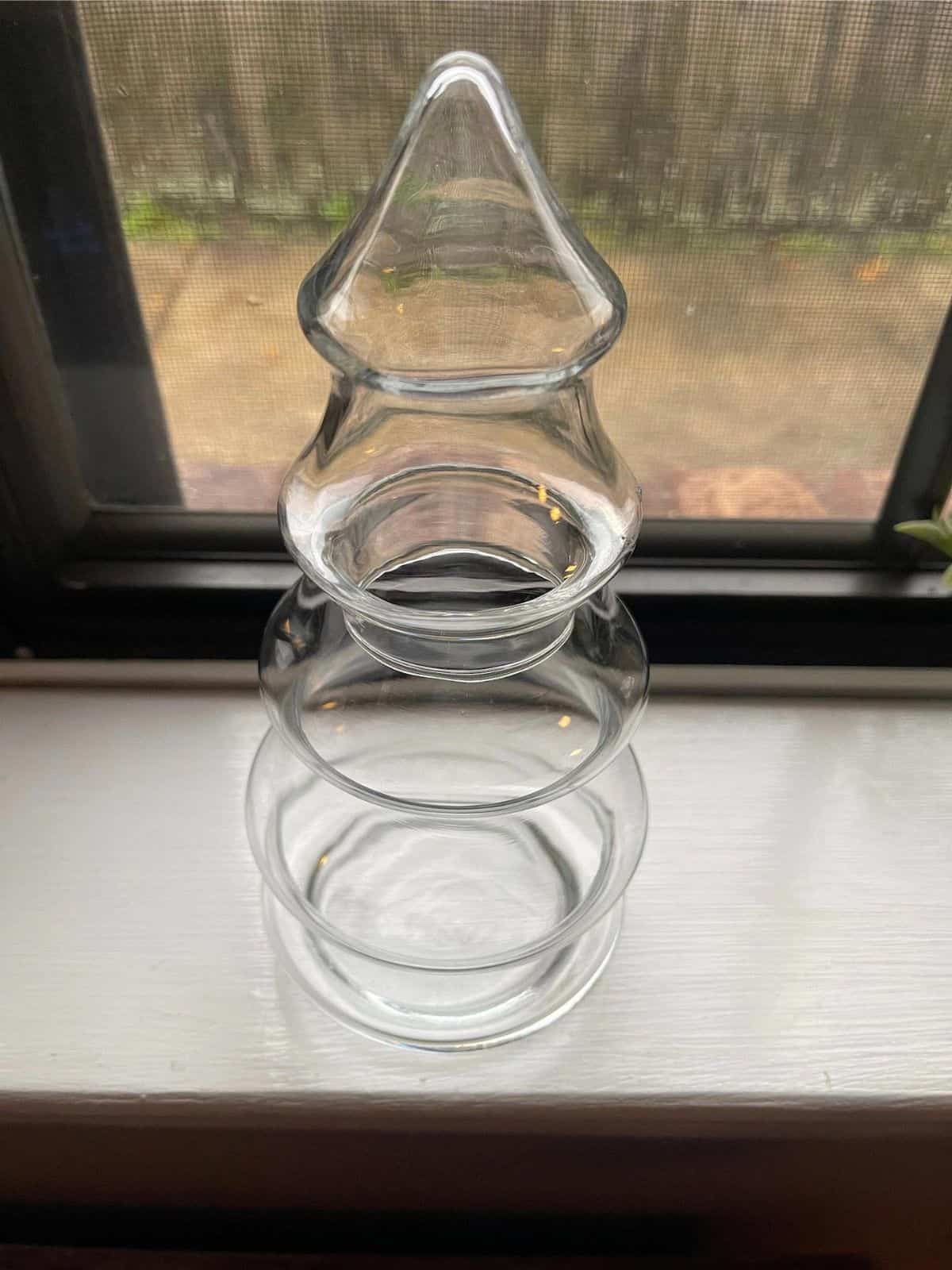 Using glass like this means you can go quite minimalist in the design; the container does the hard work for you.
👉 Shop the Christmas glass options on Etsy.
6. Choose Live Plants
A great way to enjoy live plants is to build a terrarium as you typically would and add some cute Christmas accessories you can easily remove once the festivities are over.
There are no rules – add whatever you like.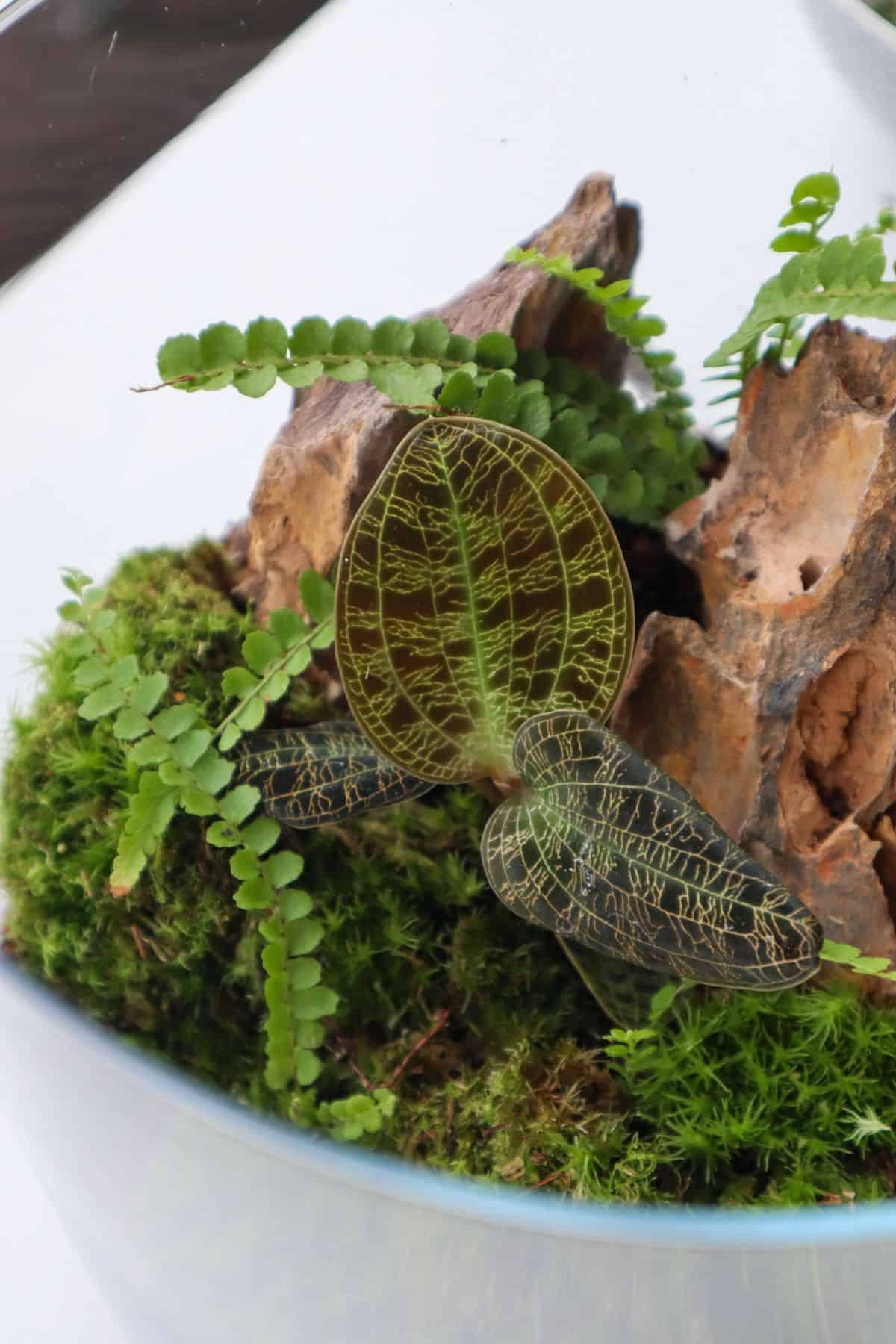 You could use anything from lego toys to Christmas decorations you already have. Just make sure they're waterproof.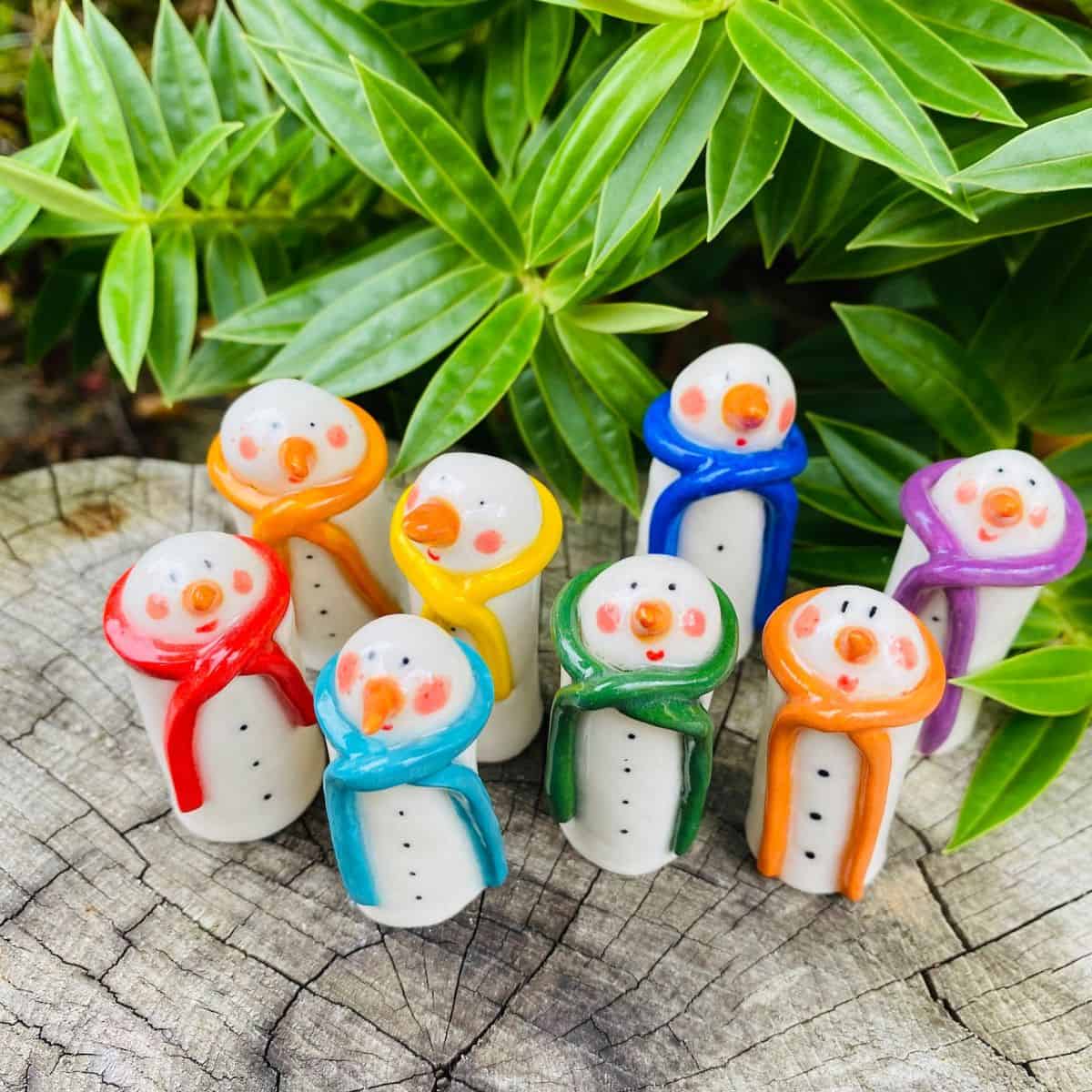 👉 Shop the Christmas accessory options on Etsy.
See our how to make a closed terrarium guide for more help. Or, if you prefer succulents and cacti, head to our open terrarium post.
7. Sand Art Terrarium
Sand art will always go hand in hand with terrariums.
After all, why settle for one project when you can incorporate two?!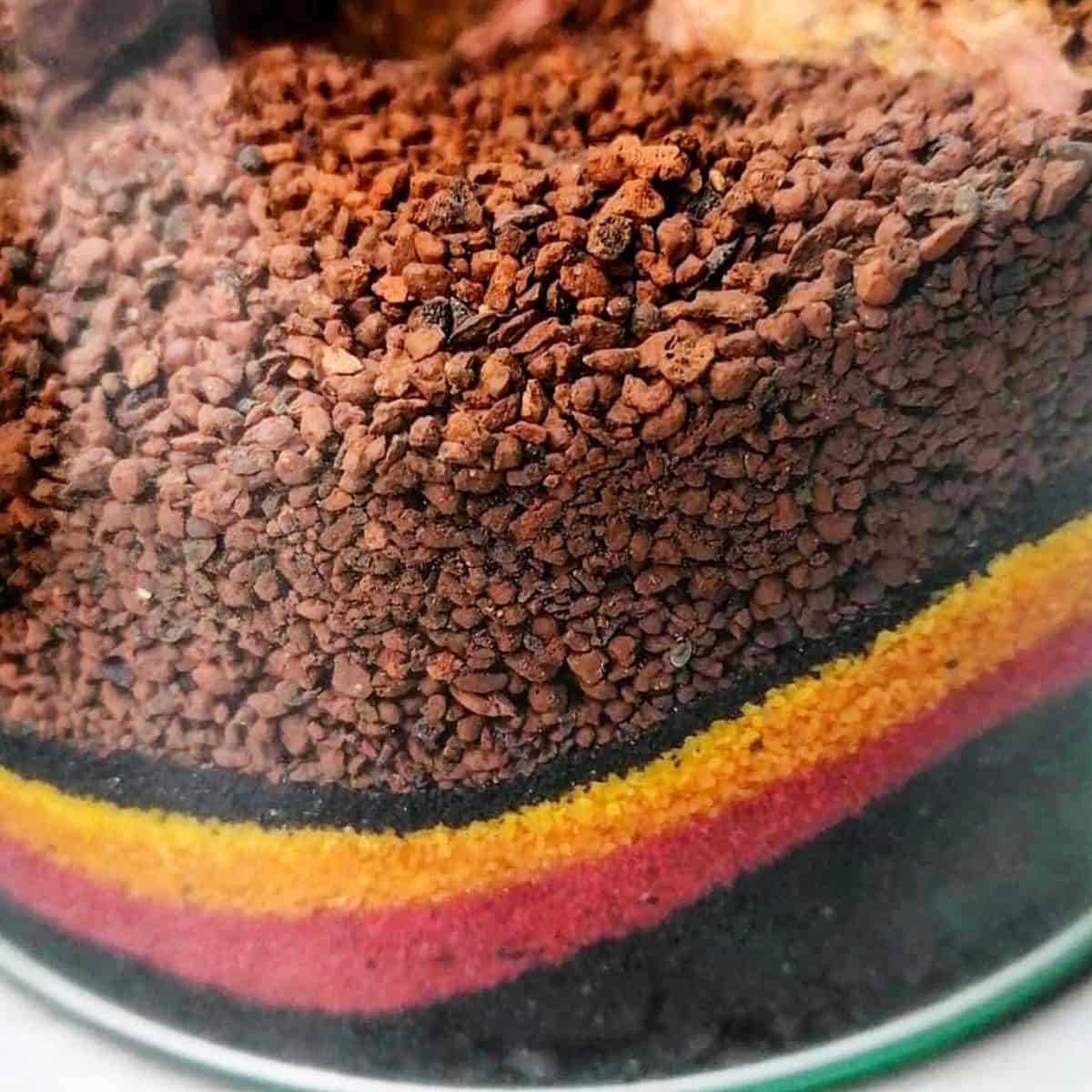 It works in live, planted terrariums and decorative, terrarium-inspired pieces too.
Depending on your theme, you could choose an icy or warm festive color palette.
8. Bonsai Christmas Tree Terrarium
This one's a little out there, but it would look brilliant.
Why not try your hand at a bonsai terrarium build, and dress it up with Christmas decorations like an actual Christmas tree?
I'm talking mini baubles, a little star on top, tinsel; you name it.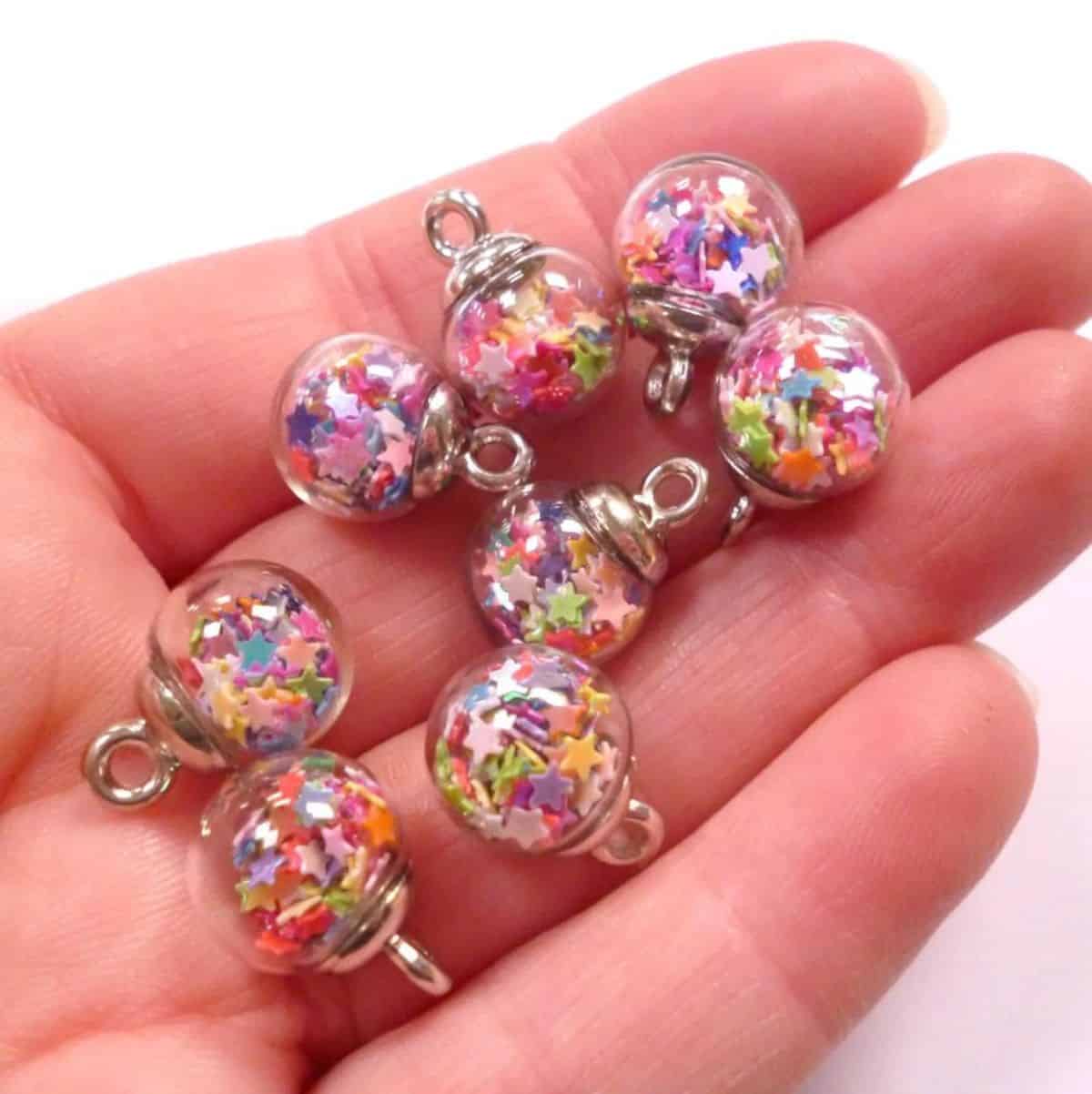 You can take the decorations off at the end and have a year-round show-stopping piece.
Granted, this is more of a botanical commitment (a bonsai terrarium isn't just for Christmas), but it's worth the extra effort and investment.
9. Christmas Bauble Terrarium
Nothing quite hits the Christmassy brief quite like a terrarium bauble.
There are two main ways to take it, but from there, you can customize it exactly as you please. Either:
Choose a plastic, fully enclosed piece. In my experience, they're never fully waterproof, so this is more suitable for faux or preserved decorative pieces (using live plants could result in a soil-y mess all over your living room).
Choose a glass bauble with an opening. This is designed for living succulents and cacti and will look especially fabulous suspended over a window sill.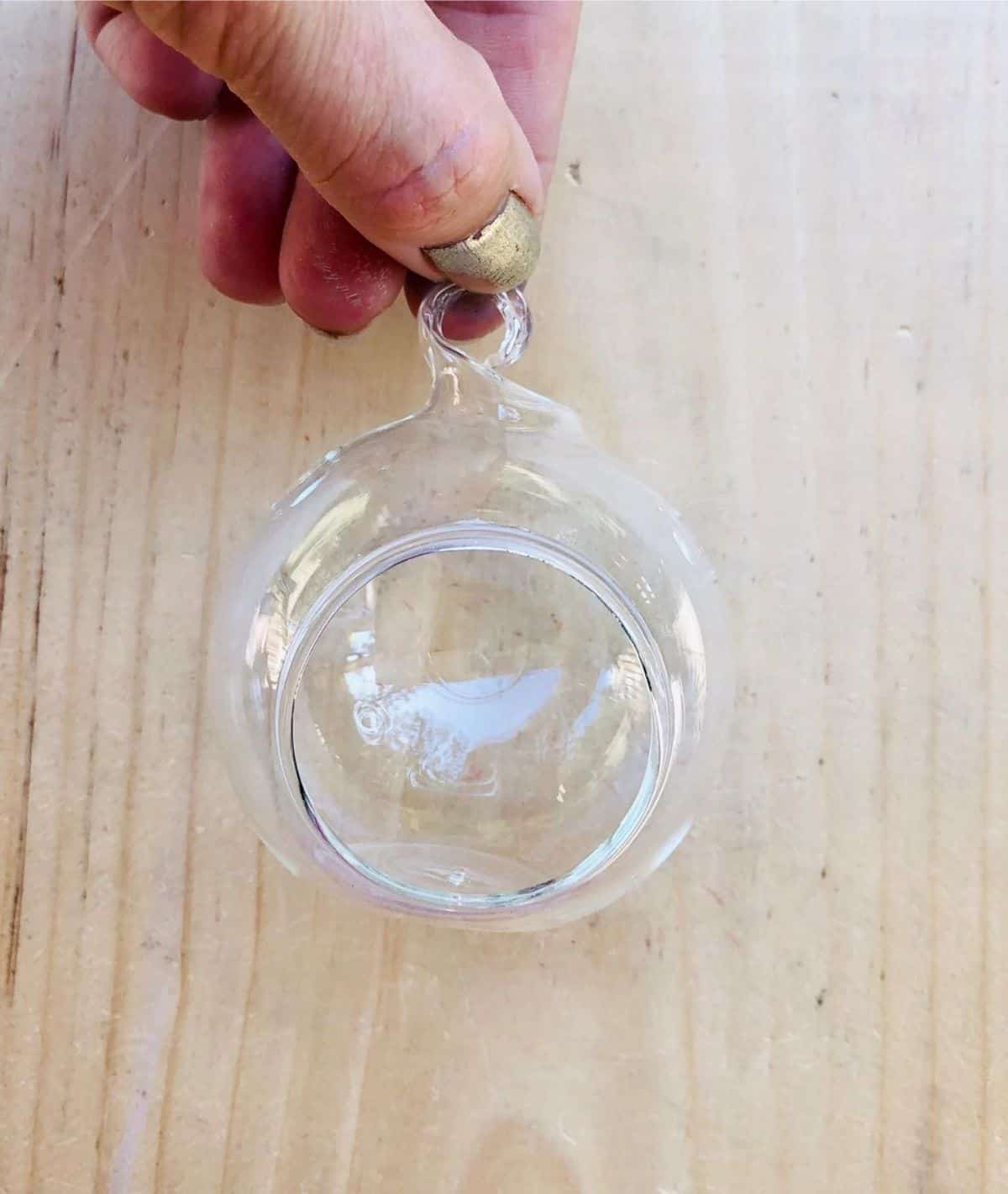 Why not create a bunch and have a whole tree full? Or, in the name of holiday spirit, gift them to your loved ones – they're quite easy to find in bulk.
👉 Check out the terrarium baubles on Etsy.
Now, Eat, Drink, Be Merry & Make Terrariums
The decorator smiled to themselves; they'd figured it out; they were proud of their creation and realized what Christmas is all about…
Having the best decorations, obviously, to make your friends and family jealous! Share it with us on Instagram if the Christmas spirit has you feeling zealous.
Thanks for listening to me; my poem has been tight; Merry Christmas to all, and to all, a good night!