Fluffy green moss is nature's understated masterpiece.
After all, who doesn't want to abandon society and spend their days lazing around on a forest floor eating berries with their squirrel friends?…. Just me?
But thankfully, living your whimsical moss fantasy has just got easier. Moss art is here to save the day – providing practical and gorgeous ways of bringing luscious life into the home.
This article will cover everything moss art-related, from moss wall inspiration to DIY guidance, and finally, I'll cover where you can buy kits and ready-made pieces.
So without further ado, let's get that much-needed moss fix.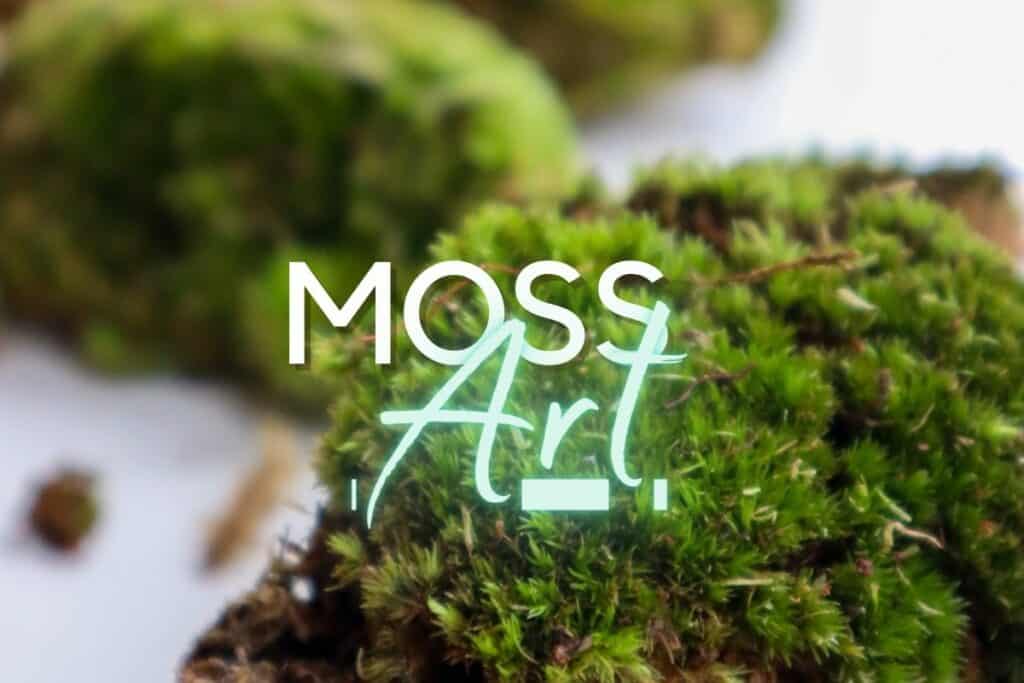 This page may contain affiliate links that allow us to make a small commission (at no further cost to yourself). 💚 Thank you for helping to support the tribe!
Moss Art Wall (+ 5 Unique Ideas)
The first image that comes to mind when I hear "moss art" is a vibrant green wall.
To get in on the action, all you need is preserved moss, glue, a frame (and our how to make a moss wall article of course).
Even the most straightforward designs can look fantastic, and there's plenty of scope to make something unique and interesting.
Why not add hardscape elements, dyed moss, or other decorative items?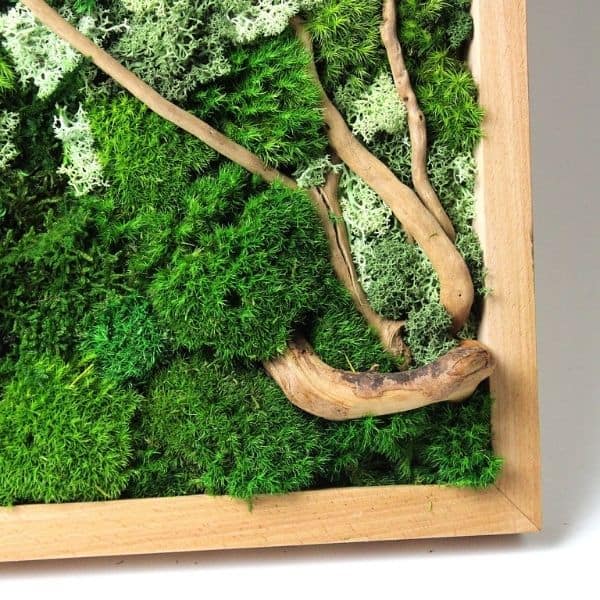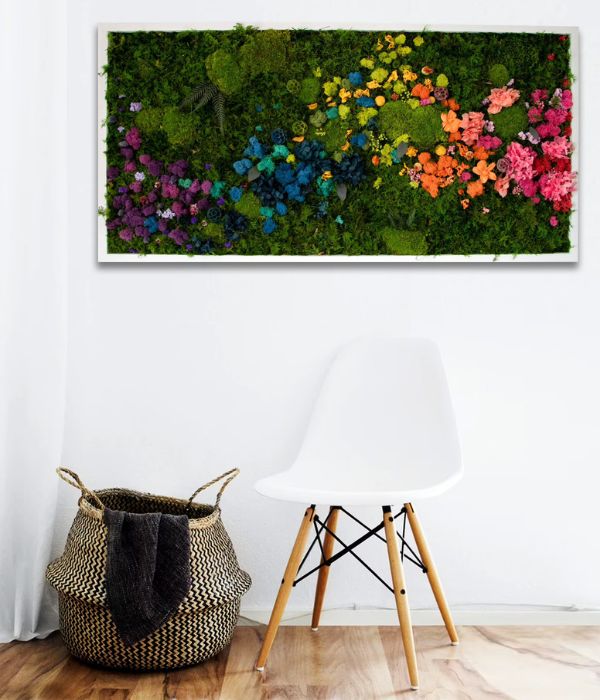 Honestly, there's no limit to what you can do with these vertical gardens, so let's look at some unusual and exciting moss wall art ideas.
1 | Moss Art Mirror
We're stepping into the realm of truly functional wall art now.
The preserved moss mirror is a concept I've seen making its rounds on Pinterest, and it is genius. (Apparently, it's going viral on TikTok too, but I'm too old to know).
Instead of creating moss art within the frame, use the moss to create a frame around a mirror.
You could brighten it up with flowers or go all-in with a full-length piece.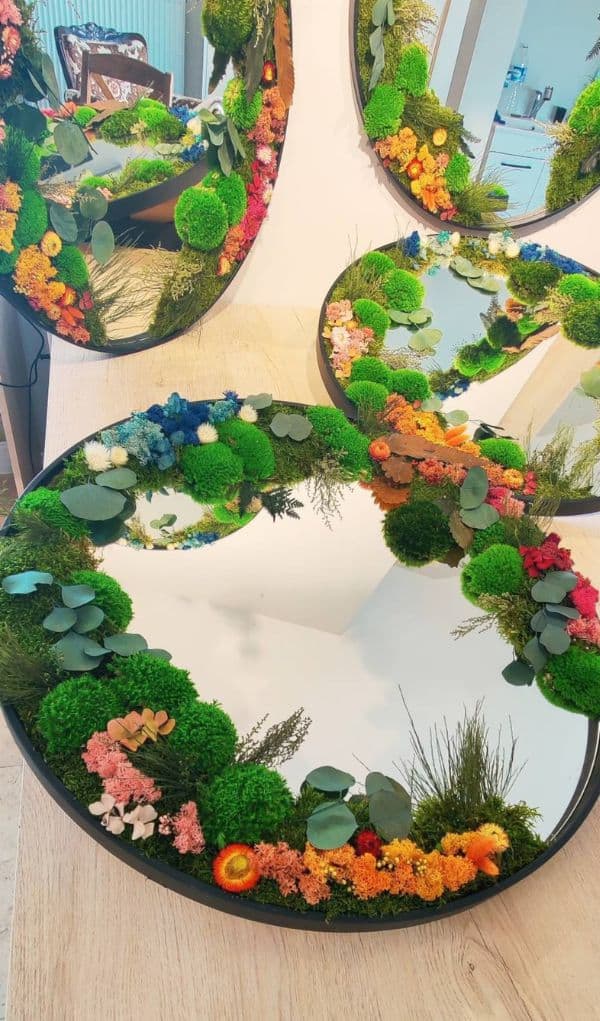 2 | Custom Moss Wall Art
The purpose of art is often to send a message, and this is a great project to take that literally.
Why not use your moss art project as an opportunity to add a sign to your home? It could be a name, motto, or anything else you'd like.
My kitchen is crying out for a "mojito bar" moss sign.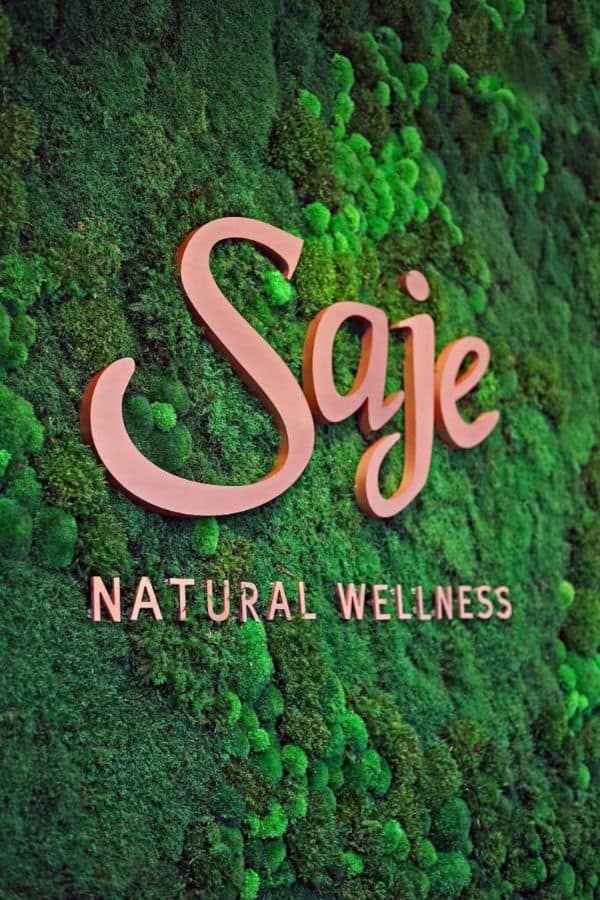 That's just one way to do it, of course; who said framed moss art has to be circular or rectangular?
Custom frames (i.e., letter-shaped) are a brilliant way to make a statement.
It will require a little more technical knowledge – I wouldn't have a clue how to begin making a frame – but the result is worth the extra work.
There are plenty of ready-made options for sale on Etsy if you aren't DIY savvy like me.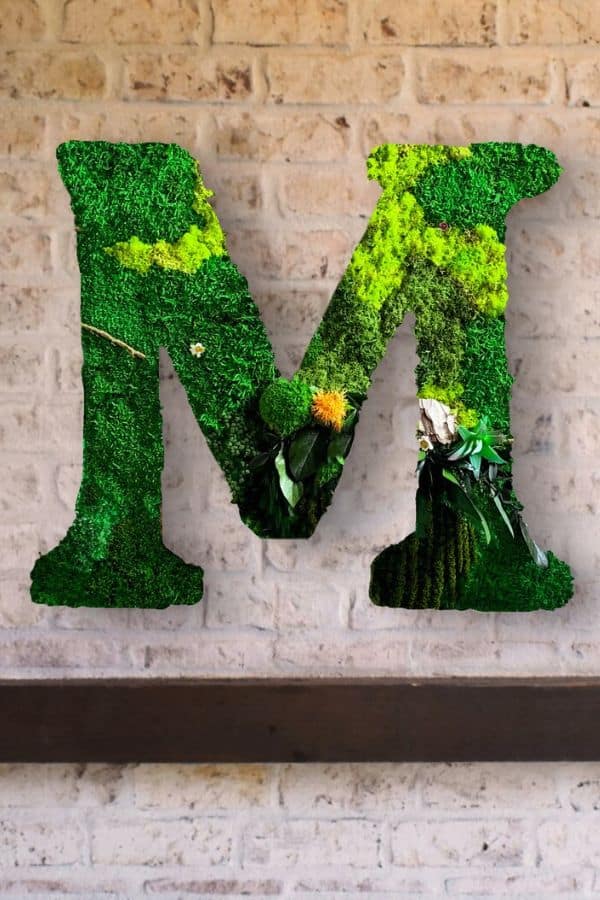 3 | Moss Wall Art Outdoor
Framed moss art isn't reserved for indoor space alone – you can take it outdoors.
Everyone agrees a large moss art piece looks amazing in the garden, but the challenge is creating a piece that can withstand various weather conditions. Let's look at the options.
Preserved moss is unlikely to hold up well outdoors, so that's ruled out.
Live moss is potentially an option but will require constant care, and it's only available to those in a suitable climate.
Fake moss (though it pains me to say it) is the best choice. It's hardy and looks incredibly realistic.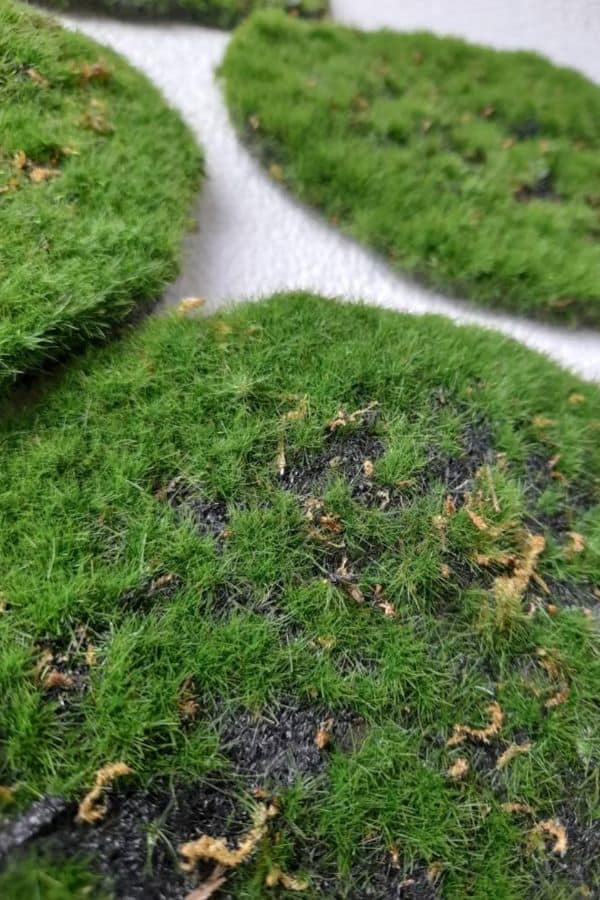 I've scoured Etsy and Amazon, and there aren't as many options for sale for this concept, so it's more of a project to DIY than buy.
4 | Moss Art Painting
A fabulous way to incorporate moss into art is to do exactly that.
Because of its brilliant texture, preserved moss can be used to highlight a moment in an existing art piece. Not to mention, turn it 3D.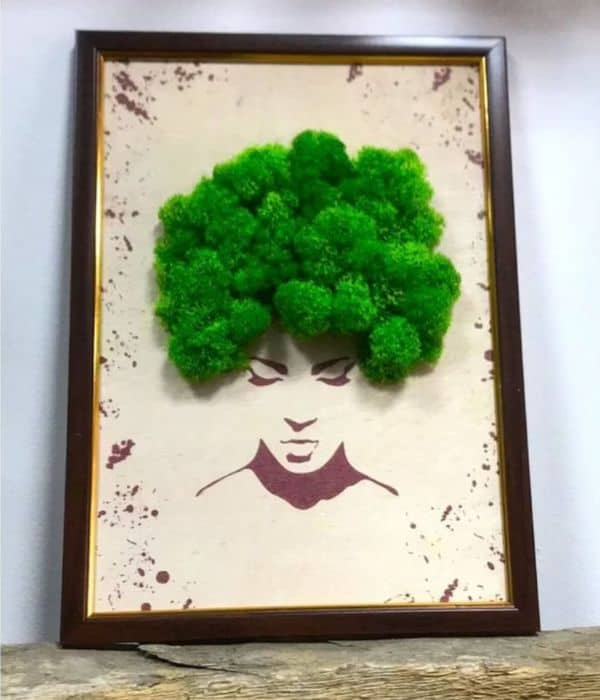 There are about a million directions you can take this in – so whip out your art supplies and let your creativity roam free!
5 | Moss Clock
Want moss wall art but don't fancy a moss wall? Make a moss clock!
There are many creative designs you can explore and many different materials you can work with (stone, wood, acrylic).
How about replacing the numbers with little river rocks? Or you could try a square clock face?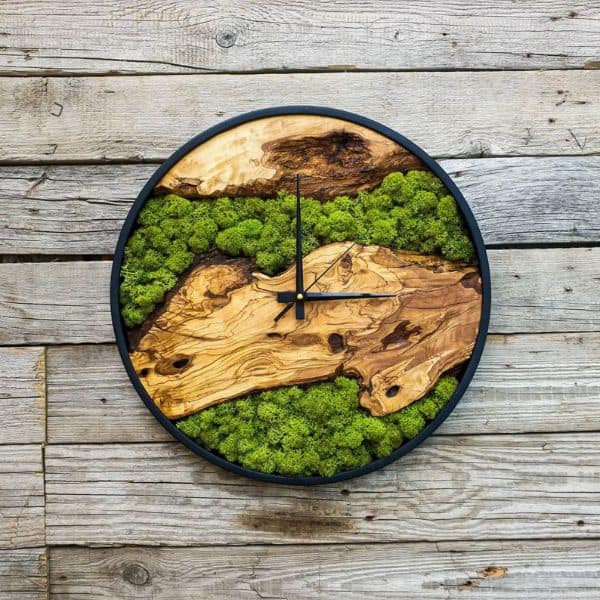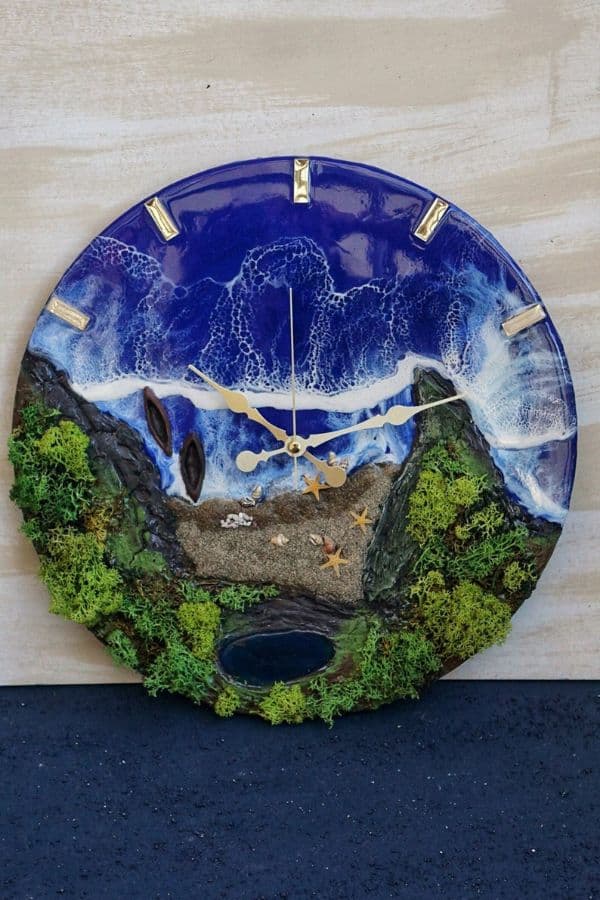 Preserved Moss Art (& Live Moss?)
But Rae, why it gotta be preserved?
As you've probably guessed, using live moss in art projects can get tricky.
Living moss needs to be kept alive, which requires a humid environment and regular moisture. That's why it's an excellent fit for closed terrariums.
You can even make a moss terrarium if you fancy – affectionately known in the hobby as a mossarium.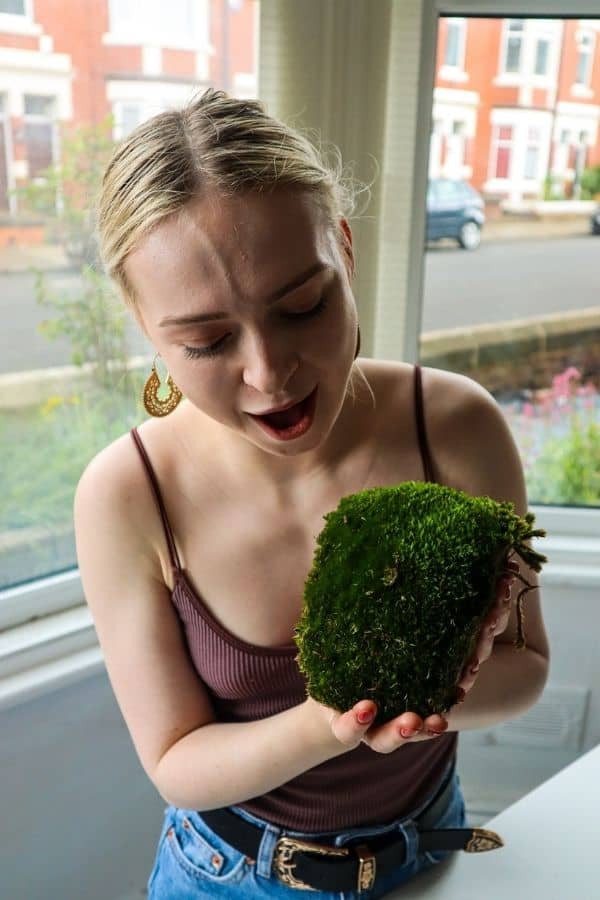 If live moss is exposed to air (as it would in moss wall art), it would dry out and perish. So instead, we use *you guessed it* preserved moss. Because it's been chemically treated, it packs the same visual punch as live moss without needing maintenance.
Making it perfect for moss walls and moss bowls alike.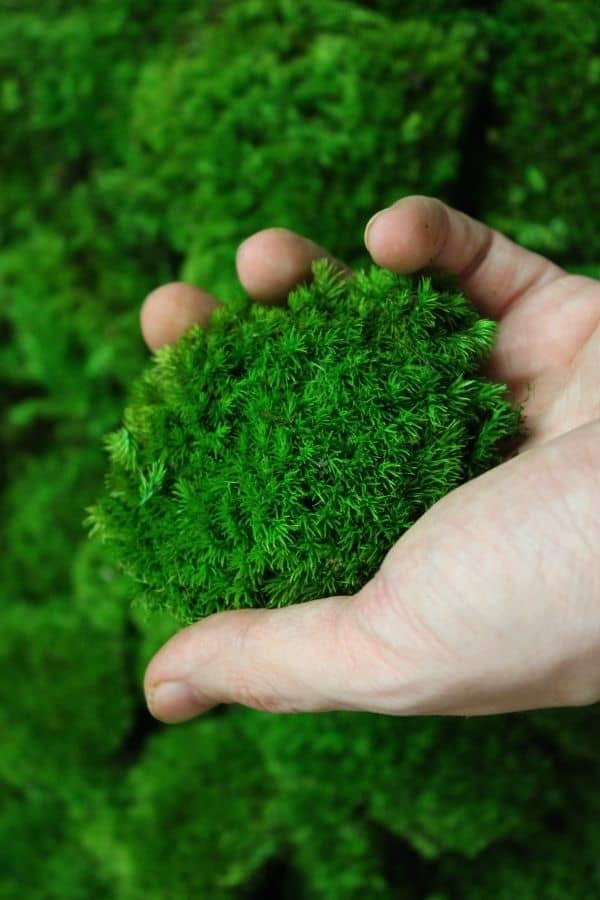 Where to Buy Preserved Moss
You can grab preserved moss for art projects easily on Etsy.
There's every kind you could want, from sheet moss to cushion moss. And if you're creating a large piece, rest assured, you can buy in bulk too.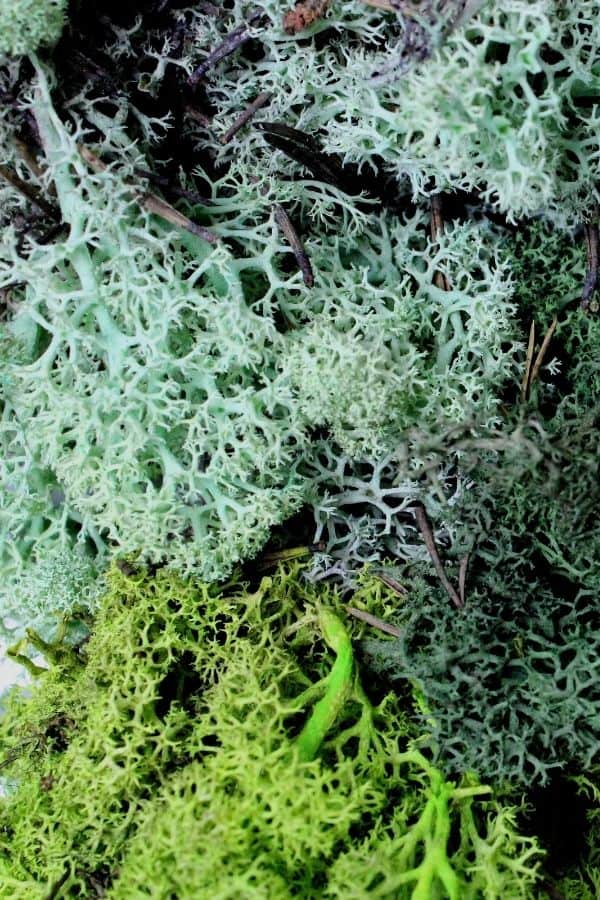 Where possible, try to buy ethically harvested moss (from private land is best). You can check out my live moss buying guide for more help shopping sustainably. The same principles apply to preserved moss.
And if you fancy getting your hands mossy and going the DIY route, you can check out my guide for instructions on how to preserve moss yourself.
Where to Buy Moss Art (& Kit)
There are many inspiring moss artists, and unsurprisingly, Etsy is where you can find them (and where you can find plenty of ideas, too, if you need even more inspiration).
I'm genuinely impressed by the ready-made options available, and many companies will work with you to create custom moss wall art.
👉 Check out what's available on Etsy.
If you want to create your own but can't be bothered with the faff, Etsy has you covered yet again.
There are plenty of reasonably priced moss wall kits, and every time I look, there seems to be more as the hobby grows.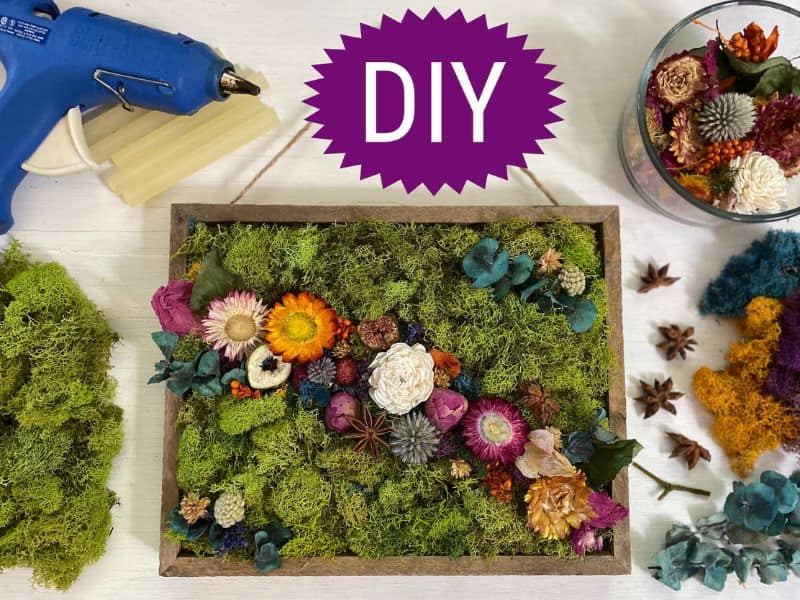 👉 Shop moss wall kits on Etsy.
That's it, Folks
Whether you're buying, DIY-ing, or using a kit, if there's one thing for sure, it is that moss art has something for everyone.
What concept interests you the most? Let me know in the comments, and be sure to share any creations with us on Instagram or the Facebook group!