The air plant terrarium is the epitome of Pinterest chic.
A welcome breath of fresh air on your feed, shall we say?
These simple, yet stunning projects really pack a punch and don't require too much know-how to pull off.
This kind of terrarium design is all about attention to detail, combining separate concepts together to create a cohesive piece.
So come with me, and I'll take you through everything you need to know to create a build that blows you away.
Let's get started.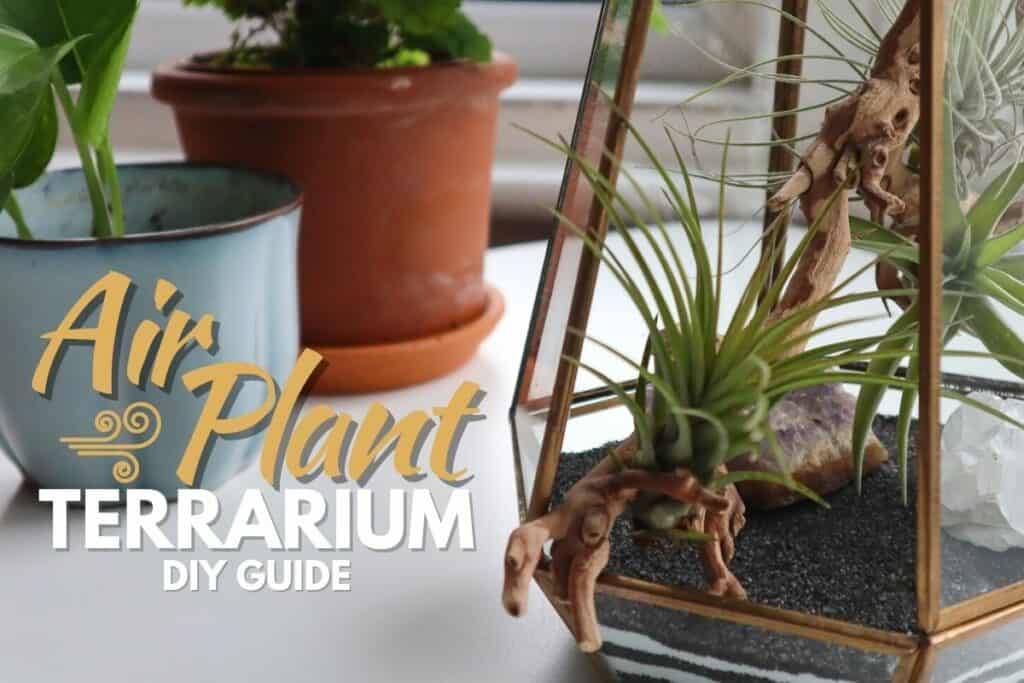 This page may contain affiliate links that allow us to make a small commission (at no further cost to yourself). 💚 Thank you for helping to support the tribe!
Air Plant Terrarium Ideas & Types
When it comes to air plant terrariums, the options really are endless.
Ultimately all you need is a container and plant/s. But the fun isn't found in the basics, is it?
So to kick things off, let's look at your structural options:
I.e., Is your terrarium going to sit comfortably on a desk? Or, if like me, you're running low on shelf space, you can always take your build up a notch with some advanced mounting projects.
Tabletop terrarium – You can't go wrong with a classic geometric piece (this is the basis of our step-by-step guide below).
Hanging air plant terrarium – Hanging globes, orbs and prisms bring new meaning to the air plant game.
Mounted air plant terrarium – Walls too? Is there nowhere that air plants can't go?
So, before we dive into our over-the-shoulder air plant terrarium guide, let's take a quick look at those alternatives.
Hanging Air Plant Terrarium
It's no wonder it's an increasingly popular trend. What better way to liven up a window pane than with a floating terrarium?
There's more to consider for sure (you don't want a terrarium falling on your head), but that extra effort really pays off.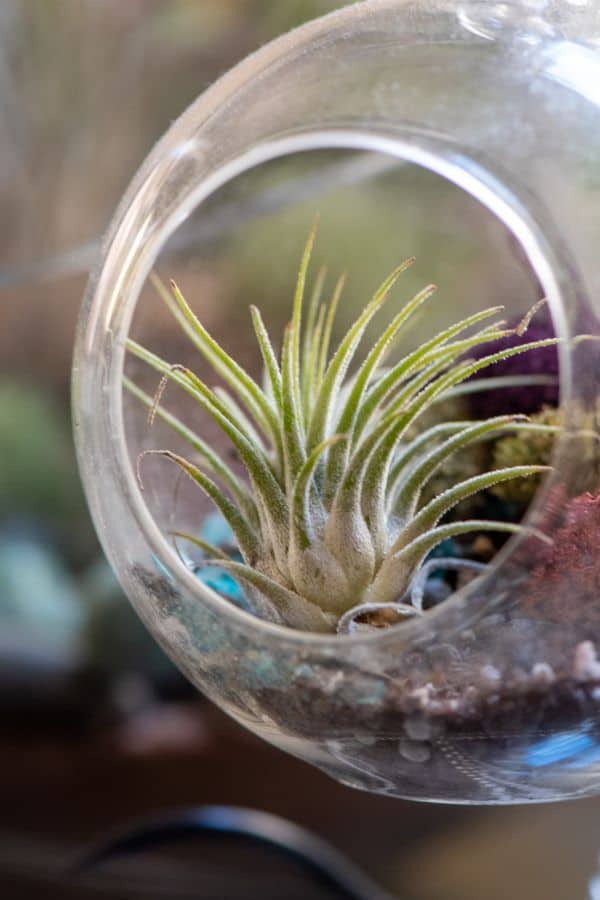 How about combining crafts and creating a macrame hanger?
For more guidance check out our deep dive article on hanging terrariums.
Just remember that while (let's be honest) air plants can look a little bit, er… unalive, they are living and will need a spray of water every once in a while, so make sure you can easily reach it.
Wall Mounted Air Plant Terrarium
If you don't quite fancy yourself a DIY wizard but still want your terrarium up high, a wall-mounted project is the way to go.
Simply hang your terrarium on a wall the way you would a painting!
There are some great specialist containers available that have built-in wall fixtures to make this process as easy as possible.
Now let's get into the meat of it.
What to Put in an Air Plant Terrarium (& How to Make it Pop)
1 | Air Plants
First, you're going to need some plants (duh).
And your choice is a great opportunity to put your unique stamp on your project.
After all, air plants come in all sorts of shapes, textures, sizes, and colors.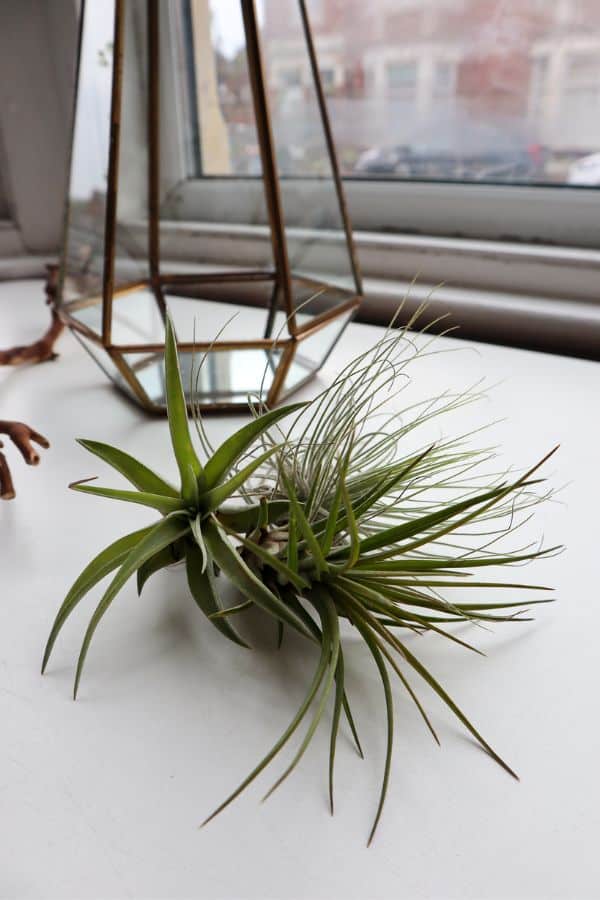 Most but not all varieties of air plants are from the Tillandsia genus, so it's a great place to start your search. There are SO many to choose from – I particularly like the super curly varieties.
Oh, and check out Tillandsia ionantha for some crazy pink and purple shades!
2 | DIY Terrarium Container Options
Air plant terrariums are most commonly built in open containers, but the plants themselves actually thrive in high humidity and would be happy in a closed terrarium setup too.
The choice is yours to make, and that will inevitably affect your container choice.
I've chosen to go with an open terrarium with this particular concept, so that's what I'll be referring to in this article, but feel free to check out our guide to closed terrariums if you're choosing a traditional closed build.
Either way, there are lots of exciting open and closed containers.
How about a globe or a Wardian case? If you're choosing a mounted or hanging project, you might want a specialist piece!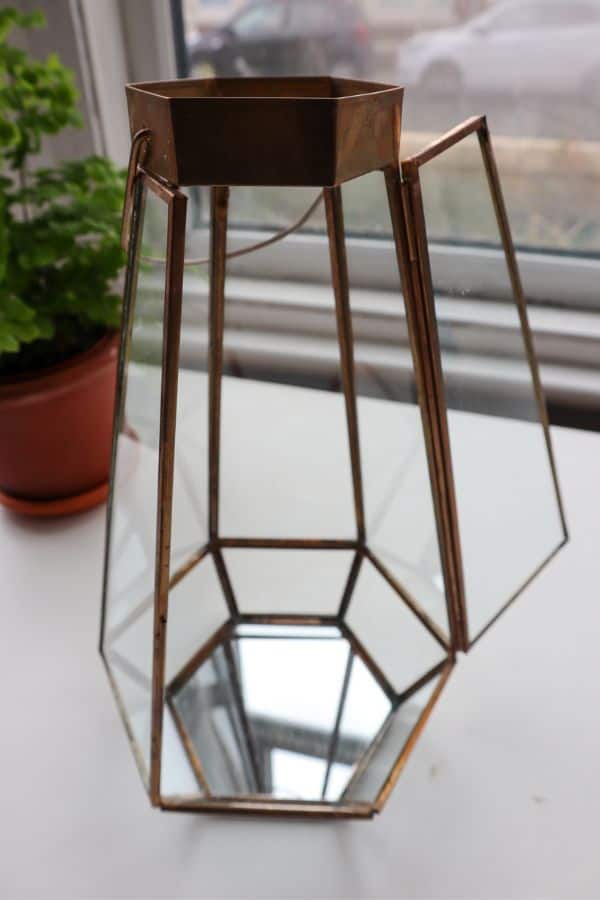 3 | Other Elements
Hardscape
With all kinds of terrariums, it's the hardscape that really brings it to life and adds scale. But with air plant terrariums, it also provides nooks and crannies to plant (or rather prop up).
You could use a textured rock like dragon stone or a gnarled branch as I have.
Check out our respective guides on terrarium rocks and wood for more help with this.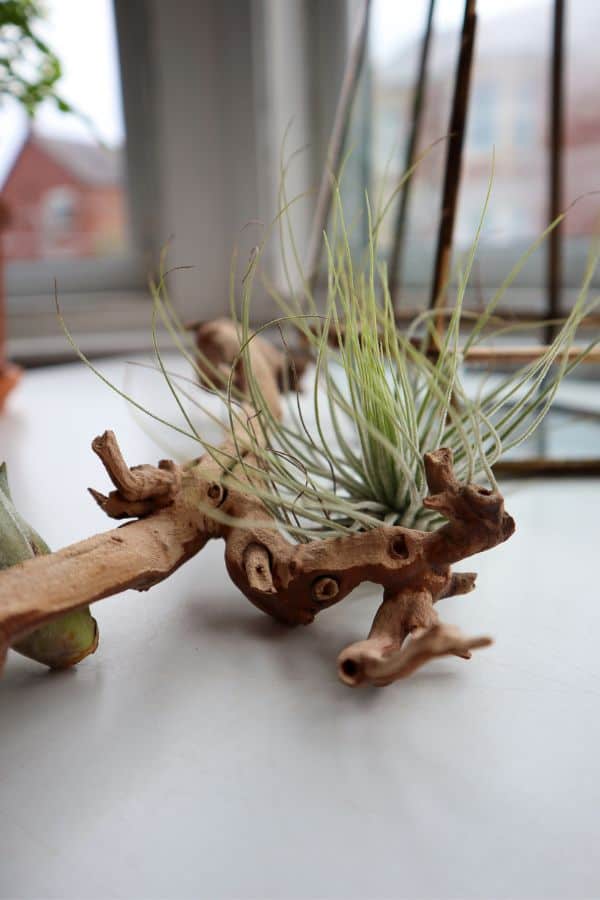 Accent Notes
Just about anything goes with your creation. Simplicity is key with air plant terrariums, but adding a little something extra can bring balance to the look.
Some great options are:
Adding preserved moss to give it a luscious living aesthetic.
Experimenting with some sand art (like I have).
Using aquarium gravel or pebbles as ground cover.
Popping in crystals, shells, or figurines – whatever your heart desires!
.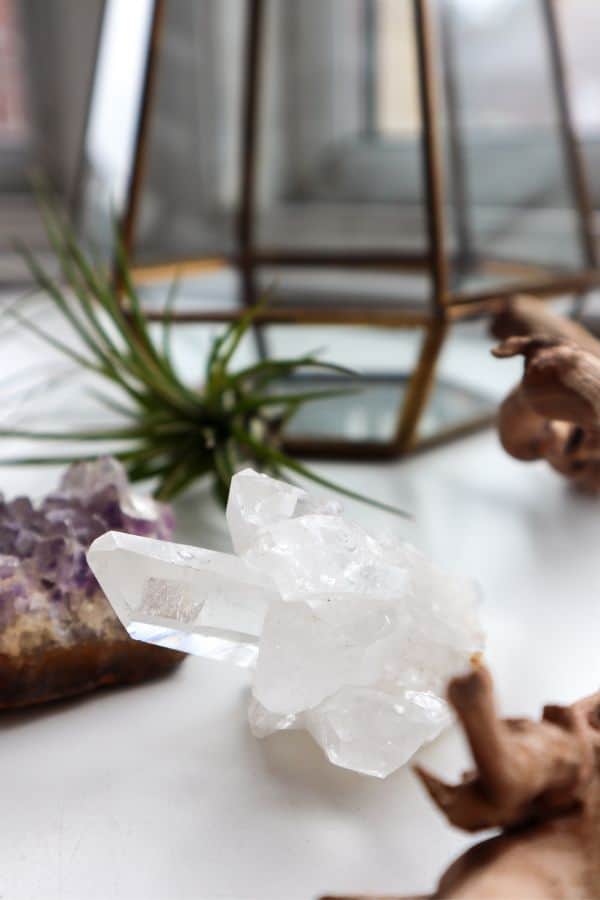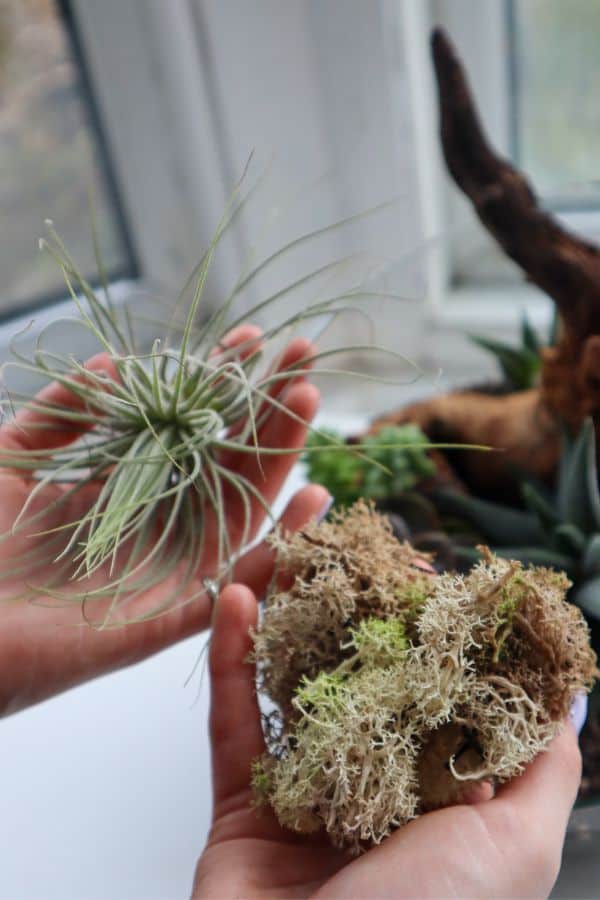 How to Make a Beautiful Air Plant Terrarium – Step-by-Step
1 | Start From the Ground Up
If you're covering the bottom of your container with any materials, begin there.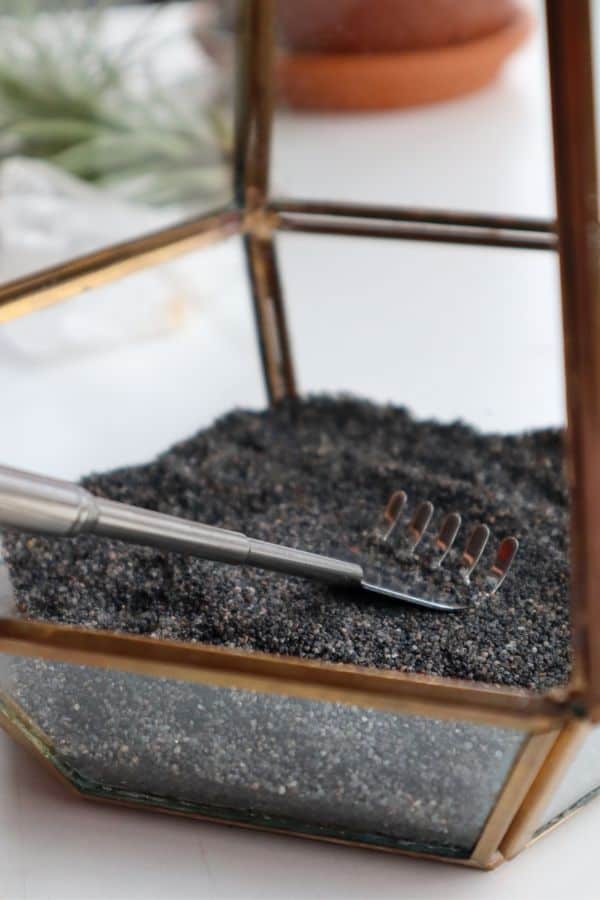 You can use two or three mediums layered to create a striped effect as I have.
The finer the material, the crisper it will look.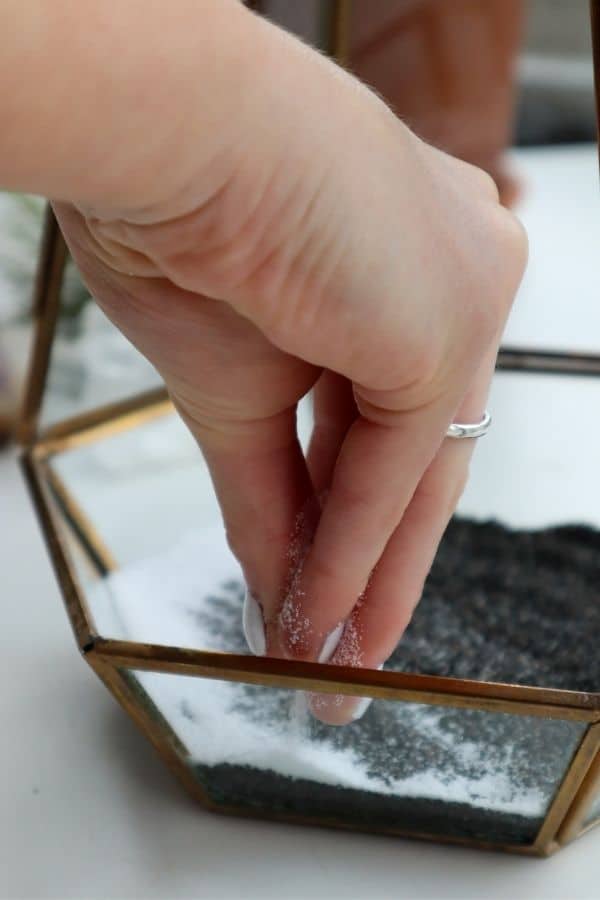 Rinse and repeat till you're happy with the result.
2 | Add Your Hardscape
Next, place your terrarium wood or rock.
Remember, if you're going for an open terrarium, it doesn't need to stay in the container. Mine pokes out and I think it looks great.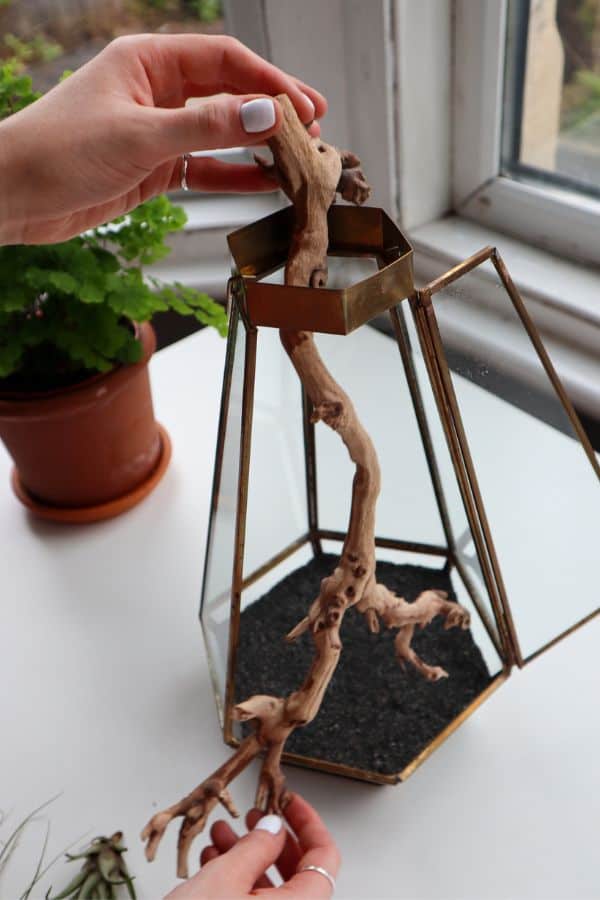 3 | Place Your Air Plants
Finally! Grab your air plant babies and stick them where you want them.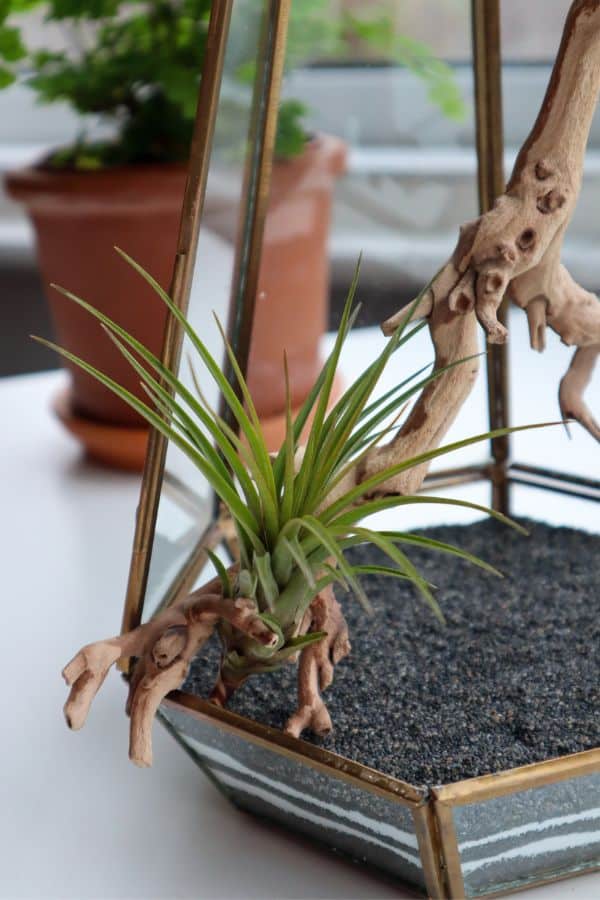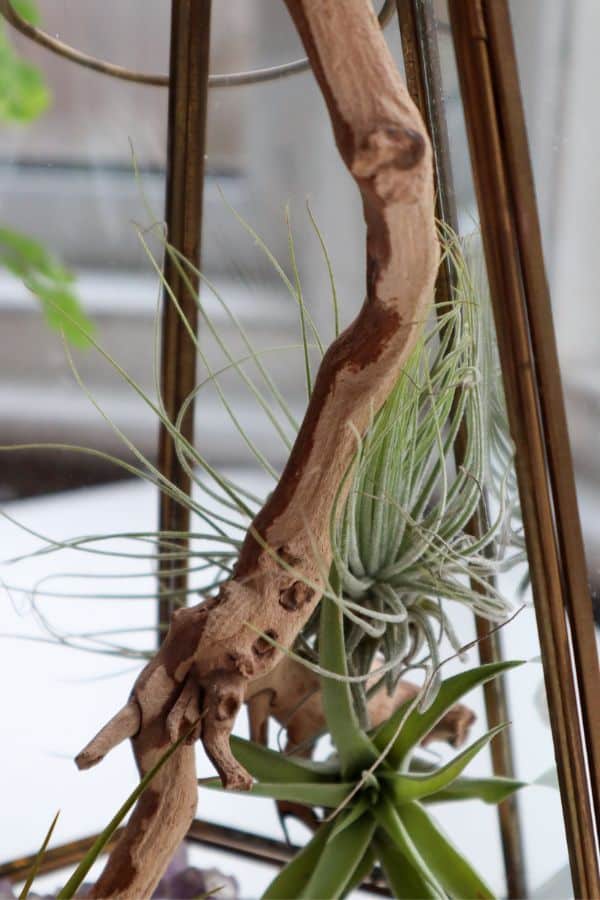 4 | Finishing Touches
Finally, pop in any extras you're working with. Now is the time for any preserved moss, shells, or whatever you might like to add.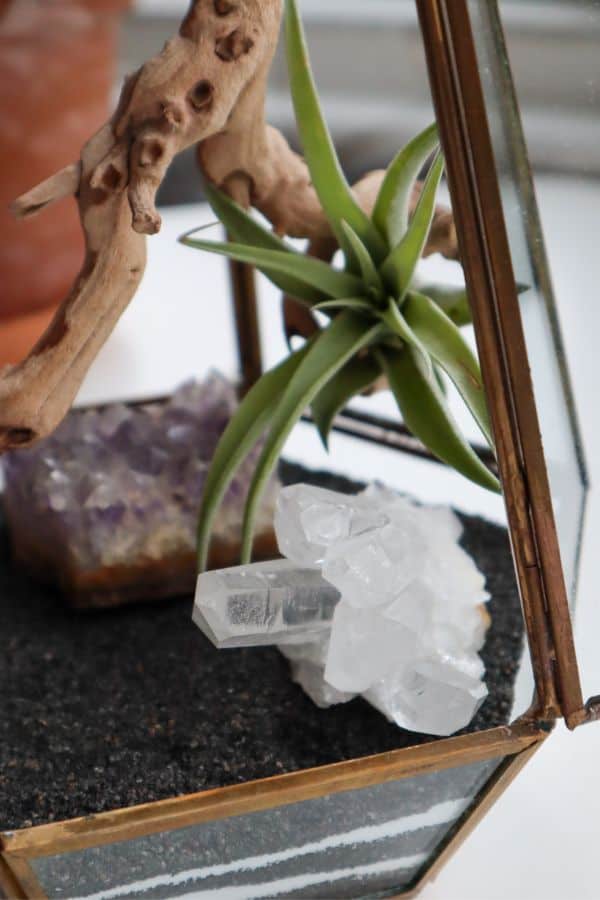 Remember to consider what the build looks like from all angles for a 360 design.
If you've gone a step further with a mounted or hanging air plant terrarium, it's time to put it in its final position.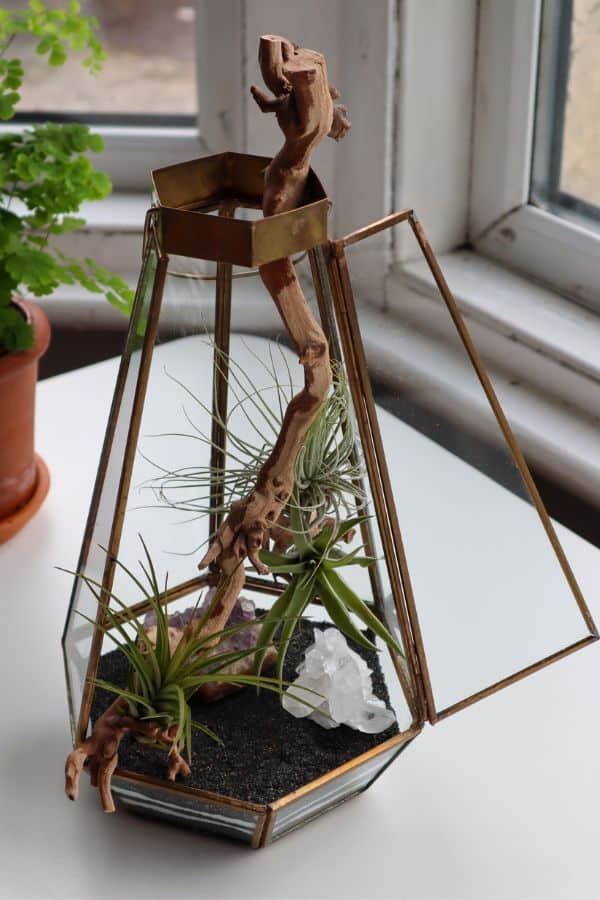 How to Water Air Plants in a Terrarium (Care Tips)
Now you have your completed masterpiece; you'll be relieved to know it's about the easiest terrarium there is to care for.
Pop it in bright indirect light if possible, but it will be perfectly happy with some direct sunlight too.
To keep your air plants healthy, as a rough guide, you'll need to spray them with a bit of water at least once a week and preferably soak them for an hour or two every three weeks.
I recommend taking them out of the terrarium for watering and popping them back in when they're dry. This is because:
Water typically leaves a residue that marks glass.
Your plants will struggle if they're sat in excess water.
The glass container might not be waterproof (mine isn't).
It's a bit fiddly but taking my plants out for watering keeps the glass clean and dry.
And there you have it!
I hope you're pleased with your new creation. I'm always overwhelmed by how elevated these kind of designs can look.
What have you put in your air plant terrarium? Let me know in the comments!
Till next time X