To my delight, terrarium centerpieces are the latest modern wedding trend.
With tonnes of scope to put your unique stamp on the concept, these centerpieces are the ultimate way to make a stunning statement.
This article will help you decide what creative direction you want to go in and, importantly, keep costs down.
So let's get into it and create unique, beautiful terrariums that you love and your guests will want to steal be obsessed with.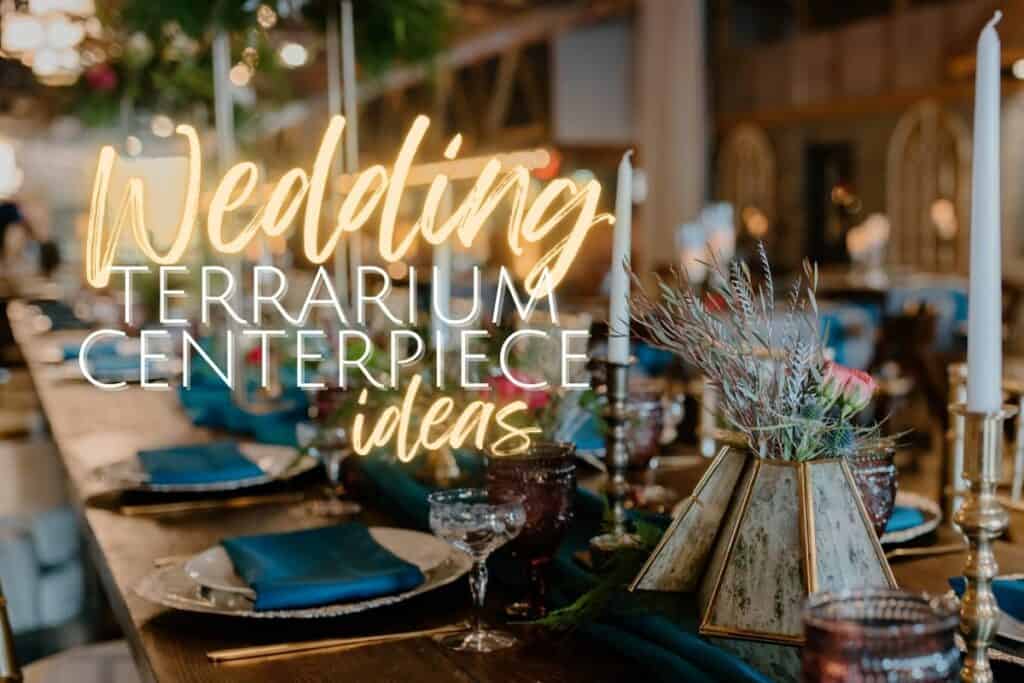 This page may contain affiliate links that allow us to make a small commission (at no further cost to yourself). 💚 Thank you for helping to support the tribe!
12 DIY Terrarium Centerpiece Ideas
As a terrarium expert and a Virgo with a necessity to be technically accurate, I need to set the record straight before we dig in.
By definition, terrariums are closed, living ecosystems (terra- meaning earth and -arium container). So if I were to play by my own rules, this ideas list would be rather unimaginative.
But as we know, style isn't about scientific accuracy. And if I'm being honest, closed terrariums aren't exactly ideal for weddings – they take a hefty time and cost input!
So in this post, I'm throwing caution to the wind and giving you juicy terrarium-inspired ideas that will look fantastic and won't break the bank. Let's do it.
1 | Use Preserved Flowers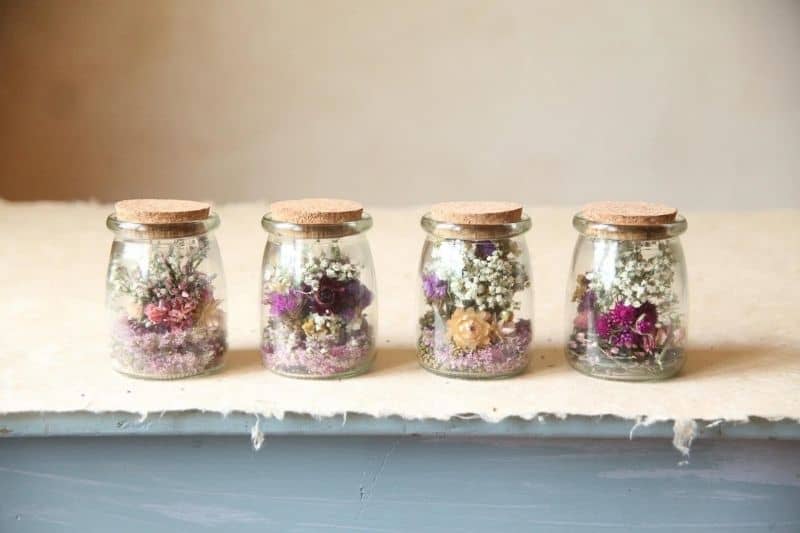 Looking for a dreamy bohemian vibe?
These gorgeous pieces give a warm, homemade feel that practically transports me to the Tuscan countryside. Perfect for a rustic venue or an outdoor reception.
Not to mention using preserved flowers instead of live flower terrariums is a great way to ease your to-do list as you get closer to the big day; you can prepare your centerpieces ahead of time and still enjoy natural flowers in the design.
2 | Hang Your Centerpiece Above the Table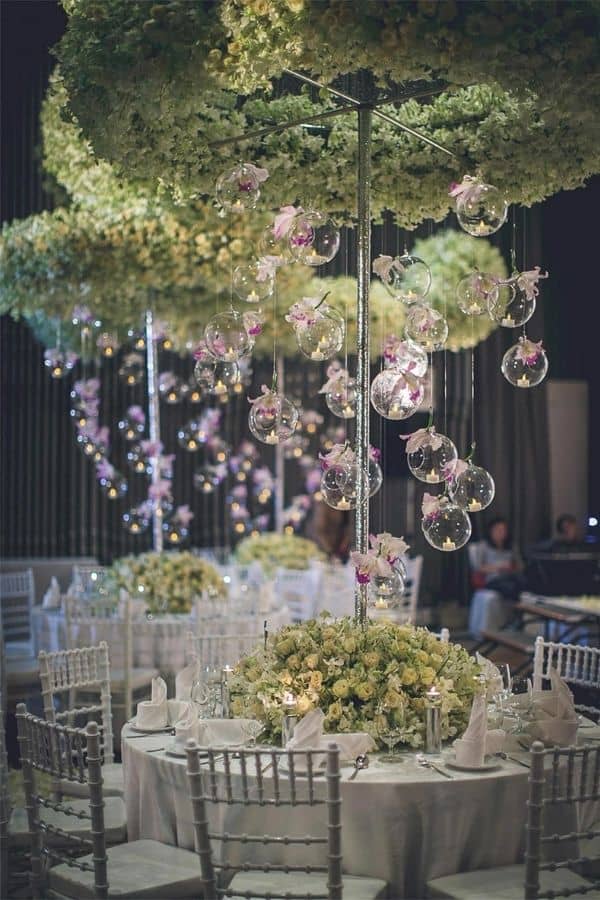 If your venue has the infrastructure to elevate your arrangement – do it. Who says a centerpiece needs to reside on the table?
One of the most stunning ways to execute this idea is by having lots of tiny terrariums instead of one larger piece. You could add a pop of color by popping a tropical flower in each one. Or use tea lights to make the room sparkle.
And if you weren't already convinced, they're relatively inexpensive to buy in bulk.
👉 Shop Hanging Globe Packs on Etsy.
3 | Go Glassless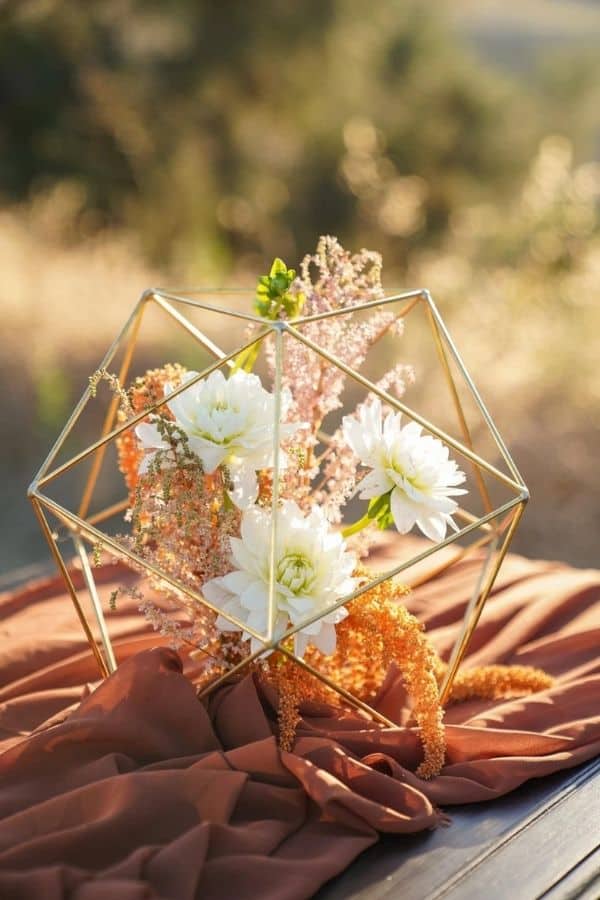 Sometimes, a sexy metallic frame does all the talking.
This stunning centerpiece took me from a place of "terrariums are my job, I don't want them at my wedding" to "holy god, I want it".
The options are endless with these frames; you can dress them up with whatever elements your heart desires.
4 | Live Succulent Terrarium Centerpieces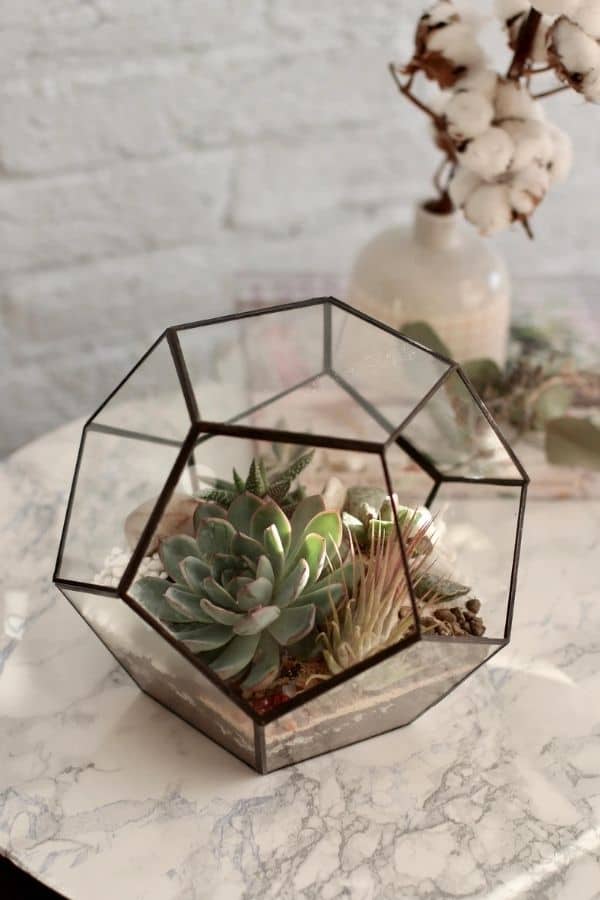 If you want to get your hands dirty with a horticultural project, succulent terrariums pack a similar visual punch as closed terrariums with a much more streamlined building process, and the results are beautiful.
Because you can buy small succulents in bulk, they end up significantly cheaper. Win-win.
👉 Shop Mini Succulents on Etsy.
5 | Full-On Floral Centerpiece Fantasy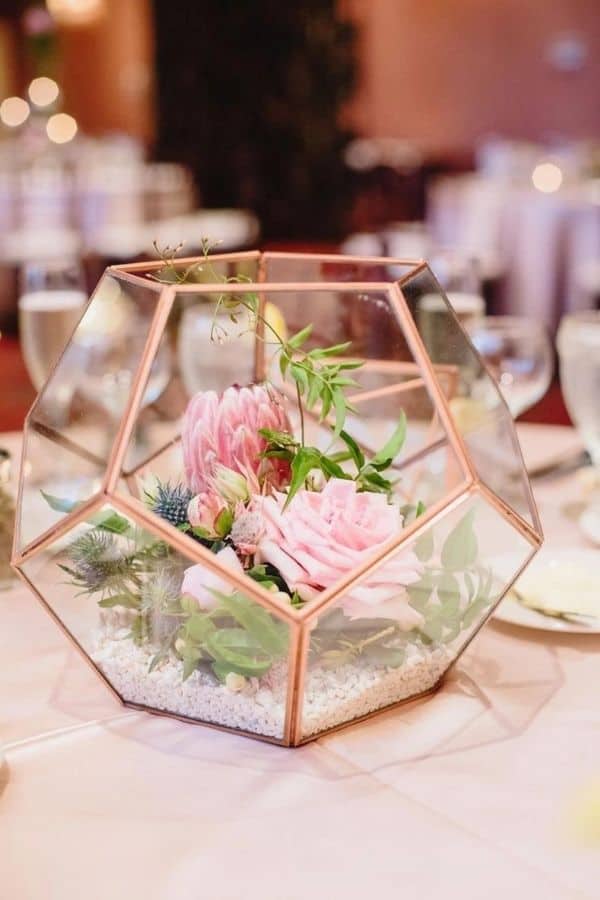 Nothing says wedding quite like fresh flowers, and what could wow your guests more than a drop-dead-gorgeous floral arrangement.
Why not match your terrarium centerpieces with your bouquet? You could even use the terrariums to line the aisle during the ceremony to create a cohesive look.
6 | Try a Wooden Frame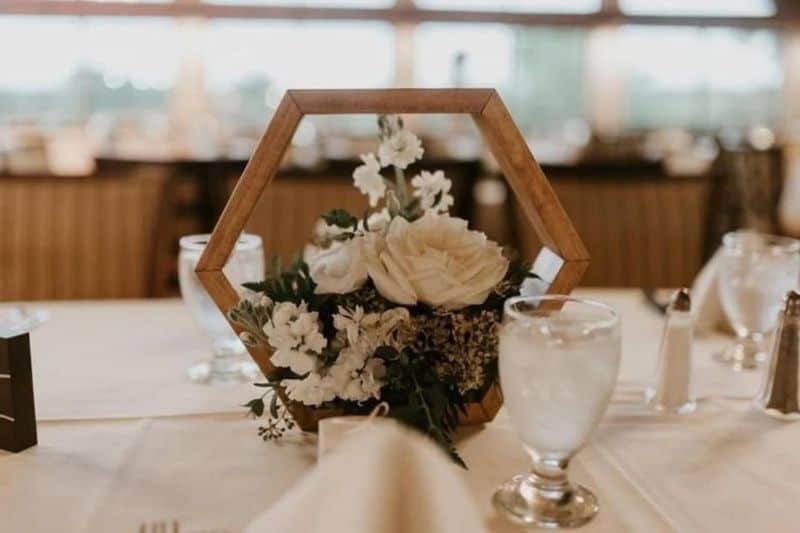 The ultimate unconventional way to incorporate geometric terrarium design without a traditional glass container. Creatively, you can go in whatever direction you like with this, knowing that the result will look elegant and clean.
7 | Orchid Terrariums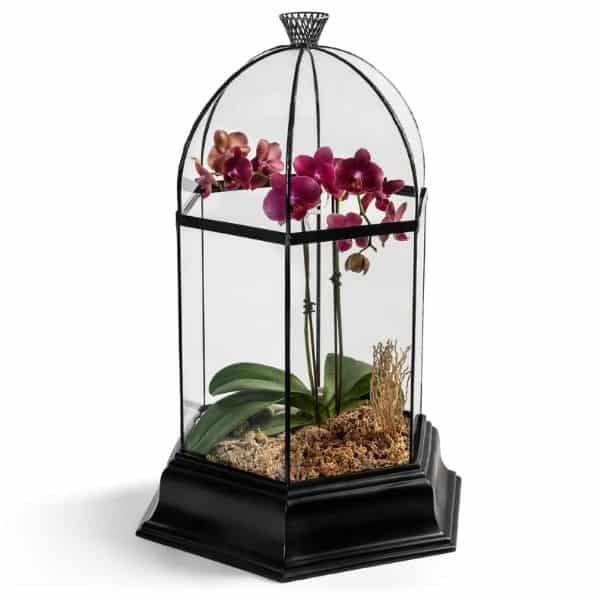 Keep your wedding centerpiece decor effortless with an orchid terrarium.
Because these elegant flowers speak for themselves, they work perfectly in any glassware, though I do especially love this black Wardian case…
You could use different colored orchids or stick to one central theme.
8 | Create a Soft Lighting Moment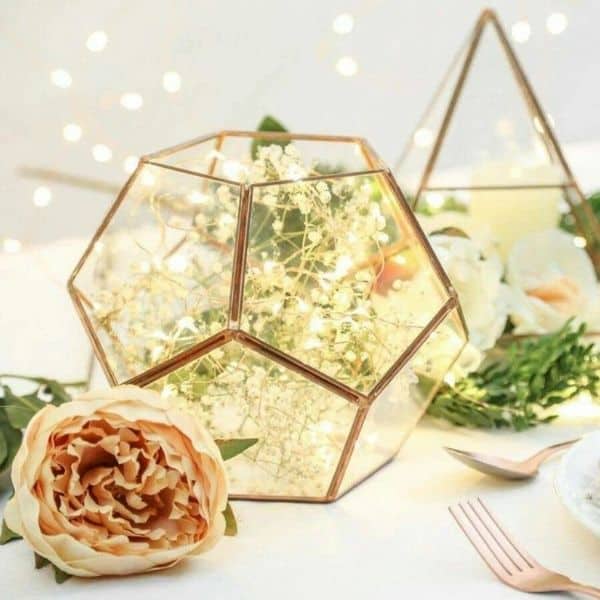 For the ultimate cozy reception, use your terrarium centerpiece to set the tone. A candle or string of fairy lights in a beautiful geometric container will add warmth to the table and venue.
Naturally, it poses some safety risks, so make sure you're not adding any incompatible extras. Avoid mixing electricity with water and fire with flammable materials.
With fairy lights, you could try adding faux flowers or plants.
With candles, you could add sea glass, pebbles, or crystals.
9 | Choose a Cloche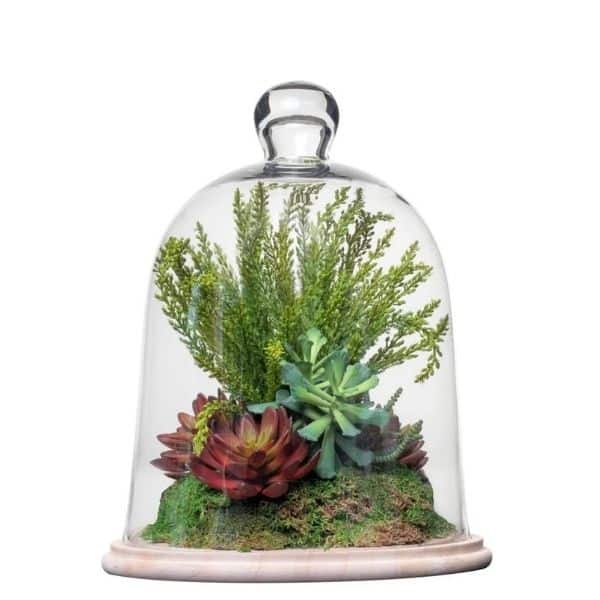 If you love the terrarium theme but don't want a gold terrarium or a geometric design, opt for cloche glassware instead. This way, you lose the frame and have more exciting 3d planting/placement opportunities.
10 | Keep it Simple With Petals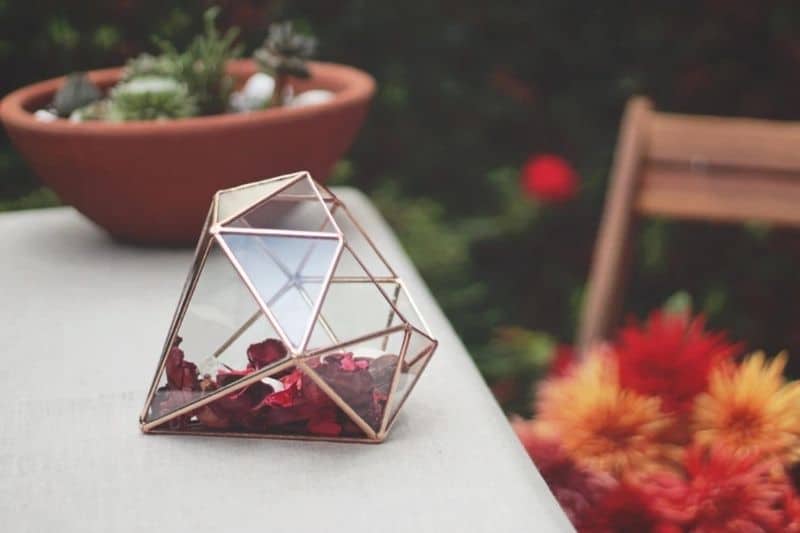 This idea is simple, effective, and especially perfect for weddings with a strong color palette. You can tie in your theme and fill your terrarium with a delicate sprinkling of bright preserved (or live) petals.
I think the terrarium would stand out even more if framed by a few neutral-colored candles.
👉 Shop Preserved Petals on Etsy
11 | Go Green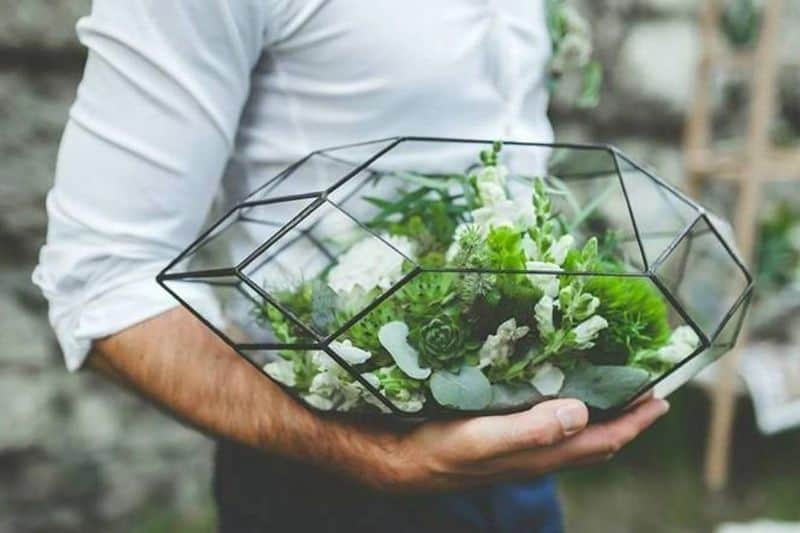 Inject some freshness into your display and go all-in on the lush greenery.
Whether you use live planted plants, freshly cut leaves, or even faux plants, there's something enchanting about the all-green aesthetic.
* Bonus – Terrarium Wedding Favors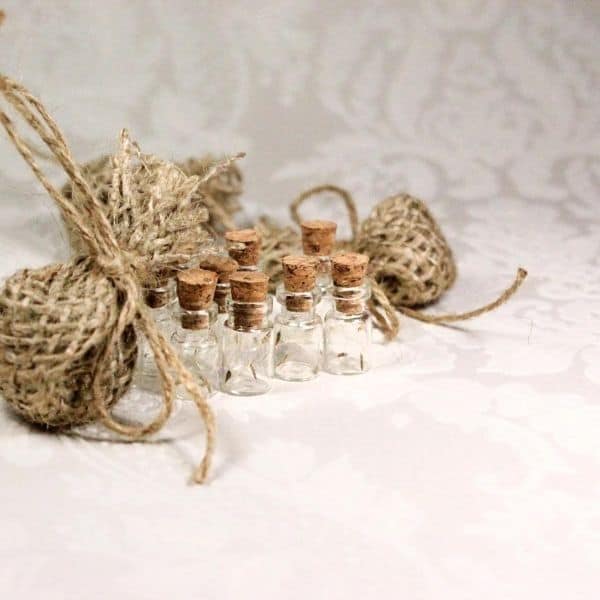 What's better than a terrarium centerpiece you can admire? A terrarium centerpiece you can admire AND a tiny terrarium wedding favor you can take home.
Everyone loves a freebie…
How about adding some live Mood Moss? Or try one of my favorite ideas: seeds that your guests can take home and plant, a living reminder of your special day.
👉 Shop Mini Terrariums on Etsy.
What's Your Favorite?
Do you have any favorites at this point? I'm particularly obsessed with everything preserved flowers at the moment.
If you're in need of further reading, you can check out our guide to geometric terrariums or our terrarium ideas post.
And if you end up going with a terrarium centerpiece, please tag me in it on Instagram (@terrariumtribe) because I am dying to see these ideas played out!
Happy terrariuming, and congratulations in advance. X