Flowers are nature's finest accessory.
Elegant, eye-catching, and radiant, they've evolved to attract attention (and it clearly works). So it's obvious why you would want them in a terrarium.
That said, as much as flowers and terrariums are aesthetically suited to one another, technically, it really isn't that straightforward…
So let's look at how we can pull it off.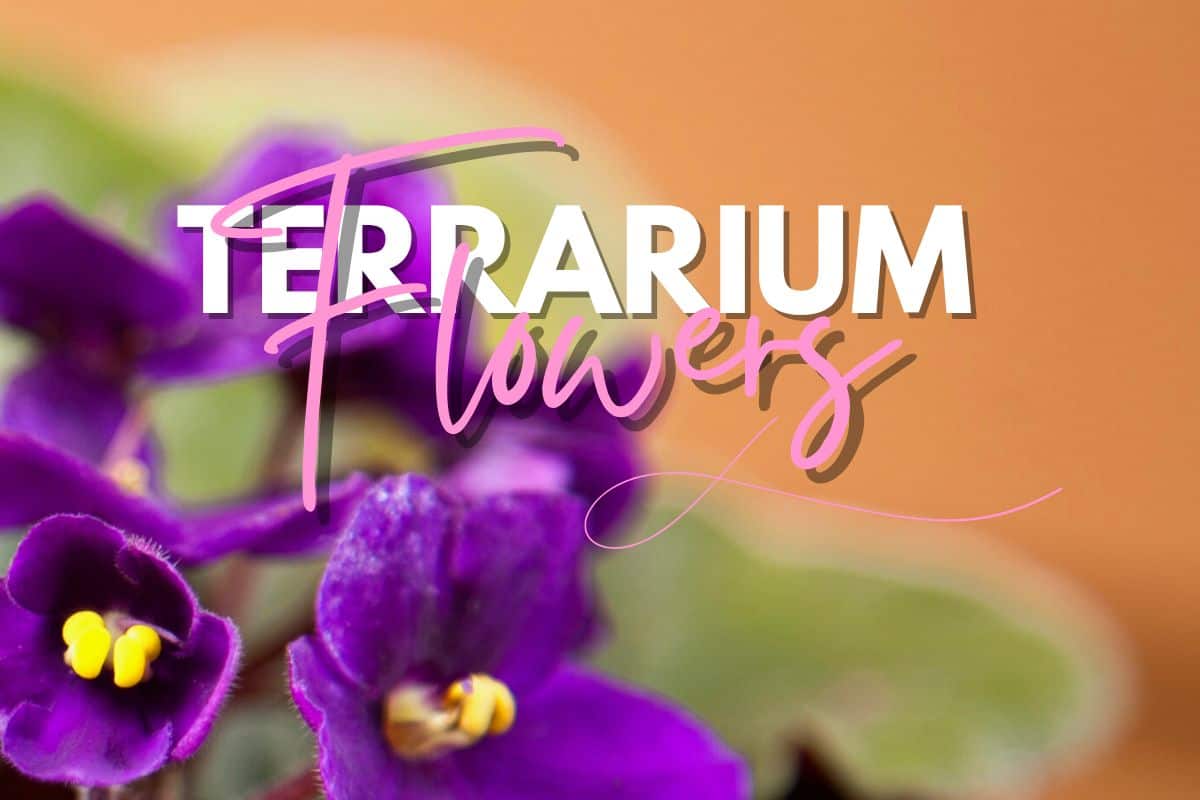 This page may contain affiliate links that allow us to make a small commission (at no further cost to yourself). 💚 Thank you for helping to support the tribe!
Can You Make a Flower Terrarium?
Essentially, there's nothing stopping you from putting flowers in a terrarium.
Normal rules apply, of course. For a closed terrarium, you'll need tropical flowers that enjoy humid conditions.
As that's the traditional interpretation of a terrarium, that's what this guide will be focusing on.
So, assuming you're going with a closed container, here are the three core challenges you're up against:
Flowers bloom seasonally, so it's pretty impossible to have a year-round flower terrarium.
Plants don't produce flowers unless they're kept in tip-top condition. So you'll need your greenest thumb at the ready.
Flowers will drop and rot as part of the natural cycle, so the terrarium will need to be a bioactive setup or require significantly more hands-on care.
Still up for it? Let me introduce you to the top flowery picks.
Best Closed Terrarium Flowers (5 Types)
1 | Oxalis
There really isn't a genus as florally impressive as Oxalis.
With a love of bright indirect light and moist soil, they're a natural fit for a terrarium, and with mesmerizing flowers that range greatly in color and shape, you're bound to find something you love.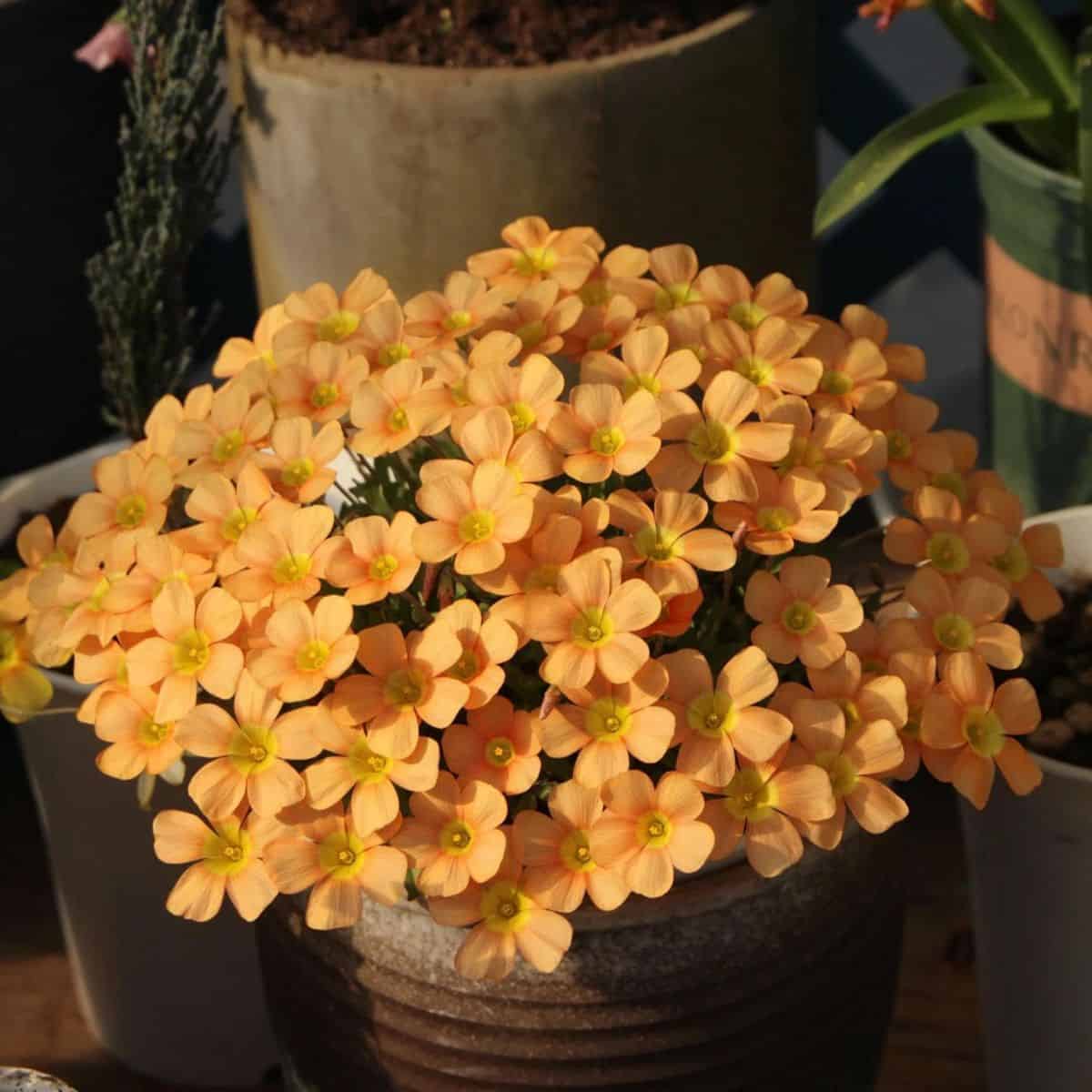 The leaves, like the flowers, come in lots of colors, from loud lime greens to bold eggplant tones and bubblegum pinks.
In fact, one of the main reasons I wanted to mention this plant is that even the leaves give off such a floral look.
Oxalis are beautiful plants, with or without flowers.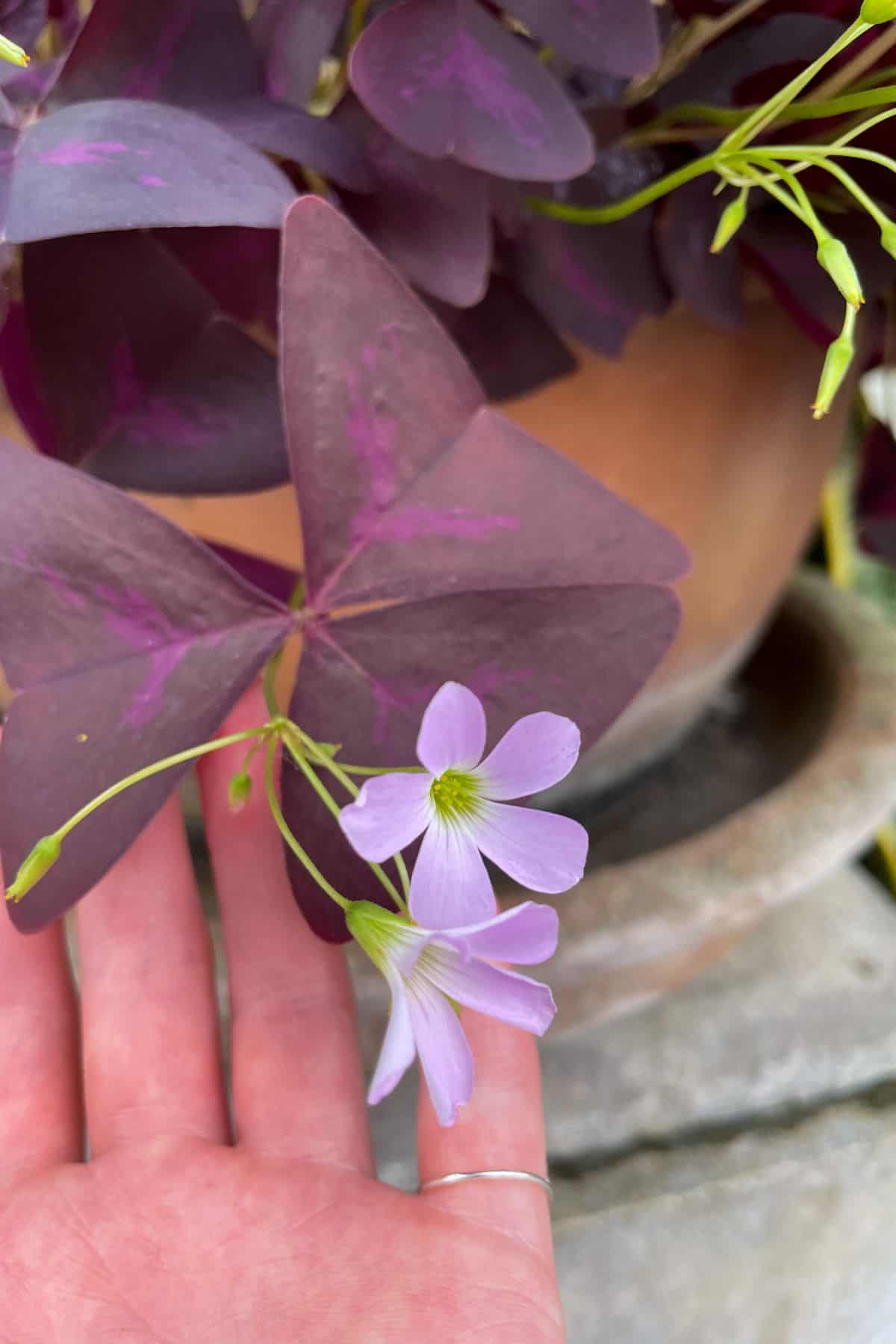 👉 Shop the Oxalis options on Etsy.
2 | Orchids
Who doesn't love a good Orchid?
This fabulous plant category hosts a whole tonne of attractive options. From glowing, metallic Jewel Orchids to bright barbie-pink blooms,
They're not the easiest plants to work with, but it's doable if you're up for a challenge.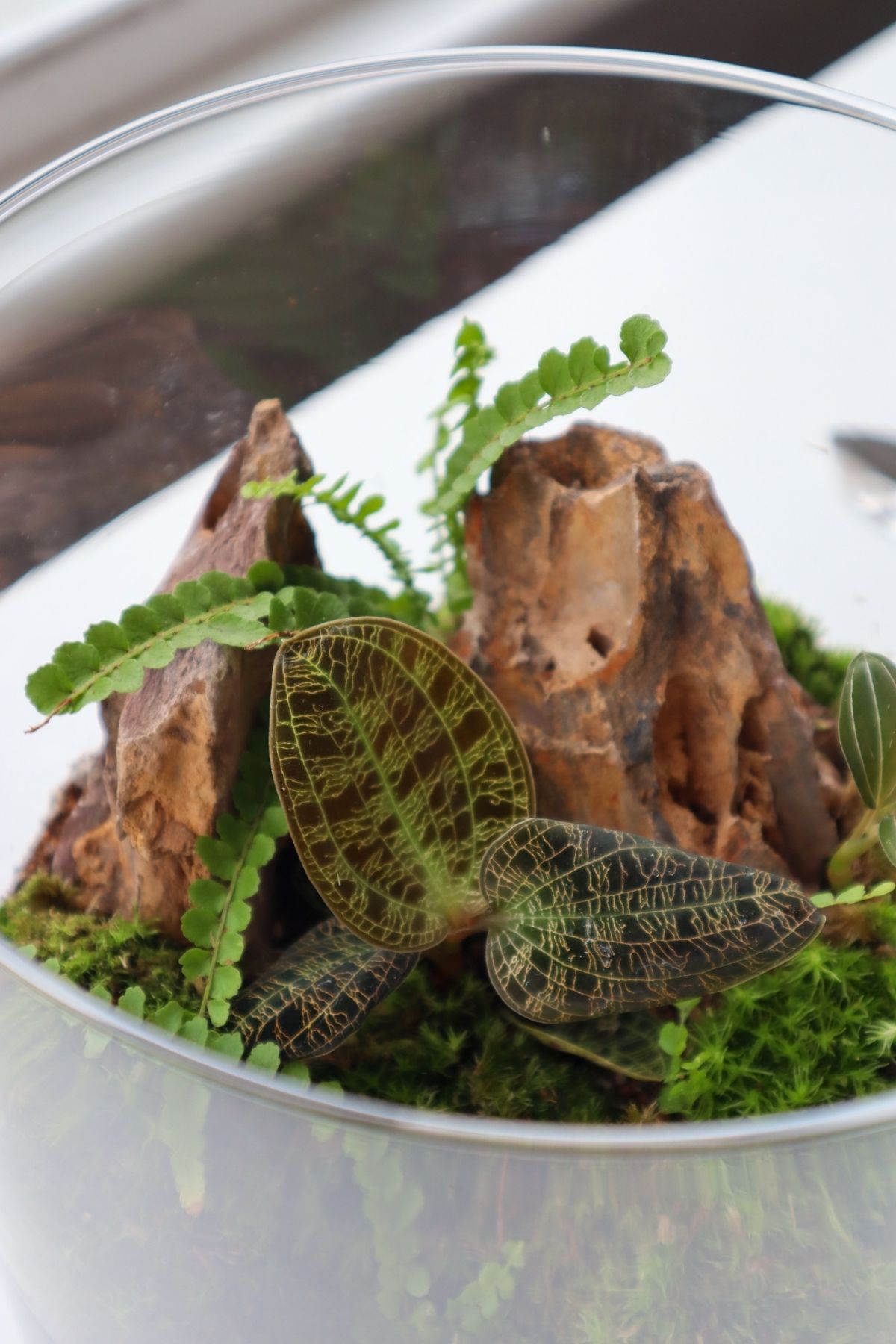 Because they're typically epiphytes in the wild, getting the substrate mix right is crucial, and they're known for enjoying a little more airflow than your average terrarium plants.
And make sure your glassware has enough space for your Orchid pick – even a tiny Jewel Orchid can produce some massive blooms.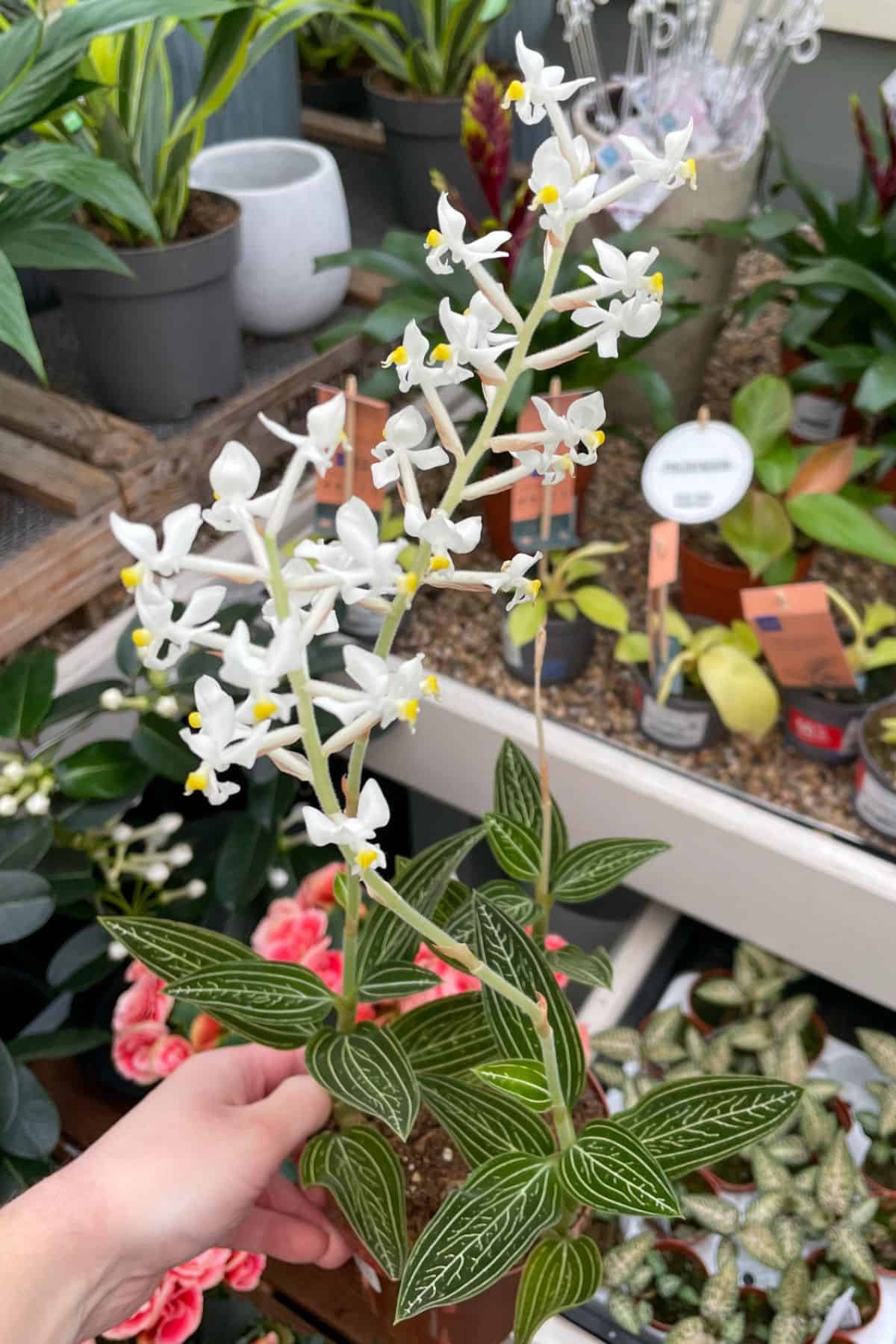 Check out our Orchid Terrarium guide for more.
👉 Shop the Orchid options on Etsy.
3 | Begonias
Begonias love warmth, humidity, and consistency, and terrariums are the (literal) vessel for those things, making them a match made in heaven.
With literally thousands of types up for grabs and SO MUCH variation, it's hard to know where to begin your search.
That said, some of the more common houseplant Begonia species can work well.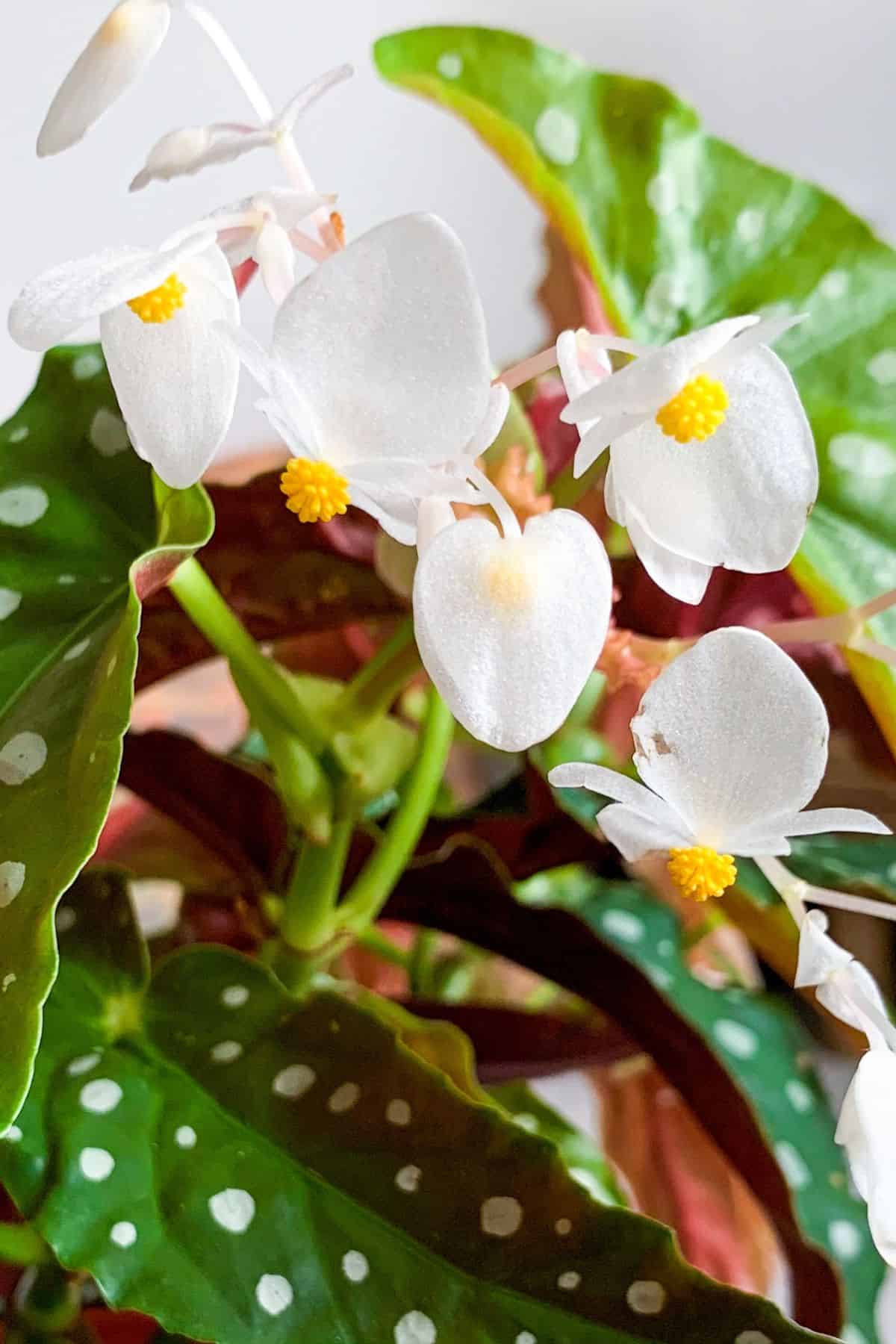 As a bonus point for aesthetic longevity, similarly to Oxalis, many begonia varieties have foliage that rival even the prettiest of flowers. It's a great choice to keep your terrarium looking showstopping year-round.
Check out our Begonia Terrarium guide for more.
👉 Shop the Begonia options on Etsy.
4 | African Violets
African Violets are an exciting way to get your flower fix.
I've seen a few terrariums featuring them on Instagram, and it looks brilliant.
Contrary to the name, you'll find them in not only purple shades but also pink, red, white, and even yellow.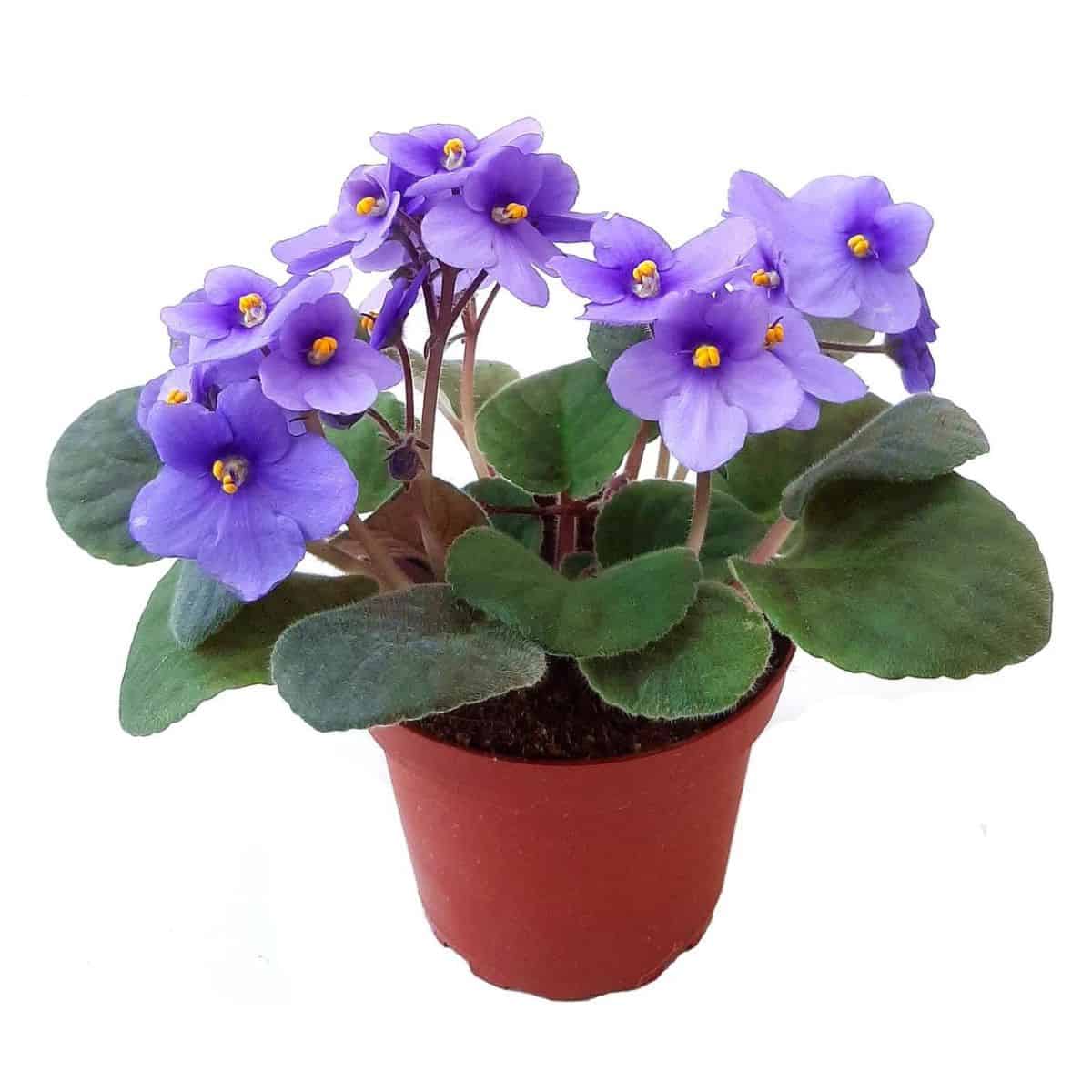 With lovely paddle-shaped leaves, the Saintpaulia genus is one that will stay cute and dainty, rarely growing too large.
👉 Shop African Violets on Etsy.
5 | Flowering Terrarium Plants
Many classic terrarium plants are flowering species. While not necessarily known for their flowers, I thought they deserved an honorable mention!
Pilea plants are well known for producing dainty pink or white clusters of flowers. They look fabulously striking in contrast to the leaves.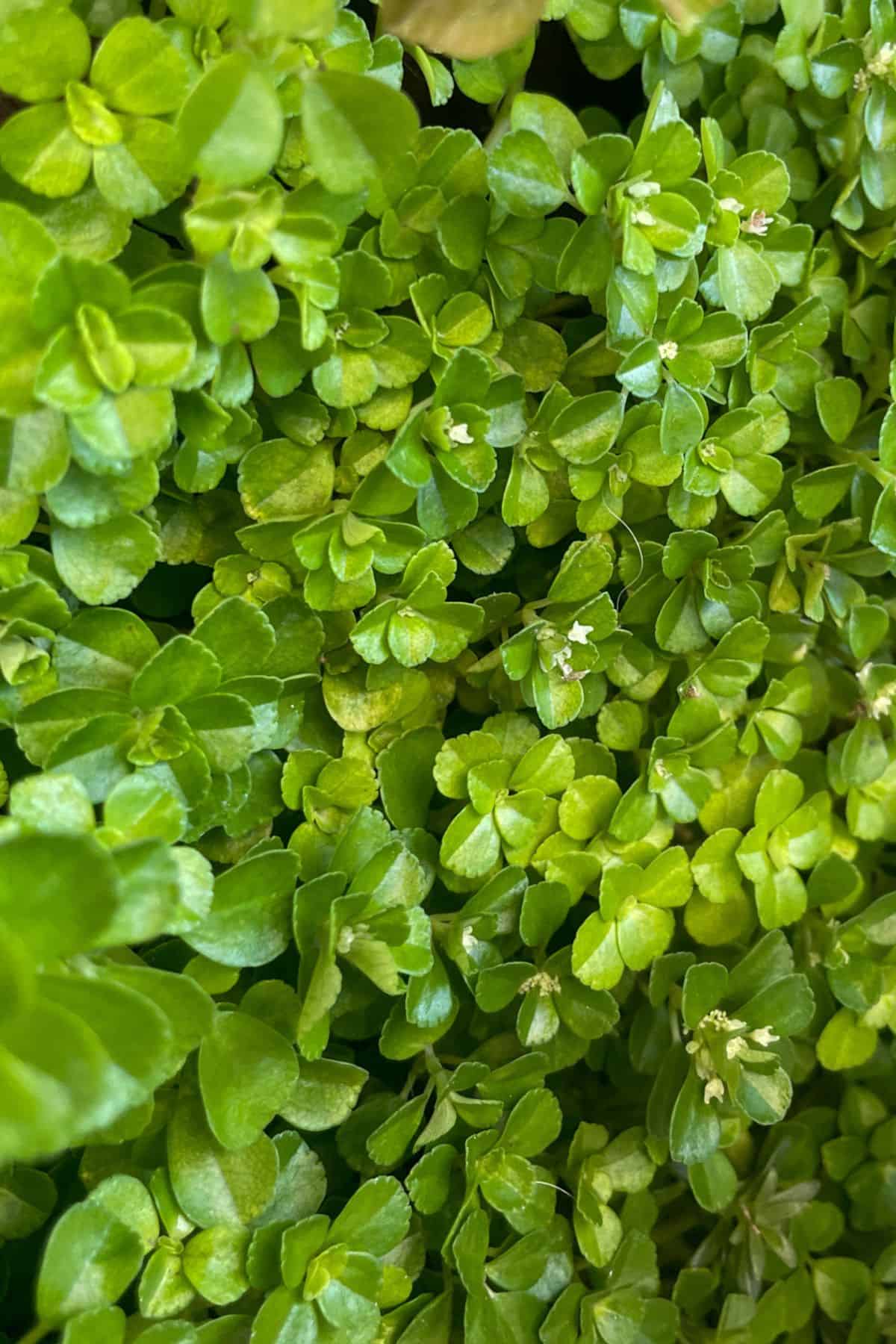 Alocasia species also flower; I think they give budget Lily vibes.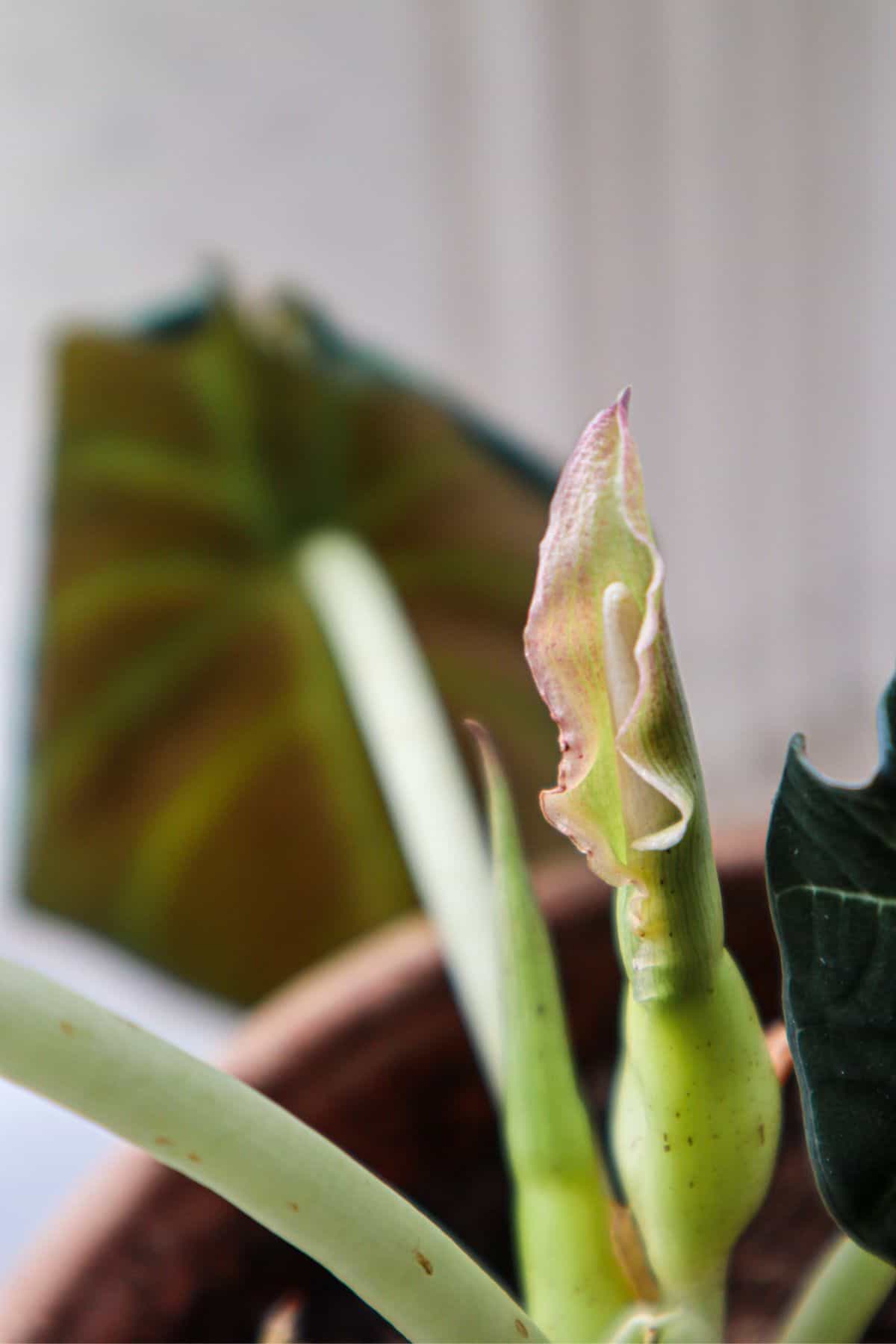 Calathea and Maranta are flowering species. They're tiny, but oh my god, they are stunning.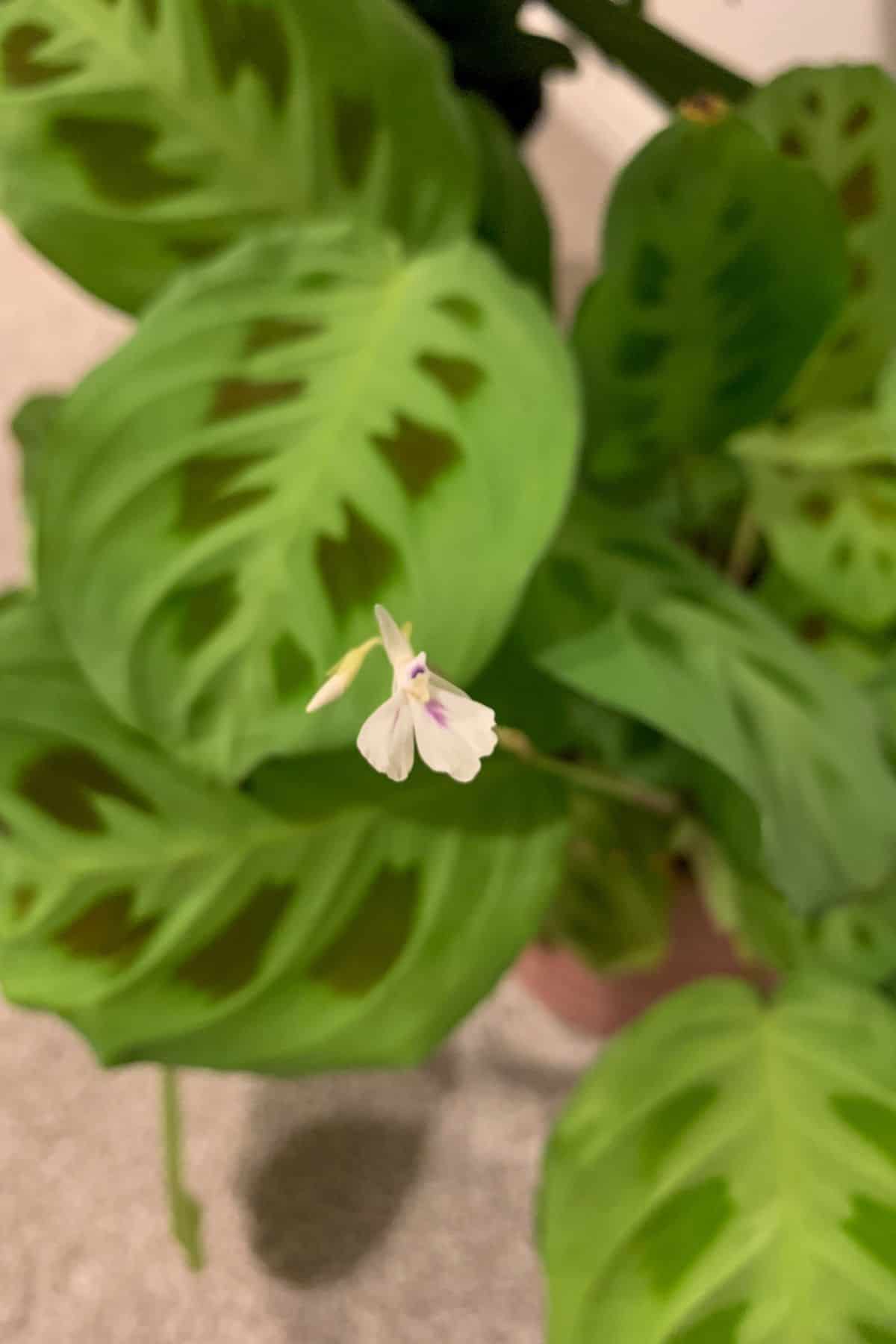 Peperomia flower, but they're certainly not much to write home about. They're more like weird flower spikes than flowers.
What are You Putting in Your Terrarium?
Let me know in the comments what you've chosen for your project. Why not try creating a dried flower 'terrarium' next?
Check out our wedding centerpiece article for inspiration, and don't forget to share your creations with us on Instagram!