One of my favourite aspects of designing a terrarium is the hardscape.
The combination of selection and placement is key in bringing a dynamic scene to life, and when it comes to organic hardscape – nothing does that better than Spider Wood.
Honestly, Spider Wood (Spiderwood) is to hardscapes what butter is to bread.
(Because, you know, sliced bread is great and all – but buttered bread is the real MVP).
Spider Wood has curling, gnarly branches that form a vibrant, organic depth within a terrarium or aquarium.
In this article, I will get to the root of Spider Wood, put my twist on how to use it, and show you where to get your own.
Without further ado, let's begin!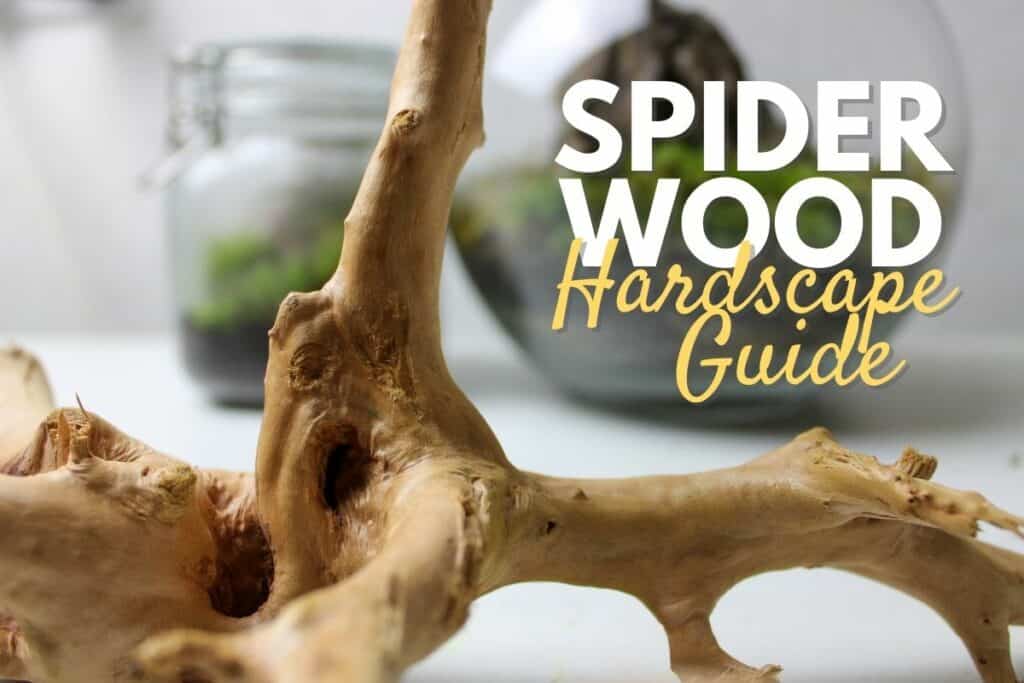 This page may contain affiliate links that allow us to make a small commission (at no further cost to yourself). 💚 Thank you for helping to support the tribe!
Spider Wood falls into the category of driftwood – an ever-popular group of hardscape materials. 
You can describe driftwood as a general term for wood washed ashore onto beaches, coasts or riversides.
Though Spider Wood specifically originates from the root systems of the shrubby Rhododendron genus. 
Known by various common names such as redmoor root and azalea root, Spider Wood takes its name from its own famously gnarling, spiraling branches that supposedly resemble a dead spider.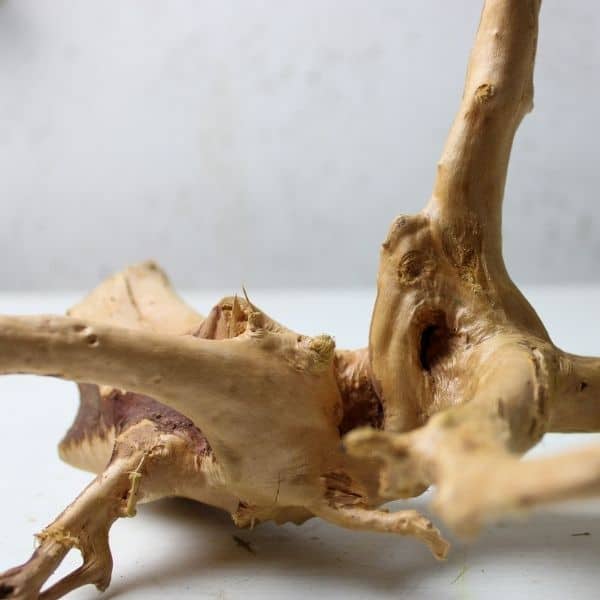 I'm not quite sure I see the resemblance, but it sounds pretty cool. I suppose Dragon Stone doesn't look like dragon scales…but it's still a cool moniker. 
The different species of the shrub-like Rhododendron genus offer a variety of sizes, shapes and even colours; with hues ranging from brown and reddish, to a light tan.
Why is Spider Wood Popular?
Among the different driftwoods, Spider Wood is easily one of the most sought after. Its versatility gives it an allure among terrarium and aquarium hobbyists alike.
Let's take a quick look at just why it is so popular.
1. It's Lightweight
First and foremost, Spider Wood is easy to handle.
Spider Wood is a softwood, meaning it is easier to clean and much easier to implement within terrariums than harder, heavier woods. The latter may risk damage to your glassware. 
Additionally, many of the smaller branches are easy to break apart. This gives you an added level of control when shaping your hardscape.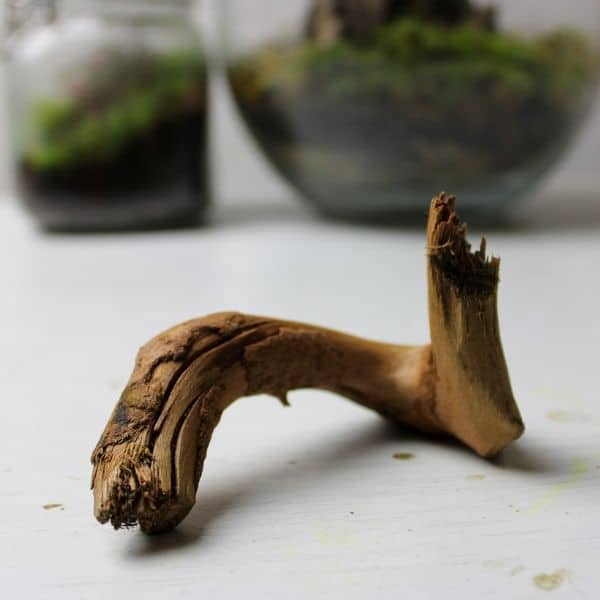 2. Aesthetic Power
Visually, Spider Wood is stunning.
With each piece being unique and malleable, you can use the wood to create an array of different effects.
Spider Wood is often used in large background pieces that create three-dimensional depth, or as curling vines that 'connect' your hardscape together like branches.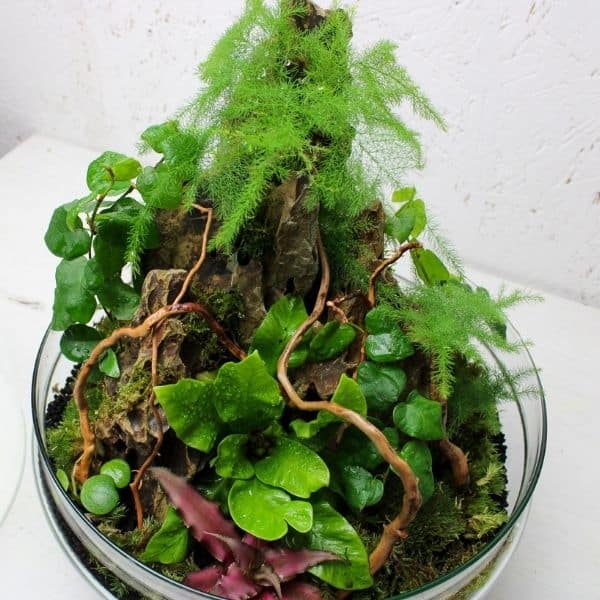 Let's jump back on that loose butter analogy I made in the intro. 
Like butter to bread, Spider Wood can take your terrarium or aquarium design from something dry and straightforward, to something more well-balanced and flavourful.
And if you were to launch your toast into the next realm of taste, you would need jam. In the case of terrariums and aquariums, we're talking moss, lichens, and plants.
Various flora can grow through and wrap themselves around the branches of Spider Wood. While driftwood alone may look a little dead (it is dead, to be fair) you can easily resurrect an organic essence by encouraging other life to take hold of it.
Just don't go spreading moss on your toast… or jam in your terrarium.
3. It Has a Low PH Impact
This one is more for the aqua-enthusiasts out there.
Spider Wood can slightly lower PH and release some tannins, but it's generally low-risk as an addition to your aquascape.
Conversely, Spider Wood can cause aquarium hobbyists some strife, for it is a notoriously buoyant wood – making it a real struggle to sink.
4. It Plays a Part Within the Ecosystem
Though more resilient than most softwoods, Spider Wood is prone to rotting over time.
While this can be taken as a disadvantage, one can also consider this a benefit within a bioactive terrarium.
Decaying organic matter can serve as a nutritional source for microfauna which encourages further bioactivity within your ecosystem.
Taking it even further, within vivarium, aquarium and paludarium setups: Spider Wood can create excellent hiding places for your creatures. The many winding roots simulate a complex den in which they can eat, breed and sleep. 
Conversely, if you have attempted to deliver a more pristine aesthetic, you may find yourself having to replace broken branches and rotten pieces over time.
How to Use Prepare Spider Wood
How does one use Spider Wood effectively?
It is not quite as simple as just shoving the wood atop your substrate and hoping for the best. 
Unlike stone, Spider Wood is an organic material which makes it particularly susceptible to mould within a terrarium setup.
In fact, I guarantee you that your wood will grow mould if you don't prepare it properly. So listen up!
As it's my specialty, I will focus more on terrariums. But most of these principles can be extrapolated to any of the 'arium' hobbies.
The aim is to remove harmful bacteria, pests and spores. We want the cleanest wood possible.
It's difficult to guarantee a completely sterile and mould-immune result, but there are a few crucial steps to take.
Terrarium Prep
Choose Your Supplier Wisely
It's as important to select a reputable supplier for your hardscape elements as it is for your plants or animals. If it is an organic material, there is always room for mistreatment. 
Spider Wood could be treated with harmful chemicals or toxins which may damage your ecosystem. 
Or it may be treated with nothing and house unwanted eggs or bacteria that will cause you confoundment in the future.
Find a popular specialist, and you shouldn't run into too many issues.
Clean the Wood
Even if you have purchased from a reputable supplier, you must do a little leg work too.
There are two major steps to cleaning your Spider Wood: brushing and boiling.
To remove excess dust and grit, first, take a brush to your pieces and get rid of the gristle that could dust up your biome.
Second, if you have a pot big enough, I recommend boiling your wood for anywhere between 15-30 minutes. 
The wood must be fully submerged, but not boiled to the point that it begins to break down.
Boiling is the most failsafe route to take. You could consider bathing your wood in a hydrogen peroxide solution but, to be honest, that's a little extra.
Quick Tips
Consider adding springtails into your terrarium early on. They will help maintain a healthy ecosystem and consume any mould that develops.
I have sometimes varnished my prepared spiderwood as an added protection against fungal development.
Aquarium/Paludarium Prep
One of the more common issues cited with Spider Wood is its buoyancy.
To ensure your sticks sink, you will need to pre-soak your wood. 
This could take a very long time (weeks, even!). 
A quick pro-tip, however, is to warm your water. The warmer the water, the less time is taken.
Use a rock to weigh down your wood until it sinks.
Alternatively, you could attach the wood to something heavier that will sink regardless (e.g. aquascaping rock).
This can be achieved via an aquarium-safe adhesive, or by pinching the wood in-between the rock(s).
The best thing about a good hardscape is that the right pieces can do so much of the design work for you.
Spider Wood is no exception.
Once prepared, you are free to use the wood in a multitude of ways.
As a Background Element
Spider Wood arguably thrives most as a large background apparatus that vertically elevates floral composition.
Within terrariums or aquariums, you can take a large piece of Spider Wood and place it at the rear of your design and allow it to branch outwards from the corner of your ecosystem.
You can easily pair Spider Wood with other hardscape elements such as stone or other driftwoods to affect a denser image.
(Check out the guides to terrarium rocks and terrarium driftwood for more amazing materials).
Finally, do not forget you can break apart and reconstruct Spider Wood to suit your vision. Wonderful sculptures, arches, trees and bridges can be formed this way.
It does take a little patience and ingenuity, though. 
As always, don't be afraid to experiment and play around with ideas before you begin making.
As a Highlight
I often find myself using broken branches of Spider Wood as highlights wrapping around a larger stone-based hardscape.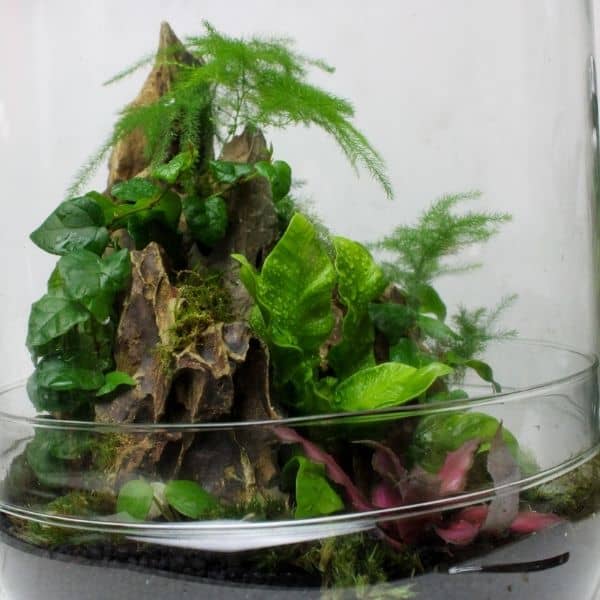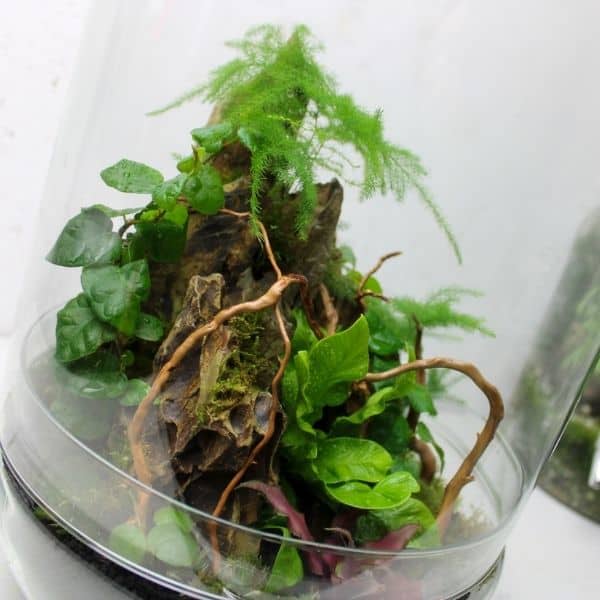 In the two pictures above, you can see how I have created a mountainous central piece using Dragon Stone. 
Though in the second image, Spider Wood has entered the fray.
It creates such a jungle-y (jungular?) atmosphere and in my opinion, ties the design together.
To learn how to create these mountainous columns for yourself, check out my Dragon Stone guide.
Other Uses
I will say that although we've talked about Spider Wood in its capacity to enhance a terrarium or aquarium design, that's hardly the limit of its creative potential.
Moss wall art has and is becoming increasingly popular among individuals and businesses that want to bring a little life to their walls without arduous maintenance.
I have found Spider Wood again gives a design an edge that cannot be achieved with any other material. The winding, reddish roots can make a picture sing.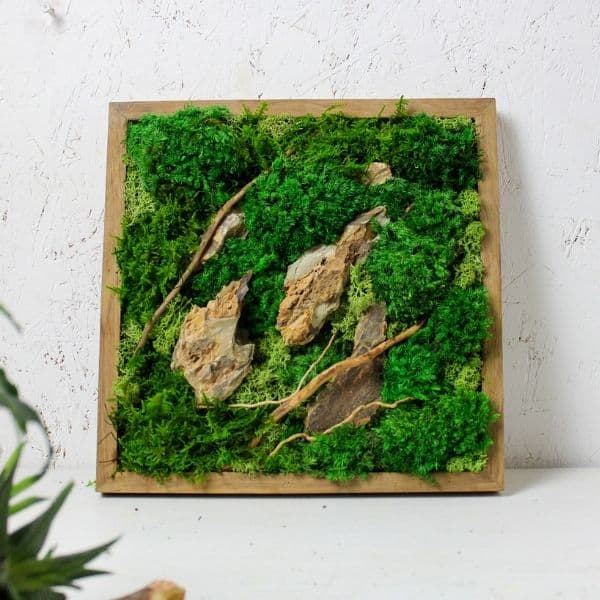 Where to Find Spiderwood for Sale
As mentioned previously, getting your Spider Wood from a high quality source can save you a lot of trouble later down the line.
You can find it online:
Spider Wood is ultimately a fantastic addition to a terrarium or aquarium.
The colours, the gnarly-ness, the versatility – it has it all
Your main challenges are likely to be mould and/or sinking the wood in an aquarium, but today I've given you the tools to overcome these issues and get started with your new favourite material.
Do you prefer to use wood or stone within your setups, and why? I would love to know. Let me know below!