Finding small terrarium plants that will fit into the most minute of containers can be a real challenge.
And even then, you'll want to be sure that they'll stay small. I've been caught out before by an unsuspecting microscopic fern that only a few months later revealed itself as the monstrous giant it truly is.
To help you avoid being lured in by the same trap, I've curated a list of tiny terrarium must-haves with everything from miniature ferns to baby vines and teeny-weeny foliage showstoppers.
So get your green thumb out, and let's dig in.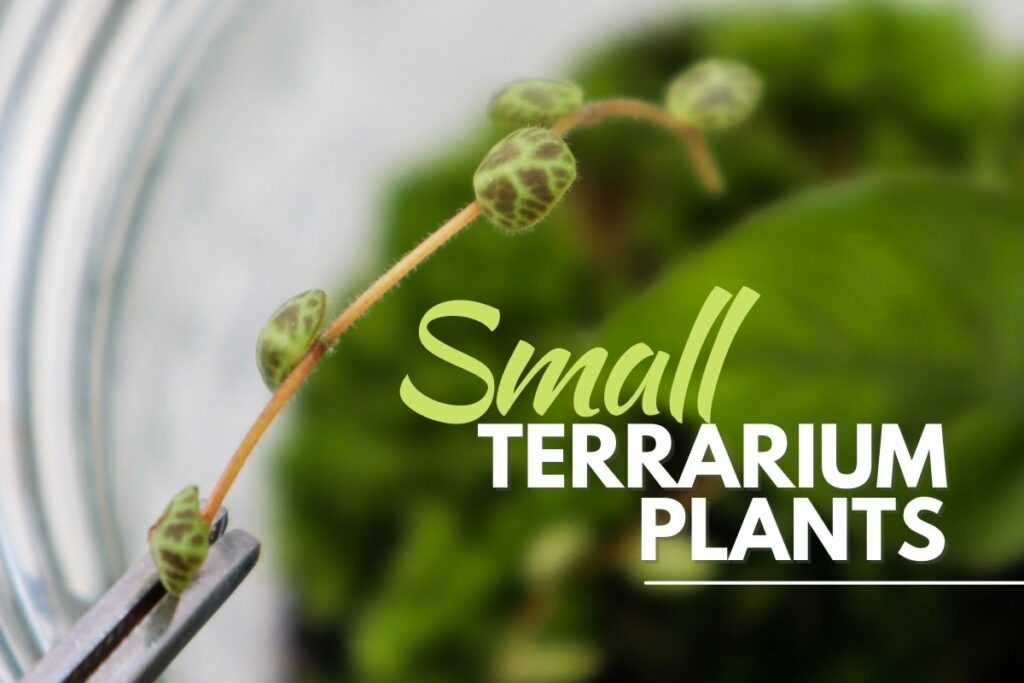 This page may contain affiliate links that allow us to make a small commission (at no further cost to yourself). 💚 Thank you for helping to support the tribe!
What Are the Best Small Terrarium Plants?
Let me indulge in the technical nitty-gritty for a moment.
What exactly do I mean by best small terrarium plants? How did I comprise this list?
Two things to note:
1. Shockingly, this list only features small plants. And by that, I mean that each plant on this list will keep a small leaf size as it grows. So while some plants can get quite long – after all, vines gonna vine – a little trim is all it will take to keep them lovely and dainty.
While you might see Spider Plants, Pothos, Calatheas, and even large ferns recommended elsewhere, and think to yourself, "a tiny cutting/baby plant can't hurt… can it?" Their leaves will grow in bigger as the plant matures, outgrowing the container and making them super unsuitable for small-sized terrariums.
2. I'm only going to be covering terrarium plants, which by definition means plants that will thrive in a closed container and live harmoniously together.
Here's a good way to loosely identify closed terrarium plants:
They're tropical plants that enjoy the heat and humid conditions.
They thrive in indirect light. You'll need to keep them out of direct sunlight, so the leaves don't scorch.
They typically like moist (but not soaked) soil, so they don't get root rot.
Now we've cleared that up – let's do this!
Tiny Closed Terrarium Plants (That You'll Love)
1 | Pilea glauca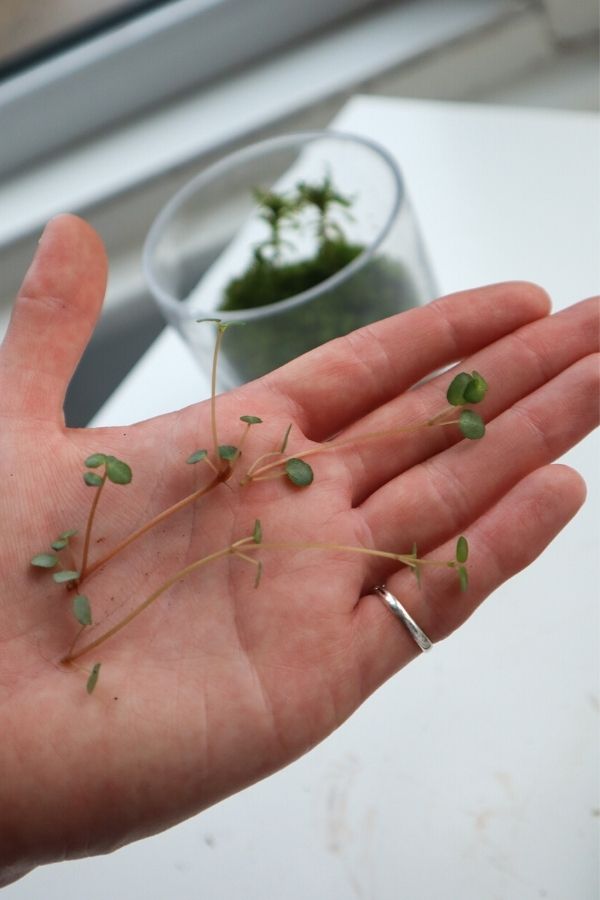 Honestly, Pilea glauca is my go-to for tiny closed terrariums.
And if you're yet to use it, you're missing out.
Its exquisite silvery leaves don't even measure up to 1/4 of an inch, so there's always room to pop one in.
In fact, in my tiniest of builds, I tend to just stick to mosses and Pilea glauca.
Nothing provides a fantastic sense of scale quite like this delicate plant, and even in my larger terrariums, I like to sprinkle in a few cuttings.
2 | String of Turtles (Peperomia prostrata)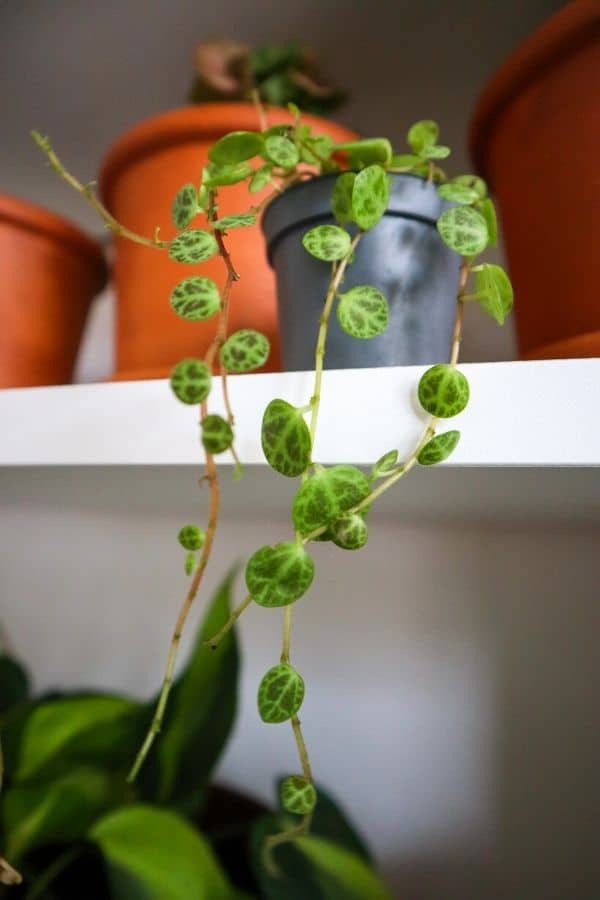 A true (and worthy) terrarium plant staple.
With lime green rounded leaves and dark markings, this charming vine looks as if you have an army of baby turtles cascading across your terrarium.
If it ever grows too long for your liking, feel free to give the String of Turtles a haircut – you can always use the cuttings for other projects.
As it's an epiphyte in the wild, you can get away with using it in all manner of creative ways in a terrarium. Mount it up high? Drop a cutting in? You name it.
3 | Fluffy Ruffles Sword Fern (Nephrolepis exaltata 'Fluffy Ruffles')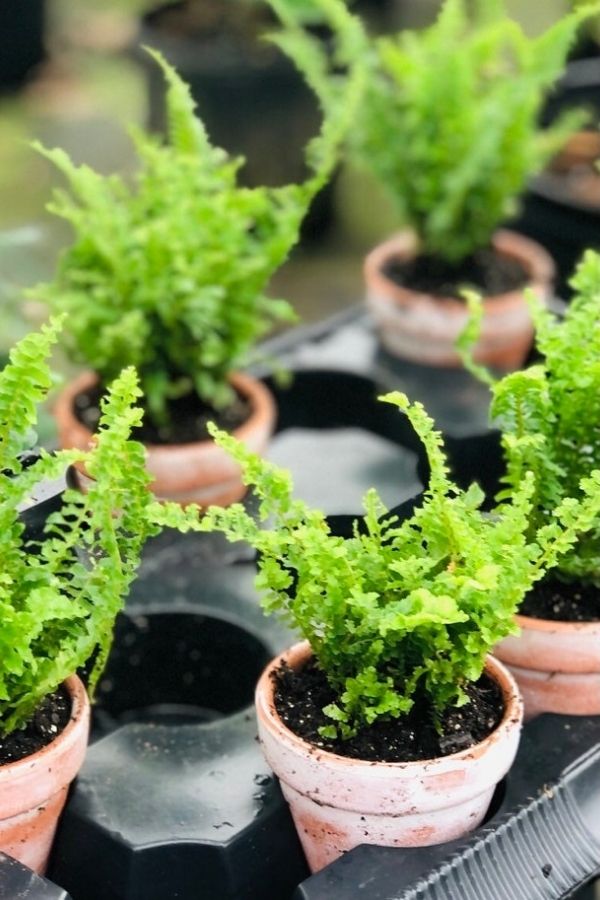 Love you a Sword Fern but struggling with the size? I got you.
This miniature version has all the big plant energy your heart could desire, wrapped up in a tiny terrarium-ready package.
Granted, it's probably the largest plant on this list, but it's certainly the smallest plant of its kind you can find.
Its gorgeous fluffy fronds measure up to just a few inches tall, making it just about the cutest thing money can buy.
Even the name is cute! Fluffy Ruffles Fern? C'mon!
And that's not all – it comes in a few colors too. I've seen a lovely 'blonde' variety online.
4 | Marcgravia sintenisii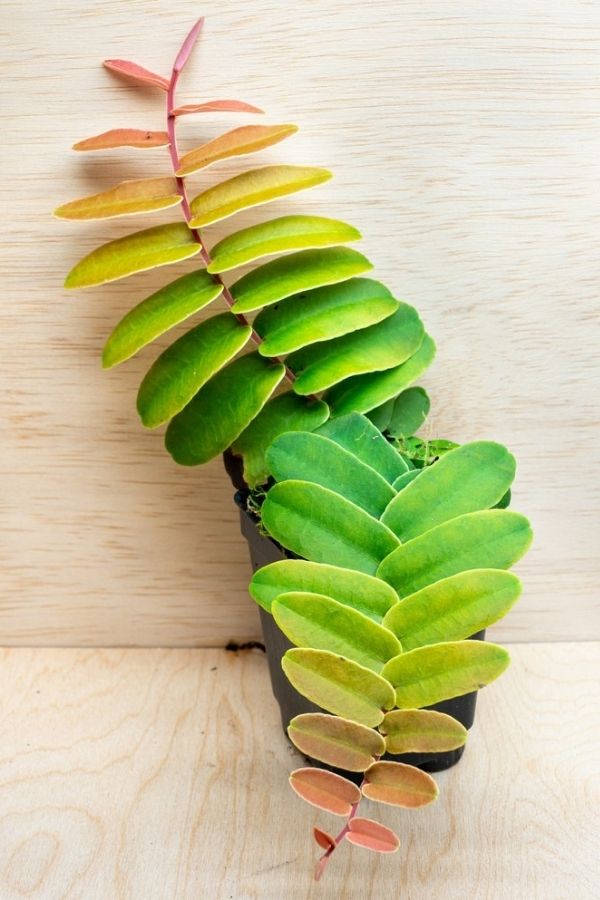 Run, don't walk to the plant store.
With foliage that first grows in a vibrant red color and gradually turns to green as it matures (creating all manner of shades in between), this shingling plant perfectly emulates the most captivating of sunsets.
This Marcgravia looks its best when mounted on some attractive hardscape or a terrarium background.
And being a plant that needs high humidity and moisture to thrive, it really couldn't be more of a perfect fit for life inside a terrarium if it tried.
5 | Peacock Fern / Peacock Moss (Selaginella uncinata)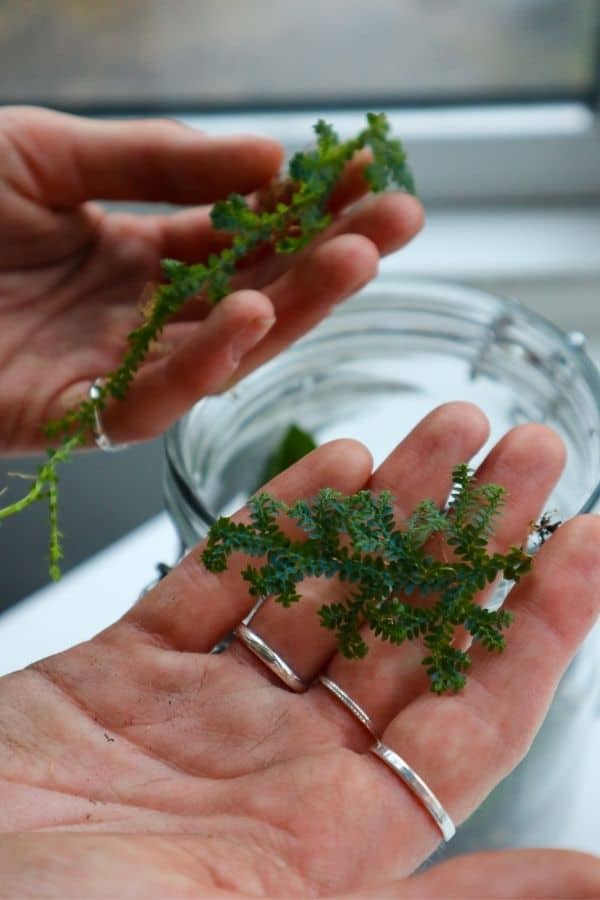 To better get to know this plant, let's break down its common names:
Peacock – Referring to the exquisite blue-green shades and iridescent tones (yes, really).
Fern/Moss – While this plant belongs to the somewhat enigmatic Selaginella genus, it looks like the love child between (you guessed it) a fern and moss.
I keep coming back to this plant time and time again. Its dainty turquoise foliage and vein-like creeping growth pattern really stand out in a busy terrarium, providing beautiful texture and contrast.
And it thrives in indirect sunlight – ideal, right?
6 | Creeping Fig (Ficus pumila)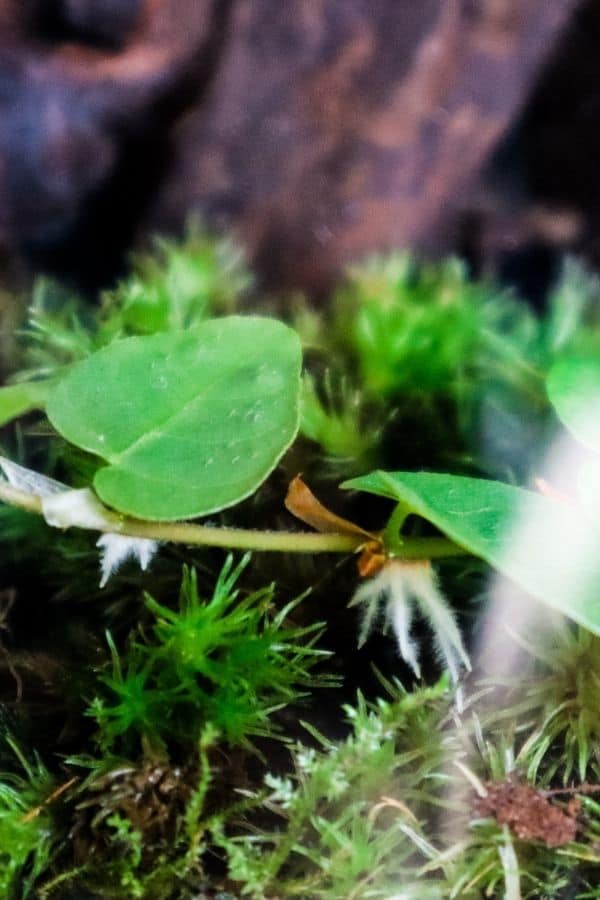 If you're someone that prefers a neatly manicured terrarium, then you can safely skip this plant.
However, if, like me, you just can't get enough of wild luscious overgrowth, then you and this plant are going to get on tremendously.
Ficus pumila is a beautiful bright green vine and an absolute dream to work with.
Simply snip a cutting, drop it in a terrarium, and let it root all by itself. Give it a few weeks, and it will have overtaken your container.
Being such a fast grower, it's a fantastic option for the over-involved plant parent, who doesn't mind regular trimming (and for beginners looking for a bulletproof plant).
7 | Humata heterophylla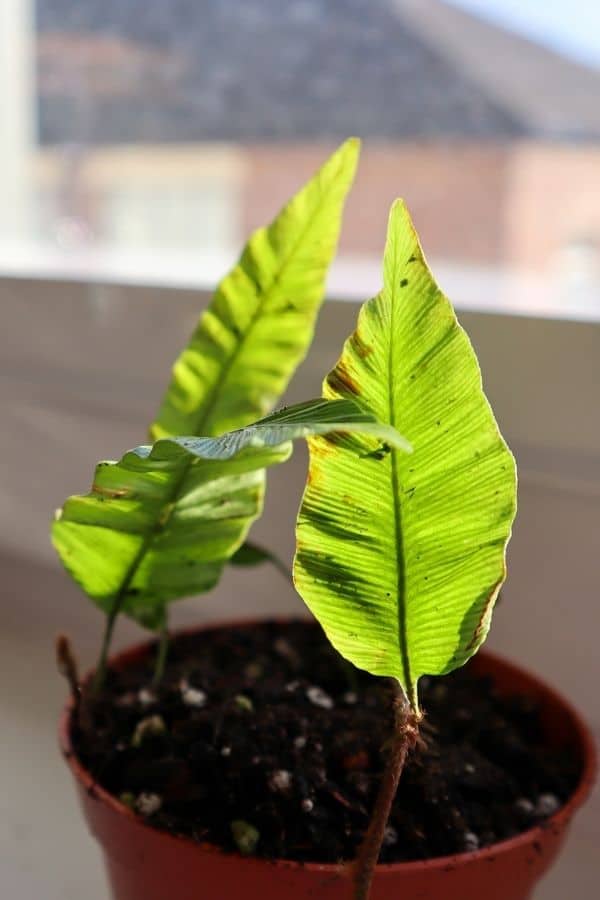 Humata heterophylla is a tropical delight. Its leaves are almost spearhead-shaped and beautifully textured with delicate ridges.
Absolutely perfect for ground cover, this unique vining fern will pop up feather-like fronds around your terrarium.
The only less-than-marvelous thing to note about this plant is that it can be a real challenge to plant due to the vining stem.
Because of this, it might be easier to use this plant in a glass container with a wide opening (so you can get your hands in for the fiddly stuff).
8 | Watermelon Dischidia (Dischidia ovata)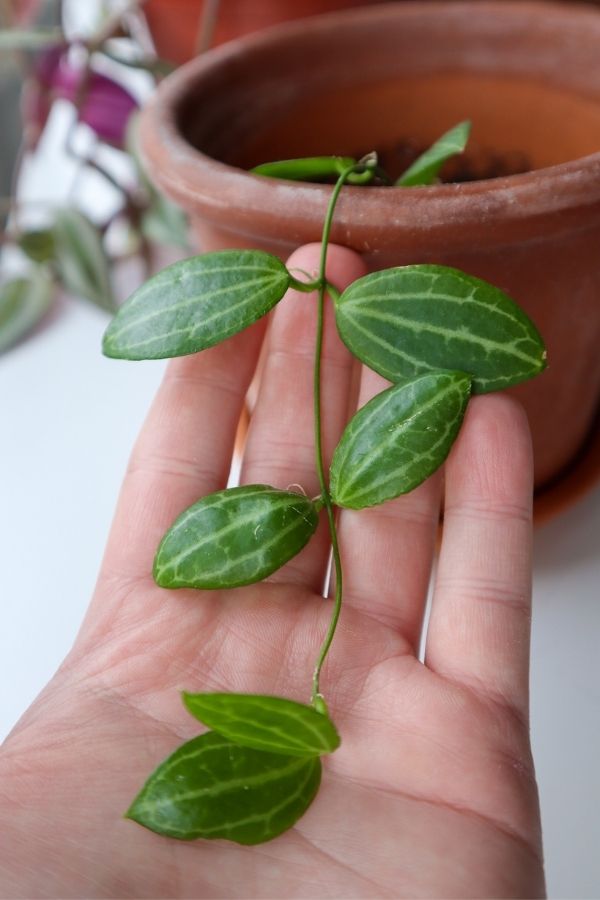 With oval-shaped emerald green leaves and white venation, it's easy to understand how this plant coined its common name.
It's such an overlooked closed terrarium plant too, so if you're looking for a unique addition to your latest build, this could be precisely what you're looking for.
Like the Ficus pumila, this vining Dischidia can get really lengthy and grow super speedily under ideal conditions.
But the good part is, its leaves will never grow beyond their dainty size, so it can always be trimmed back to fit a small space.
9 | Mini Asian Water Fern (Bolbitis heteroclita 'Difformis')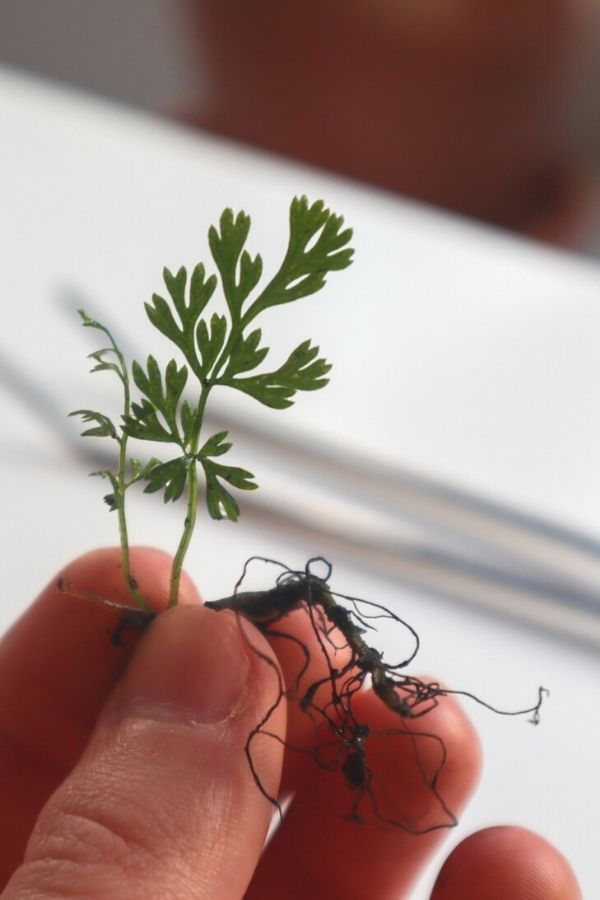 Anything with 'mini' in the name is a good sign, right?
This lesser-known dainty darling is a fantastic choice that won't outgrow its container.
It boasts the most delicate frilled fronds that remind me of parsley (yes, I'm running out of ways to describe plants!). You can rest assured it will add texture to just about any build and looks fantastic planted next to broader leaves.
Bonus – like many plants on this list, it can be planted epiphytically on hardscape, so it's a perfect choice for anyone looking to up their terrarium game.
👉 Shop Bolbitis heteroclita 'Difformis'.
10 | Nerve Plant (Fittonia)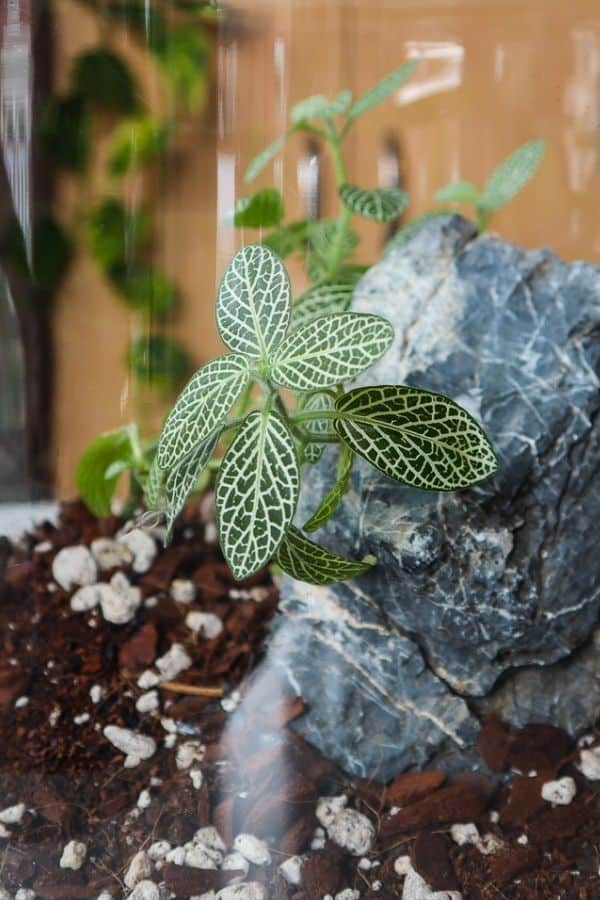 As far as I know, it's illegal to create a terrarium plant round-up without including Fittonia, and I'm certainly not looking for trouble with the plant police.
They're extremely popular terrarium plants and for good reason.
Fittonia is actually a genus, not a specific plant, encompassing all sorts of bright species and varieties, the most common being albivenis and verschaffeltii.
You'll find all sorts of shades and can easily identify them by the signature striking venation, almost always in a bold, contrasting color.
This makes Fittonia look more ornamental than natural, making it a perfect choice for anyone wanting to add a striking feature plant or a fun splash of color to their build.
*Bonus* Mood Moss (Dicranum scoparium)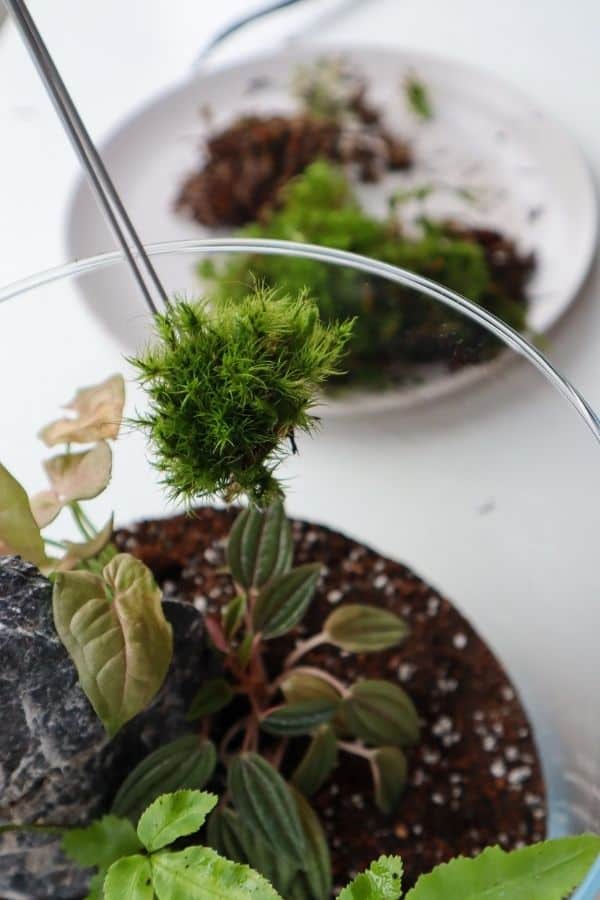 No terrarium is complete without moss, and there's no way this list could be complete without mentioning one.
Let me introduce you to my all-time favorite: Mood Moss.
She's versatile. She's fluffy. She's vibrant. There's nothing not to love.
And I can guarantee there's no container it won't comfortably fit in. Even with the likes of terrarium jewelry, you can still squeeze in a tuft of this luscious moss!
Being an acrocarpous moss (meaning it grows in clumps instead of sheets), you can tease it apart into smaller chunks making it super easy to place, even in limited space.
That's it!
This list isn't exhaustive – I'd probably have to write an entire book to include everything.
It's worth noting that many plants on this list come from Genera that include a tonne of terrarium-suitable, tiny plant options (take Peperomia and Pilea, for example), so feel free to expand and continue your search.
You can head straight over to our Definitive Guide to Closed Terrarium Plants and our Terrarium Plant Index for more, and you can even search by "small" in the index.
Let me know what you're putting in your terrarium down below!