Terrarium kits are made to make your life easy and save you money.
Everything is found in one place; there's no need to buy more than you need, and absolutely no paying for separate postage. Sounds perfect to me!
I've hand-selected five great closed terrarium kits for you. Two for beginners, two for kids, and one mossarium kit – selected based on the quality of materials and appropriate plant and moss choices.
Honestly, I'm very critical of terrarium products, and I was really impressed by these kits. Many of them have exclusively 5-star reviews and, importantly, pass my rigorous judgment.
So let's take a look at what we're working with.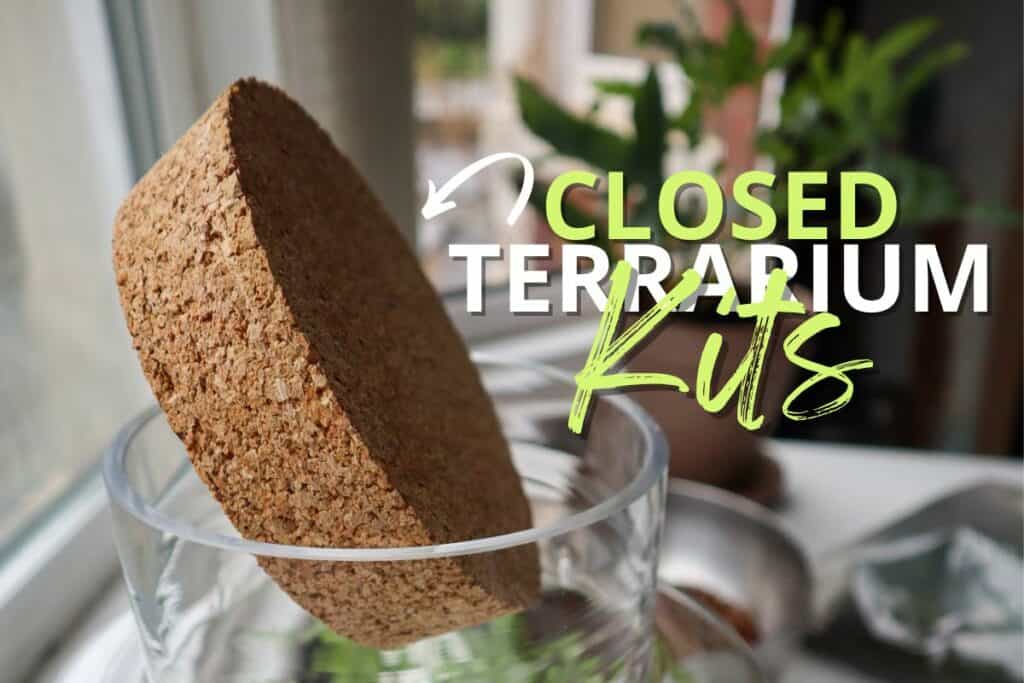 This page may contain affiliate links that allow us to make a small commission (at no further cost to yourself). 💚 Thank you for helping to support the tribe!
5 Best Closed DIY Terrarium Kits
1 | This complete kit by BTV Terrarium Kits is ideal for someone wanting to jump straight into building a more significant piece.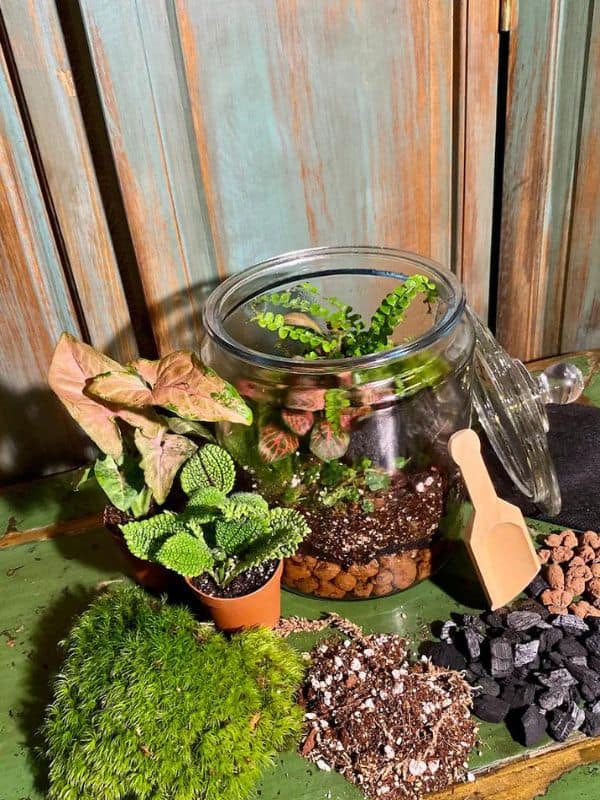 It comes in two container sizes, and you even have the option to grab the kit without the glassware if you already have a piece in mind.
The plants are appropriate for a closed environment, and the substrate and drainage material look very high quality. The only thing it doesn't include is a spray bottle, which you can pick up cheaply from amazon.
They also have a vintage bottle terrarium kit – check it out!
2 | This mason jar kit by Roosevelt Terrariums is brilliant for beginners.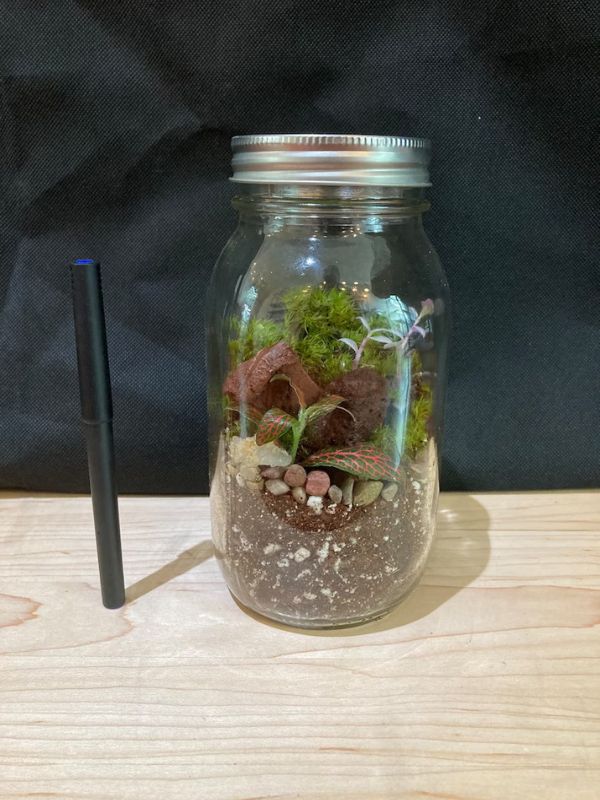 It's a lovely beginner-friendly size and includes everything you need – even helpful care instructions so you can keep your project healthy once it's been built. Again, it doesn't have a spray bottle, but this seems fairly common with kits.
It also comes with several decorative rocks, so you can go all-out with hardscape design and create something unique to you.
Check out our guide to making jar terrariums for help with that!
Oh, and don't let their relatively few sales and reviews on Etsy put you off; Roosevelt Terrariums is an established and respected company with an in-person store in Oregon.
Best Terrarium Kits for Kids
3 | This personalized kit by Homesteading Hippie Co is perfect for kids.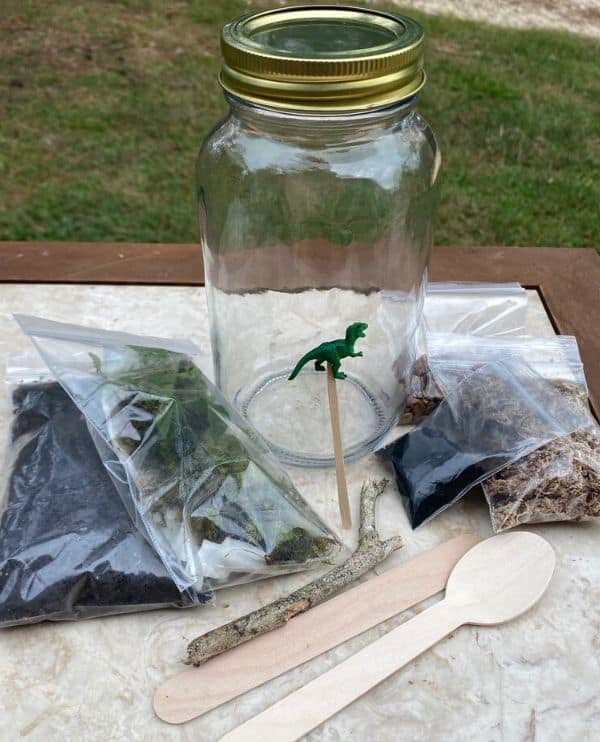 Unlike the majority of kids' kits available, which are decorative open terrarium builds, this kit has luscious live moss and appropriate tropical plants for a closed container.
It also comes with a couple of hardscape materials, cute wooden terrarium tools (great for fine motor skills), and a figurine – a dino, dragon, unicorn, or a woodland animal.
If you weren't already convinced, you could even get a personalized message etched into the glass at no extra cost. What's not to love?
4 | This great kids' kit Sugar Blush Studio not only offers up an opportunity to teach the water cycle but the seed cycle too. How come? This one-of-a-kind kit involves chia seeds, which will sprout just a few days after planting.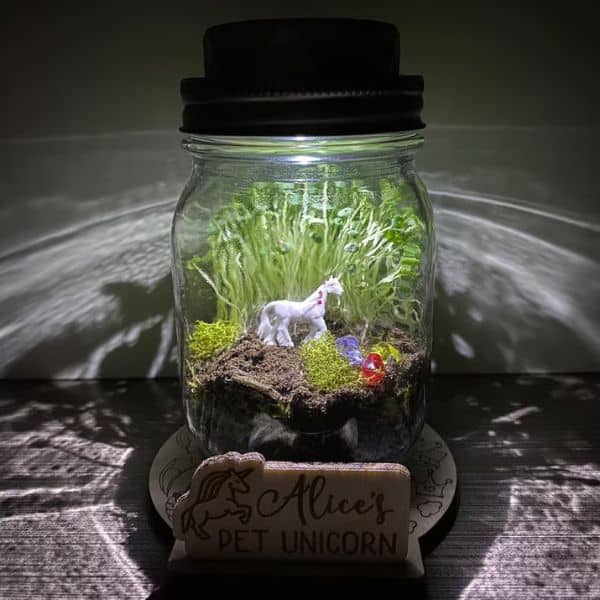 As I've mentioned, kids' kits often can put style over substance, and that certainly isn't true with this kit.
Not only does it include all the necessities (drainage stones, charcoal, soil pellet, moss, seeds, tools), but it also has all kinds of extra stuff that kids love.
A personalized stand? Yes. Plastic unicorn or pegasus? Yes. Plastic gemstones? Yes. Optional glass jar with a solar-powered lid that charges in the sun and lights up in the dark? You know what…Yes.
Best Mossarium Kits
5 | This gorgeous moss terrarium kit by EK Terrariums is about as cute as it gets – measuring up to only 3.4 inches tall.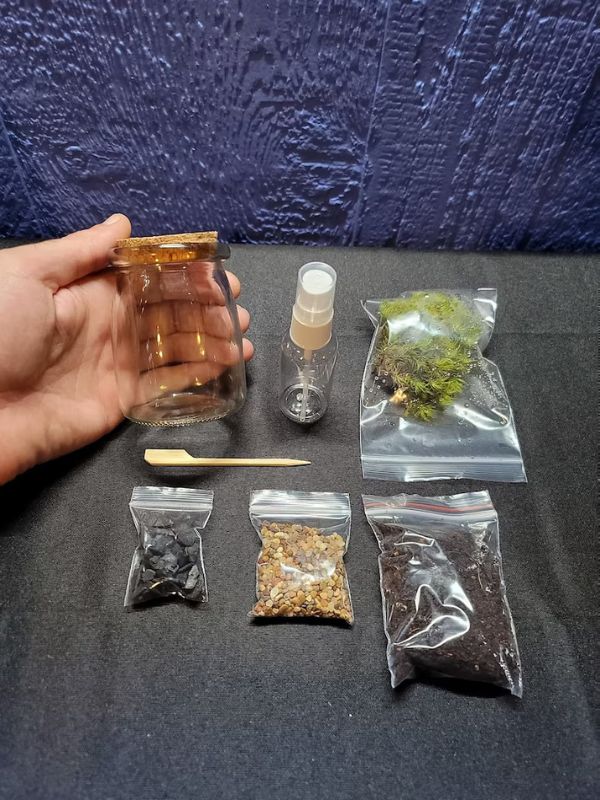 If you want an inexpensive, simple, and classic kit with quality materials, this adorable moss project is the one for you. And it'll only look more lush and wild as it grows over time.
Why not try adding a cutting to spice it up a little more? Something like Ficus pumila or Peperomia prostrata (String of Turtles) would work a treat and look great.
Check out our DIY Moss Terrarium Guide for more help and inspiration with these mossy wonders!
Plus, EK Terrariums also has plenty of ready-made mossariums if you fancy skipping the DIY element altogether.
Of course, there are more kits out there than I've found for this list today.
So if you decide to expand your search, let me give you four tips.
1. If you see any closed terrarium kits that include succulents or cacti, run away and never look back. Arid plants won't survive in a closed humid environment; they're a logistical no-no and will need an open terrarium to thrive.
2. Live moss in an open container is also a crime against horticulture; it will dry out and perish quickly (BIG nope)…
3. Keep an eye out for any terrarium kits with Venus Flytraps. They're possible to create (sort of), but certainly not for the faint-hearted terrarium builder. They'll need very particular care requirements and an open container. There are much more suitable carnivorous plants for closed terrariums, but if you want to attempt it, see our Venus Flytrap terrarium guide.
4. Another thing to watch out for is kits that include foraged items. Unsustainably taking things from natural environments for free and selling them online for a profit is a great money-making idea but not an ethical industry to support.
Appropriate Closed Terrarium Plants
We've covered what won't work, so what kind of terrarium plants should you be looking for in a closed terrarium kit? This is by no means an exhaustive list, but some good things to look out for:
Peperomia
Pilea
Ferns (especially miniature varieties)
Fittonia and Polka Dot Plants
Syngonium
Tradescantia
Calathea, Jewel Orchids, and Air Plants are compatible but enjoy airflow now and again.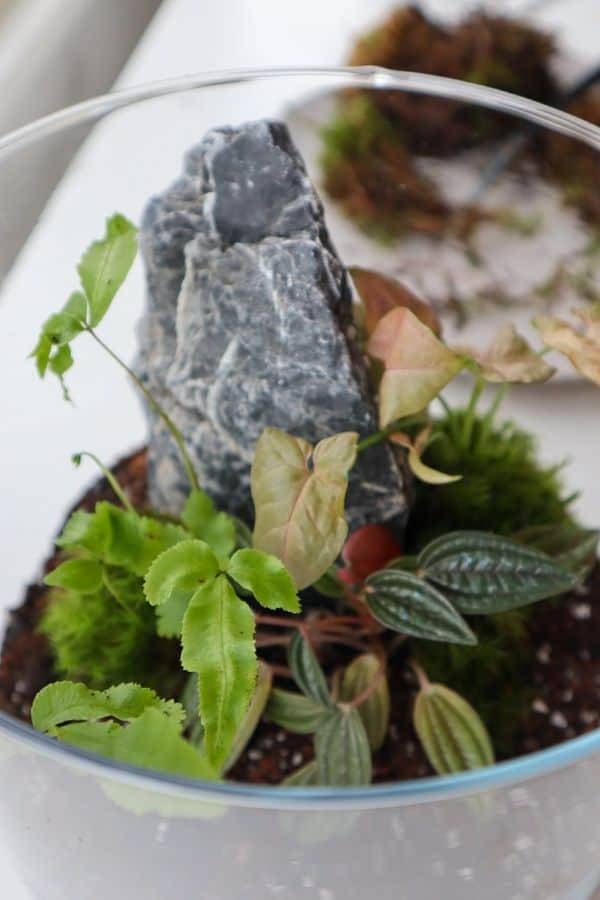 And we're only just scratching the surface; there's so much more. Check out our closed terrarium plants guide for more.
👉 Shop terrarium plant bundles on Etsy.
How to Make a Closed Terrarium (& Closed Terrarium Ecosystems for Sale)
The kits I've mentioned today come with detailed instructions; however, if anything is unclear or you need a little guidance, we have you covered.
Our entire website is essentially built around how to make a terrarium, but our guide to closed terrariums is a great place to find everything you need in one place.
And if you're interested in buying a ready-made terrarium, you can head straight over to my planted terrarium for sale post.
I hope you found what you're looking for. What kind of kit did you go for? Let me know in the comments! Be sure to tag us in your finished product on Instagram, and if you have any further questions, you can always pop them on the Facebook group.
Ciao x