Tillandsia ionantha is a popular and widely cultivated variety of Air Plant.
Partly due to their hardy disposition, but mostly for their beautiful foliage and striking violet, red and pink coloured blooms (hence the name "Blushing Bride Air Plant"). The leaves spread in a uniform fashion to form a lovely wavy tuft.
With so many different cultivars available, you're sure to find one that's perfect for your terrarium!
The ionantha is a mesic variety of the Tillandsia genus, meaning it's much more suited to a tropical environment with a high temperature and humidity.
As with all Air Plants, they're happiest in open terrariums and larger containers with plenty of airflow, but this species can grow in a closed environment with the right care.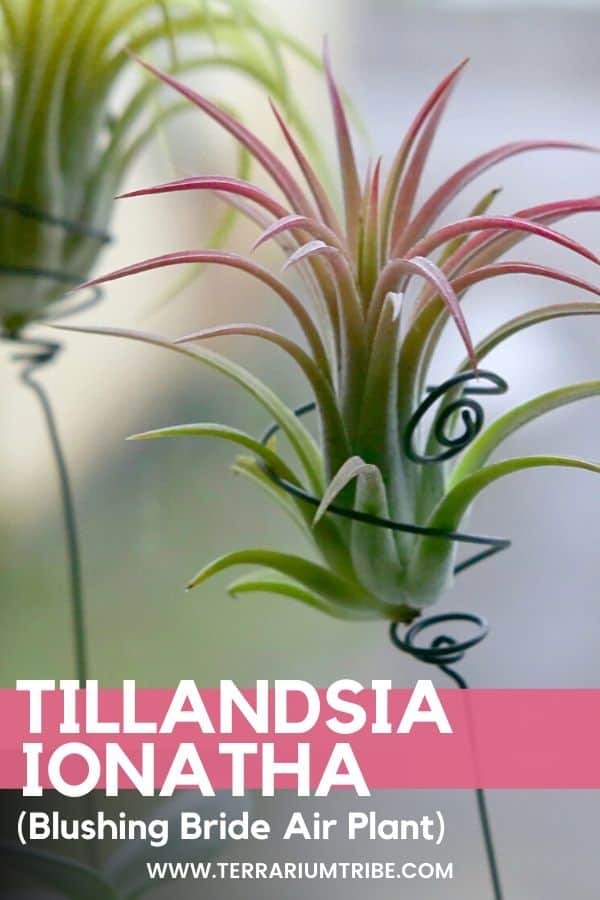 Where to Buy Tillandsia ionantha
See the links below to purchase from reputable terrarium plant shops and marketplaces (may include affiliate links).
Tillandsia ionantha Care & Growth
| | |
| --- | --- |
| Plant Type | Epiphyte |
| Lighting | High indirect light |
| Temperature | 60-80°F (15-26°C) |
| Watering | Very light, even moisture |
| Humidity | High humidity (60-90%) |
| Growth | 2-4 inches |
Lighting
Much like other Air Plants, Tillandsia ionantha does best with bright, indirect sunlight. They can handle short periods of direct sunlight, but excessive amounts of sun time or intensity can scorch and dry out the leaves.
Generally, the higher the humidity in your terrarium, the more they can tolerate the drying effects of direct sunlight.
Watering
Where some air plants need soaking in water on a regular basis, Tillandsia ionantha needs only a small amount of water to thrive.
In open air plant terrariums they'll need regular misting, but in closed terrariums simply misting the other plants (around the ionantha) may be indirectly sufficient.
Substrate
The so-called "Sky Plant" is true to its name and needs no to substrate to grow. It's best mounted epiphytically onto branches or vivarium backgrounds.
Temperature & Humidity
Native to several Central American countries, this tropical Air Plant prefers a high temperature and humidity to grow. The higher the humidity, the less watering it will require.
Growth
The Blushing Bride Air Plant starts life as a small, pale green bundle of leaves. As the Air Plant grows, the leaves expand and the colour deepens to a rich green. Eventually, the plant blooms and the tips of the leaves transform to stunning red, pink and violet colors.
Finally, Tillandsia ionantha will flower, producing a vibrant yellow and white shoot. Though it can take a few years for these plants to reach full maturity.
Propagation
Once Tillandsia ionantha reaches full maturity, it will grow offshoots (otherwise known as "pups") that can be harvested once they're about 50% developed.
Varieties & Similar Plants
Being such a popular type of Tillandsia, ionantha has many cultivars of all colours; 'Fuego' has fiery red leaves whereas the 'Mexican' cultivar's leaves are a beautiful pale magenta.
Tillandsia bulbosa is another great Air Plant worth checking out!
Common Problems
Over-watering Air Plants are the quickest way to kill them. This one is particularly resistant to rot, but If misting directly it's best to hang it upside down where possible to allow it to drip dry completely.