Terrarium mold, our fuzzy mortal enemy.
It's always lurking, ready to strike. But is it actually a worry or just a nuisance?
Personally, I've encountered mold in a lot of my terrariums. It's common to see a signature mold "bloom" as new terrariums settle in.
So, I'm either super unlucky, a terrible terrarium maker, or just maybe – it's a pretty normal process.
In this article, we're going to look at why mold is not something to panic about, and I'll offer some techniques to address it should you need to.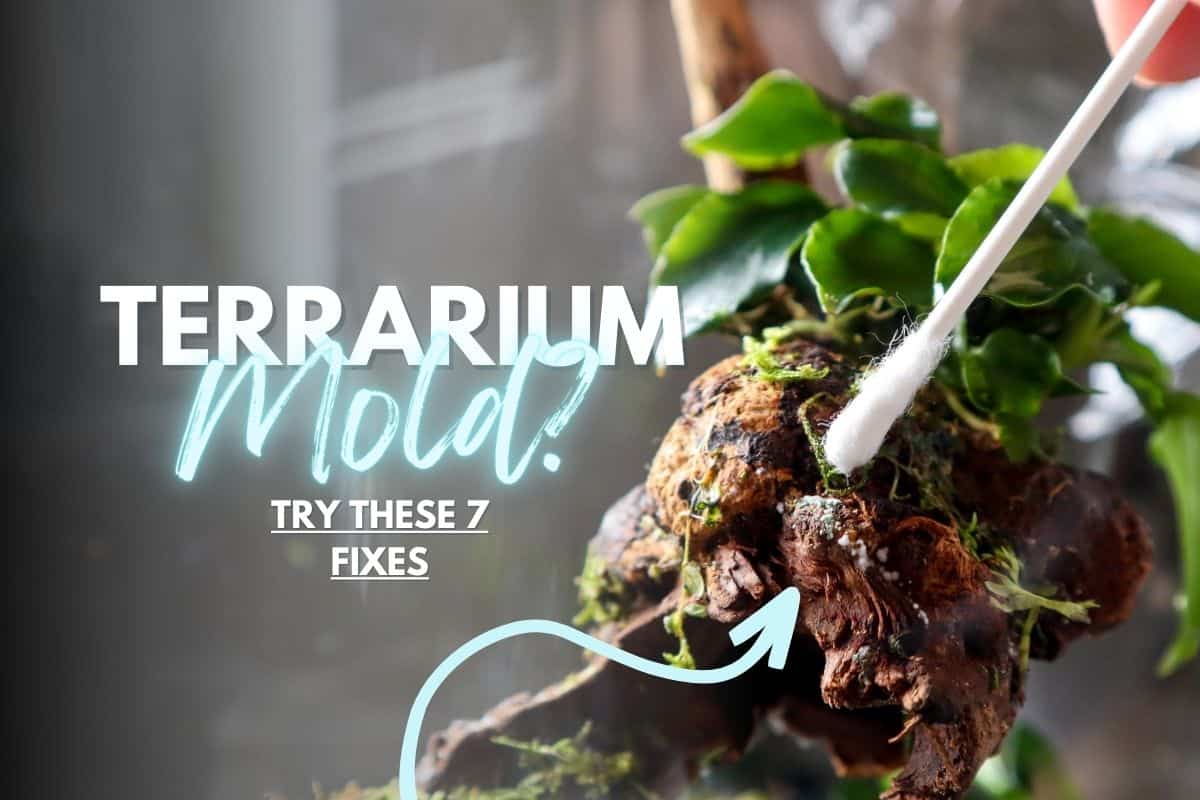 This page may contain affiliate links that allow us to make a small commission (at no further cost to yourself). 💚 Thank you for helping to support the tribe!
Is Mold Harmful to Terrariums?
Generally speaking, mold doesn't affect healthy plants.
I mean, if it starts to take over the whole terrarium, then it becomes more of a problem. But a little bit of fuzz is not a serious threat.
Mold is a type of fungus, and fungi are saprotrophic.
Meaning they are involved in the processing of decayed organic matter. Terrarium mushrooms actually fall into this category, too; they'd all generally feed on fallen leaves and deceased plants in the wild.
So, as long as your plants are healthy, mold shouldn't pose much risk to them.
However, you can still get a moldy terrarium with healthy plants. Molds feed on sugars and other moist organic matter. They can even feed on surfaces like plastics if a biofilm (bacterial layer) is present.
In my terrariums, I see mold most often on driftwood branches, and that's totally normal.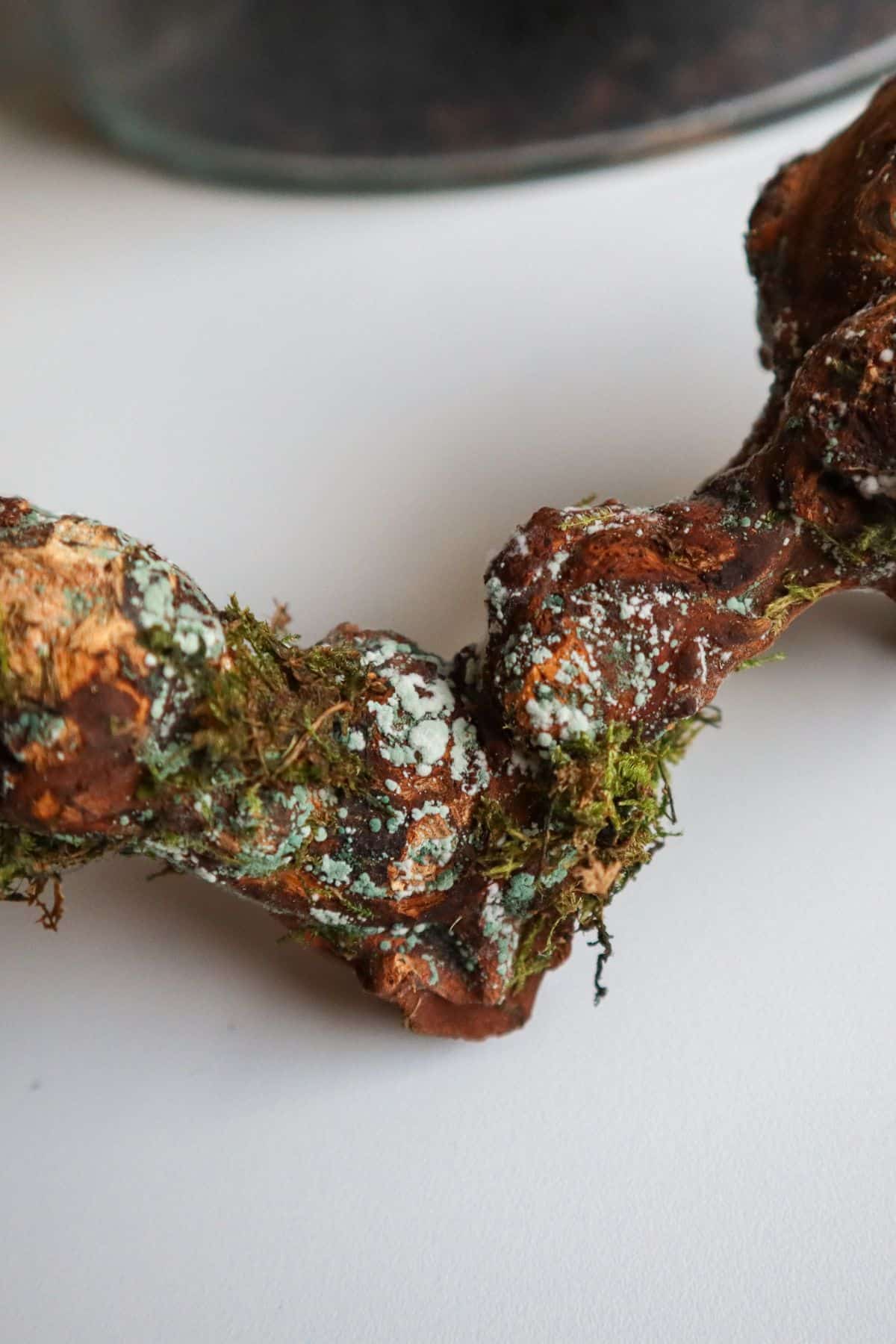 It's like a bad neighbor. It shows up to annoy you every time you make something nice, but if you give it some air and ignore it long enough, it'll often go away on its own eventually.
Where Does Terrarium Mold Come From?
Mold is a natural phenomenon; it's everywhere.
All it needs to flourish is a warm, moist environment with plenty of organic matter to feed on, in other words… a terrarium.
Sadly, mold is one of those things that's hard to eliminate completely because it reproduces via microscopic spores.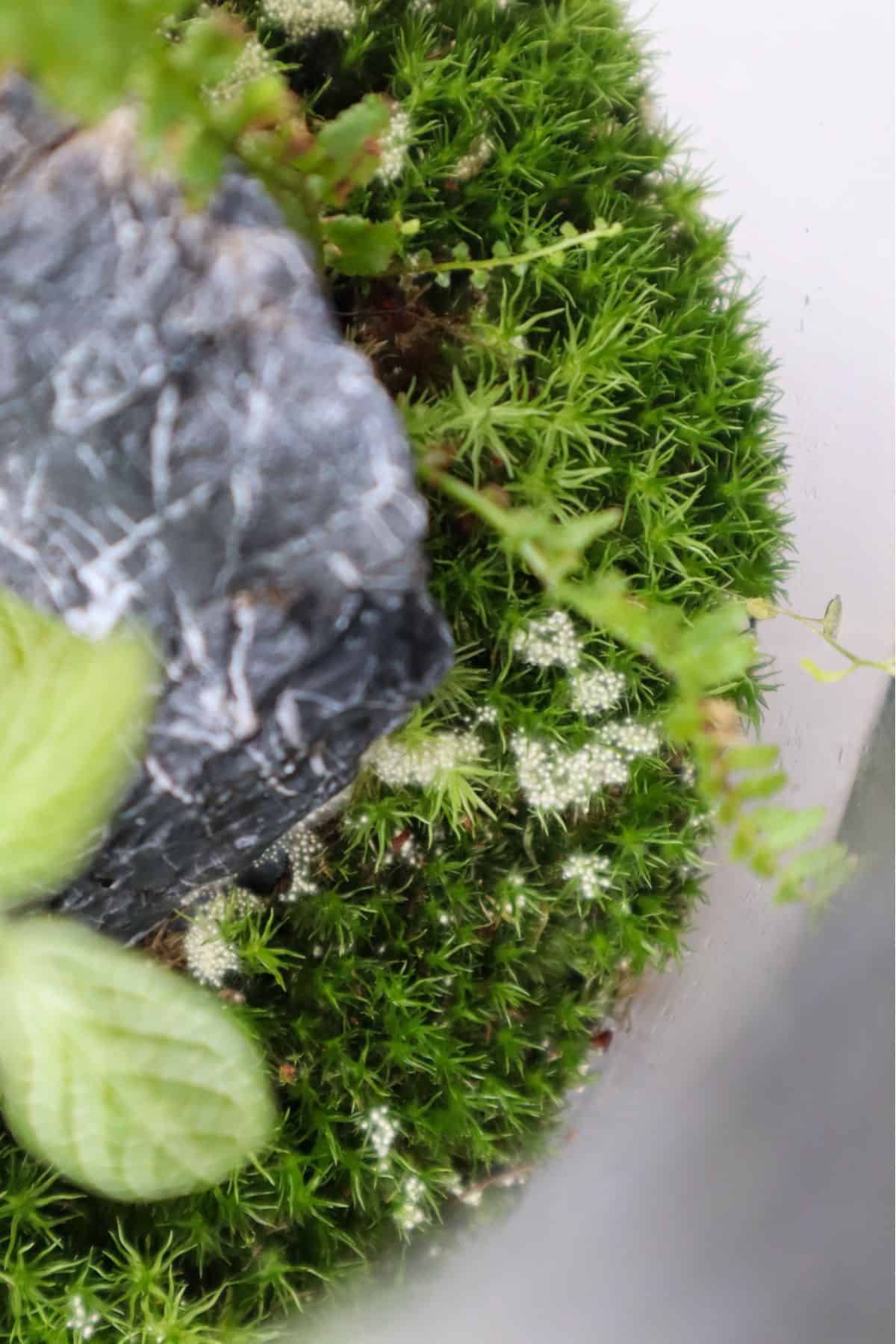 They can enter your terrarium via:
Soil – Some soils come sterile packed (so they're sure to be safe), but many soil mixes are likely to contain spores. Native soil taken from the wild will be riddled, so I'd stay clear.
Plants & mosses – Spores can hitch a ride on top of plants and amongst mosses. Sure, there are some interventions to deal with mold colonies on plants, but there's not really an effective way to cleanse plants and mosses of spores.
Hardscape branches – There are a lot of sugars to be found in living woods, even if they've been treated or bleached over the years. They're a perfect breeding ground for mold colonies.
The air – If you have mold in your home (or wherever you build your terrariums), there's a chance that there are enough spores in the air to germinate. We live in an old Edwardian flat; it's beautiful but definitely not mold-free…
Most molds need a water content of over 70% to start germinating. So generally, it's the surfaces where water beads or gets absorbed that are most at risk.
Moldy Terrarium? Here Are Your 8 Options
Treating a Little Bit of Mold
#1 Add some springtails – These beneficial terrarium insects love eating mold (and not your plants). So, introducing a colony at the first sign of fuzz will do wonders to keep your terrarium healthy and happy.
This really is the best option on the list, as it works as both a solution and a deterrent.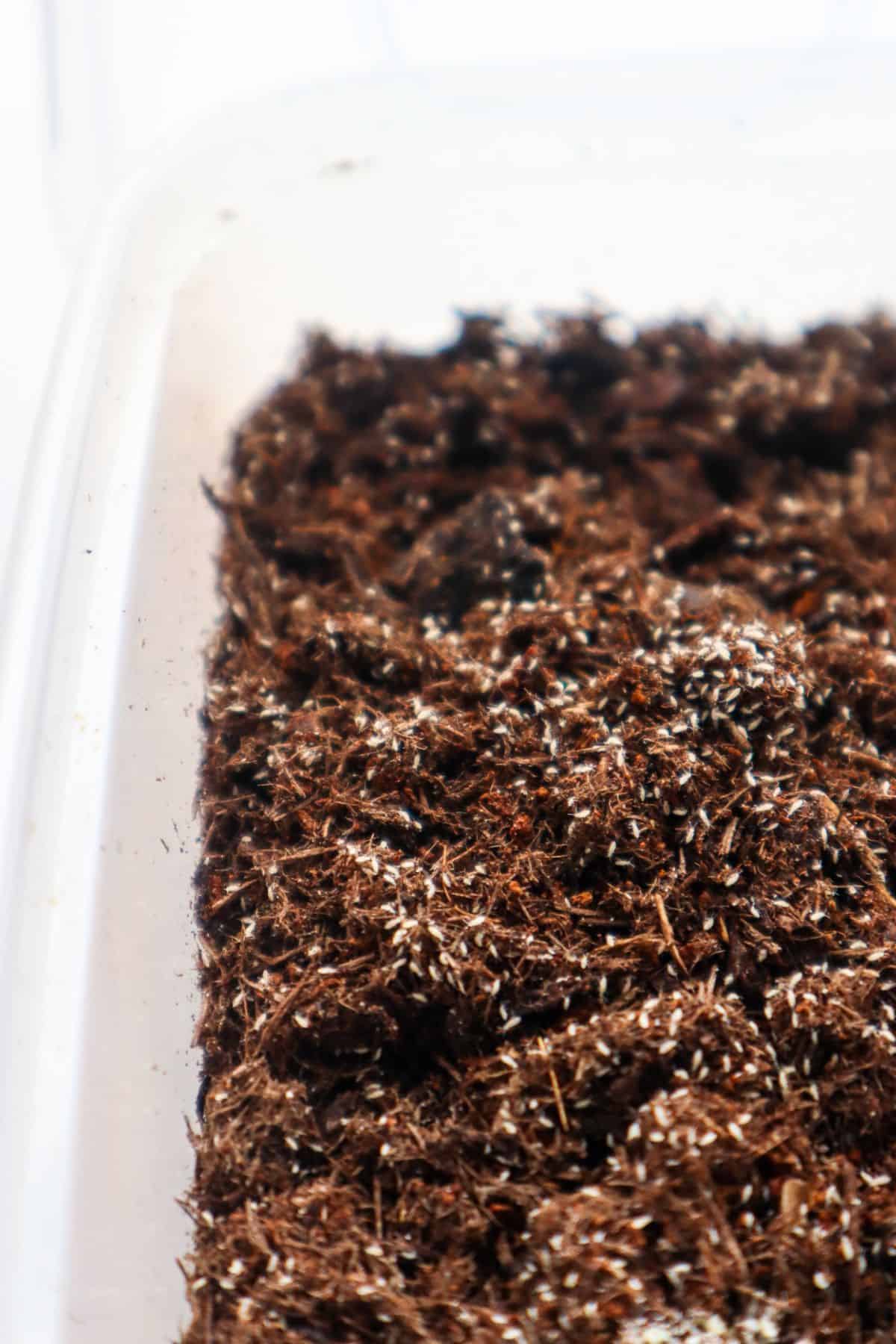 👉 You can grab springtails from our partners, Rubber Ducky Isopods.
*It is worth noting that this is a better prevention than a cure; they're only little critters, after all, so if there's already a tonne of mold, they can struggle to get on top of it.
#2 Spray with chamomile tea – Chamomile tea is a mild organic fungicide thanks to its rich sulfur compounds. Personally, I didn't find this was potent enough to actively combat the existing mold on my driftwood branches, but it did stop it from getting worse.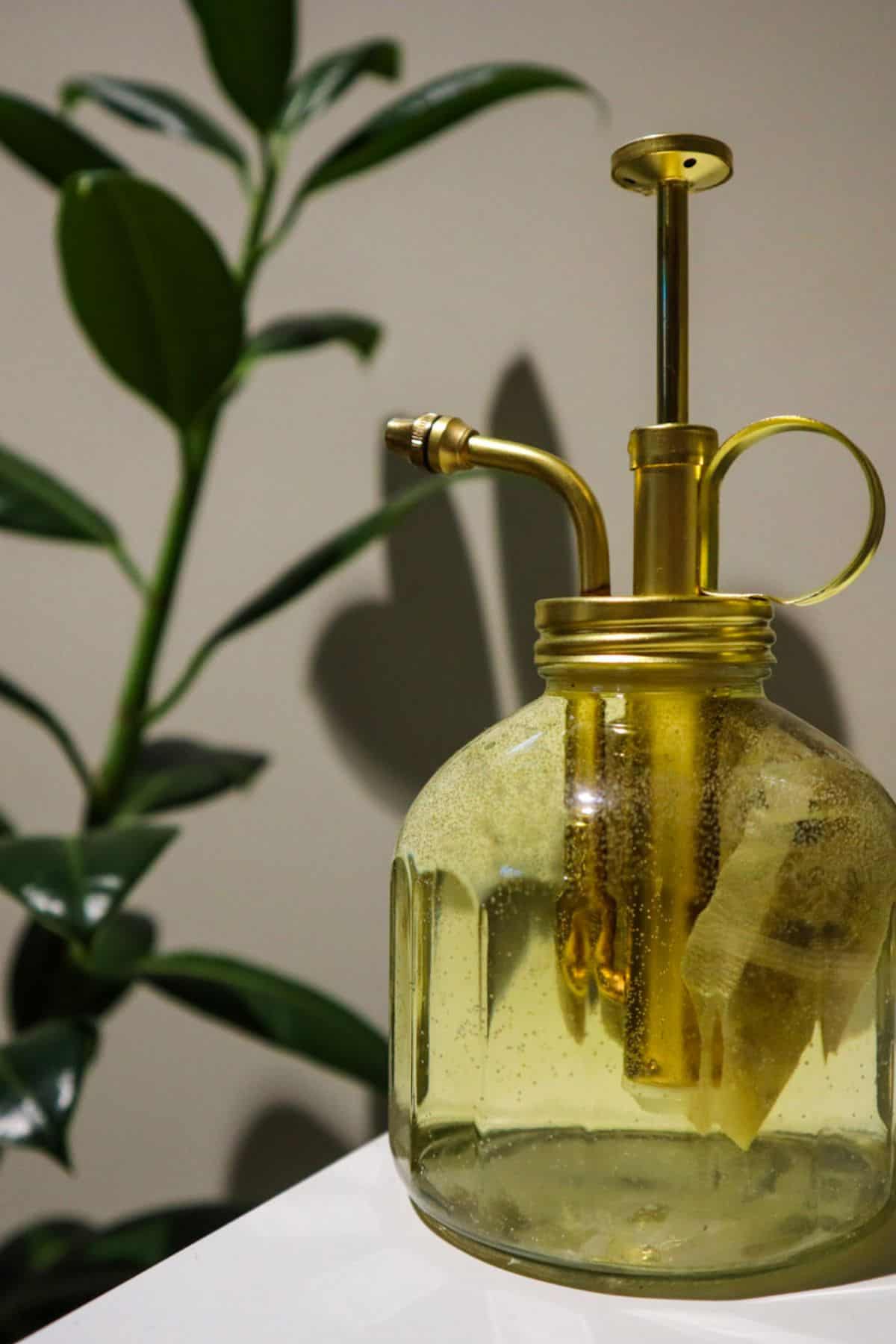 #3 Air it out – Mold thrives on moisture, so opening up a closed terrarium and increasing airflow will reduce both the humidity and total water level in the container.
This is the first thing I do at the sight of mold – I find most new blooms run their course in a couple of weeks, so sometimes it's all you need to do.
Treating a Lot of Mold
#4 Remove and quarantine – If the mold outbreak is localized to certain plants or hardscape elements, you can remove the affected objects and quarantine them elsewhere.
#5 Dab with hydrogen peroxide – Thanks to its fizzing action, hydrogen peroxide is an effective way to kill mold on porous materials. The 3% solution is sold in supermarkets and recommended across the web. Simply dip a Q-tip in the solution and go to work.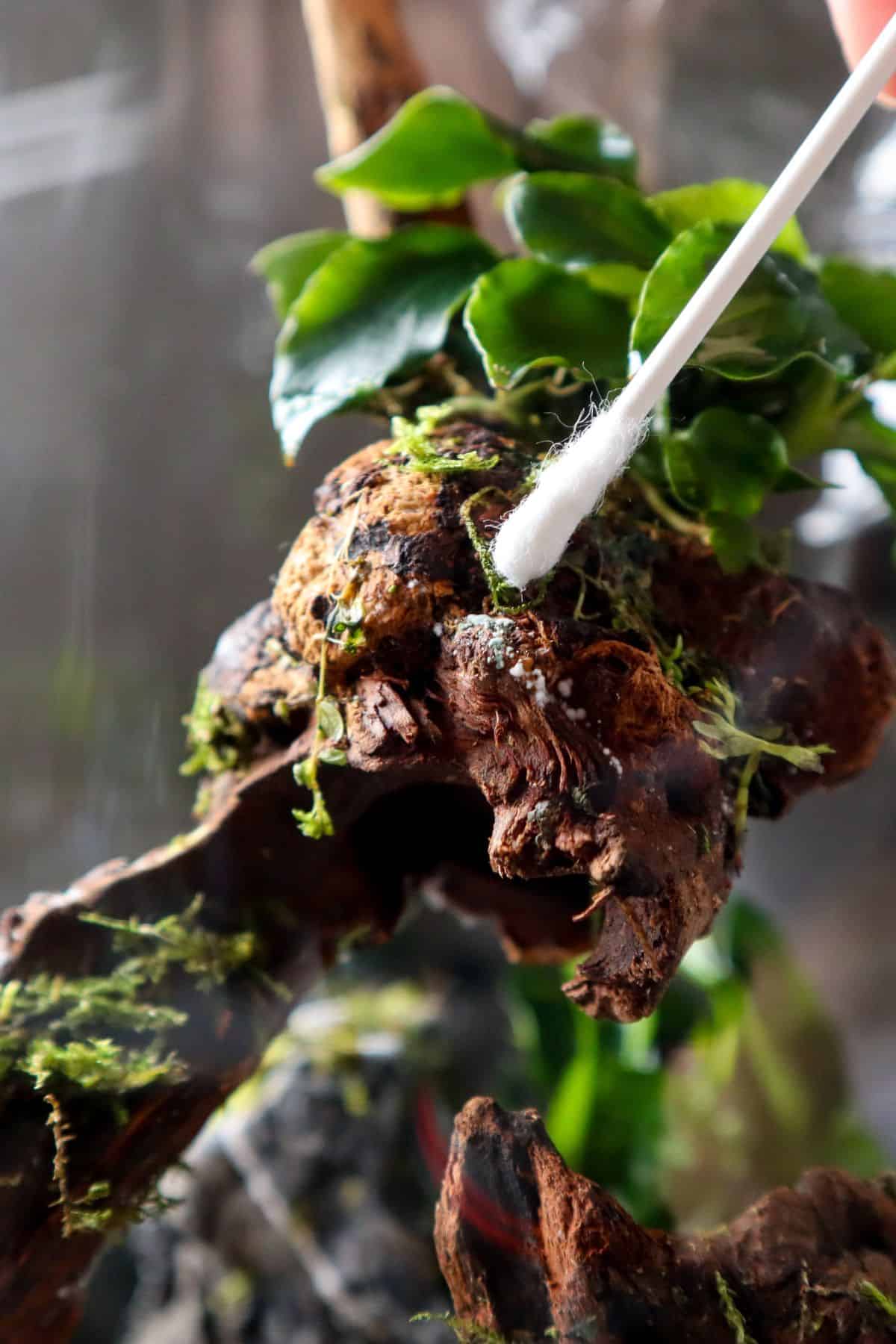 #6 Swap out the substrate – If all else fails, and you think the substrate is likely to be the cause, re-potting the whole terrarium in a sterile medium is a good Hail Mary option. Though, for obvious reasons, it kind of means starting from scratch…
My Recommendations For Preventing Mold
We all know prevention is better than cure, so how can we stop it from happening in the first place?
Well, I'm happy to say that a good setup goes a long way.
#7 Use activated charcoal in your build – It's a tale as old as time that charcoal prevents mold outbreaks by purifying the water, and while it's really hard to say exactly to what extent, it certainly can't hurt.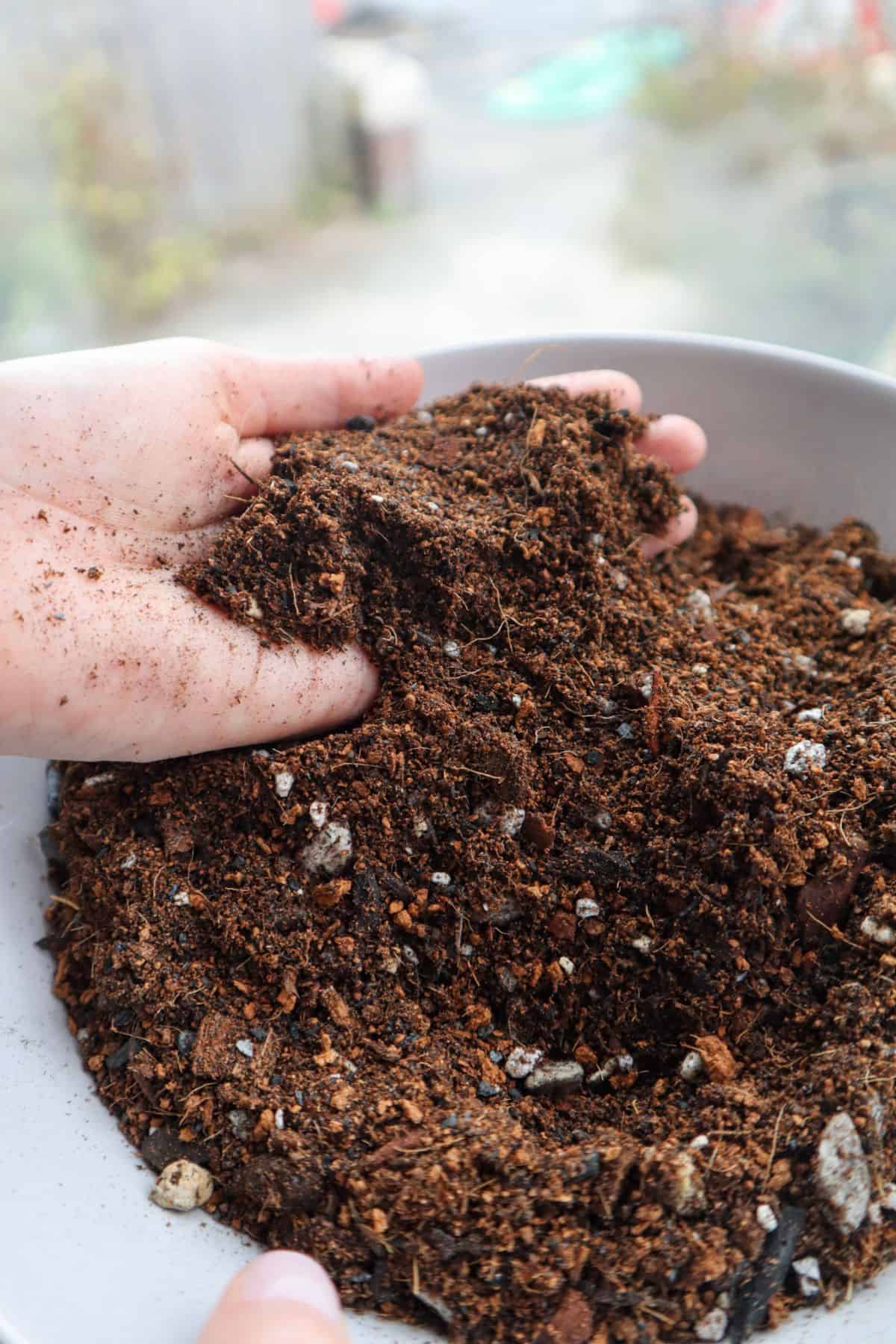 👉 Shop terrarium charcoal on Etsy.
#8 Get technical – This isn't appropriate for every build, but for larger tank-style pieces, you can incorporate fans and ventilation. It will promote natural air circulation that replicates a jungle environment, making sure mold isn't able to take hold.
I've even seen people use computer fans for this.
But honestly, my number one tip still has to be to add a springtail culture to your terrarium (even new and healthy ones!).
It's a cheap and effective way to never have to deal with mold. It's a no-brainer.
In the project for my Essential Guide to Tropical Terrariums, I used springtails (along with solid building and watering practices recommended in the guide), and it hasn't shown a hint of mold.
Our Top Pick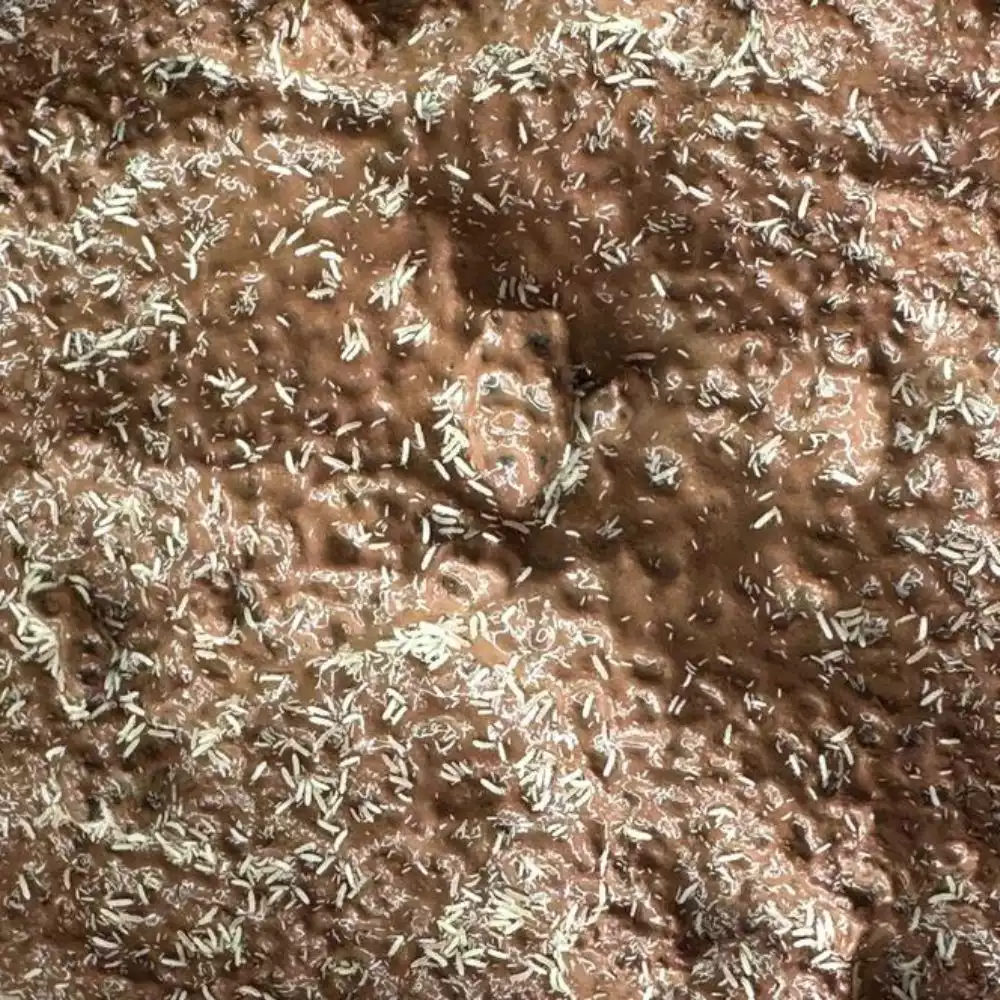 Temperate White Springtails: Master Culture (Folsomia candida)
Grab a Mini Master Culture with thousands of well-established Temperate Springtails from our partners, Rubber Ducky Isopods. Shipped in 8 oz cups with organic clay substrate, along with house blend superfood + mineral water. (Shipping Included).
Buy Now
We earn a commission if you make a purchase, at no additional cost to you.
Over to You
Do you have an effective means of stopping mold in terrariums? I'd love to hear it.
I'm also interested in hearing any stories where mold has completely ruined a terrarium (for science of course!).
Good luck and stay safe out there!