It's out with the iPads and in with the wholesome world of horticulture and crafts.
There's no project quite as fun as making a terrarium with kids. Yes, I'm biased, but is anything as cool as playing god and creating a world you can hold in your hands?
But as awesome as it is, there are a lot of moving parts, and there is a lot of bad information out there.
In this guide, I'll make everything easy.
I'll tell you what you need, show you exactly how to do it, offer some relevant activity ideas, and – if you're short on time – I'll show you the best quality kit options.
So come with me, and I'll show you how to keep the kids quiet for ten minutes educate and entertain your fabulous offspring.
Let's jump in!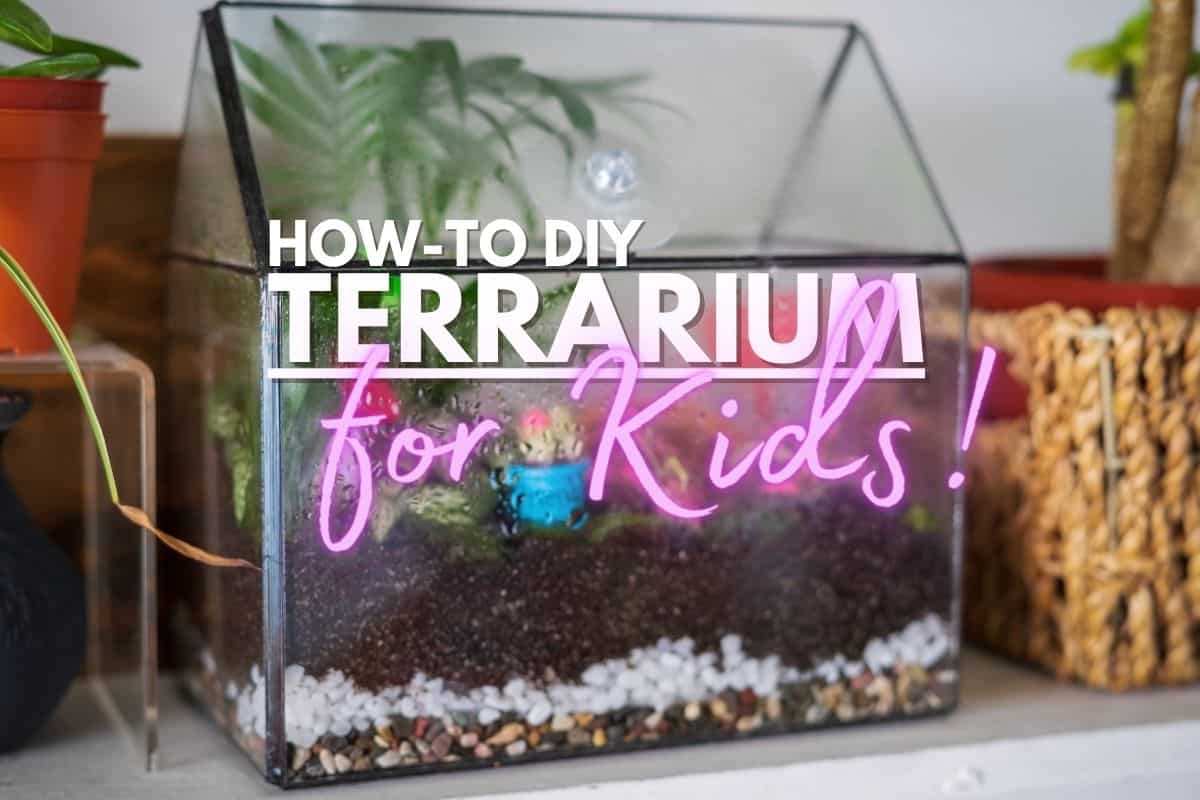 This page may contain affiliate links that allow us to make a small commission (at no further cost to yourself). 💚 Thank you for helping to support the tribe!
Kids Terrariums – How They Work
Before we get stuck into the juicy how-to, here's everything you need to know.
Contrary to popular belief, terrariums aren't just miniature gardens; they're small-scale tropical ecosystems, and they can take a bit of know-how to nail.
Because they're built within a sealed container, they trap humidity and heat inside and (when properly balanced) sustain their own water cycle.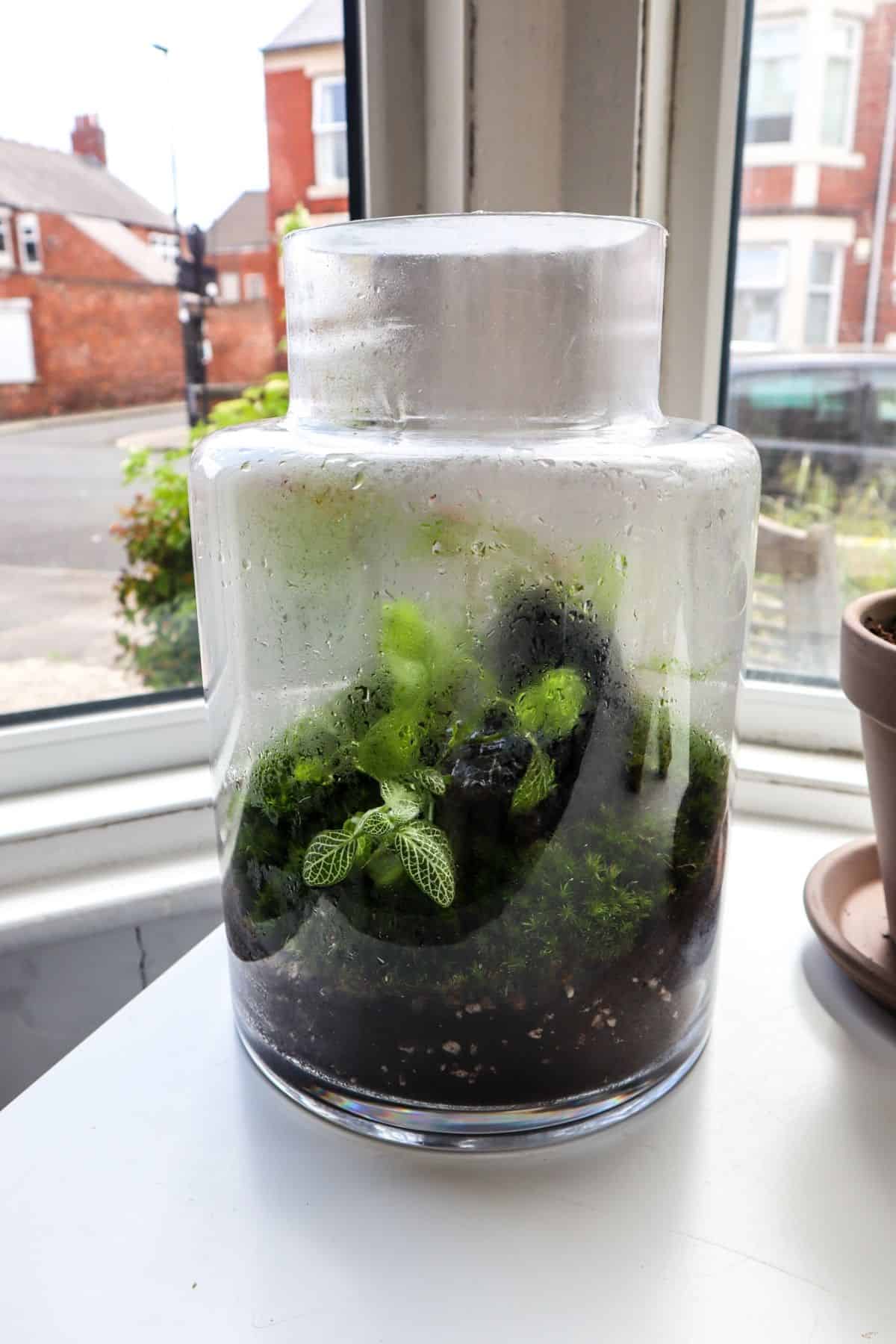 The goal is to create a relatively self-sustaining piece; to do that, the setup and plants need to be appropriate.
Now you've been filled in, let me show you how to do just that!
How to Make a Terrarium With Kids (5 Easy Steps)
What You Need:
Glass container with a lid. If your container doesn't have a lid, you can get a custom acrylic lid cut – it's our go-to solution.
Tropical plants that enjoy high humidity, heat, and bright indirect light. Arid plants won't survive, so don't use succulents or cacti. See our best terrarium plants for beginner's guide for help.
Tropical soil mix like this one (potting soil compacts too quickly).
Pebbles, gravel, or leca to create a drainage layer. Tropical plants don't like to be sat in soggy soil.
Spray bottle for watering. If you pour water in, it's almost guaranteed to waterlog the terrarium.
Anything else you'd like to put in, such as rocks, wood, shells, figurines, etc. Where possible, try to make sure they aren't made of
A spoon and paintbrush can come in handy too.
This process involves plenty of hazardous items, so make sure you supervise your kids throughout. Please note that many tropical plants are toxic when ingested.
Step 1 | Clean
To reduce the amount of chemicals and microbes that make their way into the container, the first thing you'll need is to get everything nice and clean.
The glassware, lid, drainage material, tools, and items such as shells, rocks, and toys must all be washed and dried with soap and water.
Step 2 | Drainage
Now, add the clean drainage material (gravel, leca, etc.) to the container. In my experience, it's best to scoop it in a handful at a time; pouring it in can crack the glass. An inch will be enough.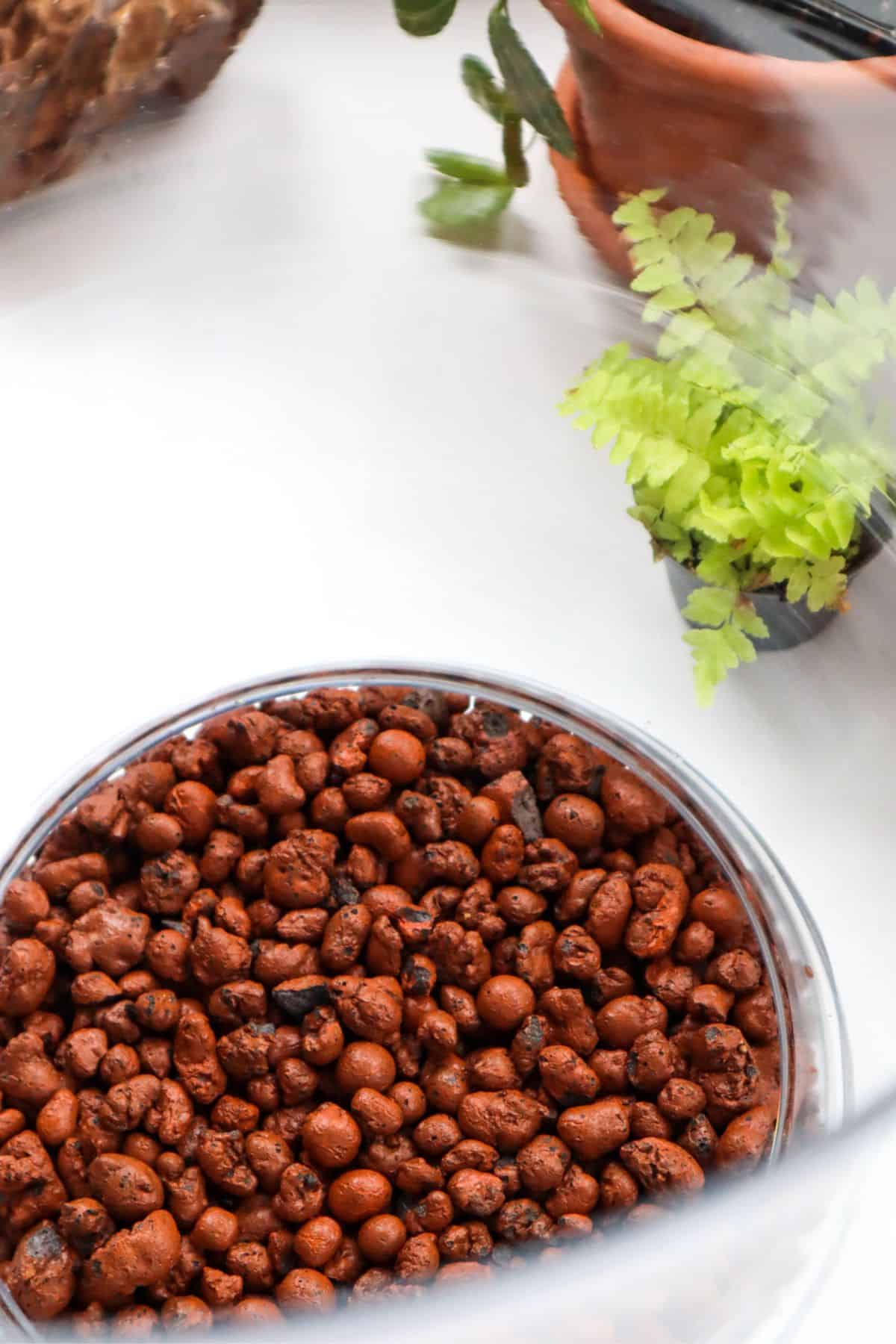 The purpose of the drainage layer is to provide excess water somewhere to pool that won't damage the plants' roots. It's a good failsafe, but it's still important you're not too heavy-handed with the water later.
Step 3 | Soil
Once you have your drainage bedrock, you can add the soil. 2-3 inches is usually enough but use your judgment based on the roots of your plants.
If you're using any large accessories (toys, rocks, etc.), it's easiest to place these now before you plant to anchor them into the soil.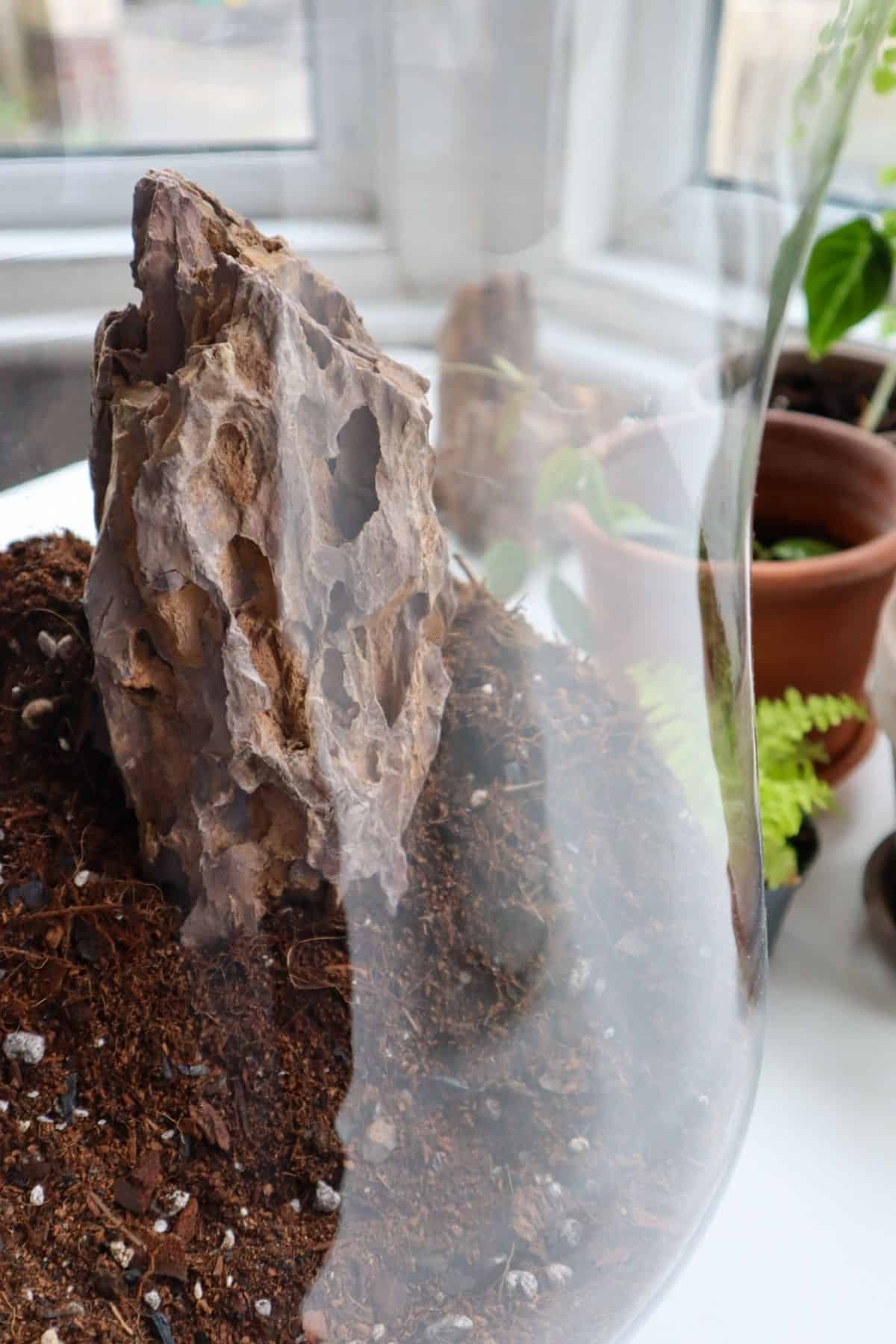 Step 4 | Planting & Arranging
The exciting bit has finally come. You can plant and arrange till you're happy with your design.
Spoons come in handy to create little holes for the roots, and paintbrushes are useful for dusting leaves and maneuvering soil if you're keeping it dry.
Step 5 | Spray & Seal
To finish, give the whole thing a spray, so the topsoil looks wet, but the soil at the bottom still looks dry. The terrarium will even this out itself by magic, or rather the water cycle…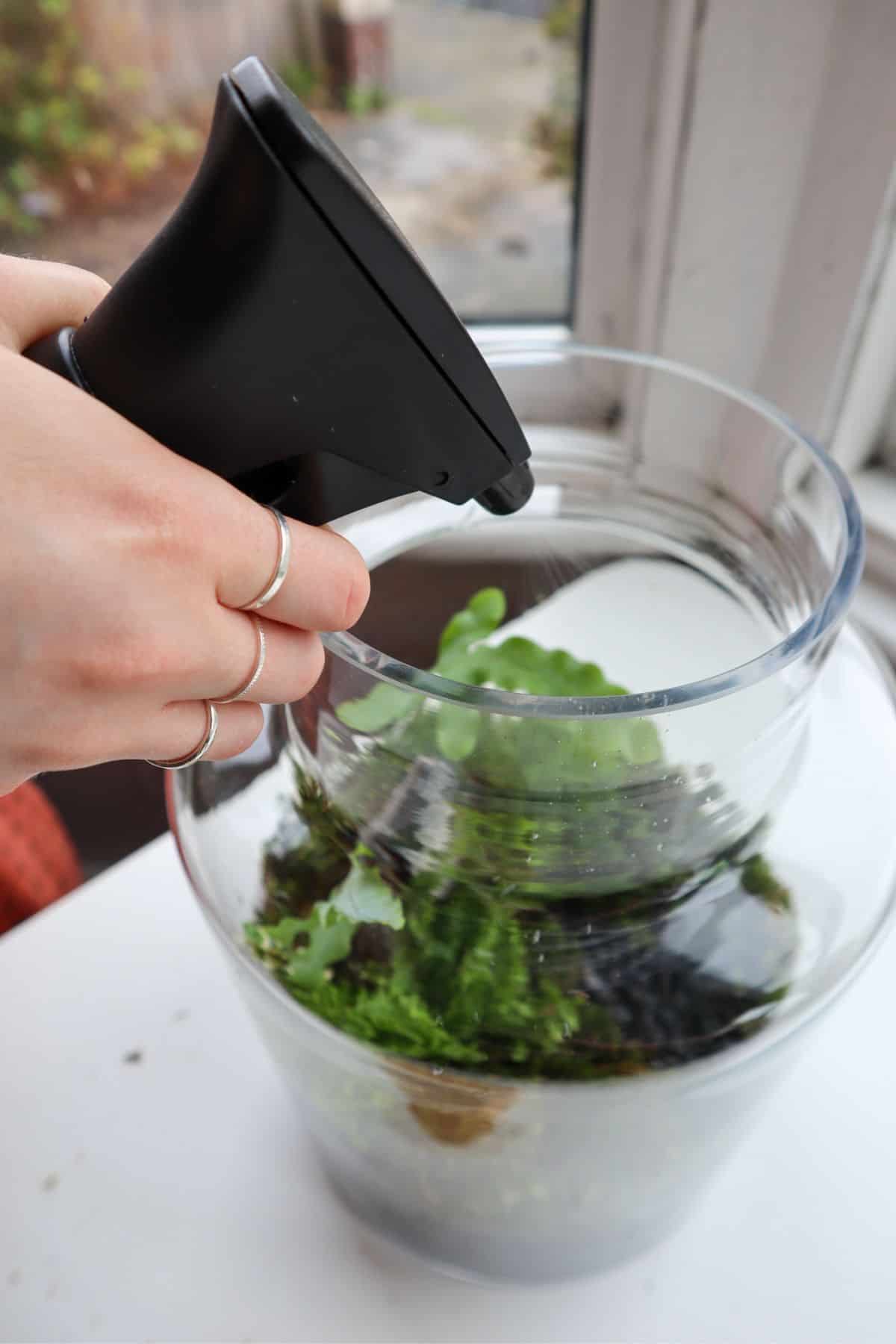 Optional Pre-Build Activity Ideas (to Keep Em' Busy)
Foraging
Got moss or ferns in your back garden? Then you got moss or ferns for your terrarium.
I can't speak to how appropriate they might be, and of course, it all depends on where you live, but you'd be surprised how many temperate species do well in tropical conditions (Cushion Moss, for example, works a treat).
You never really know what you're bringing into your terrarium, so if terrarium longevity is a top priority, I'd probably give this a miss, but it's a fun way to kick off the project.
You don't even need a garden; I'm sure I'm not the only one whose driveway is home to a bunch of moss.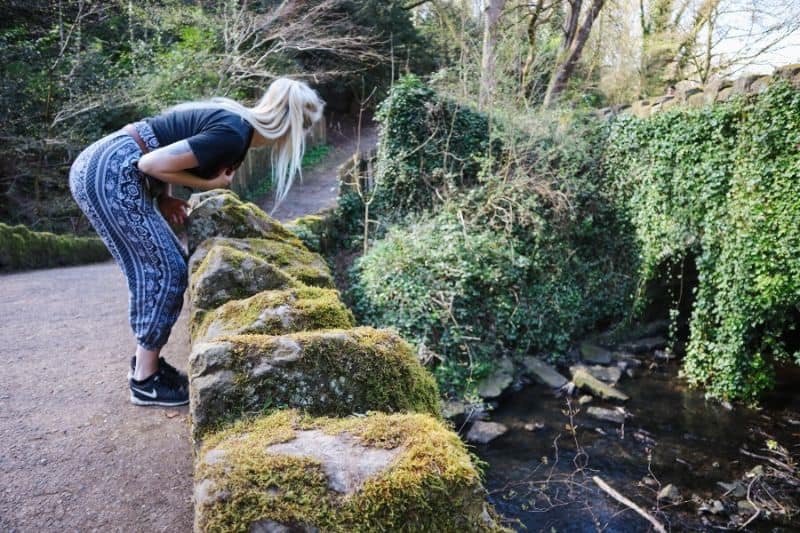 Cuttings
While not a particularly time-intensive activity, propagating cuttings from houseplants is a fun way to create new plants for your terrarium and let your kids observe root development in action.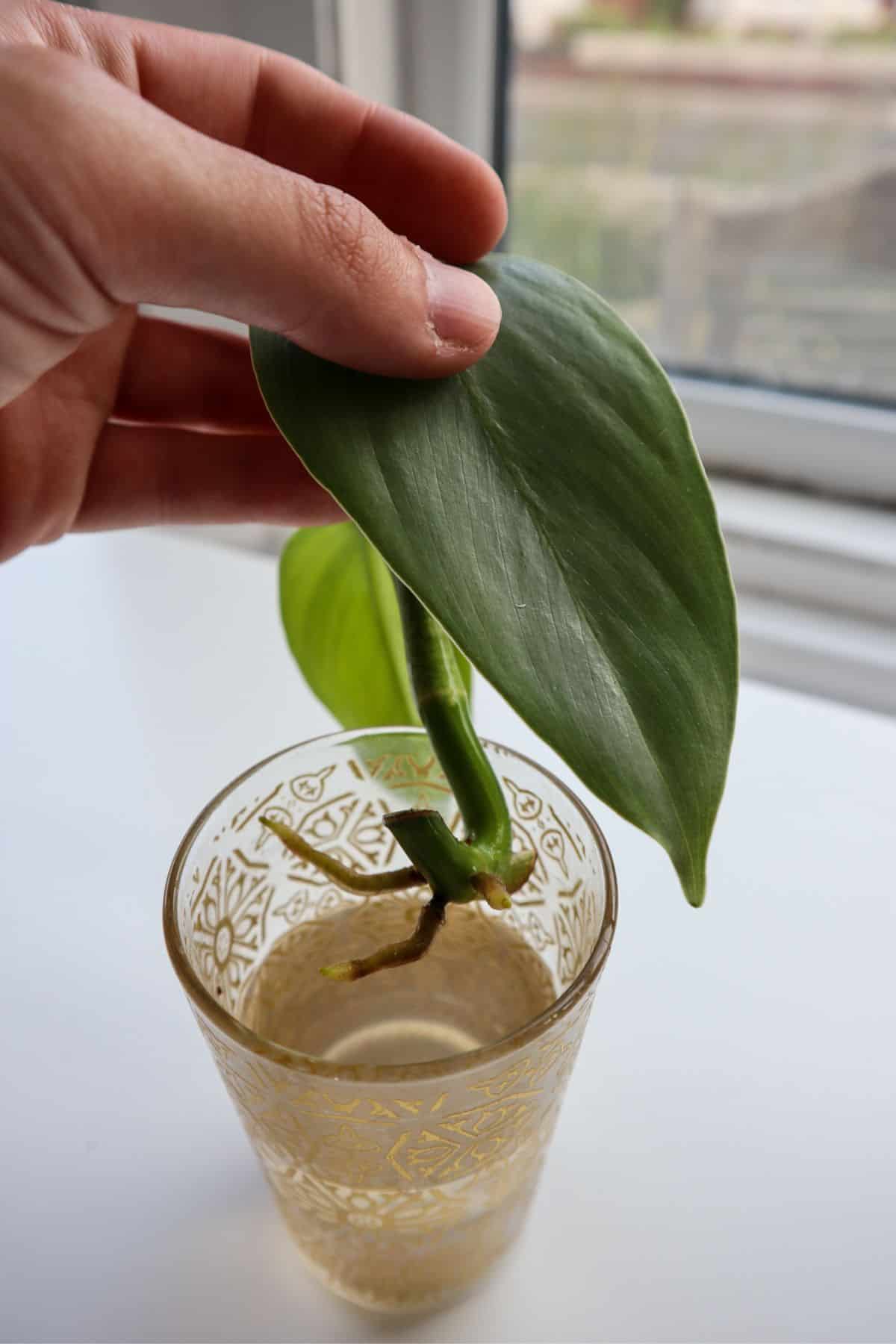 Pothos and Philodendron are great candidates, and they're suited to the topical conditions of a terrarium.
See our guide to Pothos propagation for more – the same process will work for Philodendron.
Or, if propagation isn't quite your vibe, why not give growing seeds or bulbs a go?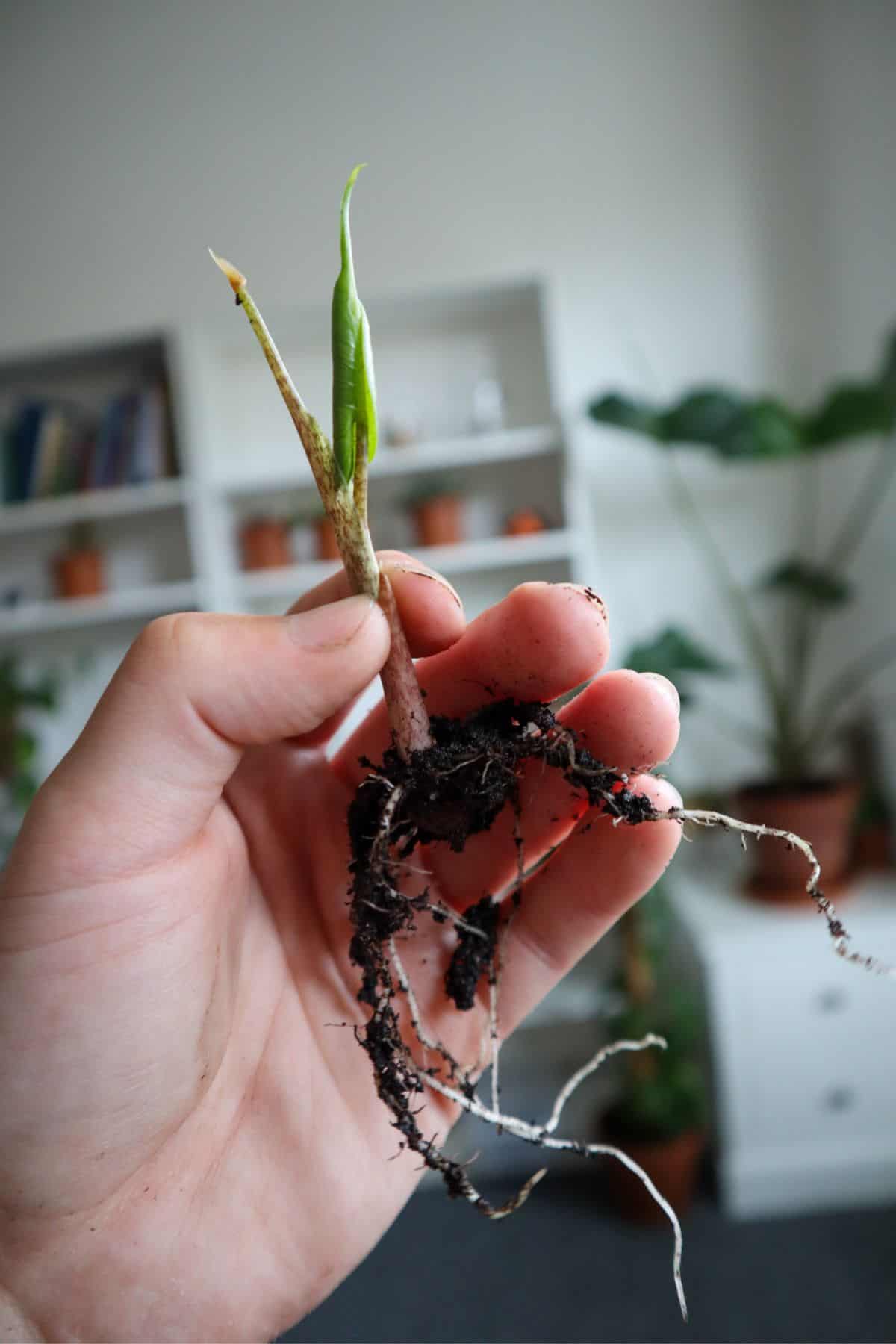 Crafts
If you want to step your terrarium up a notch, why not create some accessories to go in it? You can take this in whatever direction you like.
In the past, I used oven-hardening modeling clay to create a little house for my fairy garden terrarium.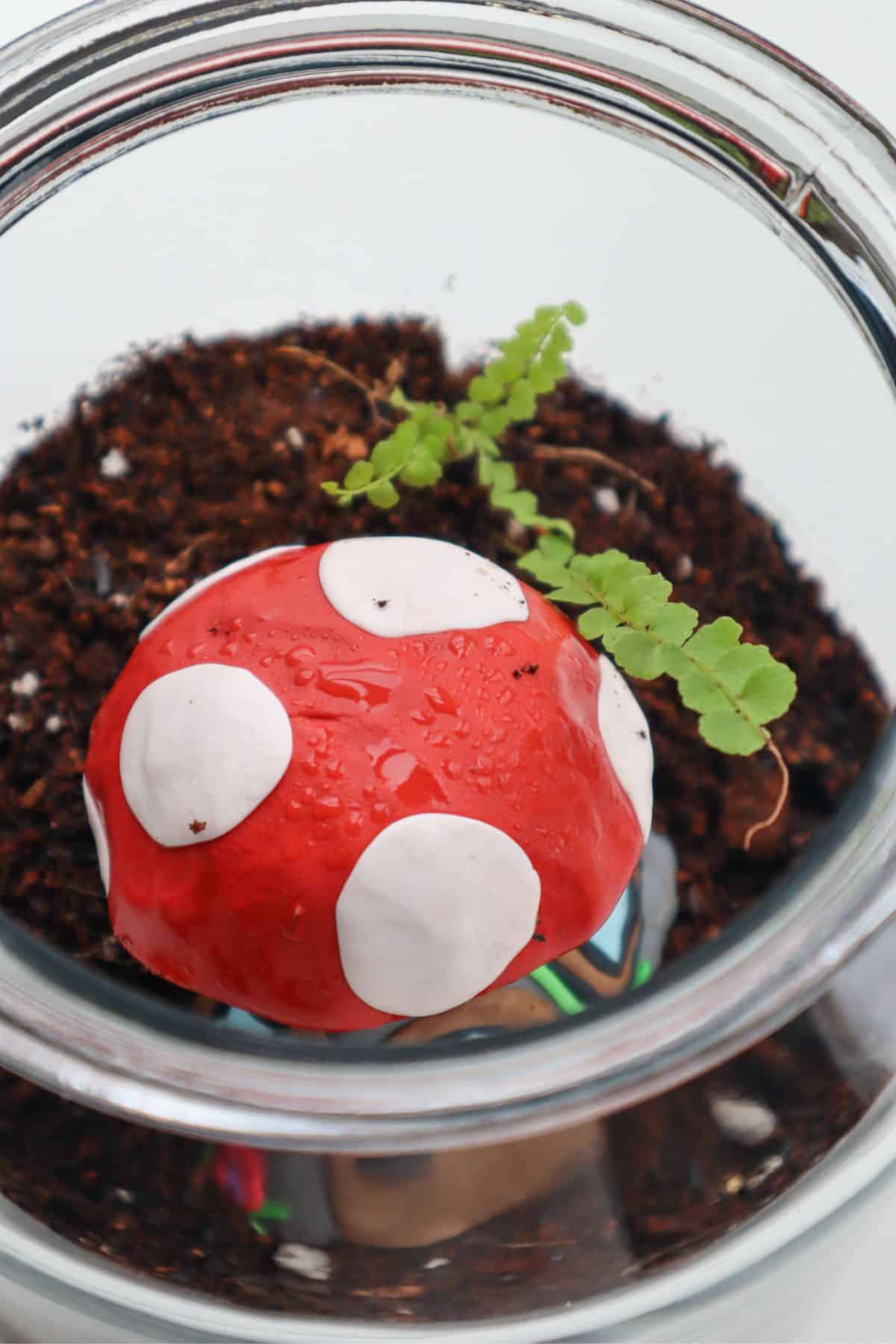 Or, you can go more old-school with your crafts.
We tried out a pirate theme because we don't have kids and have no idea what's relevant these days. Naturally, that called for a mini bottle of gin and a tea-stained piece of paper to make a pirate map in a bottle. We were very proud of ourselves.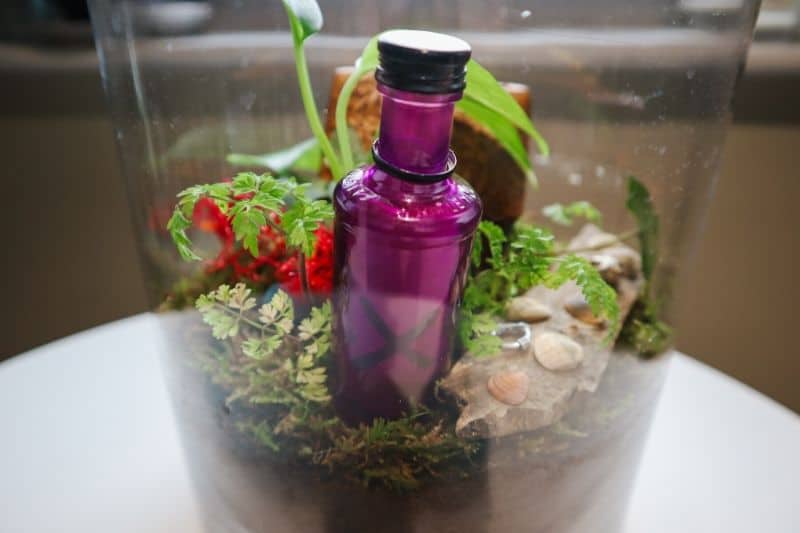 Kids Terrarium Kit
If you don't have the time to source the individual components, pre-made kits are here to save the day.
Unfortunately, there isn't a huge range out there. But here are my two faves…
For Younger kids
This kit by Sugar Blush Studio is adorable, and you get a lot of bang for your buck. It has all the necessities you need, some fun accessories (a plastic unicorn, no less), and non-toxic chia seeds that will grow in a few days.
If unicorns aren't your child's thing, they also sell kits with a bunny, dinosaur, or Bigfoot focus.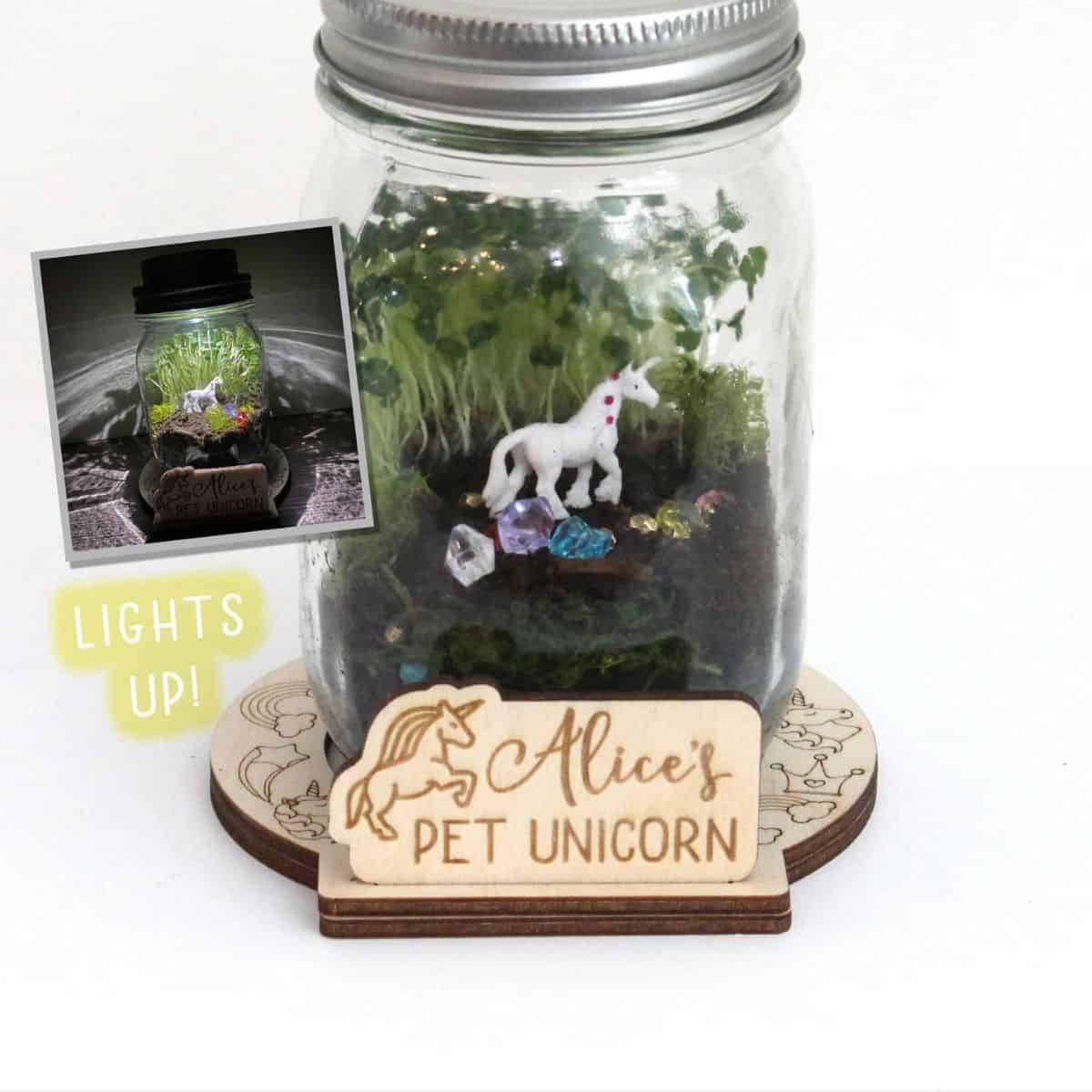 For Older Kids
Secondly, this dinosaur kit by Beyond the Vine Terrariums is cute and very high-quality. It's not aimed at kids, per se, but what kid wouldn't love it? It's more of an advanced, traditional terrarium build.
Just bear in mind that the two plants that it includes are random, so some may be toxic when ingested.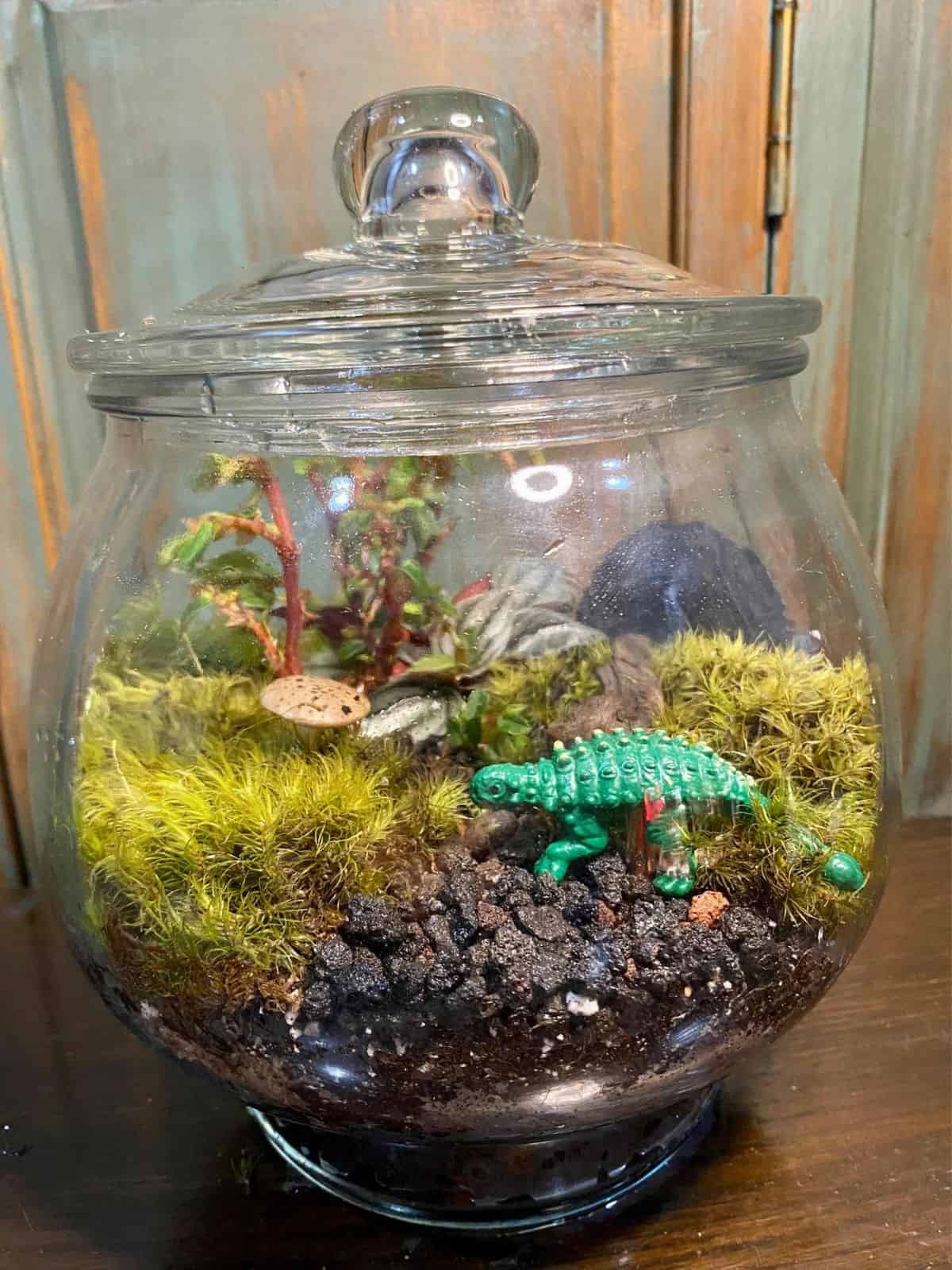 Now, Go Forth and Create!!
I really hope your kids (and you) enjoy this one.
A terrarium for kids can take many forms, so let your creativity loose.
Feel free to tag us in a photo on Instagram or share it in the Facebook group so we can see your marvelous creation!
Next up, why not check out our guide to making a terrarium in a bottle? Or even our Pokemon Terrarium buyers guide?