Sometimes you can't beat a good book.
A way to learn about the wonderful world of indoor plants and terrariums without staring at a screen (and a way to flex your interests to any visitors, am I right?).
If you're looking for botanical advice without the added eye strain, then these terrarium books could be for you. I've personally owned some of these books, and we wrote one of them ourselves!
In no particular order, here we go.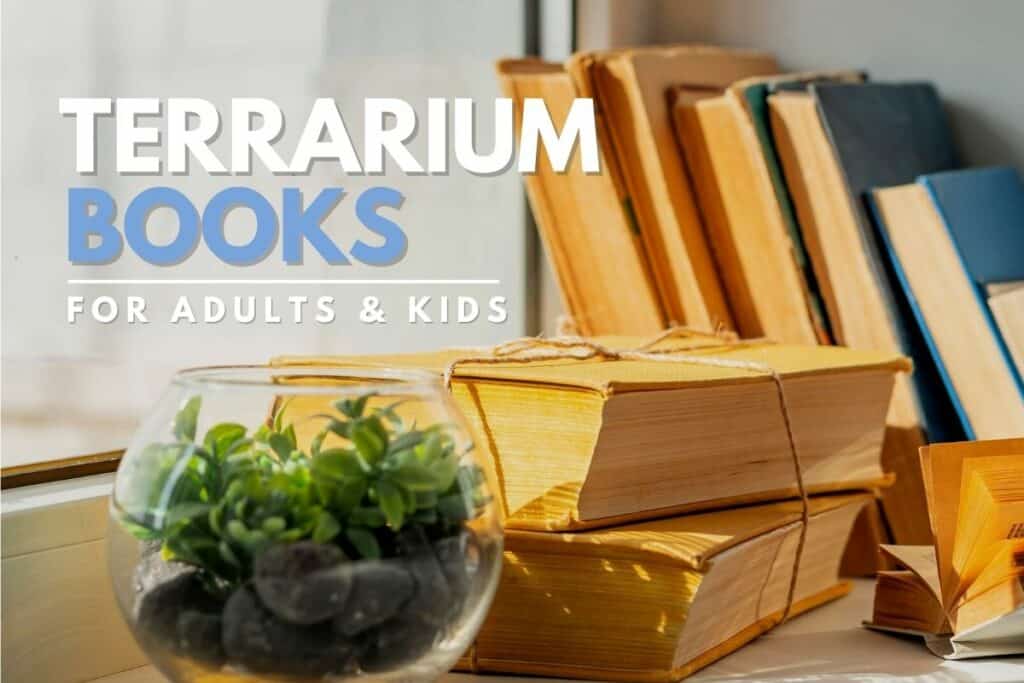 This page may contain affiliate links that allow us to make a small commission (at no further cost to yourself). 💚 Thank you for helping to support the tribe!
1 | Terrariums – Gardens Under Glass
In Terrariums – Gardens Under Glass, Maria Colletti takes her years of experience leading terrarium workshops and distills it down to a variety of actionable guides and tips.
With over 20 over-the-shoulder projects to get stuck into, it's a fantastic (and very pretty!) foray into the world of planted terrariums.
> Shop Terrariums – Gardens Under Glass.
2 | Terrariums & Kokedama
Written by Alyson Mowat, this was one of the very first books I bought when I was getting into the hobby.
It's a great read, and it's positively brimming with personality and puns (it's no wonder I was drawn to it). Highly recommended for beginner and experienced terrarium builders or for those looking to try their hand at some kokedama.
3 | Terrarium: 33 Glass Gardens to Make Your Own
From one of the co-owners of the highly acclaimed Green Factory terrarium company (@green_factory on IG) comes 33 elegant projects to explore. 
Through her marvelous creations, Anna Bauer takes you on a journey across the world. Through the Black Forests of Germany to the shores of the Sea of Galilee – there's something for everyone to be sure!
> Shop Terrarium: 33 Glass Gardens to Make Your Own
4 | Miniscapes: Create your own terrarium
Full of lovely photos (and gorgeous pastel colors), Miniscapes is a collection of projects from Clea Cregan.
Divided into the four biomes of Desert, Forest, Carnivorous, and Air Plants, you really do get the full terrarium spectrum here.
> Shop Miniscapes: Create your own terrarium
5 | A Family Guide to Terrariums for Kids
The owner of Doodle Bird Terrariums (and the wildly popular Instagram page @terrariumimaginarium), Patricia Buzo is everywhere on the terrarium scene.
With her latest book, Patricia breaks down the art of terrarium building into bite-sized chunks that children (and adult beginners) can easily follow along with.
I love how the styling tips are so specific and actionable in this book. Though there's obviously freedom to make your own mark, at no point are you unsure about what to do next.
> Shop A Family Guide to Terrariums for Kids
6 | Building Rainforests: The Essential Guide to Tropical Terrariums
Humble plug alert. ⚠
How could I include a list of best terrarium books and not include our own digital guide?
The Essential Guide to Tropical Terrariums is the best of our website's entire catalog of content, distilled down into an actionable guide.
Over 100+ pages (including the free Plants, Resources, and Materials Guide), we'll walk you through the entire process – over the shoulder – as we build a terrarium with you.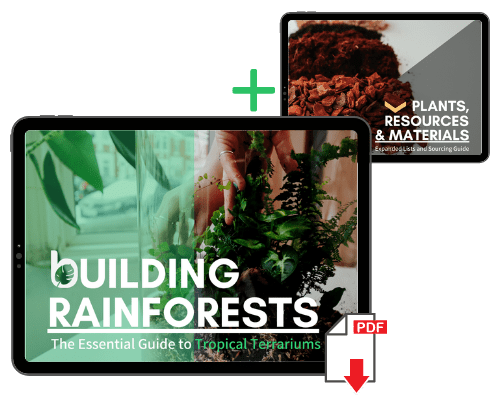 > Shop our Essential Guide to Tropical Terrariums
7 | The New Terrarium: Creating Beautiful Displays for Plants and Nature
A classic book by leading garden writer Tovah Martin, The New Terrarium is an extensive introduction to the world of plant terrariums.
The pages are absolutely stacked with information, and at 176 pages, it's no small book.
I wouldn't say it's quite as accessible as others on the list, but for those who want to leave no stone unturned in their quest for terrarium perfection – this could be a great choice for you.
8 | Wild at Home: How to style and care for beautiful plants
Okay, so not strictly a terrarium book – but I can't help myself.
Once you've gotten the basics of terrariums down, you'll find there's a lot of overlap in the books on this list. To take things to the next level, it can be helpful to draw skills and inspiration from parallel fields.
Enter Hilton Carter.
He's a master at styling plants in the home (and a very friendly face on the Apartment Therapy YouTube channel), and his techniques translate well to terrarium design too.
9 | Modern Terrarium Studio: Design + Build Custom Landscapes with Succulents, Air Plants + More
If succulents, air plants, and cacti are more your jam, this book could be for you.
With 25 step-by-step projects inside, Megan George covers the full gambit of open terrarium builds. Seemingly with less of a focus on terrarium technicality and more on intentional and beautiful plant styling.
> Shop Modern Terrarium Studio
10 | Miniature Terrariums: Tiny Glass Container Gardens Using Easy-to-Grow Plants and Inexpensive Glassware!
Last but by no means least comes a book designed to help you get the most terrarium bang for your buck.
With a wide variety of projects utilizing everything from light bulbs to science beakers (I'm not sure who has those mind?), there's a lot of great options here to dive into.
Which of these terrarium books has taken your fancy?
Or have I missed off one of your favorites?
Let me know in the comments!