A perfectly balanced terrarium ecosystem can (in theory) last indefinitely.
Something we can all aspire to. I mean, who wouldn't want a zero-maintenance plant terrarium?
In practice, there are a variety of important elements that need to be balanced to make a truly self-sustaining terrarium.
Each one plays its part in mitigating a problem or supporting a process, and getting each one right further increases your chance of a thriving ecosystem. Helping you to make a terrarium that'll live a long, healthy life (and you can leave for a few weeks without a babysitter).
In this article, you'll learn all the important ingredients to a thriving closed terrarium ecosystem and how to avoid creating a hot mess.
Let's grow together, shall we?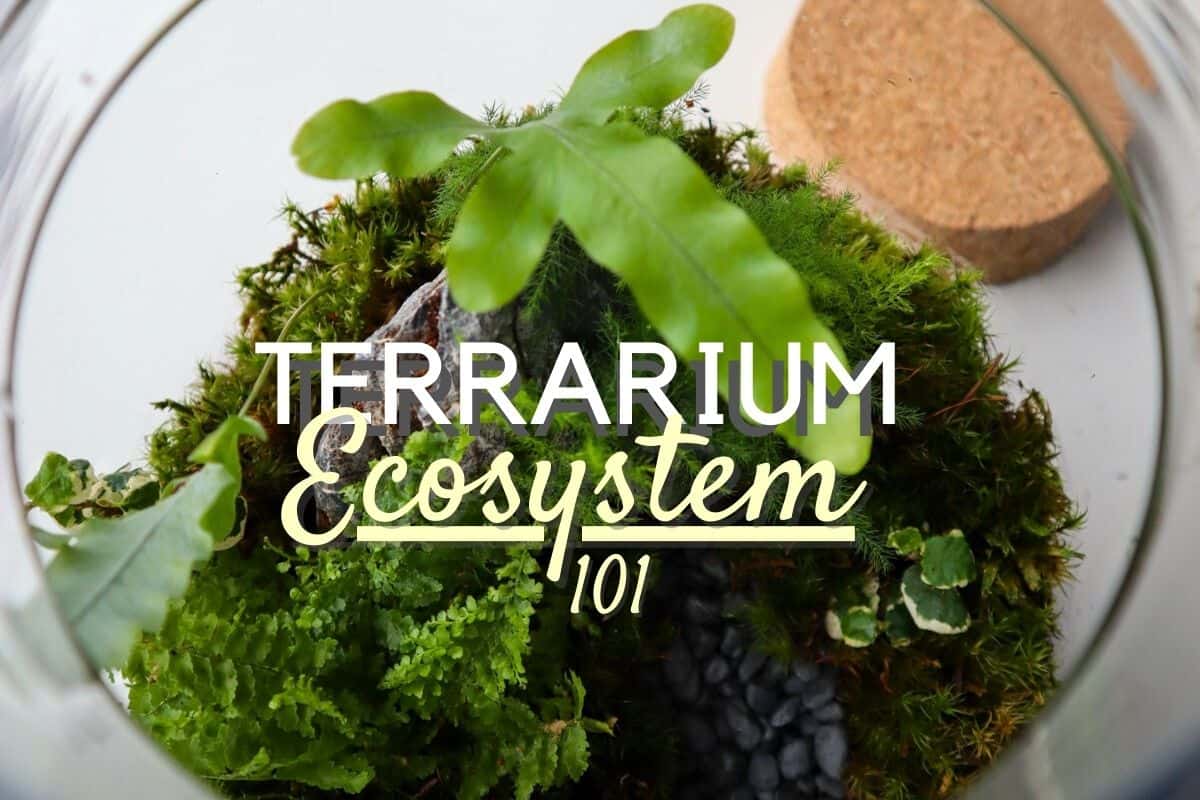 This page may contain affiliate links that allow us to make a small commission (at no further cost to yourself). 💚 Thank you for helping to support the tribe!
What is a Terrarium Ecosystem?
First up, we need to define the boundaries of our terrarium ecosystem.
In the wild, the term "ecosystem" conjures images of the lush green Amazon rainforest or the circle of life played out on the African Savanna. But it's actually simply defined as "a biological community of interacting organisms and their physical environment."
So, that goes for the plants in your terrarium too.
What makes a true ecosystem is the ability of its inhabitants and their environment to work together to support the system. A series of finely-tuned life cycles and energy transfers that will make or break the system.
In practice, that means a closed terrarium ecosystem must replicate a variety of natural processes that'll allow it to feed, clean, and restore itself.
Sounds difficult to create, but we simply need to look to the natural world for inspiration.
How to Make a Self-Sustaining Terrarium
A self-sustaining terrarium is essentially a finely balanced plant ecosystem sealed within a closed container.
That means the plants, environmental conditions, microfauna inhabitants, and even the container itself must all be carefully considered so that they can work in harmony together.
#1: Plants
As the most important (and exciting) element of any terrarium, there's a lot to balance here.
Select the right terrarium plants that will grow well but not too well.
Plants that are hardy and ideally pest/disease resistant.
Provide enough plant biomass to sustain efficient life cycles.
Remember, a zero-maintenance plant terrarium is one where we should never need to prune or remove plants that get too big.
So, we must choose plants that won't outgrow the container – even when fully mature. That's why dwarf varieties and curated miniature terrarium plants will be your best friends here, e.g.,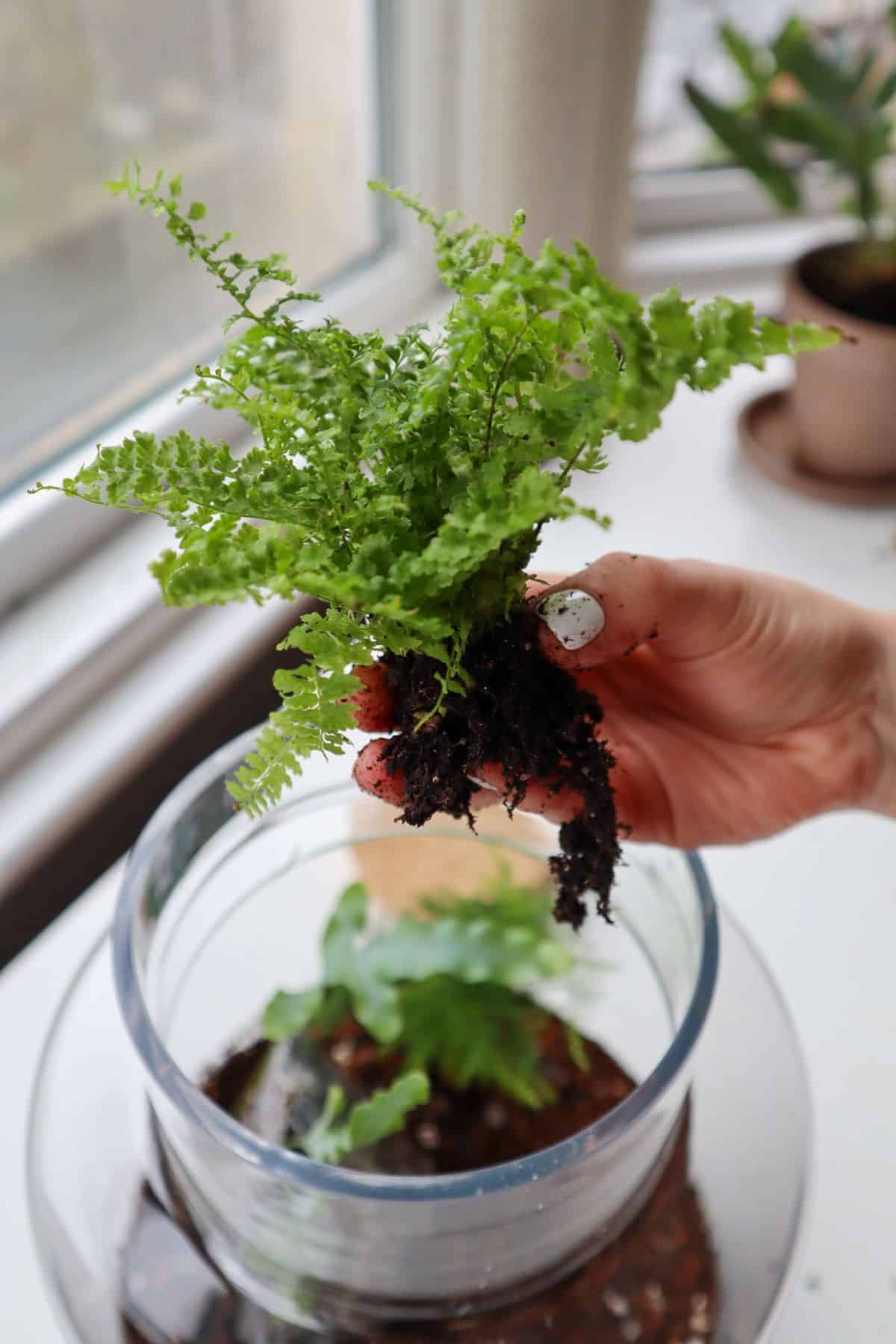 On the flip side, it's also important to have a sufficient amount of plants to support the water cycle. Like coal in a furnace, you won't get the fire burning till you get it hot enough and have enough material to keep it going.
More plants = more biomass = more transpiration = more condensation = more free water.
👉 Check out the Definitive List of Closed Terrarium Plants for more help!
Moss can be helpful here, too, in adding biomass without filling up your terrarium.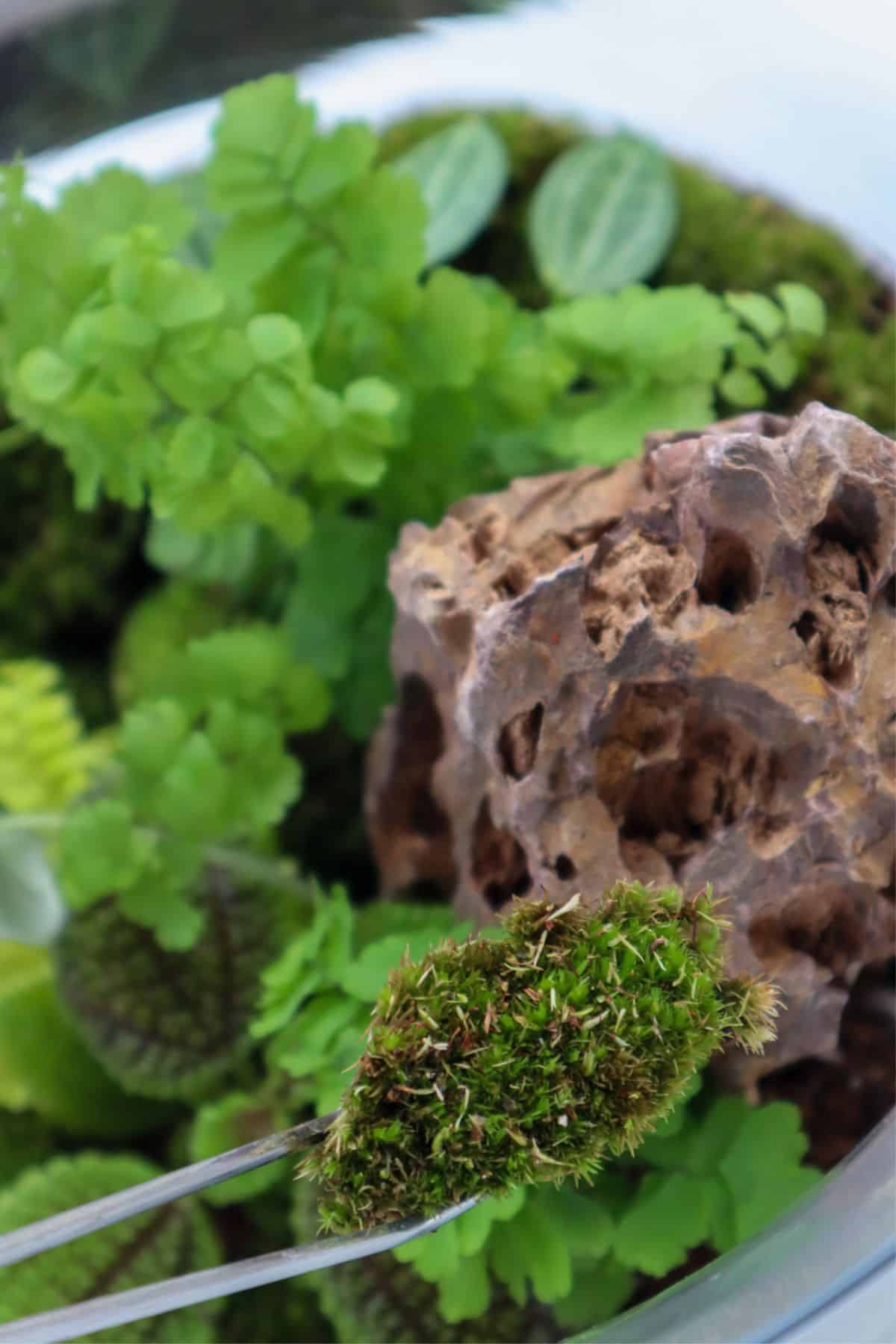 #2: Container
I'm afraid when it comes to bioactive terrarium containers, size does matter.
I mean, you've nothing to prove here… but you will need enough space in your container for free gas exchange.
Oxygen and CO2 need to be able to circulate properly, as anaerobic conditions lead to unwanted bacterial growth and decomposition. If your terrarium is crammed with material, it can develop air pockets, starving some plants of their much-needed sustenance.
That's not to say small containers can't work, they're just less optimal for longevity.
Large terrariums are simply easier to work with on a variety of levels.
Containers with awkward shapes are also a no-no; they're much more likely to trap liquids and gasses. That makes broad, evenly shaped containers like cubes, spheres, fish tanks, and Wardian cases the best candidates.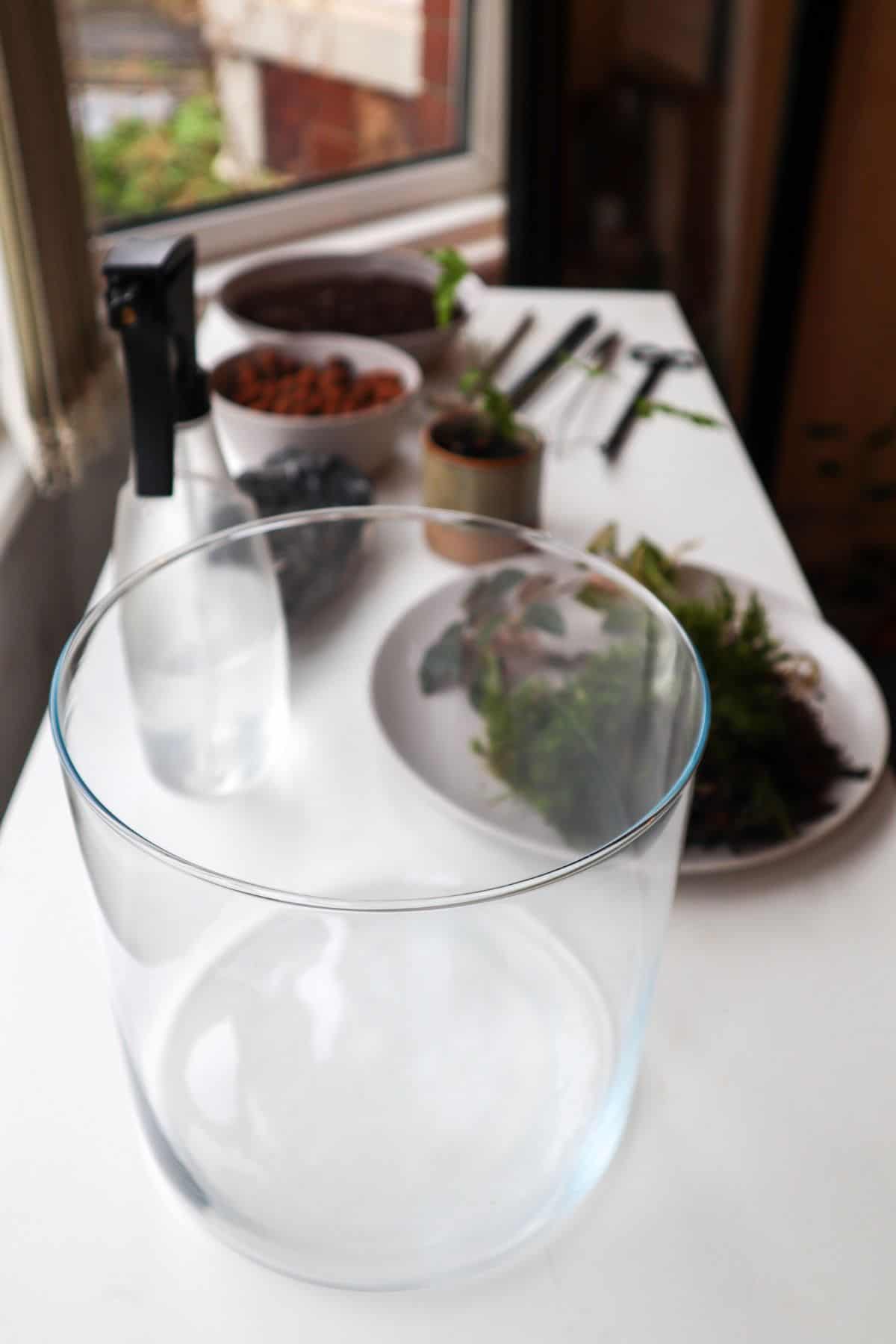 #3: Light
Consistency is key to sustainable terrarium lighting.
Of course, your plants need to get enough light to respire and thrive, but they shouldn't be at risk of being scorched by direct sunlight.
Bright, indirect light is pretty much the gold standard for most terrarium plants.
North-facing windows are often a great choice, as they never receive direct sunlight, but they are still well-lit throughout the day. Or, you could always put your terrarium under a grow light if you really wanted to control the lighting as much as possible.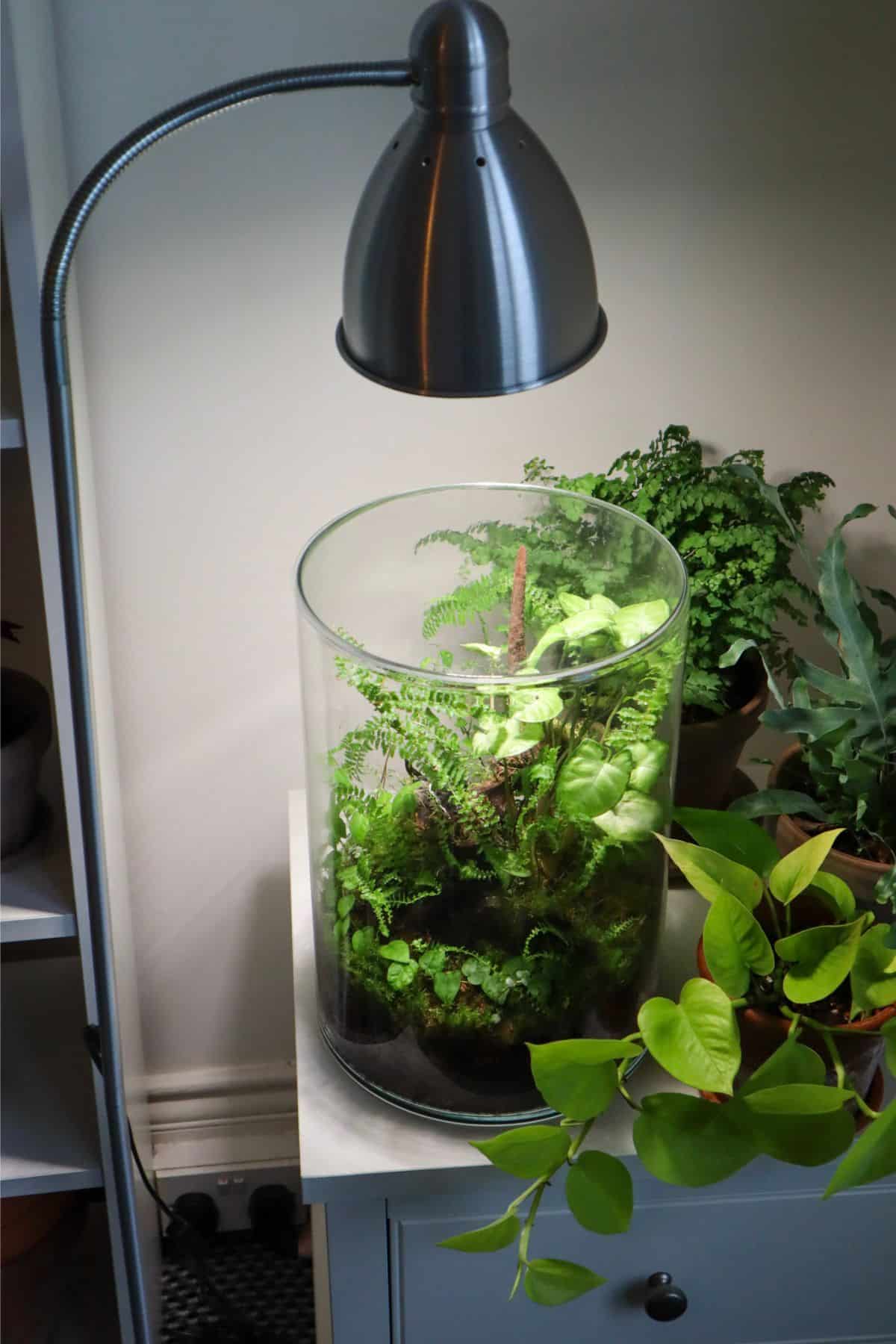 👉 We use this inexpensive Sansi Grow Light.
#4: Water
A functioning water cycle is the lifeblood of a self-sustaining ecosystem.
And just like the circulatory system in the human body, it has a lot of moving parts and doesn't do well when it's blocked up.
Building a terrarium foundation that supports the movement of water – whilst retaining it where necessary – is the key to a healthy water cycle. You'll need:
Proper drainage – excess water must be able to pass through the substrate. We're creating a moist environment, not a swamp. Having the right kind of terrarium substrate with great drainage and water retention is a critical component.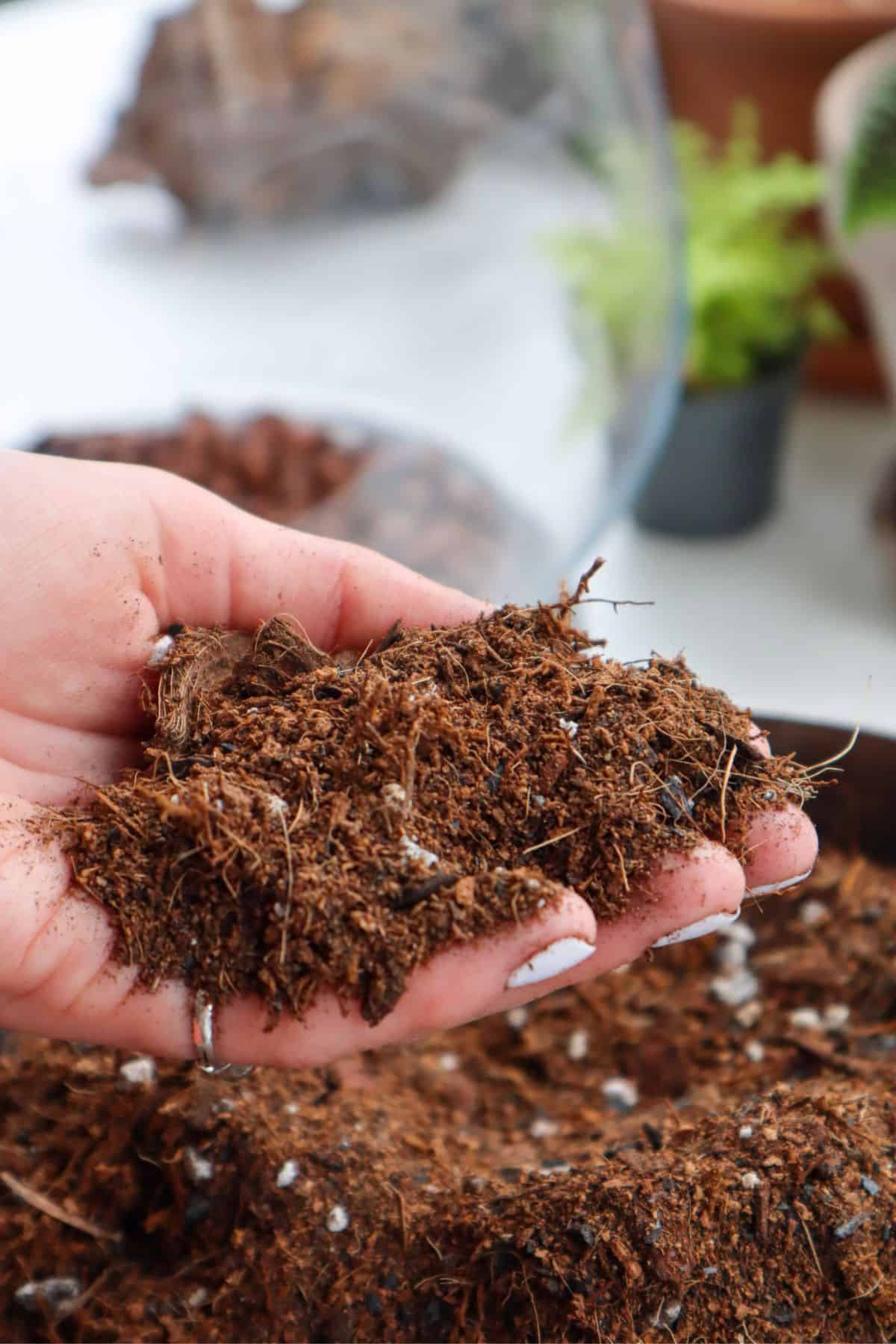 A reservoir – somewhere for excess water to collect at the bottom of the terrarium. The water in the reservoir helps keep up humidity, prevents the substrate from becoming oversaturated, and helps facilitate the water cycle. In terrariums, these are often called "false bottoms."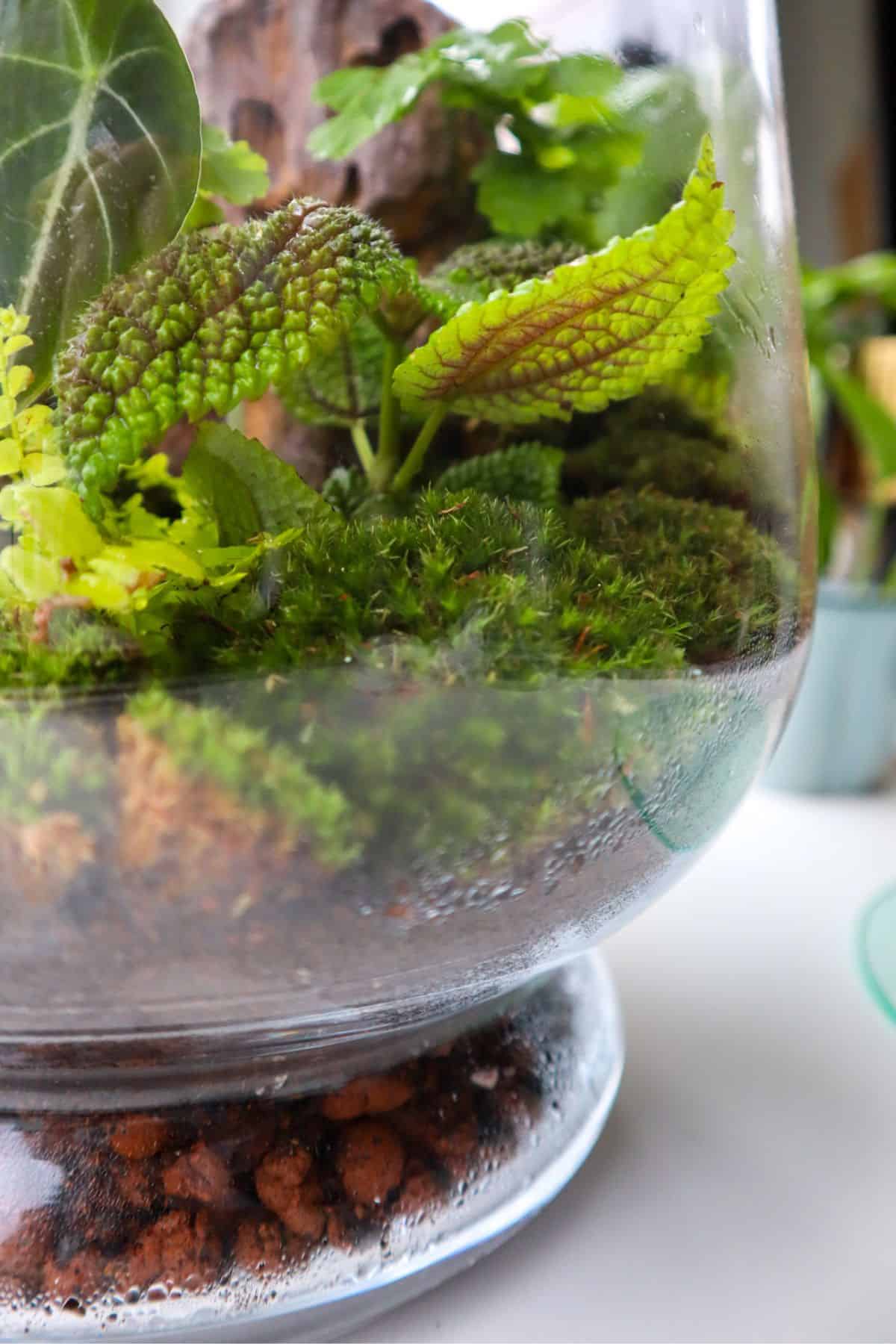 The right balance of water – ideally, there'd be just enough water in the system to facilitate the water cycle. For more help on watering, see my full guide to watering terrariums.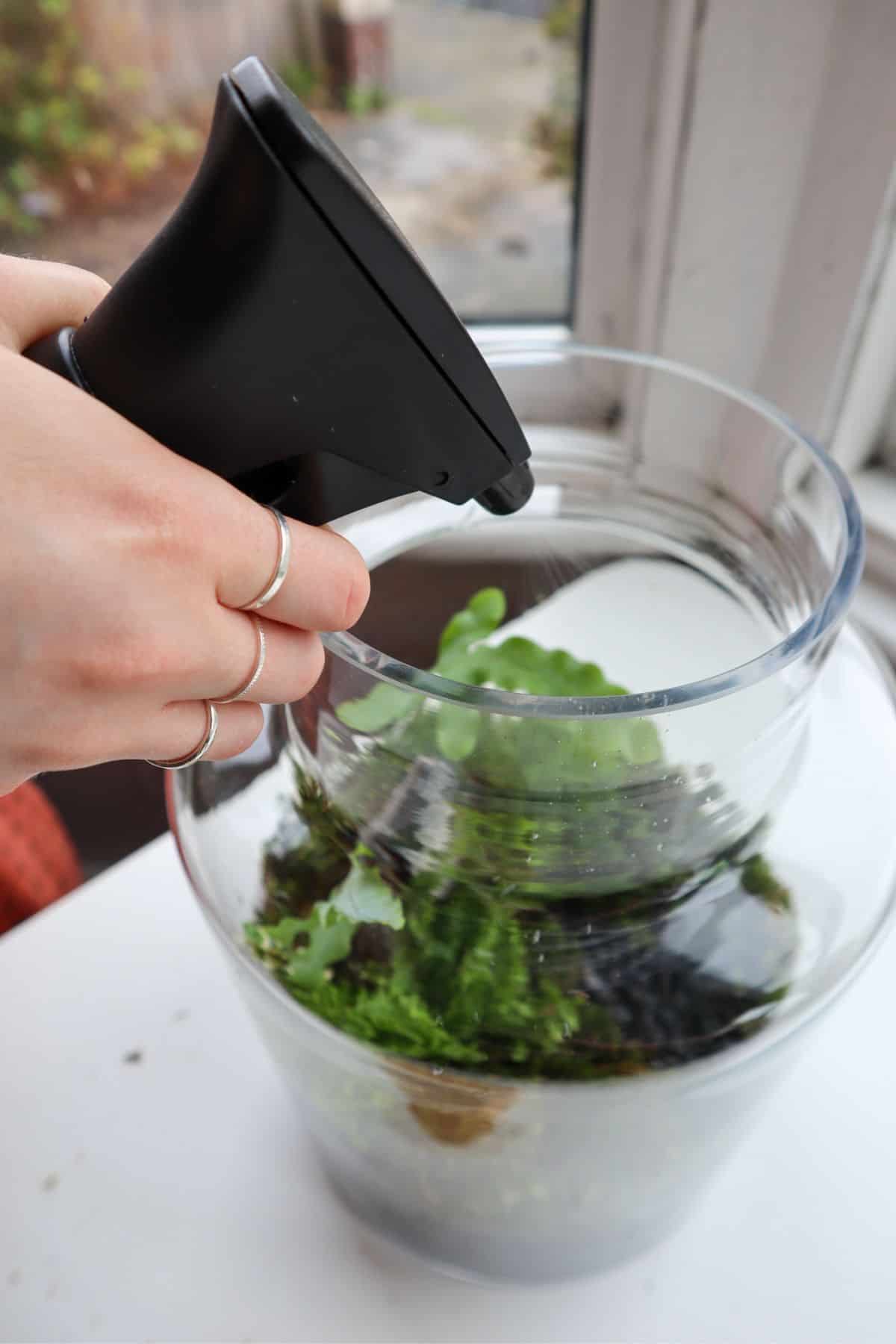 #5: Microfauna (Insects)
The decomposition process of the natural world is perhaps the most difficult part to replicate in a terrarium. There are probably thousands of different species at work in your local woodland, all working in harmony to break down and regenerate biomatter.
So yeah, that's quite hard to orchestrate yourself…
However, we do have some species available to us that can do a good job of it all on their own
Cue the isopods and springtails.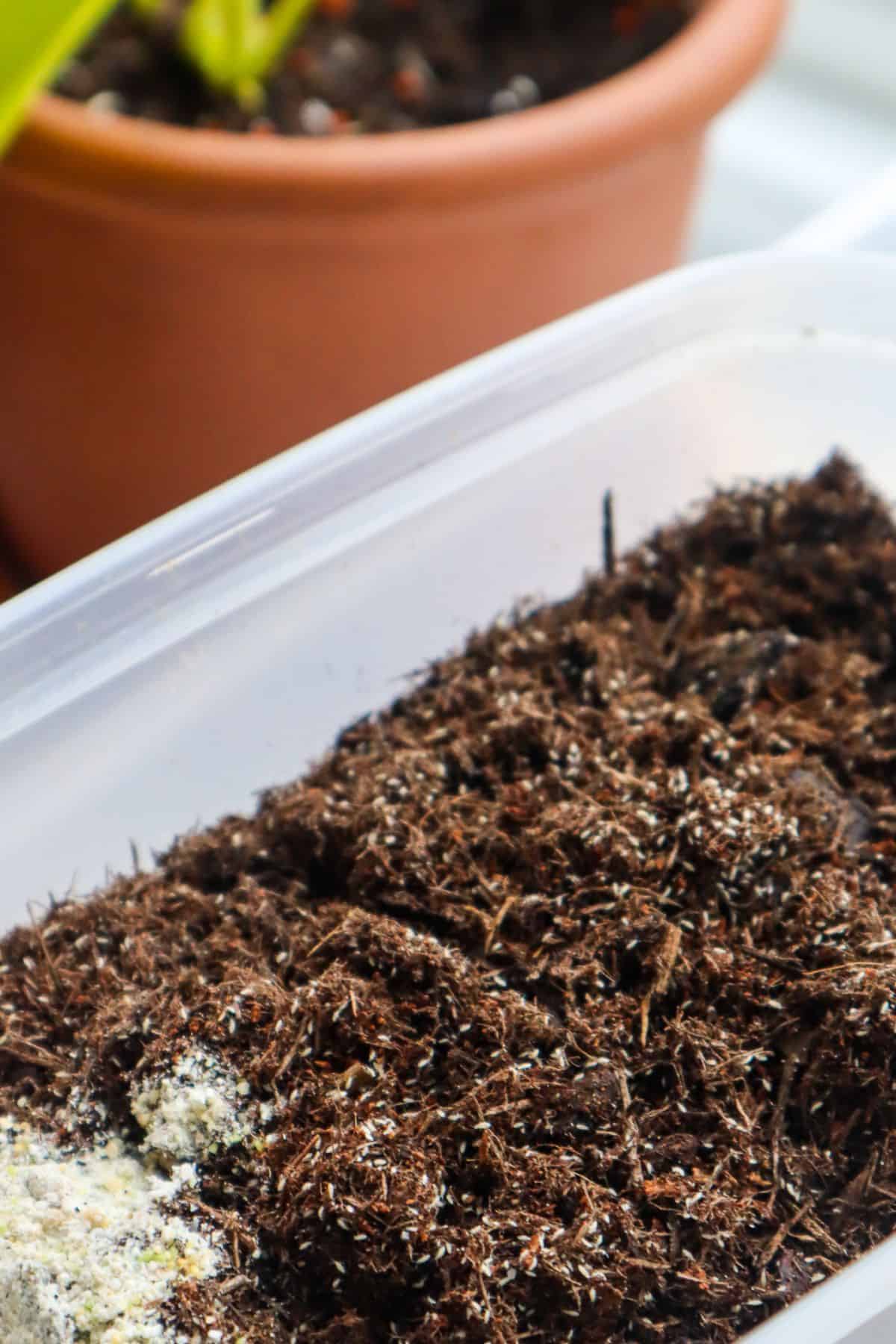 These tiny natural cleaners make a great addition to any terrarium. As long as you're not scared of bugs… If you are, the springtails are significantly smaller.
They'll happily go to work breaking down any dead or decaying matter. Transforming it from a potentially deadly terrarium hazard to a wonderful new source of nutrients. Mold is their favorite food, so you can say goodbye to those awful white fuzzy blooms.
Plus, they'll even help aerate your newly bioactive substrate, keeping your plants happy and improving drainage.
Our Top Pick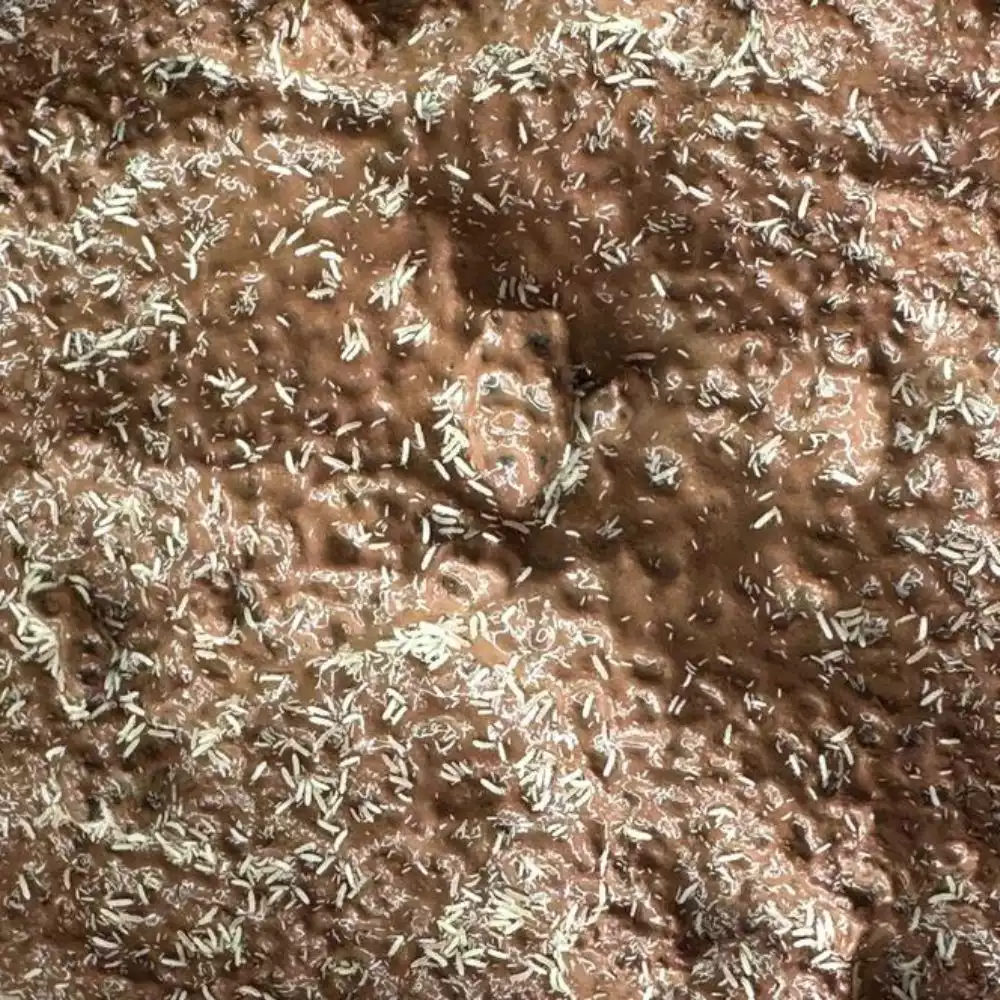 Temperate White Springtails: Master Culture (Folsomia candida)
Grab a Mini Master Culture with thousands of well-established Temperate Springtails from our partners, Rubber Ducky Isopods. Shipped in 8 oz cups with organic clay substrate, along with house blend superfood + mineral water. (Shipping Included).
Buy Now
We earn a commission if you make a purchase, at no additional cost to you.
Terrarium Ecosystem FAQ
Over to You
How long have your bioactive terrariums been able to go without any intervention?
Let us know your secrets in the comments below.
Or maybe a paludarium is more your cup of tea?