Now, I'm all for upcycling containers for terrariums (I'll take any excuse to drink more wine) but sometimes you want something special – and that's exactly what I have here.
From grand Wardian cases to exquisite prisms, all of the terrariums in this article (and the others on offer from these sellers) are beautifully made and are fit to be a true statement piece in your home.
In no particular order, here's a collection of stunning glass terrarium containers for your next project.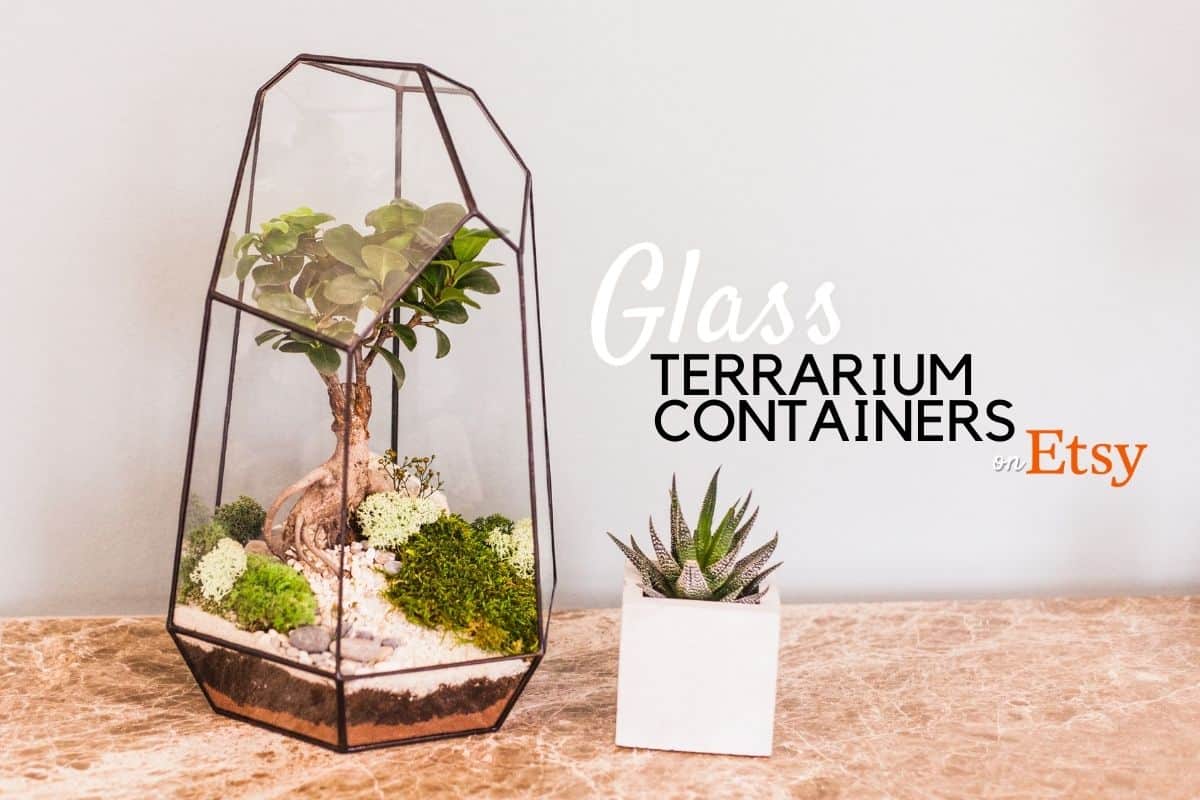 This page may contain affiliate links that allow us to make a small commission (at no further cost to yourself). 💚 Thank you for helping to support the tribe!
Leadhead Glass is a fantastic company that makes modern Wardian cases using glass and wood from deconstructed homes in Detroit.
If you're looking for a true statement piece from an ethical source, look no further.
Their build quality is top notch and these tall closed terrarium containers provide plenty of space for taller plants. I believe they use a plastic insert in the wooden bases as a waterproofing solution but it's effectively hidden once you've added your substrate.
Honestly, I love just about all of their products, but the Hall House Terrarium looks to be a solid option for anyone.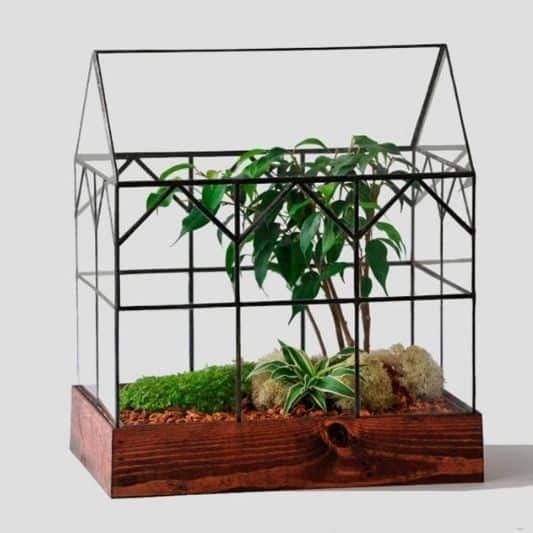 For a hanging terrarium that really stands out, ABJglassworks has some very special items for you.
This gorgeous Iridis Prism Terrarium has beveled glass panels that cause a prism effect – turning any natural lighting into an iridescent rainbow.
With four fixed openings, it's best suited for arid plants, succulents and air plants. Or, I bet it'd look gorgeous with a trailing houseplant.
All orders are handmade by Ashley in Philadelphia, so you know your new terrarium has been made with love.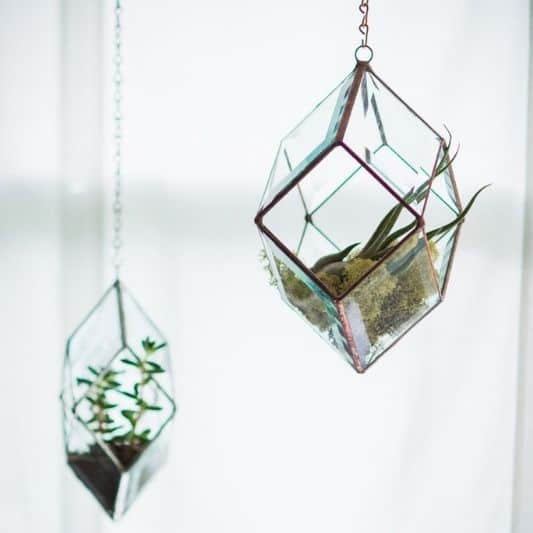 TerraLiving are a company based in Malaysia (that ship worldwide!) that are really pushing the boundaries of the terrarium craft.
They're known for their stunning Zero Moss range of preserved mossariums, but they also sell some of their beautiful containers for those of us wanting to make our own.
TerraLiving don't offer all their terrariums without plants, but these Vertex Glass Vessels are really versatile.
Rather than using soldered metal like many others, Terraliving use a flexible silicone rubber to hold the glass panels in place. Though you can't see from the photo below, the front panel does actually open!
It's just that the seamless design doesn't allow for a handle, so the Vertex Vessel comes with it's own opener which is handy.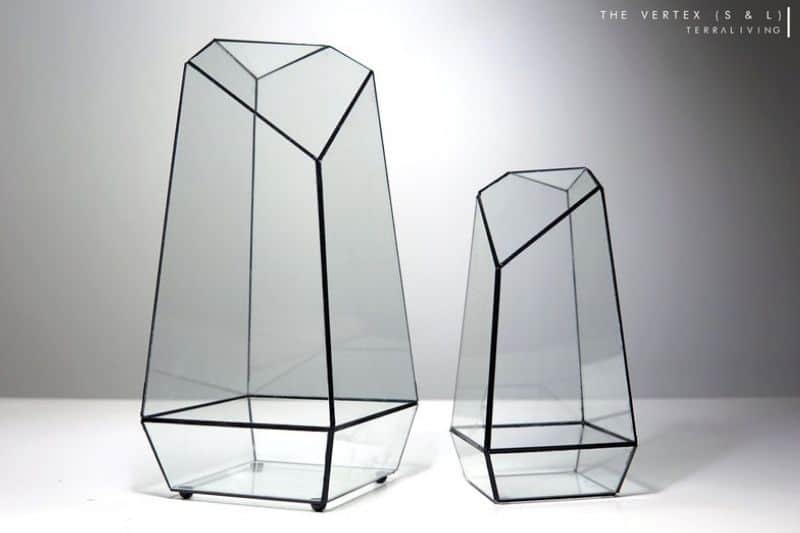 H Potter are a family company that produce a wide range of home and garden products, but we're obviously interested in their range of sleek metal wardian cases.
With a powder-coat finish, these little Gothic greenhouses look super sharp.
They come in a range of shapes and sizes, but this H Potter Wardian Case is a great starting point. Just bear in mind it looks much bigger in the picture.
The whole glass frame lifts off for easy access (which is great for initial planting) but there's also a hinged panel in the roof that you can use for maintainence and watering.
Speaking of water, just like LeadHead, this range of wardian cases also use a plastic liner in the base to protect against water damage.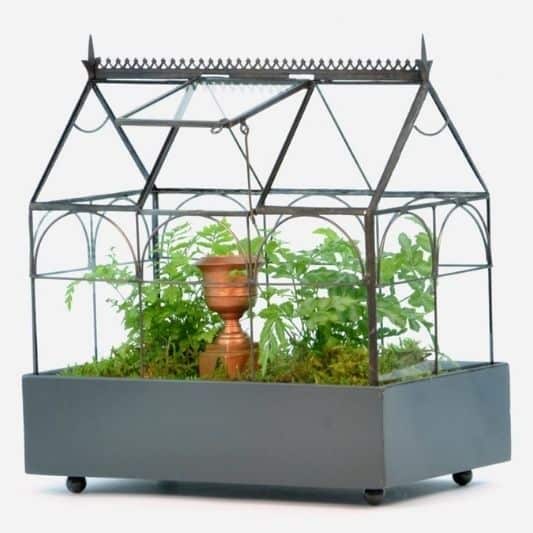 NCYP Garden offer a range of geometric and dish terrariums.
I particularly like this Open Geometric Glass Terrarium for its interesting shape. It has all the volume advantages of a bowl shape but with soft geometric edges. It looks like you can have it a few ways up which is nice.
With it being fixed open, again this one is primarily designed to house succulents, air plants and other arid species.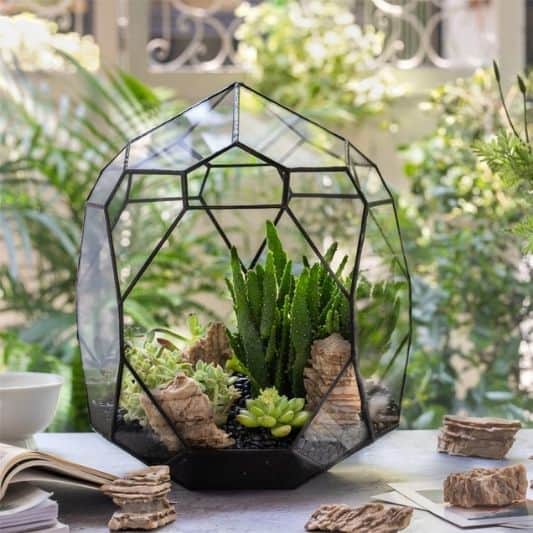 Finally, we come to OriskanyGlass and their fabulous range of pyramid style hanging terrariums. From bold colours to simple elegant design, there's sure to be something that takes your fancy.
I like this simple Glass Pyramid Air Plant Terrarium for it's strong black lines.
Unlike the others, this actually comes with the air plant and gravel as a package.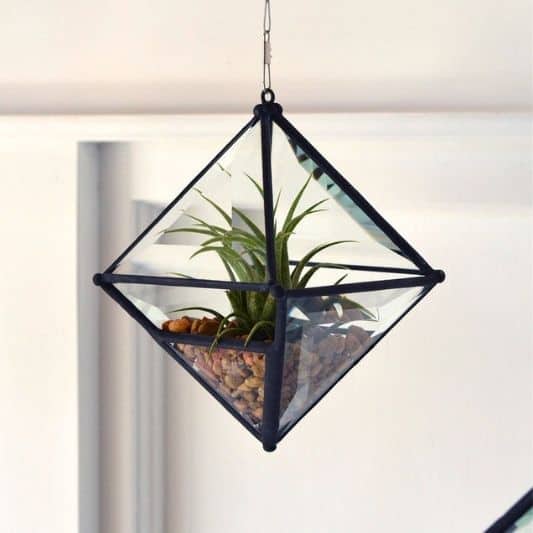 Which of these is your favorite?
If you happen to use any of these in a future project, we'd love to see them in the Facebook group!
Also, if you're in need of some terrarium plants whilst you're browsing Etsy, here's 10 sellers with gorgeous terrarium plants for sale.
Or if you're looking for unique gifts for plant lovers, look no further.