Let's be honest, Halloween is probably going to be a little different this year.
The kids may not be trick-or-treating (and the big kids may not have their own parties to go to either), but that doesn't mean we can't have fun at home.
Whether you need a full DIY halloween terrarium kit or just some spooky planters for your home, everything here is designed to keep you and your family entertained on All Hallows' Eve.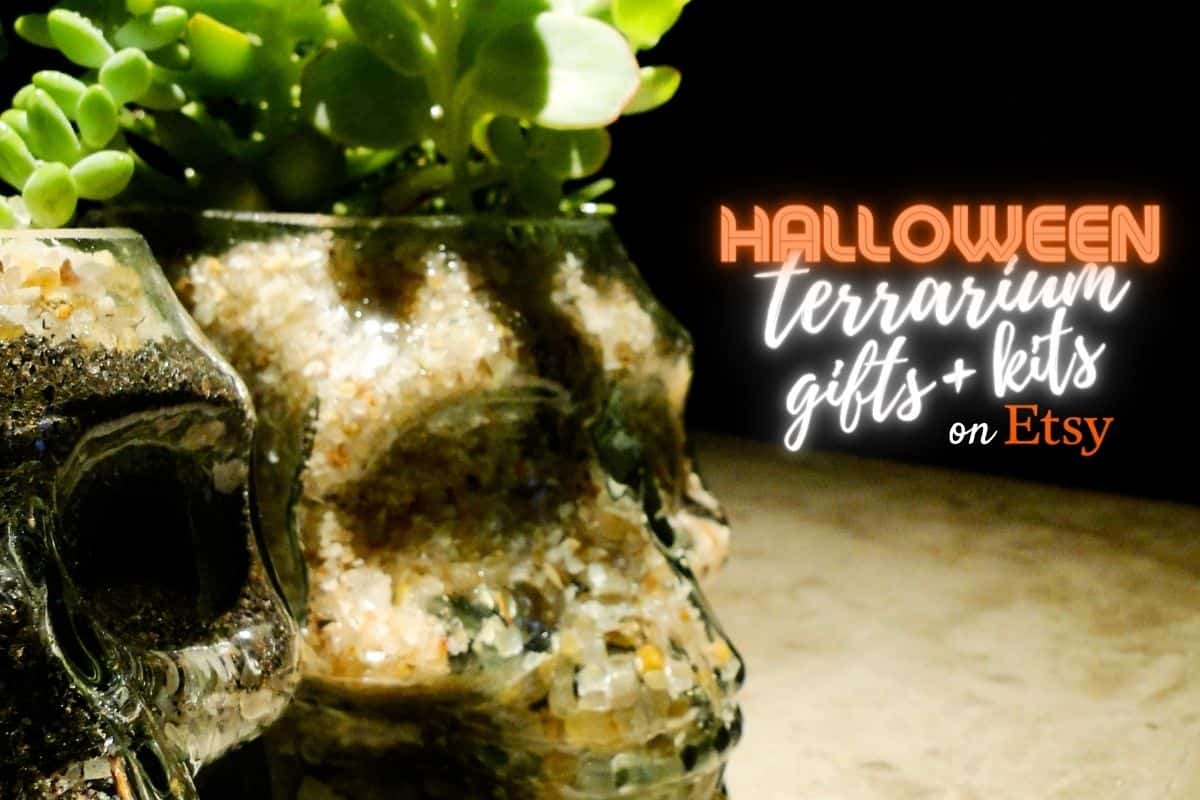 This page may contain affiliate links that allow us to make a small commission (at no further cost to yourself). 💚 Thank you for helping to support the tribe!
Spooky Halloween Stuff for Plant & Terrarium Lovers
A great little craft box for succulent lovers.
It includes absolutely everything from the succulents and coloured moss, right down to the soil.
The Halloween Gift Box even has a set of instructions and a postcard with pictures of ideas, so it makes the whole experience easy for kids to follow along.
This adorable Miniature Ghost Starter Kit has everything you need to create a tiny ghost terrarium!
You'll receive everything in the photo; so that's a a ghost in a bottle, a necklace and a cemetery version.
They don't come with plants (not everyone shares our obsession and that's okay) but they're perfect for adding a little moss or micro-fern.
I know we're going for "scary" here, but these are really cute. I'd honestly have them out year round…
Perfect for air plants (like the Tillandsia caput-medusae that's included and pictured in the image) or it might suit a little cacti or succulent too.
Pick one up here on Etsy.
Next on this list is a selection of super detailed miniature tombstones.
They're ideal for creating your own cemetery terrarium project on Halloween. I love the little green touches at the base, they'll look great poking out of a sheet of moss.
A lovely addition to the tiny tombstones earlier, these miniature acrylic bones from Purple Pirate Studios are super versatile.
They're available in white and off-white, and great to scatter around as a finishing touch.
A true spooky mashup, the HAPPY HALLOWEEN Box by Rainbow Cupboard gives you a great range of air plants, plus a host of Halloween decor to dress up your plants and package.
Definitely one for the craftier people among us!
A super creative skull planter here, this one is designed specifically to hold air plants (like the Tillandsia bulbosa pictured) right in the eye socket!
You can really make this your own with crystals and plants (though i can't tell for sure if they're included). Here's the link on Etsy.
For those of you looking to have a Halloween terrarium scene at home without crafting it yourself, here's a awesome premade Hanging Cemetery Terrarium for you.
Made with real moss handcrafted polymer clay tombstones, it's a lovely little piece!
Another great one for the kids (and the big kids at heart).
This DIY Coffin Planter Kit comes with a tombstone, a handful of bones and several clumps of moss.
It looks super easy to assemble, but you can still make it your own with how you put it together.
Last – but by no means least – is this gorgeous Cauldren Flower Pot by AllThatRaaz.
Made from glitter and resin, they're fully made to order so you can get exactly what you need!
They look plenty deep, so you should be able to put all kinds of houseplants in there.
More Etsy Halloween Kits & Gifts
If you've made it down here, you've either haven't found your perfect Halloween item yet, or you're going all out this year.

See need more unique plant gift ideas, or check out where to find terrarium plants for sale on Etsy.

Let us know how you get on.