Succulent terrariums are a simple but diverse medium.
After all, there are literally thousands of succulent species on offer—each with its own unique colors, shapes, and aesthetic pairings.
When you add in hardscape and container choice, it's no wonder the choice can be a little overwhelming…
This guide will cover some of the leading creative themes, so you have some exciting succulent terrarium ideas for your next creative project.
Let's do it.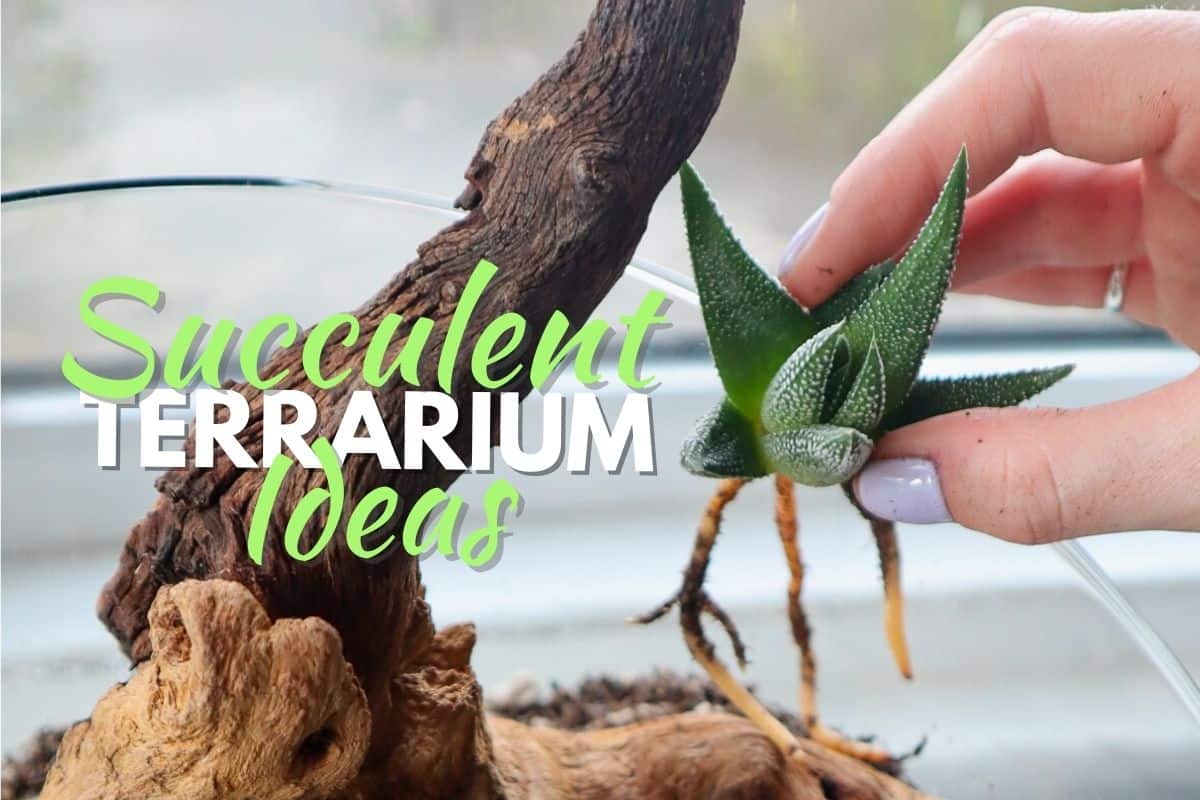 This page may contain affiliate links that allow us to make a small commission (at no further cost to yourself). 💚 Thank you for helping to support the tribe!
5 Glass Succulent Terrarium Ideas
Okay, so most of these succulent terrarium ideas operate around a theme.
That could be the recreation of a natural (or unnatural) landscape, playing on an interesting element that pairs well with the nature of arid plants, or just incorporating something that you enjoy (e.g., dinosaurs or Star Wars figures, obviously).
This is the best way to build a cohesive scene in the infinite succulent terrarium universe.
Here are some ideas to get you started for your next succulent terrarium project.
1 | Beach Terrarium
Okay, so succulents may not be the first kind of plants you'd choose to create a "beachy vibe," but their desert suitability is a perfect match for the sandy shores of a beach terrarium.
Palm trees may be out of the question, but you might be surprised by the kinds of succulent species you can employ to recreate a vibrant coastal scene.
I'd start with your typical beach grasses and shrubs.
Look out for succulent species with fine leaves and lots of texture, as these can help create a sense of scale and ultimately a more natural look.
Maybe something like a Senecio vitalis or a Senecio serpens?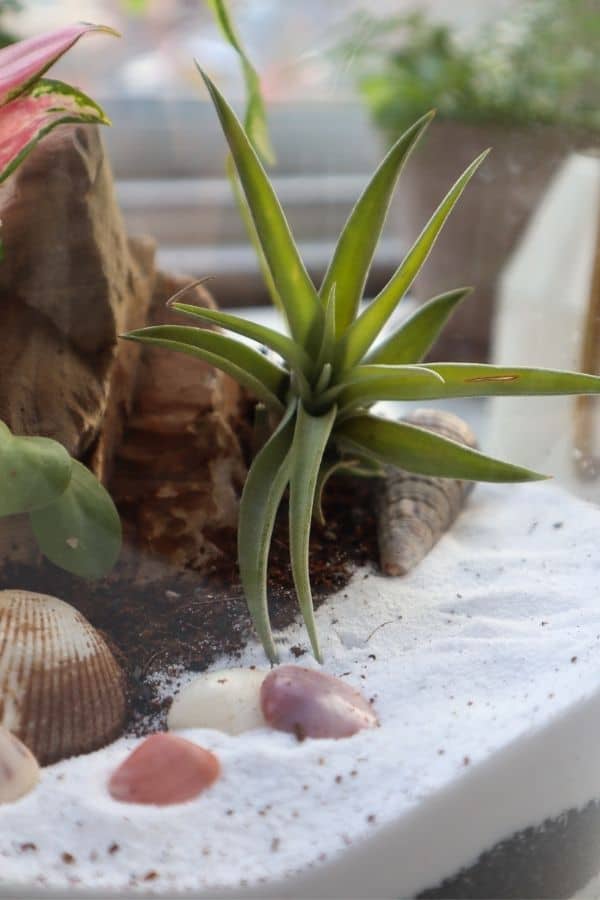 Naturally, shells and other actual beach elements are always a good choice to pull together the final scene.
You could always add some miniature palm tree figurines (like these little beauties on Etsy!) if you want the palm aesthetic without the hassle.
👉 How to Make a Beach Terrarium
2 | Desert Terrarium
A classic desert terrarium is a versatile approach.
After all, it can make use of the entire range of arid plants and natural desert elements.
I like to use tan-colored stones like Gobi Stone or Dragon Stone to create a lifelike rocky outcrop. These help to frame your terrarium scene and provide some great natural structure.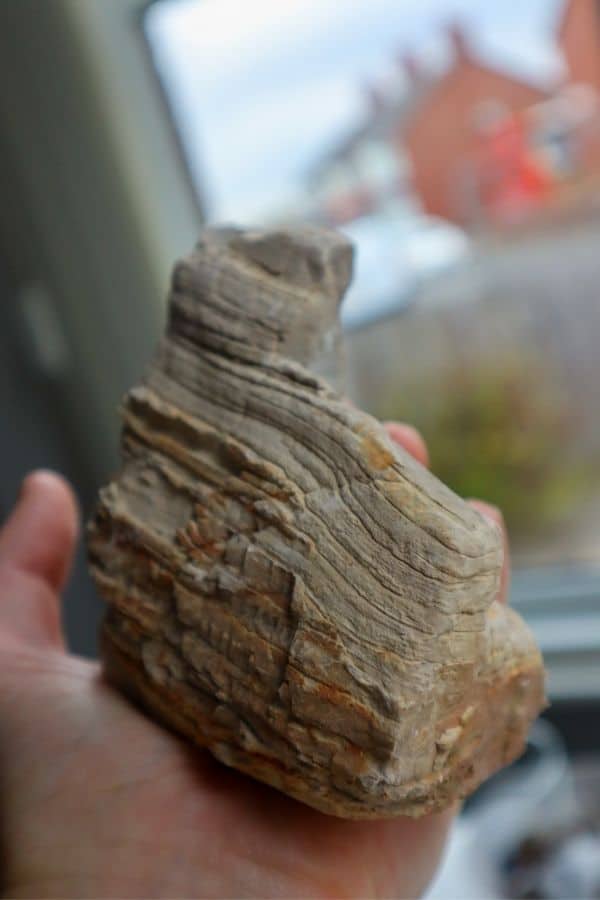 Plus, the open container gives you a lot more room to play with, so I'd always recommend adding some tall elements to elevate your design.
That could be a tall cactus (remember, cacti are succulents too!), a driftwood branch, or a stone column.
👉 How to Make a Desert Terrarium
3 | Cacti Terrarium
If cacti are more your jam, why not go full cacti?
There's still an enormous amount of variation on offer, just within the cactus range.
Just like tropical plants, cacti can grow as vines, shrubs, epiphytes, and even trees! (but I wouldn't pick the latter for a terrarium).
Try to find a complementary combination of textures and shapes for variety, or go for a random assortment of tiny cacti and hope for the best.
👉 How to Make a Cactus Terrarium
4 | Sand Art Terrarium
The creativity doesn't need to stop with the plants and decor; even the materials themselves are a canvas if you know how to use them.
Have you ever tried sand layering?
It's a fun technique to add some extra dimension (and color) to the internal layers of the terrarium. Simply layer different colored sand on top of each other to create a pop of contrast or a gradient.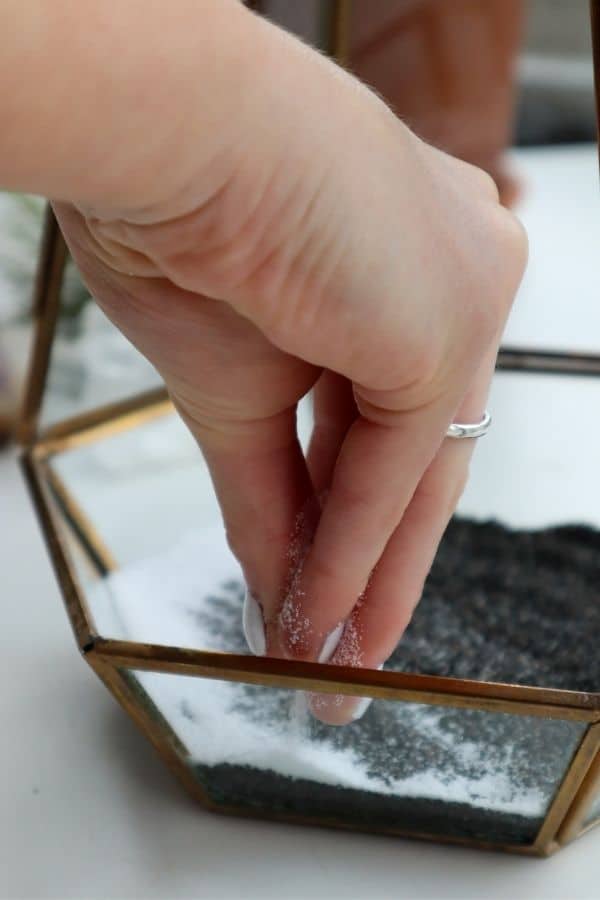 Oranges, yellows, and other warm-hued sands blend well with a desert-themed succulent terrarium.
It's simple in theory, but getting a uniform line can be tricky… Prepare to have your patience and your best steady-handy technique tested.
Pro tip: You technically only need to layer around the edge of the glass for it to be visible from the outside. So you can give the illusion of a full layer without having to commit to the whole thing.
5 | Artistic Propagation Terrarium
Bear with me here.
Propagating succulents is super easy, right?
Just twisting off a leaf and planting it directly in the soil is often enough to get a brand new plant going. This presents us with a unique opportunity to get creative.
Planting like a mosaic of succulent leaf goodness.
I actually picked this one up from the book Terrariums and Kokedama, where Alyson Mowat made a stunning mandala out of tiny little leaves.
Bonus | Hanging Terrarium
Okay, so I appreciate this isn't a theme as such, but you can still get creative with your succulent terrarium containers and mounting methods.
The simplicity of a succulent terrarium environment means you have more freedom with your container choice.
There are no lids (or ecosystems) to balance, just a plant + container combo.
This is why succulent terrariums make great hanging terrariums, though I'd generally opt for plastic over glass containers just in case.
👉 How to Make a Hanging Terrarium
Over to You
Have you taken inspiration from any of these succulent terrarium ideas?
Let me know your favorite in the comments.
Next up, check out our recommendations on succulents for terrariums.